I love to propagate houseplants. Ever since my mother-in-law, who was just my boyfriend's mom at the time, showed me how to turn one plant into two, I've been trying it on every plant I can get my hands on. Pilea Peperomioides are one of the simplest houseplants to propagate. They basically just reproduce themselves and leave us to split them up.
I know a lot of people buy Pileas specifically to grow and share with their friends and family, but when it comes time to take a cutting, they get nervous or have questions. If you are in that boat and you have a Pilea that you are ready to propagate but are unsure of how to proceed, I hope this article will give you the answers you need.
I've compiled a list of the 16 most common questions I either hear or see online about propagating Pileas. Read through them all for a full picture of propagation, or simply scroll to the one that pertains to you and find your answer. Here we go!
---
#1 Can Pilea Be Grown from Seed
Even though I hear this question a lot, I have never heard or read about anyone who has successfully grown a Pilea Peperomioides from seed. Pileas are propagated from cuttings.
There are "Pilea Peperomioides seeds" available online through sites like Ebay, Alibaba, and even Amazon, but they are a scam. Often the seeds people receive won't sprout, but even those who have been able to get these seeds to germinate discover the plants they produce are not Pilea Peperomioides.
If you want a Pilea plant, you can order a cutting off sites like Etsy, a full-grown plant from places like the Sill and Bloomscape, or perhaps find it at a local garden shop. Pileas were once difficult to find and very expensive but have become readily available online now.
Don't fall for the scam, don't buy any seeds that claim to be Pilea Peperomioides.
---
#2 How Big Does a Pilea Pup Need To Be To Remove It From Its Mother?
When it comes to removing Pilea pups from the mother, the bigger the better. Just like with other species, the baby needs to stay with the mother until it is big and strong enough to take care of itself.
As a general rule, Pilea pups should only be removed once they reach 2-3" tall. At that point, the plant will be big enough that it can handle the transition from one container to the next. When in doubt, wait a bit longer. The larger the new plantlet is, the better chance it has to survive on its own.
---
#3 What Should I Use to Harvest my Pilea Pups?
I like to think of cutting plants like surgery. I always tell people that you wouldn't want your doctor operating on you with some dull tool they found in their junk drawer, and your Pilea wouldn't like it either.
To take a cutting from your Pilea, you will need a set of sharp scissors or a very sharp knife. It is important that the tool you use is both sharp and clean as making cuts on a plant can potentially expose the inside of the plant to disease and fungal infections. Clean cuts are always healthier for your plant.
To clean the scissors or knife you use to take cuttings, simply wash the tool in hot soapy water, being sure to remove all residue from the blade. If you want to be extra careful, wash it in a diluted mixture of 1 parts bleach and 10 parts hot water.
---
#4 What Time Of Year Should I Harvest Pilea Pups?
The time of year you remove your new plantlet from its mother does make a difference in your baby Pilea's ability to grow and thrive on its own. It's important to know if your Pilea is growing or if it is dormant before removing any pups.
All plants, including Pileas, have a growing season, or a part of the year where they grow more quickly and easily. Growing season for plants takes place during the warmest months of the year, from spring through early fall for most places. During the colder months, plants become dormant and growth is slowed down dramatically.
Propagating is best done when the plant is in its growing season. When your plant is in a state of active growth, the whole process of propagating and growing new roots will be faster. Any type of change, whether propagating, pruning, or relocating, will always have the best results when done during the plant's growing season.
It is possible to take cuttings and propagate Pileas during the cold months of the year. However, if you are considering winter propagation, you should prepare yourself for a much slower process.
---
#5 How Do I Remove Pups without Damaging the Mother Plant's Roots?
Lots of people are concerned about disturbing the roots of the mother Pilea when removing the plantlets that pop up next to the mother. The most important advice I can give you is: Be gentle!
To remove a pup from the soil you have two options, one of which won't disturb the mother's roots at all. However, this method will not keep any of the plantlet's current root system, and you'll have to root the pup in water before planting it in soil. To remove a pup this way, just follow the stem of the new plantlet down about an inch below its lowest leaf and clip the whole stem.
To try to maintain part of the pup's root system, you will have to dig under the soil about an inch. This has the potential to bring you in contact with your mother Pilea's roots, but as long as you are gentle it will be fine. Pileas are very hardy.
To remove the pup with the roots, use your fingers to gently push the soil away at the base and dig up the small plantlet. You can use a small spray bottle to gently clear away some soil from the roots or use your fingers to do so. Once the plant is mostly removed from the soil, you will have to snip the rhizome, similar to an umbilical cord, that connects the baby to the mother.
---
#6 How Old Does a Pilea Have to Be to Produce Pups?
There is no hard and fast rule that says a Pilea will start to reproduce when it reaches a certain age. Each Pilea plant acts differently, and whether or not it produces pups can be influenced by many things, such as the plant's access to sun, water, nutrients, and energy.
A good rule of thumb is that a Pilea starts to reproduce after it is about one year old. However, some Pileas will start earlier and some won't for several years. It really depends on the plant.
If you have had a Pilea for a year or two with no pups, try moving it to a sunnier location with bright, indirect light and fertilize it with a 10-10-10 mixture diluted to half strength once per month. Also remember that if the plant is dormant, or not in its growing season, it will not produce any pups. Most Pileas are dormant from late fall through winter.
---
#7 How Can I Encourage My Pilea to Produce Pups?
If you believe your plant should be in its growing season and you aren't seeing many or any new pups, there are several things you can do to try and encourage it to reproduce. The best options are to increase its access to nutrients, light, or energy.
To increase your Pilea's access to nutrients, you can fertilize the plant once per month during its growing season. However, it is worth noting that overfeeding a Pilea can be very harmful for your plant. For this reason, I use a balanced 10-10-10 fertilizer diluted to half strength. For more information on fertilizing Pileas, read this article.
If your Pilea is slow-growing, it may not have enough access to bright light. Pileas adore bright, bright areas and thrive best when placed a few feet away from a south-facing window that receives light all day long. If you do not have a location in your home that meets those requirements, consider purchasing a grow light and exposing your Pilea to that additional light for 12 hours each day. To see my recommendations on grow lights, visit this page.
Also, Pileas can be encouraged to produce more pups when they have the energy they need to do so. Plants are constantly pushing energy out in every direction, through their stems and roots and out to each leaf. Removing old, dying leaves from the bottom of your Pilea can free up some of the energy needed to create new growth in the form of pups.
---
#8 Will Cutting My Pilea in Half Produce More Pups?
The answer to this question is: probably. I cannot promise that any one thing will increase the output of your Pilea's pup production, but I do know that a lot of people have had success with cutting their Pileas in half and repotting them.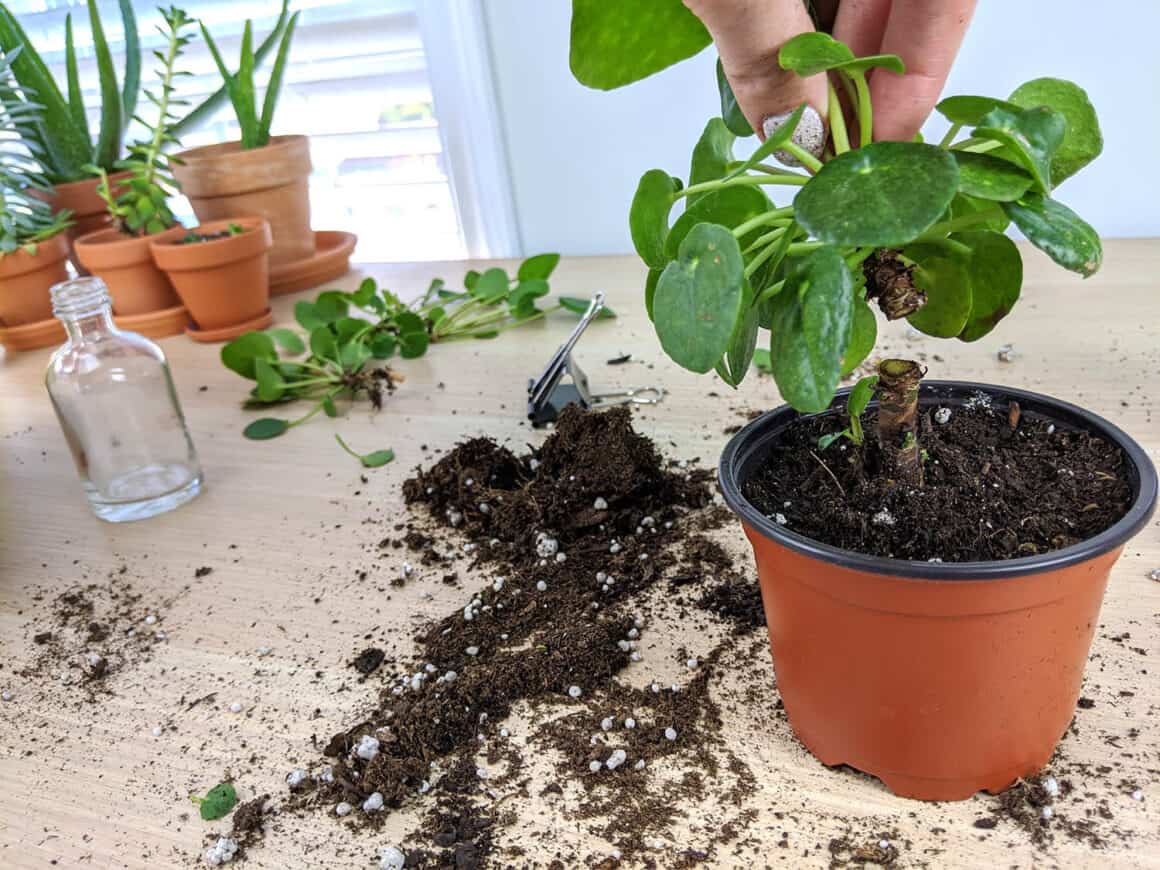 Cutting a Pilea in half is like giving it a fresh start. If you have a plant that has become sparse or leggy, this may be the perfect option for you. It's likely that both the bottom and top portions of your Pilea will start to produce pups after they have been separated and replanted. However, you should note that a leggy Pilea will still be leggy unless you fix that problem by moving it to an area with more light.
To chop your Pilea, make sure you have a sharp knife, as you will want to cut the tissue cleanly. Be sure to clean your knife before using it. Once you're ready, find a spot about halfway up the central stem and use your knife to cut the stem in two. The bottom half of your Pilea will usually begin to grow new leaves in a matter of weeks. Make sure to cut where there are still leaves on the bottom portion as plants use their leaves in the photosynthesis process.
Once you've done this, do not throw away the top half of your Pilea. Instead, put the base of the cutting into a small bottle of water and allow it to root. Once you have roots that are an inch or two long, you can replant the top into its own container, and you will have exchanged your one plant for two new ones. Hopefully they will begin to produce pups soon.
---
#9 How Long Should I Root My Pilea Pup Before Planting It In Soil?
There is no exact answer for this question in terms of days or weeks. What is more important is the length of the roots that your Pilea has produced. I like to wait until the roots are between one and two inches in length before putting it into soil.
If your plant is in it's growing season, a new Pilea pup will most likely start to take root in a couple of weeks. If the plant is dormant in the colder months of the year this could take a month or two.
---
#10 Can you Propagate a Pilea from a Leaf?
Yes and no. You cannot propagate a Pilea from a leaf alone. A leaf will root in water but will not produce any new leaves. You can, however, propagate a Pilea leaf if you remove a sliver of the central stalk (or trunk) with your cutting.
To propagate this way, find a large, healthy leaf for your cutting. Follow the petiole (or stem) back to the main trunk and use your knife to get a small slice of the trunk at the base of the stem, being careful not to cut too deep and damage your mother Pilea. You will only need a small bit of trunk connected to your leaf to grow a new plant.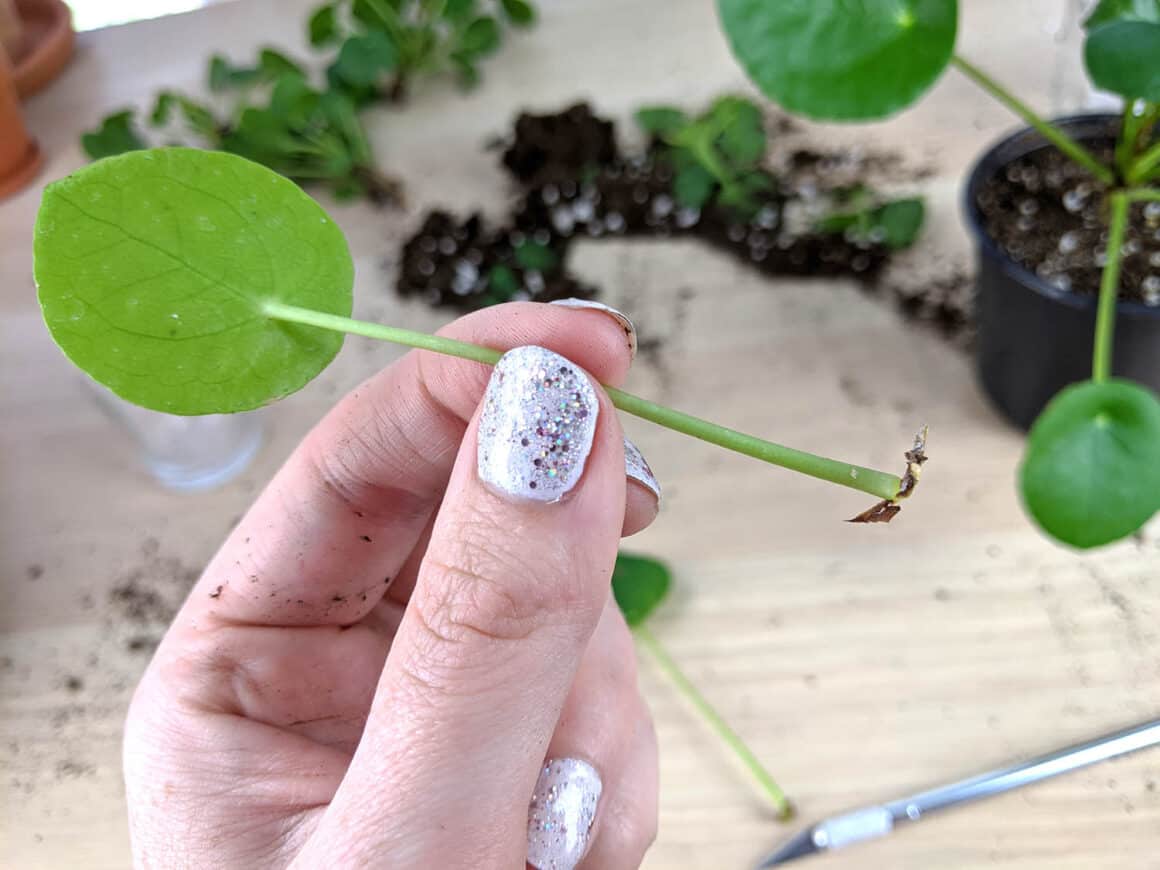 Once you've taken your cutting, it should root in water and eventually will produce new growth. While this is possible, I don't recommend using this as a main method of propagation. If you want to try this to experiment with your Pilea, go for it. Otherwise, wait for your plant to produce pups and propagate that way.
One last note as I see some people asking this as well, if your Pilea has dropped a leaf, that leaf will not be able to be propagated into a new plant. Leaves that drop are generally not healthy, and the leaf and petiole alone do not have the tissue needed to grow new leaves and, eventually, a new plant. You must have a bit of trunk connected to the leaf to gain new growth.
---
#11 What Type of Bottle is Best for Rooting Pilea Pups?
There is no specific answer for the best bottle to root your Pileas in. As long as you can arrange your Pilea so that only the tip is in water and not the leaves, any bottle will suffice.
I've used all sorts of things to root plants in. Small plastic water bottles work well as do old spice jars, pill bottles, and shot glasses. Recently, I bought some small bud vases at my local Michaels craft store. They are shaped like a beaker with a small opening that is perfect for setting my small plants in.
To cut down on the chance of algae growing in your water, you can use a darker colored glass like amber or dark blue.
---
#12 Why Did My Pilea Drop a Leaf When I Transplanted It?
Plants drop leaves for lots of reasons. Sometimes they drop because they are old, sometimes it's because you've overwatered/underwatered your plant, and sometimes it is for something completely unrelated to that.
If you recently planted a Pilea pup into soil that you had been previously rooting in water, it is not unusual for a leaf or two to drop. Transitions of any kind can be stressful on a plant and a result of stress is dropping leaves.
If your pup drops a leaf or two, don't worry. If it is dropping more than one or two, there may be an underlying issue. The most common reason for Pileas dropping leaves is overwatering so you may need to adjust your watering schedule for your new plant.
---
#13 What Do I Do With a Pilea Cutting?
If you've ordered a Pilea cutting online or have been lucky enough to be gifted one by a friend, you may be unsure of what your next step is. I would say what you do next depends on the answer to one question: does your cutting have roots that are 1-2" long?
If your Pilea cutting has 1-2" long roots, you can simply plant it in soil and set it in a bright area of your home where it will have access to lots of indirect sunlight. When planting your new cutting, be sure to choose a container with a drainage hole, as it is important for Pilea soil to be able to drain quickly after watering.
If your Pilea cutting has no roots or very small roots, the first step you need is to root it in water. This is very simple and only requires you to place the tip of the cutting into water and leave it for a few weeks. Be sure when you place the plant into the water that none of the leaves are submerged. Once your Pilea has long enough roots, plant it as directed in the paragraph above.
---
#14 Where Should I Place My New Pilea Babies In My Home?
Pileas love very bright light, but unfortunately they cannot tolerate the sun directly on their leaves. Pilea leaves develop small brown spots, their version of a sunburn, whenever they've been directly exposed to sunlight, even for short periods of time.
This may sound like it creates a tricky situation, but it is a very easy problem to solve. Place your Pilea in an area where it will get light all day long, preferably near a south-facing window, but make sure it is far enough removed that it won't get the direct light. I put my Pileas on a table that sits about three feet away from my sunniest window, and they love it there.
---
#15 What Soil is Best for My New Pilea Babies?
The most crucial factor in ideal soil for Pileas is drainage. Pileas hate to sit in soggy soil, so a well-draining, quick-drying soil is key. There are two options for finding the right soil for your Pilea. The first is purchasing a store-bought option that is ready for your Pilea. The second is to adjust something you have at home so that it is ideal for Pilea Peperomioides.
There are a lot of potting mixes available in most local garden shops. If you would like to buy a mix you can take directly off the shelf and immediately plant your Pileas into, you'll want to get a cactus and succulent mix. This will ensure that the soil you've selected won't retain too much water and will drain quickly.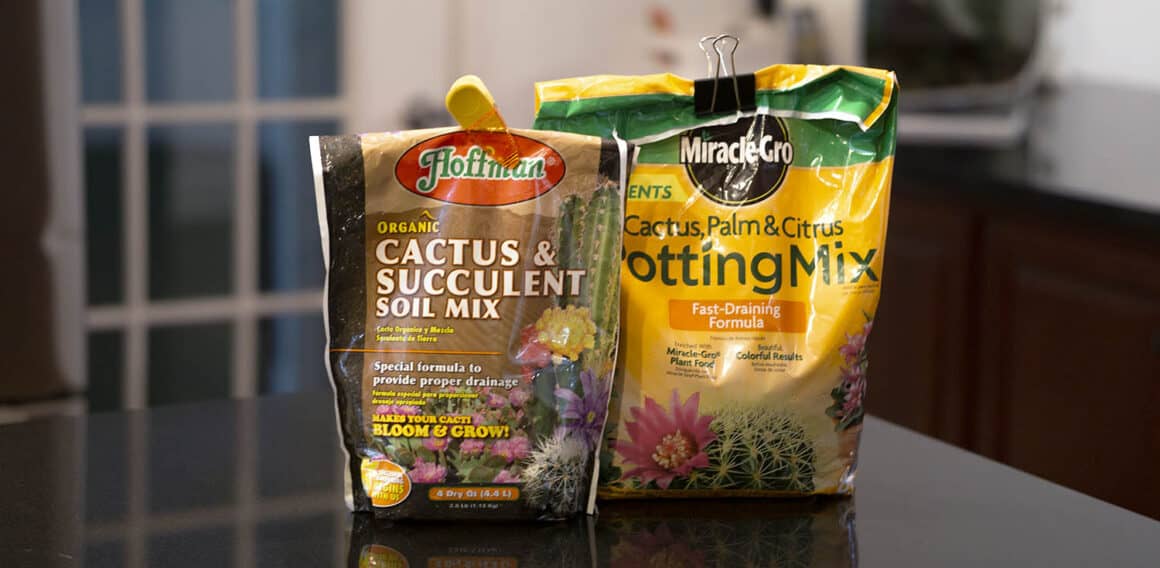 If you prefer a more hands on or DIY solution to Pilea soil mixtures, you can create your own potting soil by using the potting soil you already have at home and adding in some perlite or pumice to improve the drainage needed for your Pilea. I like a mixture of 4 parts soil to 1 part perlite or pumice. Whether you choose perlite or pumice will depend on what is available to you and won't make a lot of difference.
---
#16 How Often Should I Water My New Pilea Pup?
The easiest way to kill a mature Pilea is to overwater it, and as pups are a bit more sensitive to poor conditions than their mothers, overwatering your Pilea pup can be fatal.
Pileas do not like soggy soil and should be allowed to dry out between waterings. I always check with my finger that the top inch of soil is completely dry before watering again. When I do water, I water until it runs out through the drainage hole in the bottom of the pot, which makes sure that the water has reached the roots of the plant.
When in doubt, it is always best to wait a little longer to water your Pilea. An underwatered Pilea is much easier to fix than an overwatered one. When your Pilea leaves start to droop slightly, and the top inch of soil is dry, it is time to water again.
---
Final Thoughts
I hope this article helped answer some questions and quiet some fears you have about propagating your Pilea Peperomioides. Pileas are great plants and they're super simple to propagate. If you are looking for more information on propagating your Pileas, read this article that takes you through the process step-by-step. And if you want to learn more about basic Pilea care, click here.