If you've had your Monstera deliciosa for a while, you may be wondering what you need to do to keep it thriving. The answer (in part) is to repot it to a larger container every so often to allow it the room it needs to continue to grow. Monsteras kept in small containers for too long will never reach their "monster" potential.
A Monstera deliciosa should be repotted every two years, preferably during the spring when it enters the growing season. Signs that a Monstera needs to be replanted sooner include overgrown roots, a lack of new growth, and poor water retention.
This article will cover what some of these signs mean and what they look like. Understanding how a Monstera reacts to being left in a pot that is too small will make it easier to identify when a plant is ready to move up to the next size of planter.
---
When Does a Monstera Need Repotting?
Mature Monsteras don't need frequent repotting. But there are a few indications that it's time to repot your Monstera, including its size, water absorption, and the length of time since its last repotting.
It's generally recommended to repot mature Monsteras every two years, though this depends on many different factors. Each plant is different, so keep that in mind when assessing whether your Monstera needs to be moved to a new pot.
Younger plants may need to be repotted more often to keep up with their growth and make sure that they regularly have fresh soil. Repotting refreshes soil to make sure that your houseplant has enough nutrients to continue to grow!
---
It May Be Time to Repot Your Monstera If…
---
It Has Been Two Years
While it's only a guideline, it is a good rule of thumb to repot every two years, preferably at the beginning of the growing season. This doesn't apply to younger plants, which may grow much more aggressively and need repotting more frequently.
For older plants, though, this is a great way to keep a schedule that allows you to refresh their soil, check their roots, and change their pots. This is especially important for large Monsteras, which can require more than one person to remove them from their pots and replant them in new ones.
---
The Roots Are Growing Out of the Drainage Hole
While two years is the general consensus, these fast-growing plants may need more frequent repottings. One way to tell if it's time to repot your Monstera is to check its drainage hole: if you see any roots poking out, your Monstera has outgrown its pot!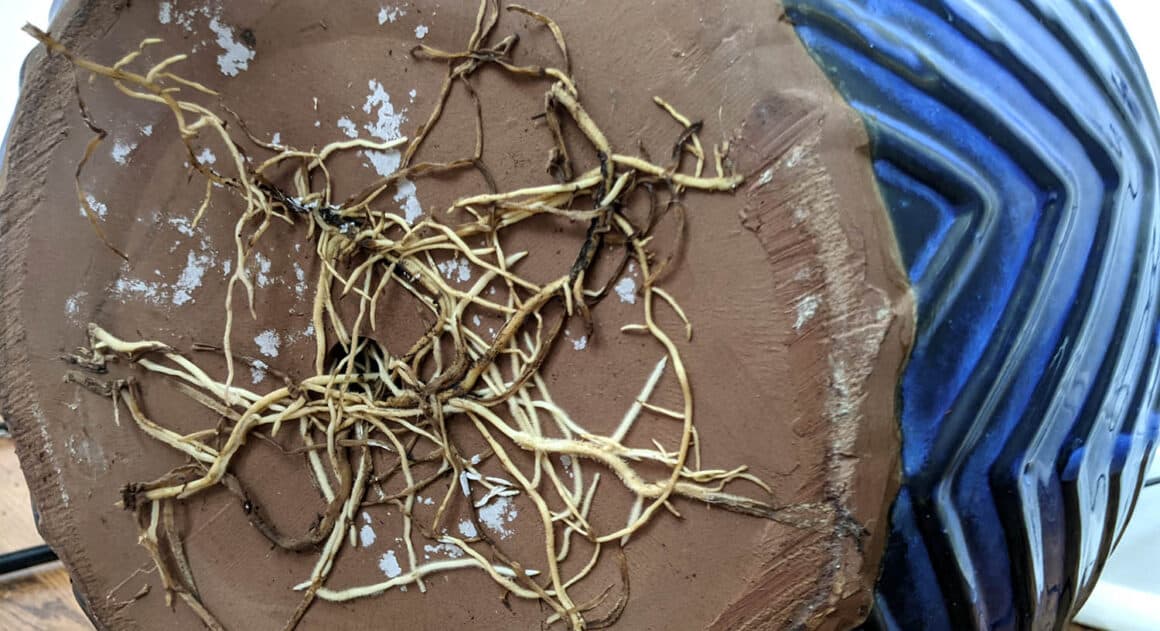 If this is the case, plan to go up a size in pots before replanting. This will give the Monstera plenty of space to let its roots breathe. Repotting is important because a Monstera with excessive root growth will become rootbound, which can cause problems later on.
If you're concerned about increasing the plant's pot size, your other option is to trim its roots back. This will discourage growth, an important thing to consider if space limitations are an issue.
---
The Soil Won't Hold Much Water
Another indication that you may need to repot your Monstera can be observed during watering. If you notice that the water you pour into the plant's pot seems to run out of the drainage hole too quickly, pull the Monstera out and inspect its roots. More than likely, you will find that the plant has become rootbound.
A rootbound plant is one whose roots have grown so much that they actually fill the pot, leaving little to no room for soil. Because the ratio of roots-to-soil is off, water can't be adequately absorbed by the remaining soil and will end up quickly running out of the pot. This is detrimental to the plant's health because it means that the roots don't have an opportunity to absorb the water that should be soaked into the soil.
If you check the roots and see that this has happened, plan to go up a pot size. When replanting, you'll also need to gently untangle the roots as best as possible to make sure they all have access to the fresh soil. Tangled roots won't ruin a plant, but they will affect the moisture retention of the soil and the plant's ability to get all of the nutrients that it needs.
---
There Isn't Any New Growth
If you have an otherwise happy and healthy Monstera deliciosa that isn't producing any new growth, this may be a sign that it needs to be repotted. There are plenty of reasons why a Monstera isn't putting out new leaves: inadequate light or water, low humidity, and a lack of nutrients are all reasons… so, be sure to inspect your plant before deciding what the cause is.
Often, a Monstera that has tapered off producing new growth but hasn't been subjected to any stressors, such as being moved, is out of space in its pot. Checking the roots is a quick way to see if this is the issue. If there are more roots than soil or if the roots are seriously tangled and bound together, it's time to repot.
Repotting in this situation is a quick way to ensure that the Monstera starts producing new growth again. After repotting in a slightly larger pot with fresh soil, return the Monstera to the location it was in. As long as the season is right, it will start growing again!
For other reasons why your Monstera may not be putting out new growth, click here.
---
Repotting Monsteras
Repotting a Monstera isn't a difficult process, and it only requires a few tools. For plants that can be lifted easily, all it takes is a clean workspace, sanitized shears, a new pot, and fresh soil. Some people recommend wearing gloves because the sap from Monsteras can cause irritation, but this isn't necessary.
For larger plants, a partner is essential. Having someone that can help you lift the plant will make the process a lot easier, especially if the Monstera being repotted uses a moss pole. It's also a good idea in these situations to have a drop cloth laid out near the plant.
When picking out a new pot, try not to go up more than one size. While it seems like this might make your Monstera need to be repotted less often because it has more room to grow, too large of a pot can encourage the soil to retain too much moisture. This can lead to the Monstera's roots being oversaturated, which can cause root rot over time.
It's essential to always get high-quality, well-draining soil. Cheaper options can cause the soil to hold too much water, leading to root rot. If you suspect that the soil you have won't drain well enough, mixing a little bit of perlite or pumice into it can lighten it up.
After repotting a Monstera, it's important to keep an eye on it. There are plenty of signs that the plant is distressed, including yellowing, browning, or dropping leaves. You may also need to adjust how you water the plant to accommodate its new soil, so keep that in mind.
We have a complete guide to repotting your Monstera here. This article covers all of the different topics that come up when it's time to repot a Monstera deliciosa, including how to do it, what supplies you'll need, and when the best time of year for repotting is.