Is your African Violet ready to move into a larger space? Saintpaulias are often charmingly compact, but they can outgrow their pots. How do you know if your plant needs more room? We'll lay out the 6 most important ways to tell when to repot your African Violet in a bigger container.
The first sign that your African Violet is running out of space is that the foliage is more than 3 times as wide as the pot. As the problem gets worse, your plant will stop growing, wilt, and develop brittle leaves. Transplant your African Violet to a bigger pot and give it some breathing room.
There are a few other key indicators that your African Violet is feeling cramped. We'll discuss them below and share some tips on successfully repotting your plant. Remember that an overly large container can be bad for African Violets too, so pot up only when you're sure the time is right.
---
Why Move Your African Violet to a Bigger Pot?
You might be confused by the idea of potting up your Saintpaulia. Don't African Violets like to be root bound? We've heard that rumor too, but it's a bit of an exaggeration.
It's true that African Violets don't need as much space as some other houseplants. And it's also true that they often flower better when their pots are a little tight. When it senses its environment is limited, the plant blooms to try to spread its genes before it dies, this is a process that serves it well in nature.
But there are limits to a Saintpaulia's ability to thrive in tight quarters. When the roots get too tightly packed, they can no longer take in enough resources. Your plant will get thirsty and malnourished. It's always best to transplant your African Violet to a bigger pot before this happens.
So what are the signs that your plant needs more room?
---
#1: Leaves More than Triple the Width of the Pot
Most African Violet growers rely on a simple rule to decide how wide the plant's pot should be. They measure the width of the foliage, then divide that by three.
Obviously, this is just a rough approximation, but it works pretty well. As long as your container is about ⅓-⅔ the size of your African Violet's leaves, it should be good. Once the leaves spread past that point, it's time to start thinking about repotting.
However, this rule only applies when you're talking about a single cluster of leaves. Normally, new African Violet leaves appear at the center of the foliage, then spread to the sides as they grow. This creates attractive, symmetrical rosettes of leaves, also known as crowns.
But African Violets can also send out suckers – fresh leaves that pop up in the outer rings instead of the middle. Over time, a sucker will push a new crown of leaves out of the side of the old one. This pulls energy away from your African Violet and makes it less likely to flower.
If your plant is overgrown, check whether the outer leaves are suckers. If they are, it's usually better to pinch or prune them off rather than repotting.
---
#2: Stunted Growth
Is your African Violet failing to grow new leaves, even though it's getting plenty of light and water? It could be overcrowded. When the roots are too tight, they can't absorb enough moisture and nutrition to support growth.
Keep in mind that there are lots of other issues that can potentially slow your African Violet's growth. Here are just a few:
Dim lighting
Underwatering
Overwatering
Poor nutrition
Compacted soil
Make sure you're providing the right amount of light, water, and fertilizer before you assume your plant is root bound. If those other needs are met, it's a good bet that your African Violet needs a larger pot.
---
#3: The Soil Won't Soak Up Water
When you're watering your African Violet, the soil should take at least a few seconds to absorb the moisture. And you should be able to pour a decent amount before you see water draining out from the bottom.
But what if it flows through at lightning speed, running out almost as soon as you pour it in? This usually means you need to transplant your African Violet to a bigger pot.
The container won't hold water because the roots are so overgrown that there's hardly any soil left. It's a classic sign of a badly root bound plant. You'll probably notice your African Violet looking thirsty again the next day, even though you just watered it. That's because there's no reserve of moisture in the soil to keep it hydrated.
---
#4: Wilting, Crispy Leaves
When warning sign #3 shows up, this one usually isn't far behind. Your African Violet's leaves will slump and dry out because the soil is losing water so quickly. They'll typically turn brown and brittle, first at the edges, but soon spreading to cover entire leaves.
Like poor growth, this symptom can have many causes. Almost anything that messes with your African Violet's roots can make the leaves wilt and shrivel. In particular, you should confirm that you're not under-watering or over-fertilizing. And make sure your Saintpaulia isn't in direct sunlight and the room's humidity is at least 50%.
Overwatering can also cause wilting and browning, but in this case, the leaves are often soft and limp instead of crunchy.
---
#5: The Roots Are Fleeing the Soil
Plants can be pretty determined about trying to grow. If your African Violet's root system runs out of horizontal space, it may decide to go vertical.
So if you see roots poking out of the surface of the soil, your Saintpaulia is probably root bound. Some roots may also reach through the drainage holes in the bottom of the container. Either way, it's time to start looking for a bigger pot.
---
#6: Your Saintpaulia Has a Long Neck
This indicator is not a warning that your plant is root bound. In fact, it's a normal part of healthy African Violet growth.
A Saintpaulia grows from a central stem. At first, it will be short enough that you can't see it. But as the plant gets older, the stalk pushes higher and higher from the ground. As it does, the oldest leaves begin to drop off the plant. This exposes a woody-looking stalk known as the "neck".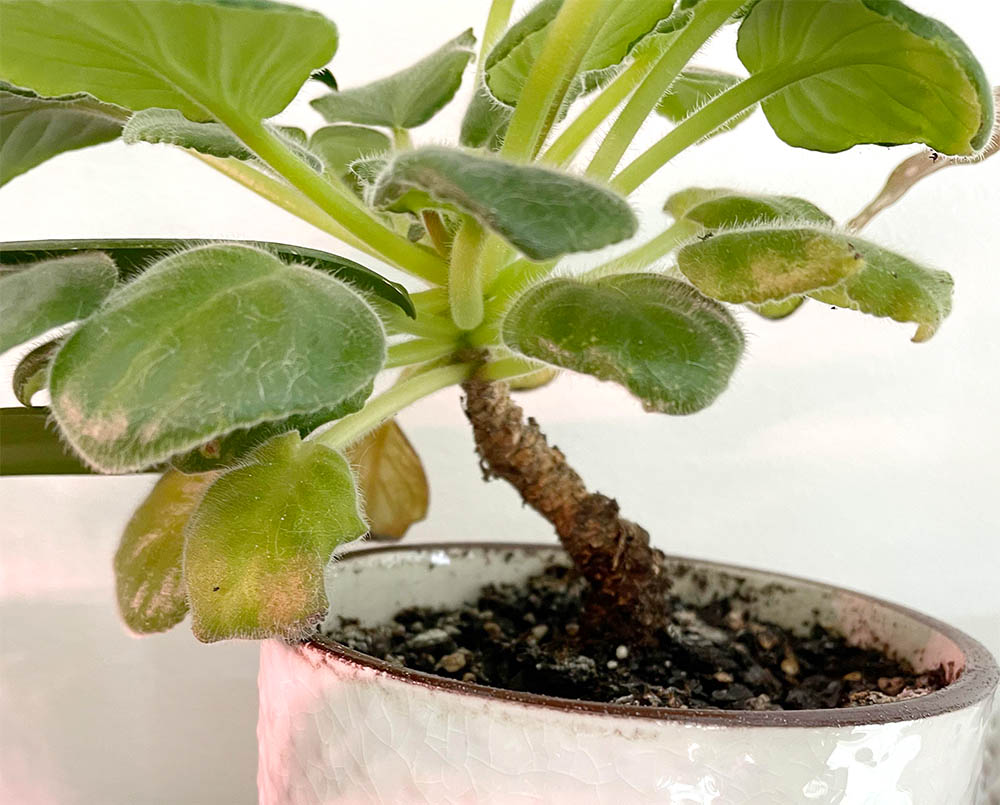 Most people don't like the sight of a bare neck on an African Violet. And when it gets long enough, it can become unsteady or even snap off.
One way to deal with this is to slice off and discard the root mass, then replant the stem in the same pot. That's a good approach if you want to keep your Saintpaulia small and compact. But you should transplant your African Violet to a bigger pot if you want it to grow. Pick a deep enough container that you can bury the entire neck in the soil. For more help, read What To Do When African Violets Grow Long Necks.
---
The Best Way to Transplant Your African Violet to a Bigger Pot
There are a few simple things you can do to make the repotting process go much more smoothly.
First, choose the right style of pot. African Violets grow shallow roots, so keep yours in a container that's about ¾ as tall as it is wide. This avoids leaving extra soil in the bottom which could trap water and cause root rot. Make sure the pot has a drainage hole, too. The only exception is if you're using a wick-watering African Violet pot.
Water your Saintpaulia the day before repotting. When you take it out of the pot, try to grip the base of the foliage loosely. You don't want to squeeze the roots or foliage more than you have to.
If there's any neck exposed, scrape off the outer surface with your fingernail or a knife until the green shows through. This will help it grow new roots. You might also want to pluck off some of the older leaves to help your African Violet conserve energy.
Once you get your plant into the new pot, keep it humid for the next few weeks. One simple method is to place a plastic bag over the leaves. This is the cheap, temporary version of an African Violet terrarium! Make sure not to expose the plant to direct sunlight, too.
When you see new leaves popping up, you'll know your African Violet is over the stress of repotting. It's beginning to stretch out and explore its new, bigger space.
---
Final Thoughts
Now you know when to transplant your African Violet to a bigger pot. If you pay attention, you can ensure that it gets the space it needs to thrive. In particular, keep an eye on how big your Saintpaulia is getting. That will help you tell that it needs to move before more serious symptoms show up.