The Monstera deliciosa is a tropical vine known for its aggressive, fast growth. In the wild, Monsteras can easily reach up to 60 feet high, and while they won't get so tall when kept indoors, a happy Monstera can put out a lot of growth in a short period of time. If you've noticed that your Monstera isn't growing at all, it is time to investigate! There may be something wrong.
A Monstera will stop growing for several reasons. The most common causes are inadequate lighting, too much or too little water, pests, potbound roots, and a lack of nutrients. Thankfully, these are mostly easy problems to fix, and a Monstera that has suffered from any of these issues can usually rebound quickly.
No matter the cause, a halt in growth can cause a bit of panic in the heart of a houseplant owner. But don't worry, you can resolve most cases with just a few simple steps. In this article, I'll cover some of the main issues that can cause a Monstera to stop growing and what you need to do to get things back on track.
---
Why Monsteras Stop Growing
All plants experience times where they grow quickly and times when they don't. While it can often be explained by dormancy and the time of year, a lack of new growth can also indicate issues such as inadequate care and pest infestations. Taking time to troubleshoot is vital as it can prevent you from taking unnecessary steps to fix the problem.
Most of the problems that cause a Monstera to stop growing are related to its basic needs. Water and sunlight are the most common, whether it's too much or too little of either. In addition to this, Monsteras will stop putting out new growth if they are the victims of pests or root rot. Keep reading for my list of the top seven reasons why your Monstera may not be growing.
---
Reason 1: Your Monstera is Dormant
The first thing to consider when your Monstera isn't putting out new growth is the time of year. Is the plant in its growing season, or is it dormant? Dormancy is a natural part of the plant's lifecycle that happens every year during the colder months.
A plant goes dormant to conserve energy and resources in the winter when sunlight is scarce. Exactly when a Monstera becomes dormant depends on the region it lives in, but it's safe to say that most Monsteras will begin winding down for the winter in October.
If dormancy is what's causing your Monstera not to put out new growth, don't worry! Dormancy is good for your plant. The best solution is to leave it alone until spring. Be sure to adjust watering and fertilizing to the season, as the winter will require less of both. Otherwise, your Monstera will get back to growing as soon as the days get longer and the weather begins to warm up outside.
---
Reason 2: Your Monstera Doesn't Get Enough Water
Watering is one of the biggest problems that people struggle with when it comes to Monsteras. While it's not complicated to water Monsteras properly, they are prone to being both over- and under-watered.
One of the biggest things that will keep a Monstera from growing is underwatering. A lack of water tells a Monstera that now isn't a good time to grow because the plant doesn't have the supplies it needs to support any new growth. Without a steady supply of water, the Monstera will focus on conserving its resources.
An underwatered Monstera may not present itself as clearly as one that is overwatered. The most evident signs of underwatering include drooping and dropping leaves. Drooping can be subtle, so it isn't always clear that your Monstera needs water if the plant is new to you.
To fix this problem and get your Monstera growing properly again, adjust your watering schedule. It is not a good idea to establish a strict schedule (such as watering every week on Mondays) but setting a reminder once a week to check your Monstera's soil is a great place to start.
Water your Monstera when the top inch or two of soil is dry. Watering should be done thoroughly instead of lightly. For more information on watering Monsteras properly, read this article.
---
Reason 3: Your Monstera Gets Too Much Water
On the flip side of the watering coin is the issue of overwatering a Monstera deliciosa. Overwatering is easy to do, so Monstera owners need to be careful. Luckily, there are more common signs of overwatering than underwatering, so it's more likely that you'll catch it before it becomes a significant problem.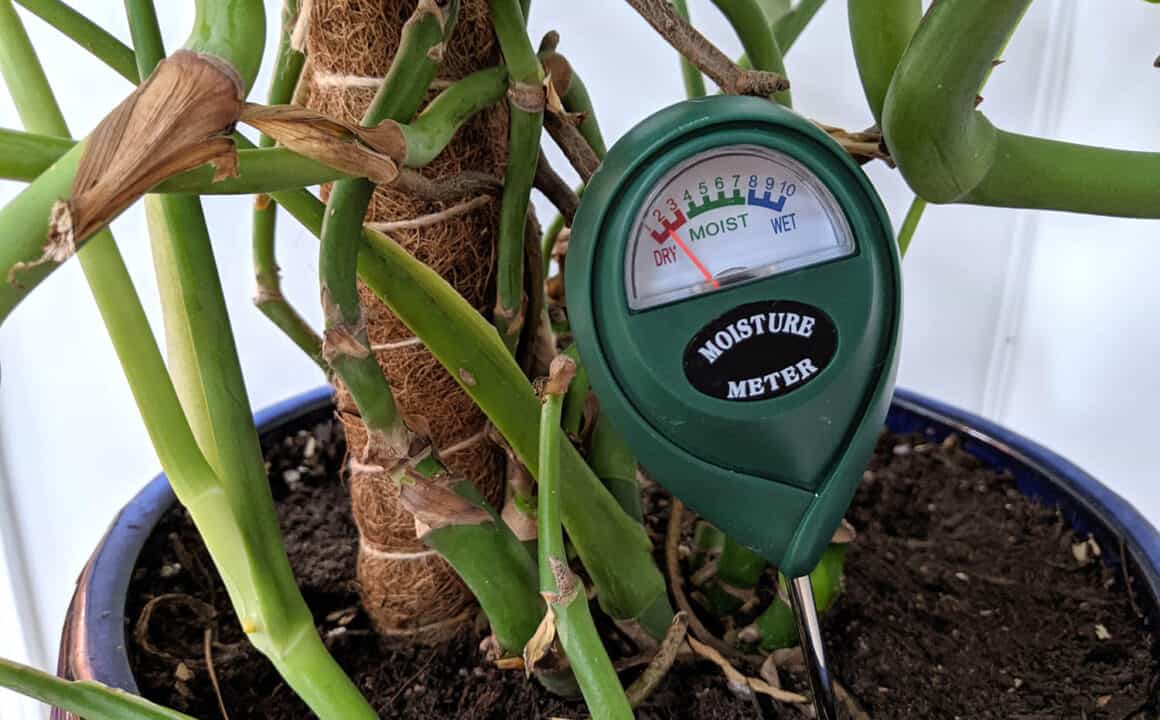 Left unchecked, overwatering can cause serious and fatal issues for your houseplant. Yellowing, browning, and dropping leaves are signs of the problem that occurs above the soil's surface. Root rot, which can kill a Monstera quickly, is a sign from underneath. (More information on that here!)
Overwatering occurs in several different forms. The first (and most obvious) comes from adding too much water to your plant too often. A Monstera needs to be able to dry out between waterings, and not allowing that to occur can seriously harm the roots of the plant.
Overwatering can also be the result of improper drainage. If your plant is in a pot without a drainage hole in the bottom or soil that retains too much moisture, it won't be able to dry out like it needs to. If your plant isn't growing and you suspect overwatering to be the cause, read this article on choosing the best soil and container for Monsteras and take the steps to remedy your issue.
The solution to overwatering depends on the reason the overwatering is occurring. If your Monstera is overwatered because it has poor drainage, you'll need to troubleshoot it. The causes can range from a clogged drainage hole (or lack of one) to thick, heavy soil.
If your Monstera is overwatered because you water it too often, you'll need to start checking the soil before watering. The first inch or so of soil should be dry before you water your plant again. If you struggle to gauge this or want to be sure, a moisture meter is a good investment.
---
Reason 4: Your Monstera Doesn't Get Enough Light
Monsteras that don't have enough sunlight tend to stop growing. When they do produce growth, they can put out poorly developed, small leaves without fenestrations. If you've noticed small, solid leaves before your Monstera stopped growing, a lack of light is probably the cause.
There are two options for addressing this problem: you can either move your Monstera closer to a window or buy a grow light. Moving it to a window is the cheaper option but isn't always feasible, especially if your windows are small and don't receive enough sunlight.
Ideally, a Monstera needs at least six hours of bright, indirect sunlight a day. The plant needs to be close to a window but not in the direct path of the sun's rays. Direct sunlight can burn the leaves and cause the plant to wilt. Windows that face the south, east, or west are ideal.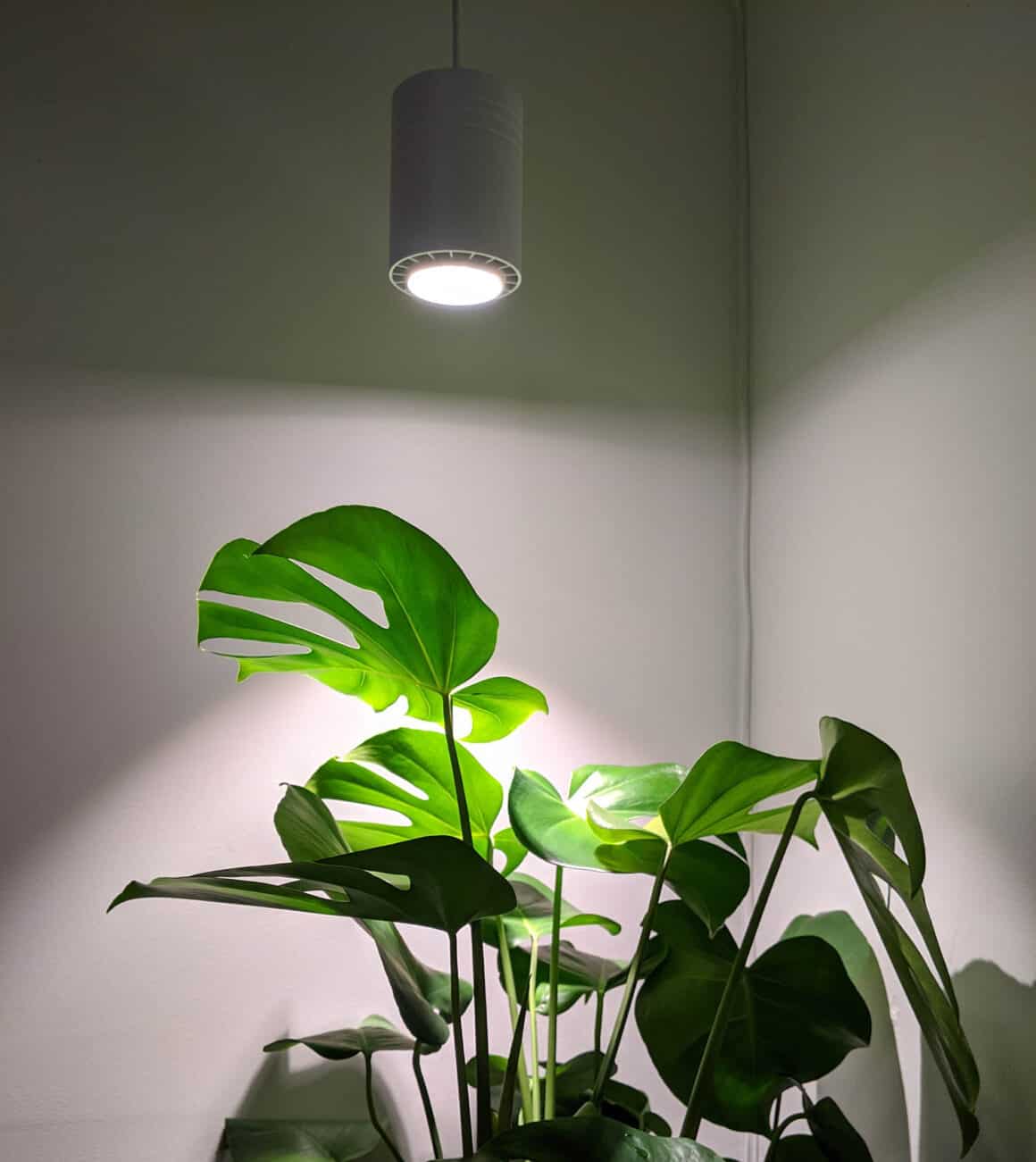 If that isn't an option for you, a grow light is a great alternative. These are lights that come in all kinds of shapes and sizes that mimic the light produced by the sun. To find my recommendations on the best grow lights for Monsteras and other houseplants, read this article.
---
Reason 5: Your Monstera Needs Added Nutrients
Plants can suffer from malnourishment the same way that people can. Nutrients including nitrogen, phosphorus, and potassium are vital to a Monstera's growth. These are generally absorbed from the soil through the plant's roots and play different roles in the functions that keep your Monstera alive and growing.
While potting soils usually come with these nutrients already mixed in, the soil gets depleted after 3-9 months. Without replenishment, a Monstera will take up all of the nutrients that it needs from the soil, resulting in a potting mix that only holds water. A lack of nutrients won't kill a Monstera, but it will keep it from growing.
A lack of nutrients is another issue that has a few different solutions. The easiest way to address a lack of nutrients is to fertilize your Monstera. Fertilizing should be done a few times a year and is as simple as diluting a liquid fertilizer and pouring it into the pot. Dilution should be done carefully, though: too much fertilizer can burn the roots and potentially kill the plant. For more information on fertilizing Monsteras, read this article.
You can also add nutrients regularly through "compost teas" and rainwater. Rainwater can, and should, be added instead of tap water and has a few different nutrients depending on how it was collected. Compost teas are collected from your home compost bin if you have one, or by soaking banana peels in water.
Depending on whether or not it's time to size up your Monstera's pot, replacing your plant's soil is another great way to introduce fresh nutrients. Refreshing the potting mix should be done when repotting your Monstera. All you need to do is pick out a good, rich soil that drains well.
---
Reason 6: Your Monstera is Rootbound
If you haven't repotted your Monstera in a long time and it has stopped growing, it may be because the plant has become rootbound. The term "rootbound" means that your Monstera's roots have filled its pot, pushing the soil out of the way. Rootbound plants can't absorb water because there usually isn't enough soil for the water to soak into.
There aren't always above-ground signs that this is the problem, so you'll need to look at the roots by removing the plant from its pot to know for sure. If they are wrapped around the container and coiled around onto one another, leaving no space for the potting mix, your Monstera is rootbound.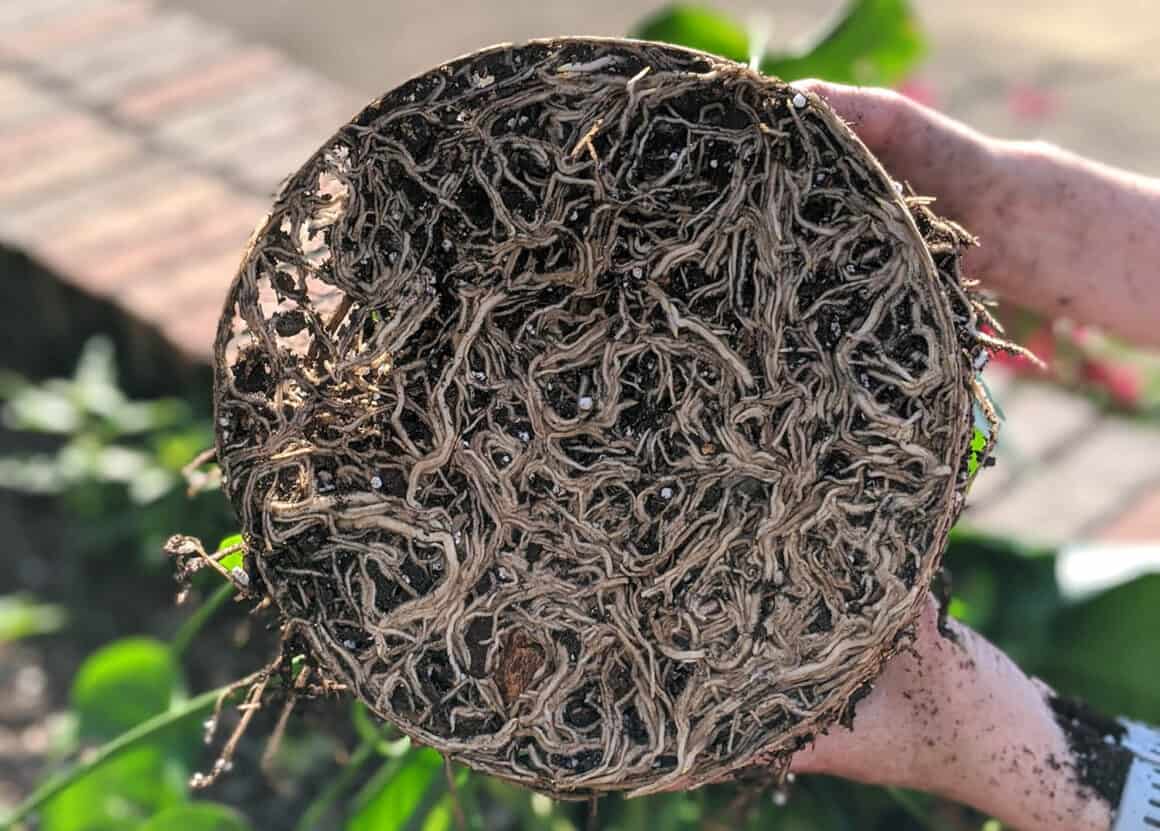 In this situation, you will need to repot your Monstera in a larger container with fresh soil. We have a comprehensive guide on how to do that here, but it's a pretty simple process. To avoid your Monstera becoming rootbound, repotting should be done about every two years. For Monsteras that grow exceptionally fast, repot once a year.
---
Reason 7: Your Monstera Has Pests
Pests are another reason a Monstera may have stopped growing. Thankfully, this can be easily identified with a quick investigation. Destructive insects can be dealt with if caught quickly enough.
Several different kinds of pests can cause your Monstera to suffer: mealybugs and spider mites are the most common for Monsteras. Mealybugs are small, white bugs that leave a web-like mess on the undersides of stems and leaves. Spider mites are much smaller and can be hard to see with the naked eye but leave a similar residue underneath leaves.
Once identified, the solution to treating pests is to eradicate them. Eradication almost always involves washing the leaves and stems individually. The most recommended approach to a pest outbreak is neem oil, a product that you can spray onto the leaves.
For mealybugs, you'll need to kill each bug individually with a cotton swab and rubbing alcohol. Follow this up with some neem oil and wash the leaves to get rid of their sap and residue.
For spider mites, you'll need an organic pesticide that can you can spray onto the leaves. Spider mites come off easily, so washing the leaves thoroughly is usually enough to take care of them.
In any situation that involves an infestation, diligence is vital. Check frequently for any signs that the pests have returned, as they can be hard to get rid of. It's tedious, but being thorough will save you from headaches later on. Read through this guide for more information on the most common pests affecting Monsteras and what to do about them.
---
Closing Thoughts
Monstera deliciosas are aggressive growers. During the growing season, a healthy plant can put out up to two leaves a month from each node. If you suspect your plant has stopped growing, it is time to investigate.
Like all living creatures, a Monstera won't thrive if its basic needs aren't met. That's why I always recommend starting with light and water when troubleshooting. These are usually the culprits when there is an issue with a Monstera and are easy to fix. Monsteras are hardy, too, so they can tolerate some experimentation while you try to figure out exactly what your plant needs.
After you've made any of the changes recommended above, give your Monstera plenty of time to decide if it's ready to get started putting out new growth again. A month is usually long enough, but if you made the right changes, you could see new growth much sooner than that. Practice patience, though! Healing takes time.
---
Read More in Our eBook
Have more questions about your Monstera Deliciosa? Want to know what you can do to keep it happy and healthy? Grab our latest book, How to Care for Monstera Deliciosa, and get all that and more.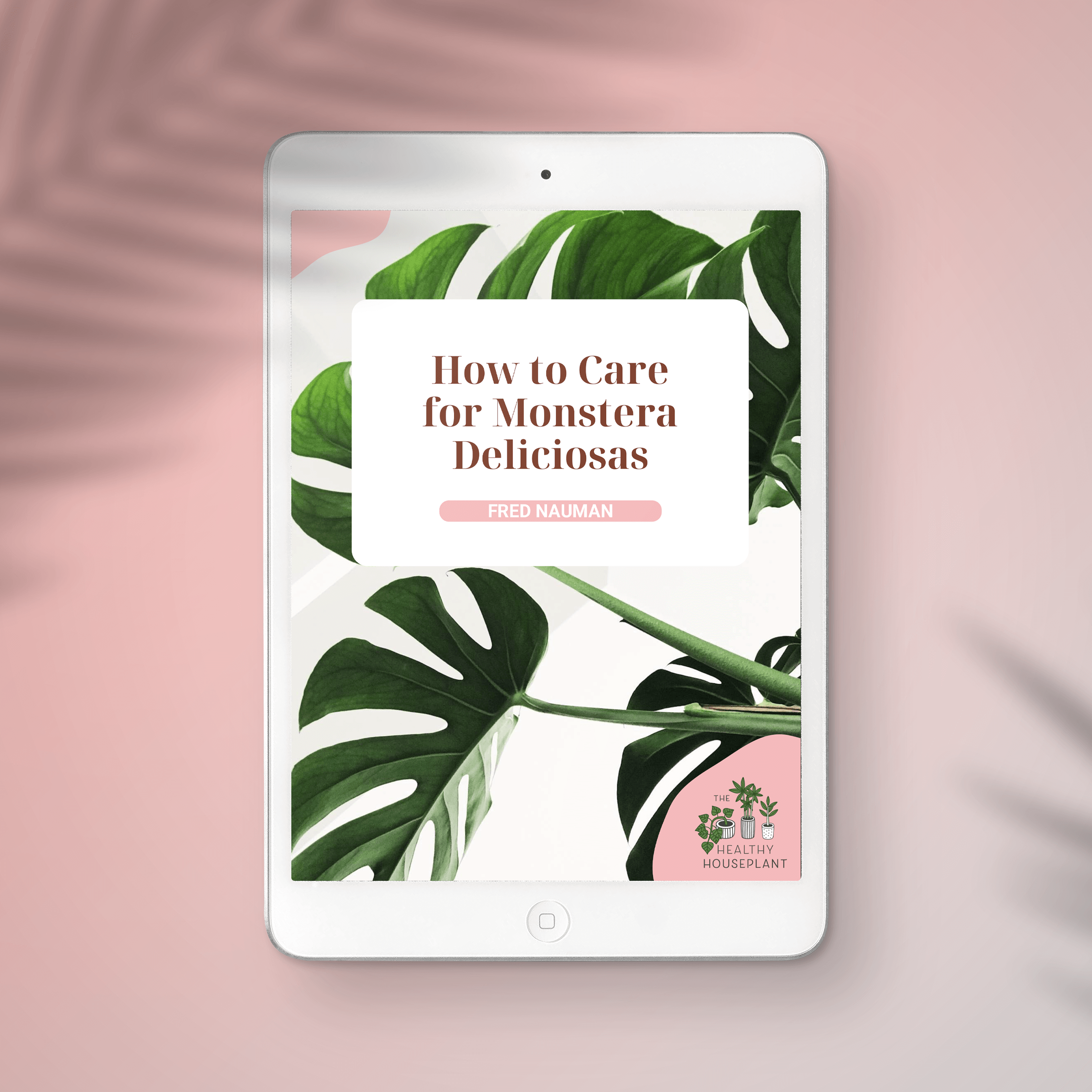 Our eBook covers:
Signs Your Monstera Isn't Getting Enough Light or Water
How to Grow Your Monstera to Epic Sizes
What are Fenestrations and How Can You Encourage Them
Tips for Fertilizing Monsteras
The Best Way to Prune this Plant
Propagation Tips and Tricks
The Best Type of Soil for Monsteras
Help Diagnosing Unhealthy Plants and How to Treat Them
And More!!
If you've got more to learn, grab a copy of our book today and get your Monstera Deliciosa back on track. Get your copy now!