Planting Pothos together with other houseplants is a fun way to add some variety to your indoor garden. You can exercise your creative flair as you mix and match different plants in the same pot. But what kinds of things can you plant with Pothos? Here are our top 8 recommendations for plants to grow together with your Devil's Ivy.
Epipremnum Aureum, or Pothos, will grow well with almost any plant that prefers indirect light and doesn't like overwatering. Avoid species that like alkaline soil, direct sun, or wet conditions. Aroids like Peace Lilies, Chinese Evergreens, and Philodendrons are great companions to plant with Pothos.
Certain plants may require a bit more care to grow with Pothos, and we'll try to call those out when they appear on our list. We'll also offer some tips about how to create cool-looking combinations and help every plant in the pot shine. With proper care and a little creativity, you can create some amazing arrangements by pairing companion plants with your Pothos.
---
Why Grow Other Plants With Pothos?
If you usually keep your houseplants in separate pots, you might not see the point of growing your Pothos with a companion. What's the advantage of combining plants?
Well, for one thing, there's the visual appeal. Placing different foliage plants together lets you play with contrasts of shape, color, and height, sort of like a flower arrangement. And a cluster of multiple species feels closer to the pleasant chaos of natural vegetation.
Being close to other greenery is also helpful for a tropical plant like Pothos, which appreciates humidity. Most plants are constantly releasing water vapor from the tiny pores in their leaves throughout the day. When lots of tropical plants are close together, all of that vapor adds up, increasing the local humidity. By grouping other plants with Pothos, you're creating a small microclimate that your plants will enjoy.
---
What Kinds of Things Should You Plant With a Pothos?
We have some specific suggestions further down, but we also want you to be able to make your own judgment calls. So let's look at what qualities make a plant play well with Devil's Ivy. You can combine a plant with Pothos if it needs:
Indirect sunlight. Epipremnum plants burn easily if they get more than 2 or 3 hours of direct sunlight in a day. They enjoy bright light, but it has to be indirect, meaning it's reflected off walls or filtered through curtains. Pair them with other shade-loving plants.
Lightly moist soil. Pothos plants don't like their roots to dry out completely, but they like sludgy wet soil even less. Their companions should be other plants that like intermittent watering and coarse, chunky potting mix. Avoid ferns and mosses that need a lot of moisture.
Decent humidity. We touched on this above, but Devil's Ivy likes a relative humidity of 50% or higher. Plant yours with other tropical species that exhale a lot of water vapor, not with moisture-hoarding succulents.
Moderate-to-Low pH. The best soil pH for an Epipremnum is around 6.1-6.5 (mildly acidic). Anything you plant with Pothos should feel the same way.
Occasional fertilizer. Heavy feeders – plants that need lots and lots of fertilizer – won't mix well with a Pothos. Devil's Ivy only needs added nutrients every 4-6 weeks during the growing season, and adding more can stress it out.
So given those criteria, what will go well with your Epipremnum? Here are some of our top choices.
---
Top 8 Houseplants to Plant With A Pothos
---
Spider Plant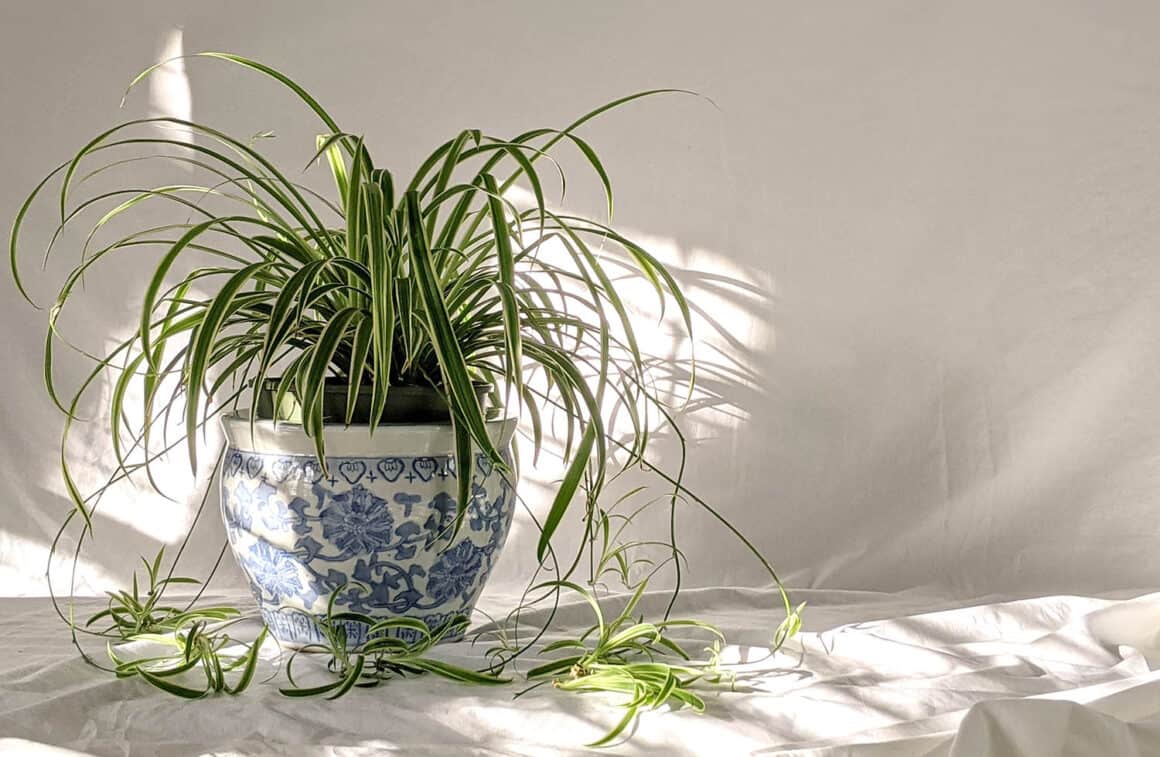 Chlorophytum Comosum and Pothos are similar in many ways. They're both tough plants that grow well in low light and hate to be overwatered. Like Pothos, Spider Plants are often grown in hanging planters. You can create some striking effects by placing both in the same basket.
Try putting the Spider Plant closer to the center with Golden Pothos vines ringing the edges. The Pothos will trail down while the Spider Plant rises from the middle like a green and white fountain. And here and there, baby spider plants on dangling tendrils will peek through the curtain of vines.
---
Peace Lily
The Spathiphyllum, or Peace Lily, belongs to the aroid family. This group contains a lot of other well-loved houseplants…including Devil's Ivy. Though some people think of Peace Lilies as thirsty plants, they prefer their soil to dry out a bit between waterings, just like Pothos.
The tall white flowers and sword-shaped leaves of a Peace Lily look even more graceful when they're rising out of a riotous cluster of Devil's Ivy leaves. Bonus points if you have a Pothos with white variegation like an N'Joy, extending the white-on-green look.
---
Dieffenbachia
Also called the Dumb Cane, Dieffenbachia is an awesome houseplant that shows off a variety of patterns in deep green and lemon-lime. These are great to plant with Pothos since they enjoy the same soil type and watering routine. They also appreciate lots of light but don't like direct sun.
One cool option would be to pair your Dumb Cane with a Neon Pothos, to emphasize the vivid chartreuse coloring. You could also place it with a heavily variegated strain, since both plants would thrive in a very well-lit space.
---
Tradescantia
Like Pothos, Tradescantia Zebrina (AKA the Wandering Jew or Inch Plant) likes to crawl over shelves and windowsills. And like Pothos, it thrives in a humid environment with well-draining soil and moderate doses of fertilizer. A Wandering Jew is a great option to plant with a Pothos, since they'll help one another stay moist.
The silvery-purple coloring of an Inch Plant makes an amazing contrast with the deep green of a Pothos. For an even more intense combination, you could pair it with a brilliant white-and-green Snow Queen Pothos. There's also the silver-variegated Scindapsus Pictus, which isn't a true Pothos but often gets lumped in with Epipremnum. The combination of silver stripes and silver spots could look very cool.
---
Jade Plant
Growing a Jade Plant with a Pothos is a slightly trickier balance than some of the others on this list. The Crassula Ovata is technically a succulent, while Pothos is a jungle plant. However, both plants should thrive as long as you keep them in chunky, well-aerated soil and you're careful not to overwater.
The green of a Jade or Golden Pothos is very similar to the coloration of a Jade Plant. But the rounded, fleshy leaves of the Crassula will form an interesting counterpoint to the pointy Pothos foliage. Try scattering them in a chaotic arrangement, letting the stalks of the Jade Plant poke out of a tangle of Pothos creepers.
---
Dracaena
There are lots of different Dracaena varieties, but they all thrive in roughly the same heat and light conditions as a Pothos. Once again, the biggest care concern is avoiding overwatering. They don't necessarily need as much humidity as Pothos, but they won't mind a little extra moisture in the air.
The real fun of combining these two plants is playing with the vertical dimension. Many Dracaenas grow tall, sturdy trunks, and Pothos loves to climb! If you're patient, you might be able to turn your Dragon Tree or Corn Plant into a living moss pole for your Devil's Ivy. (No, the Pothos won't hurt your Dracaena. Just make sure you prune it enough to keep it from covering the other plant's leaves.)
---
Snake Plant
Technically, a Snake Plant is a type of Dracaena. However, they look and grow very differently from their cousins, so most people don't group them together. Like the Jade Plant, a Snake Plant is a succulent. You'll have to be extra careful not to overwater it when you plant it with a Pothos. Use a fast-draining potting mix and check to make sure the top 2 inches of soil are dry before hydrating.
Snake Plants have several types of interesting variegation that can pair well with the green and gold of a Pothos. The thick, vertical blades of their leaves look good next to both trailing and climbing Epipremnum vines.
---
Butterfly Palm
Dypsis Lutescens, the Butterfly or Areca Palm, goes very well with Pothos. Their water, moisture, and lighting needs are very similar. And the delicate fans of the Areca Palm's leaves provide a good counterpoint to the solid heart shapes of Pothos foliage.
This is another plant that will add a vertical dimension to your planter. Butterfly Palms can grow over 6 feet tall with care and patience. When you combine this plant with Pothos, you'll get a nice pairing of overstory and ground cover. It looks natural, tropical, and fun.
---
Can You Plant Philodendron With Pothos?
You may have noticed that we didn't mention Philodendron on our list. Since these are very popular houseplants, and very similar to Pothos, many people are curious if you can grow them together.
The answer is yes. Philodendron and Pothos plants will thrive in a shared planter. The reason we didn't include them in the main list is that they're almost too similar. Our favorite things to plant with Pothos are species that will provide some kind of contrast. If you have a Jade Pothos and a Heart-Leaf Philodendron together, you'll hardly be able to tell them apart.
That said, these plants do have similar care needs, so they'll grow well together. And there are some Philodendrons with unusual appearances that we'd plant with a Pothos in a heartbeat. For example:
Philodendron Birkin has dark green leaves with bright pinstripes that would look great next to a Pothos.
Philodendron Congo Rojo sports red stems and dark, glossy leaves that offer a nice contrast with the greens, yellows, and whites of Pothos plants.
Philodendron Pink Princess is, well, pink – or at least it grows big splashes of pink. Combined with its wide leaves, it would make a great companion for your Pothos
Philodendron Xanadu grows with ruffled lobes that make its foliage resemble giant oak leaves.
---
Can You Plant Different Types Of Pothos Together?
Absolutely! There's no need to look outside of the genus for variety. Placing a speckled Snow Queen or Jessenia Pothos next to a green Jade or Neon Pothos would be a great way to showcase this plant's diversity. If you have multiple Pothos, you can easily plant them together and expect them to thrive.
One note of caution: highly variegated Pothos need more sun than all-green ones. Give your combination planting lots of light if it includes a Manjula or Pearls and Jade Pothos. And you may need to prune the non-variegated Pothos more frequently to make sure it doesn't crowd out its neighbors.
---
Final Thoughts
Many of the houseplants you already love make great choices to plant with Pothos. Don't feel like you have to limit yourself to just two different plants, either. A plant pair is a good way to get started, but you can go wilder once you get the hang of companion planting. Why not pair your Pothos with three or four other plants to create an eye-popping mixed planting? Choose your plants with care, but then have fun experimenting!