My Money Tree is one of my most favorite houseplants. My grandmother brought it to me shortly after I got married, and though I thought it was beautiful, I knew very little about it. Over the years, I've discovered that Money Trees are low maintenance, and I've added a few more to my collection.
Are Money Trees easy to care for? I think so. Though they can be a little finicky about light and water, Money Trees are relatively straightforward in their care. These humidity loving plants should be placed in bright, indirect light and only watered when the top 1-2″ of soil are dry.
Money Trees are excellent choices for beginners. Unlike other pickier houseplants (I'm looking at you, Calatheas), even a total novice can succeed with these trees. With a little bit of knowledge, you'll be well on your way to caring for a thriving Money Tree.
---
The Breakdown
This article will be broken up into two parts: Basic Money Tree Care and Advanced Money Tree Care. In the basic section, we will cover water, light, and other considerations that will help keep your Money Tree alive. The advanced section will cover propagation, fertilization, and transplantation, which will encourage your Money Tree to thrive.
If this is your first Money Tree, this initial section should cover just about everything you need to know to get started with your new tree. If you're interested, keep reading into the advanced section, which will help prepare you for some of the intricacies of Money Tree care. I've even included a short section at the bottom with additional reading suggestions!
---
Money Trees in Nature
Money Trees, also known as Pachira Aquatica or Malabar Chestnuts, are natives of the Central and South American swamplands. These trees grow to enormous heights, reaching up to 60 feet tall, and are known for their gorgeous, showy flowers and chestnut-style seeds. The seeds, which rarely grow on indoor Money Trees, are enjoyed roasted and are said to taste like peanuts.
In their natural habitats, Money Trees have access to nearly limitless resources (think rainwater, fresh soil, etc.). This is part of the reason they can reach such exceptional heights in the wild. Money Trees can be grown outdoors year-round in USDA zones 10 and 11 and can be set outside during the summer months in cooler areas.
---
Money Trees as Houseplants
Money Trees have been kept as ornamental houseplants by the Japanese well-before they were introduced to Western plant markets. The braided Money Tree, which is an especially popular option, was actually created by a truck driver from Taiwan in the 1980s!
Money Trees are believed to bring good luck and prosperity to their owners. Proponents of the Feng Shui also believe that the leaves of the Money Tree represent the five elements central to Feng Shui.
Kept in the home, Money Trees grow much differently than their wild counterparts. Domesticated Money Trees usually reach about 6 feet tall, though they have been known to reach up to 8 feet or taller when kept indoors.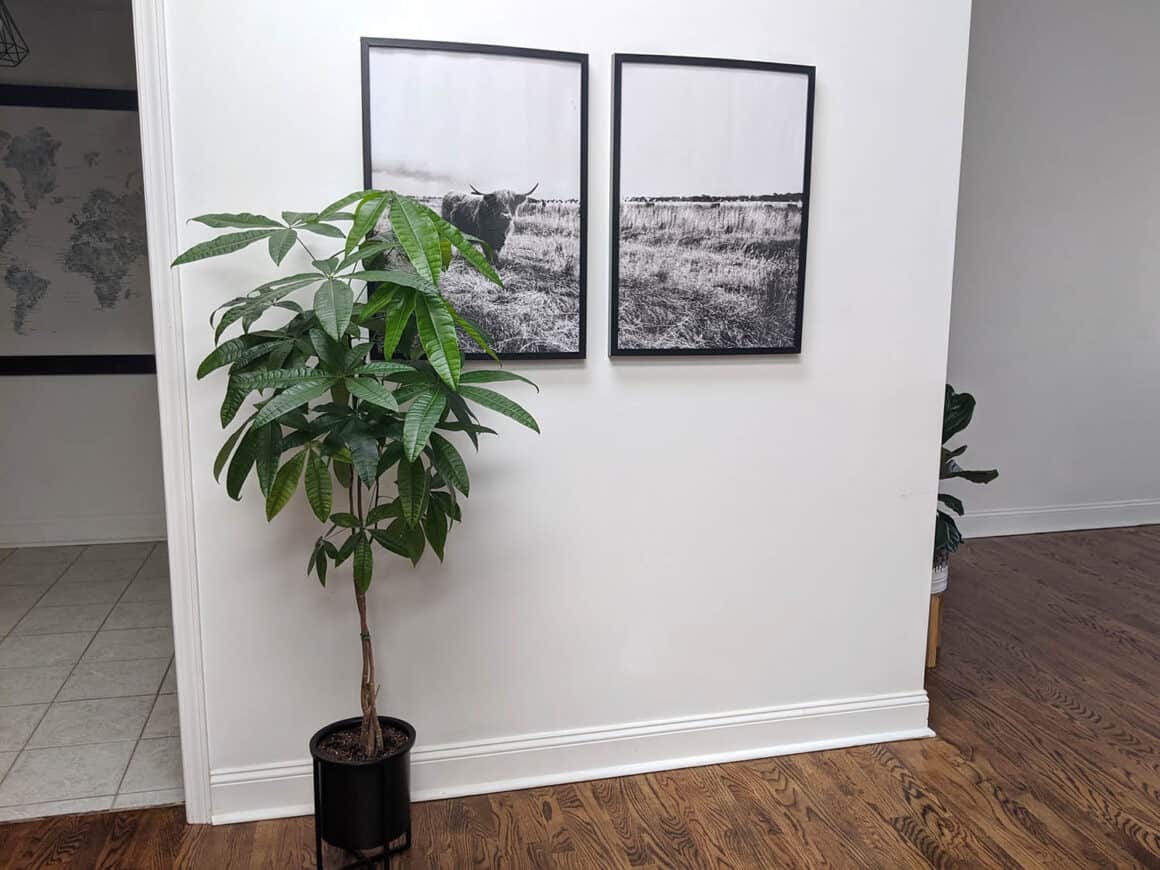 In a single year, a well-cared-for Money Tree can grow up to 24 inches in height. But this amount of growth relies on near-perfect care, so don't be surprised if you don't see that much growth right away.
Despite being kept indoors, Money Trees will enter a period of dormancy during the winter months. This is important to consider when it comes to caring for your Money Tree, as its needs may change depending on the season.
---
Basic Care
Money Trees are relatively simple to care for. As long as their basic needs are met, they'll continue to live and grow. Like all plants, they need adequate light and water. But with Money Trees, both of these things can be difficult to get right.
---
How to Water a Money Tree
Despite being native to swamplands, Money Trees respond poorly to being overwatered as they are susceptible to root rot. Root rot occurs when a Money Tree sits in soil that has been overly saturated with water and doesn't have the proper time to dry out between waterings. Left uncorrected, root rot can kill an otherwise healthy Money Tree. For this reason, good watering practices are super important for these plants.
Money Trees should be watered thoroughly. This means that you should water your Money Tree evenly until the water begins to run out of the drainage hole at the bottom of its pot. I usually keep watering until I see about twenty percent of what I put in flow out through the drainage hole in the bottom of the pot.
Money Trees should never be left to sit in the water that drains out, though. This will cause the soil to take up too much water and can result in root rot. To avoid this, pour the saucer out when it has finished draining.
Money Trees should only be watered after they've been able to dry out. When the top one to two inches of soil is completely dry, only then is it time to add more water. I check this by inserting my finger into the soil and checking for dampness.
If you're uncertain about when it's time to water your Money Tree, a moisture meter (like this one from Amazon) might be a good investment for you. You can read more about those and other tips on watering your Money Tree here.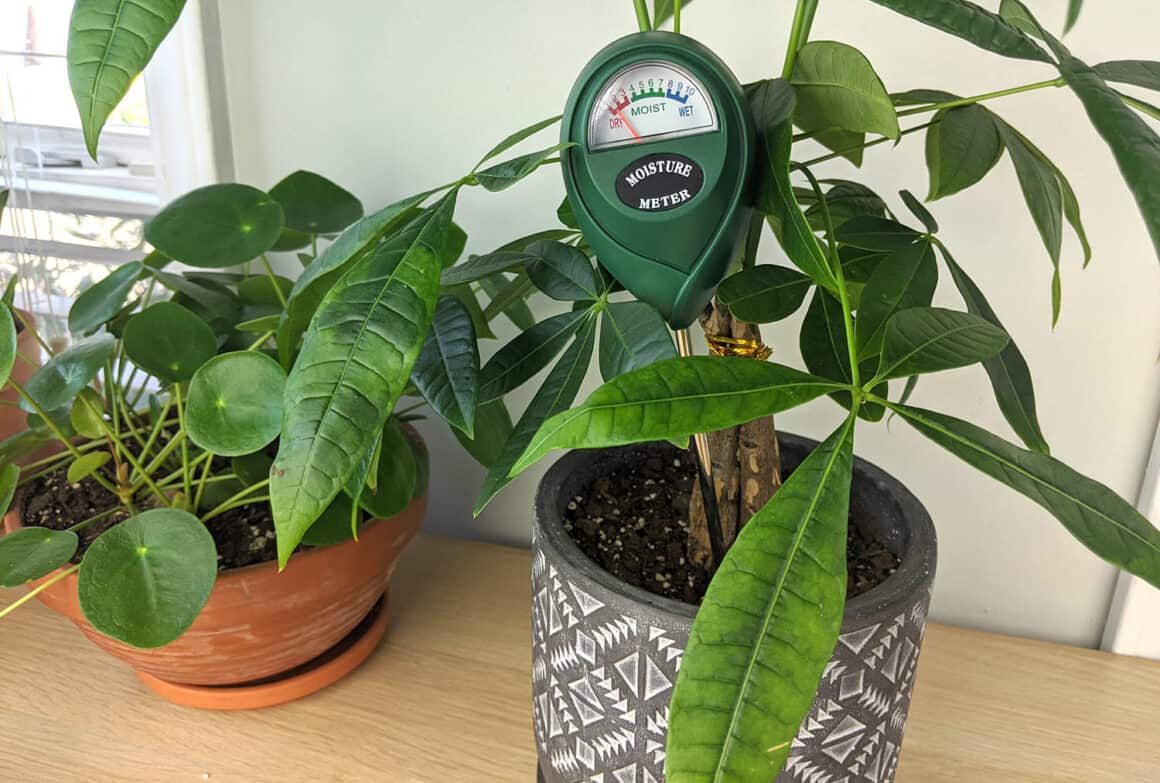 Money Trees tolerate being underwatered much better than being overwatered. So if you're in doubt, wait a few more days before adding more water to your plant. But do try to avoid letting your tree go too long without water because it can cause the leaves to wrinkle and eventually fall off. For more information on signs that it is time to water your Money Tree, click here.
---
How Much Light Does a Money Tree Need
The next concern for basic Money Tree care is the volume of light these plants need. In general, Money Trees are pretty adaptable. While they prefer a lot of bright, indirect sunlight, they can do well in areas that are a little bit dimmer.
Ideally, your Money Tree should get at least six hours worth of bright, indirect sunlight. But beware! Too much light is not good for these little guys. Direct sunlight will lead to discoloration in the foliage of Money Trees. Referred to as "leaf scorch," this can cause your plant to turn yellow or brown.
To determine if the area you've chosen is a good fit for your Money Tree, place your hand between the nearest window and the plant. If you can feel the heat of the sun on your skin, or if you notice the shadow your hand is casting is solid with crisp edges, this area is considered direct light and is too harsh for your tree. In this case, pull your Money Tree back a few more feet into the room and away from the window.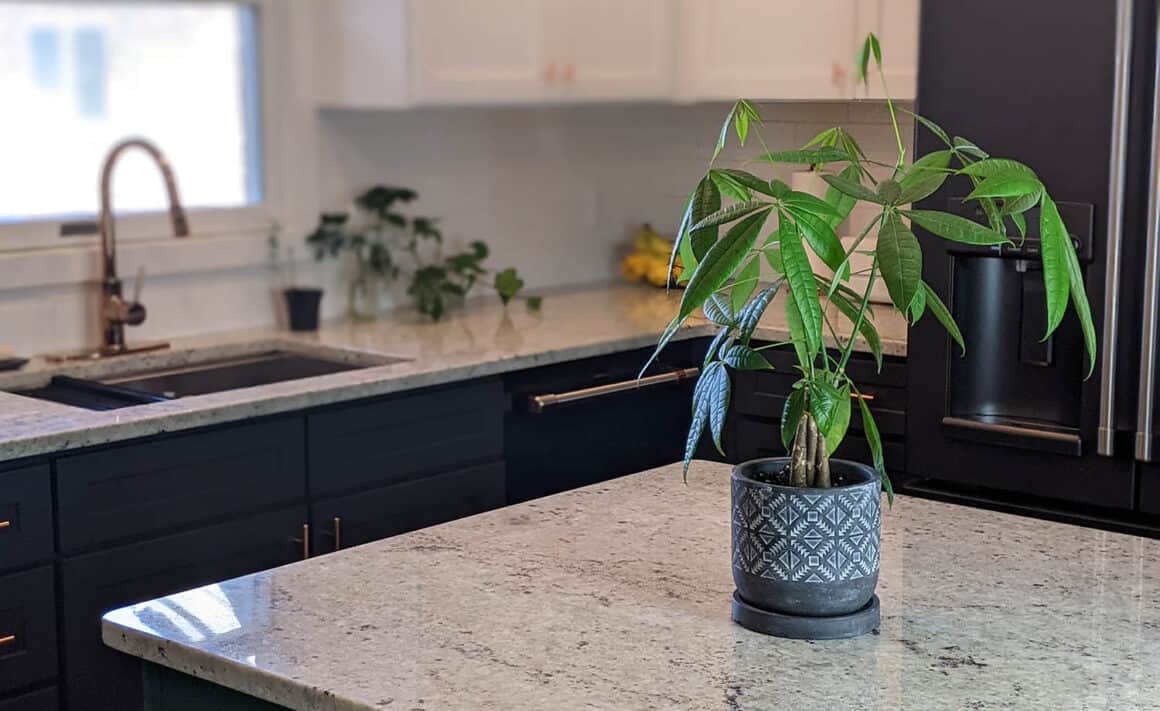 While Money Trees can tolerate less-than-optimal lighting, it is best to avoid rooms that are considered low light as that can result in a stretched out or etiolated plant. If you don't have access to bright light and still want a Money Tree, a grow lamp might be a good investment for you.
When considering the best location for your Money Tree, there is another factor in the environment that you should keep in mind. Avoid putting your Money Tree anywhere that has a significant fluctuation in temperature. Drafts, which can be caused by vents and poorly-sealed windows, will stress your Money Tree. Also, keep the plant away from doors that could let in warm or cool blasts of air.
---
Humidity and Money Trees
Money Trees love humidity. Remember, these plants are tropical by nature, and anything you can do to mimic their natural habitats will serve you and your Money Tree well.
Money Trees do best in temperatures between 65-80° F and humidity levels of at least 50%. To check the humidity level in your house, or to find which room is best suited for your Money Tree, you can purchase a small device called a hygrometer (like this one). This device will quickly tell you the relative humidity in an area, which is great to know for Money Trees and other houseplants in your collection.
If you can't keep your Money Tree somewhere humid, be sure to give it some other source of humidity. Regularly misting it, grouping the tree with other plants, or placing it in a pebble tray are all options that will ensure your Money Tree is getting more humidity. Also, some rooms (like bathrooms, kitchens, and basements) naturally have higher humidity levels and are better suited for Money Trees.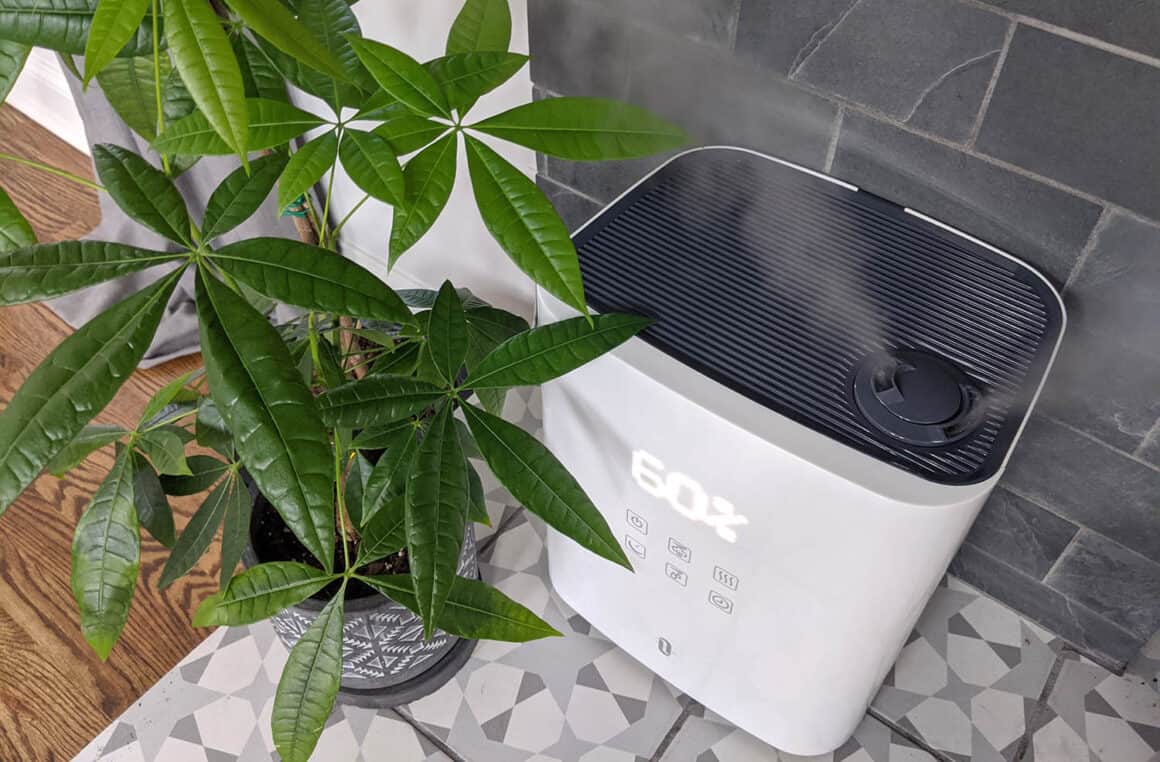 If you live in a dry area and you want to significantly increase the humidity surrounding your Money Tree, consider investing in a humidifier. I personally have a humidifier just for my Money Trees, and they absolutely love the added moisture to the air. The trees I have near my humidifier are thriving.
For more information on humidity and Money Trees, you can reference this article on the subject here. To read more about the best humidifiers for houseplants, click here.
---
Containers and Soil for Money Trees
Money Trees don't have many unique requirements when it comes to soil, but they do prefer quick-draining soil. I usually like to combine a regular potting soil with a succulent or cactus blend for my Money Trees.
If you prefer a more DIY option, you can also mix your own soil using peat moss, sand, and preterite. The recipe and instructions on how to do that can be found here.
Money Trees should be kept in containers that are proportional to their size. Putting your tree in a container that is too big or too small can cause major issues. Too large of a container can encourage root rot by causing the soil to retain too much moisture. Too small of a planter can prevent the tree from taking up water and nutrients through its roots.
If your Money Tree has outgrown its current container, it has likely become root-bound. An abundance of roots in a pot leaves little to no room for soil, which is the source of nutrients for the plant. It also causes the water to run out of the pot too quickly, preventing the plant from being able to take it up.
Always, always, always choose a container with a drainage hole in the bottom. Remember, soggy soil is the enemy of the Money Tree, so these plants must be able to drain effectively. A combination of quick-draining soil and a pot with a drainage hole will ensure your plant can dry out between waterings.
---
Advanced Care
If you feel confident in your ability to care for your Money Tree's basic needs, you're ready to move on to the advanced care! This section will cover propagating, transplanting, fertilizing, and pruning your Money Tree. These may seem like daunting tasks, but they're actually pretty simple. Use this information below and up your game with your Money Tree.
---
Pruning Money Trees
Almost all plants need to be pruned at some point in their lives. Proper pruning can encourage growth and keep your Money Tree healthy, so it's a great skill to be comfortable with.
There are two types of pruning: structural and maintenance. Structural pruning involves trimming off large, significant pieces of the tree, such as parts of the roots or large pieces of stem. Maintenance pruning involves cutting new growth and smaller branches and stems.
While maintenance pruning can and should be done all year, structural pruning should be reserved for the winter months, when the Money Tree is dormant. This gives it plenty of time to heal before it begins growing again in the spring.
Pruning is a great way to give your Money Tree a particular shape or encourage it to grow taller and bushier. The possibilities are almost endless! You can read more about how to achieve certain Money Tree looks and shapes here.
For more information on basic Money Tree pruning, click here. For information on how to use pruning to keep your Money Tree small, read this article.
---
Propagating Money Trees in Soil
Money Trees, like many other houseplants, can be propagated easily. Propagation can be done in both soil and water, though soil is the preferred method for Money Trees. The entire process is very simple and requires little time. With a little bit of knowledge, you can create an entirely new plant from the cuttings of an existing, established one.
To propagate a Money Tree in soil, you'll need to start with a healthy, green cutting from the parent tree. Look for a stem in good shape with several leaves and two or three leaf nodes near the end. Using sterile, sharp shears, cut a few centimeters below the lowest node. After that, remove any leaves on the nodes at the end.
Soil propagation requires using rooting hormone, which is just a chemical that encourages the cutting's roots to grow more quickly. After taking your cutting, dip the end in rooting hormone and tap off the excess.
Have a small pot with well-draining soil ready before you get started. Make sure the soil is moist and make a small hole. All you need to do is put the cutting, dipped in rooting hormone, into the hole, and gently pat the soil around it! Within a few weeks, your cutting should develop roots. You can read more about the process and what to expect here.
---
Propagating Money Trees in Water
The other way to propagate a Money Tree is to use water. Though this method results in roots that are less established because of the lack of available nutrients in water, it is just as simple as the soil method and allows you to watch the formation of the roots as they grow.
Following the same guidelines as you would for propagating in soil, take a good cutting from your Money Tree. Choose a section that is healthy and green and cut it just beneath the leaf nodes near the end of the stem. Trim off any leaves on those nodes.
After taking the cutting, place it into a bottle or jar, leaving two-thirds of the plant above the water. While many people prefer the look of vases or jars, a bottle is an excellent choice because it gives the leaves of the plant something to rest on to help keep them out of the water below.
When propagating in water, you'll need to periodically rinse the container out, refresh the water, and gently clear any algae off the stems. Once the roots are two to three inches in length, you'll be ready to transplant the cutting into soil. For more information on propagating Money Trees in water, click here.
---
Fertilizing Money Trees
Fertilization is a big part of growing a happy, healthy Money Tree. Money Trees should be fertilized two to three times a year. Any less and they won't have the nutrients they need to continue to grow and thrive. Any more and you risk potentially burning the roots of your Money Tree.
Most potting soils are fortified with nutrients, but after your Money Tree has been planted in the same soil for six months or more, most of those nutrients are depleted. This is where fertilizer comes into play.
Although repotting your Money Tree with fresh soil will give it new nutrients to grow, it isn't always necessary. Instead of repotting, you can fertilize your Money Tree with liquid plant food. Fertilizer can be purchased online or at your local nursery. Personally, I use Jack's Houseplant Fertilizer (find it here on Amazon) on my Money Trees.
When fertilizing your Money Tree, dilute your liquid plant food to half strength and then water it normally with the mixture. It's always best to dilute fertilizer as you can add more to the plant in the future, but it is difficult to take any away. For more information on my favorite fertilizers for Money Trees, read this article.
If you give your Money Tree too heavy of a dose of fertilizer, you may see yellow or brown leaves starting at the tips and working their way back in towards the center. If you believe you've burned your Money Tree, take it into your shower or sink and run water over the soil and allow it to flow out the drainage hole and down the sink for three to five minutes. Flushing the soil is the best method for removing excess fertilizer and preventing further uptake.
---
Transplanting and Repotting Money Trees
Money Trees will periodically need to be transplanted and repotted. If allowed to, a healthy Money Tree will outgrow its current pot and will need something larger. Repotting also gives you a chance to replenish your Money Tree's soil, which has probably been depleted of nutrients since its last repotting.
Transplanting should be done once every one to two years before the growing season starts in the spring. This will decrease the likelihood that your Money tree will experience any stress from transplanting. It will also make sure it has everything it needs to grow well during the spring and summer.
To transplant into a larger pot, you need to select a pot that is one size up from its current one. Too large of a pot can result in root rot because the soil will absorb more moisture than the roots can take in.
The process is as simple as setting up a workspace, getting the tools together, and gently removing your Money Tree from its current planter. You can read more about how to transplant your Money Tree and other important considerations when selecting a pot here.
---
Additional Reading
While the article above should outline everything you need to know about your Money Tree, there is a ton more information on our site about these beautiful plants.
If you feel like you're just getting started, keep going! I'm going to link up a few articles below to give you even more information on your Money Tree. Good luck and happy reading!
Have a pest problem? Or concerned about having one in the future? Money Trees are susceptible to several different types of insects. We go over all of them and what to do to prevent them or eliminate them in this article.
Curious about how to keep up that beautiful braid? This article goes into detail with step by step instructions.
Is your Money Tree looking less than healthy? I go into extreme detail about the most common issues with Money Trees. For help diagnosing and remedying Money Tree problems, read this article.
Want to know the difference between a Money Tree, Schefflera, and a Ficus? Click here!
And finally, here are a few tips on how to keep your Money Tree's leaves bright and shiny!