Technically a Pachira Aquatica, the Money Tree goes by many names. Whether you are talking about Malabar Chestnuts or Saba or Guyana Nut, all these names point back to the same houseplant we know and love. While we can discuss what a Money Tree is, there seems to be some confusion about a few things that a Money Tree is not.
Is a Money Tree the same as an Umbrella Tree, Ficus, Jade, or Palm? In short, no, these are all distinctly different plants and are not related to the Money Tree. Each of these species belongs to its own family, and most are from entirely different regions.
Read on to learn more about the differences in these types of plants, how to identify them, and what kind of care they need. While some of the plants listed look similar to Money Trees, many are totally different.
---
What is a Money Tree?
Money Trees are beautiful trees indigenous to the swampy wetlands of Central and South America. In the wild, they can reach over 30 feet tall but tend to stay reasonably small when grown indoors as a houseplant, rarely reaching over six feet tall.
Scientifically known as Pachira Aquatica, these plants thrive in humid conditions similar to those of their native habitat. Pachira Aquatica is often interchangeably referred to as both Money Trees and Money Plants. These tropical trees are often sold in groups, with several trees braided together into what resembles a single plant. This was made famous by a Taiwanese truck driver in the 1980s.
The Money Tree is very popular in Asia, where it is often associated with luck, prosperity, and wealth. Proponents of the Feng Shui also believe that the leaves of the Money Tree represent the five elements central to Feng Shui.
There is an old folktale originating from Taiwan that is often attributed to being the source of the Money Tree's name. It is believed that an old farmer found a Pachira Aquatica near his field. He hadn't seen this type of plant before, so he took it home. There, he cared for it and found it strong and hardy— a metaphor for his own resilience. He eventually started cultivating them and found a lot of success in selling the Money Tree.
When grown in the wild, these plants can get to enormous heights and produce large, fragrant blooms. They also grow seeds that can be roasted and eaten but will only do so when allowed to grow outdoors. The seeds are said to taste similar to peanuts.
Many Money Trees that are sold commercially are labeled at Pachira Aquatica but are actually its much smaller cousin, Pachira Glabra.
Pachira Glabra is also native to Central and South America but grows in the alluvial plains and lowland rainforests of the regions. The base on Pachira Glabra is a bit more bulbous than its cousin, and it will not grow nearly as tall. These plants rarely exceed two feet in height when kept indoors.
---
Is A Money Tree An Umbrella Tree?
The most similar looking to the Pachira Aquatica (Money Tree) is the Schefflera Amate, also known as an Umbrella Tree. While the two do have some significant similarities, they belong to different families and different regions.
The Schefflera Amate and its cousin Schefflera Arboricola are both incredibly hardy evergreen shrubs and are native to Australia and Taiwan, respectively. They are characterized by glossy oval leaves that form a circle around their flexible green stems. Most Umbrella Trees have multiple stems, creating a bush-like appearance. These traits are the reason that this plant is sometimes referred to as an Octopus Tree.
In the United States, Umbrella Trees can be planted outdoors in the southern regions of Florida, Texas, and along the Californian coast. Outside, it works well as a hedge or container plant. In these conditions, the Umbrella Tree can grow aerial roots that, when reaching soil, root into the ground.
The Umbrella Tree can reach up to 15 feet tall in its native climate. As a houseplant, it can reach six feet tall but is more often found around three feet in height. Umbrella trees kept outdoors will flower— indoor plants do not.
One of the easiest ways to tell the two apart is the number of leaves on a stem. Also called leaflets, the Umbrella Tree will grow seven to nine of these. The Money Tree only grows five (which plays a part in its association with Feng Shui.)
Like the Money Tree, Umbrella Trees prefer high humidity and respond well to misting. But because the Umbrella Tree is a shrub, it tends to be much bushier than the Money Tree.
When trying to decide which tree you own, a braided trunk is a dead giveaway. Money Trees (Pachira Aquatica) are the only ones that are sold with multiple trunks braided together. If you have a braided tree, you definitely have a Pachira Aquatica.
---
Is A Money Tree A Ficus?
While we may all have a specific image in our heads when we think about a Ficus, Ficus is actually a genus of plants that includes over 850 species. The most commonly confused with the Money Tree is the Ficus Benjamina, or the Weeping Fig Tree.
While the two do resemble each other, again, these plants belong to different families and are native to completely different regions. This evergreen shrub is indigenous to Asia and Australia and is the official tree of Bangkok.
The Ficus Tree is characterized by glossy, oval-shaped leaves that come to a sharp point. If grown outside, the Ficus Tree is capable of growing aerial roots that can develop into new trunks when in contact with soil. This plant can potentially grow over nine feet tall when cultivated in its natural habitats. Indoors, they generally do not get bigger than six feet in height.
In the United States, the Ficus Tree can be comfortably grown outside in parts of Arizona and Florida. When grown outside, they are often used as ornamental shrubbery. These plants have roots that grow aggressively. Planting them can result in it choking out other greenery and potentially moving sidewalks, driveways, and other pieces of concrete.
The Ficus Tree is also able to grow small fruits that are popular with birds. However, most plants kept indoors will never fruit.
The Ficus Tree can be a finicky houseplant for novice plant keepers. While it tolerates a range of lighting conditions, it responds best to being in bright, sunny areas. It is very sensitive to the cold and to drafts, so plant owners need to be sure to make accommodations if they want a healthy Weeping Fig.
While the Ficus Tree shares some traits with the Money Tree, these are not the same plant. The Ficus Tree tends to have much fuller foliage and require more light than the Money Tree because they are actually shrubs. Left in the same conditions as a Ficus, a Money Tree would not survive well.
---
Is A Money Tree A Jade?
Money Trees and Jade Plants are entirely different plants, despite the fact that they share a nickname and have similar spiritual associations.
The Jade Plant, scientifically known as Crassula Ovata, is a succulent native to South Africa and Mozambique. Despite being a succulent, the Jade Plant grows in a very similar way to most trees. It is often mistaken for a tree because it develops a trunk and branches.
Crassula Ovata can grow up to three feet tall indoors but rarely reach much taller. The leaves of the Jade Plant are glossy, thick, and oval-shaped. They are generally a light green and can sometimes show variegation. When exposed to too much sun, the leaves will occasionally develop a red tinge on the ends or turn completely yellow.
Because a Jade Plant is a succulent, it is very hardy. It requires little water, even in the summer, and needs up to six hours of bright, direct sunlight.
Like Money Trees, overwatering the Jade Plant can result in root rot. The soil should be allowed to dry between waterings for both plants. Both are also fond of humidity and respond well to being in a humid environment or being misted frequently.
While some of the conditions they require are similar, the Money Tree and Jade Plant could not be more different. The confusion between these plants comes from them sharing a common nickname, the Money Plant.
Jade Plants are known to be good luck charms throughout Asia, where their lush green leaves are thought to represent renewal and growth. Their leaves also resemble the gemstone jade, which is another symbol of wealth and prosperity.
---
Is A Money Tree A Palm?
The term palm encompasses a lot of different plants, but none of them are Money Trees. There are several different varieties of palm that are kept as houseplants, including the Parlor Palm, the Ponytail Palm, and the Majesty Palm.
The Parlor Palm, one of the more common palm trees that are regularly available in stores, is a gorgeous indoor plant from Central America. Scientifically known as Chamaedorea Elegans, the fronds of this plant are often used in flower arrangements because of their longevity.
As a houseplant, these are usually sold in groups or clusters and can reach up to six feet tall. A rainforest native, these tropical plants enjoy humidity but will suffer if they're overwatered.
The Ponytail Palm is another popular variety of palm tree that is kept indoors. While not actually a palm tree, these excellent houseplants have leaves similar to the fronds of its namesake. It is characterized by long, hanging leaves that grow from the top of the plant's trunk.
Another palm tree, the Majesty Palm, is also trendy among houseplant enthusiasts. Referred to as Ravenea Rivularis, the Majesty Palm is native to Madagascar. Like other palm trees, the Majesty Palm requires a lot of humidity. The soil of this palm tree should never be allowed to thoroughly dry out.
There are plenty of other varieties of palm trees, but none of them are related to the Money Tree. The easiest way to tell palms from Money trees lies in their leaves. Money Trees' leaves are spread around their stem in a star pattern. On most palm trees, the leaves line the length of the stems.
---
Basic Money Tree Care
Money Trees require different conditions than all of the plants it is confused for. Plant owners that have struggled to maintain these pretty tropical trees may be having problems because they don't fully understand what a Money Tree needs to thrive.
One of the most critical aspects of Money Tree care is proper watering. Because these plants are highly susceptible to root rot, they should be watered once a week at most.
Watering should be done thoroughly and from the top. This means that you should water a Money Tree from the top of its pot and continue watering until the water begins to run out of the drainage hole.
The Money Tree must have good drainage— soil that is too heavy or a pot without a drainage hole can result in the plant becoming waterlogged.
Root rot is a common problem with Money Trees, so houseplant owners need to be diligent about preventing it. Money Trees should never be left to sit in standing water. When watering, the water should be allowed to fully drain out before placing the pot back in the dish.
Signs of root rot usually include yellowing or browning leaves, so keep an eye out for that. If you suspect root rot, pull your Money Tree out of its pot gently and inspect the roots. Healthy roots should be thick and white. If your tree has roots that are mushy and brown, it probably has root rot.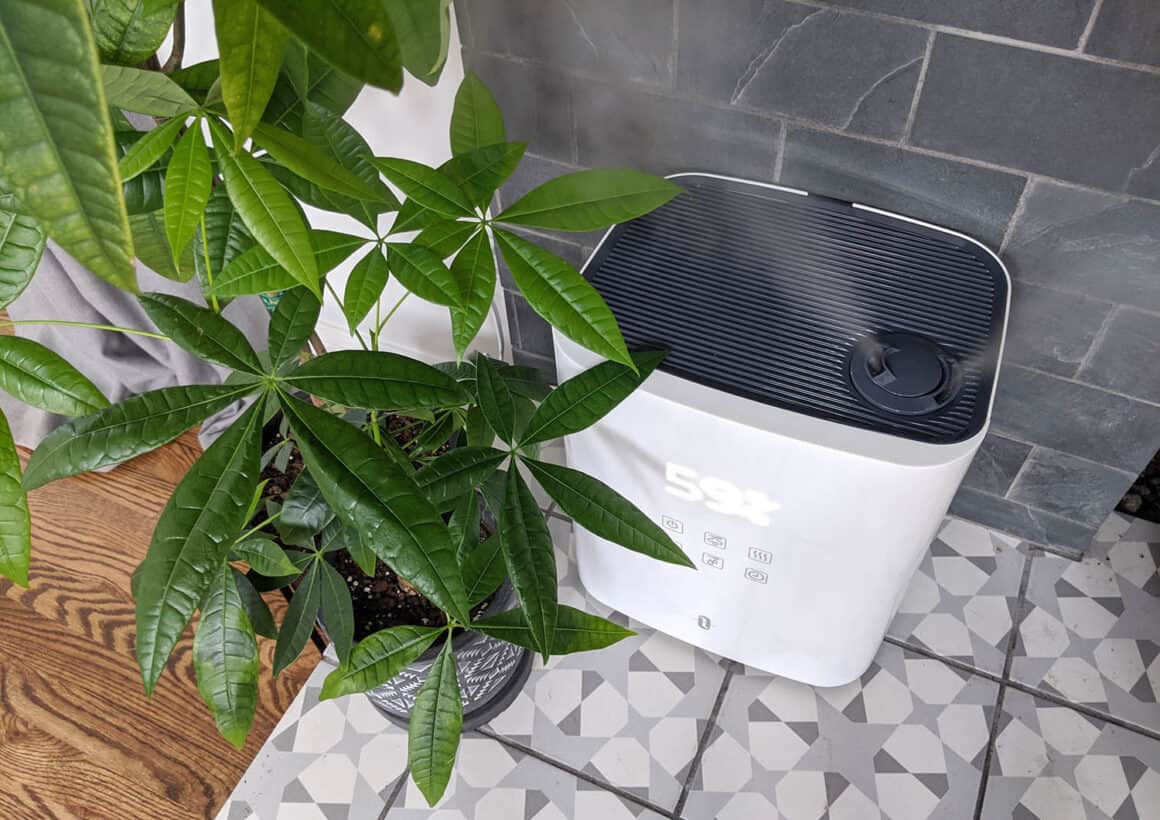 Humidity is also essential when it comes to caring for Money Trees. They enjoy humid environments, which can be tough to provide if you don't have a bathroom or other humid space with adequate lighting. If you're having difficulties keeping your room at a high enough humidity level for your Money Tree, consider adding a humidifier.
Money Trees prefer bright, indirect lighting. Leaving a Money Tree in direct sunlight can result in the leaves getting sunburned, which will make them brown and crispy. This is referred to as leaf-scorching. Money Trees can tolerate lower light conditions, but won't grow nearly as well.
---
Final Thoughts
Despite all of the confusion surrounding Money Tree identification, these plants are easy to identify. They typically have thick, bulbous trunks, which they store water in, and single stems that end in five-pointed leaves arranged in a star.
Money Trees tend to be long and tall rather than bushy, so that is another characteristic to consider when trying to decide if you have a Money Tree or one of the plants that it's commonly mistaken for.
Always be wary when buying a plant from a shop that you aren't familiar with! Be sure to ask any questions you might have about the plant you're considering buying.