The most striking features of a Peace Lily are its gently curving, creamy-white blooms and the most common questions about Spathiphyllum plants have to do with their flowers. New owners want to know how often their plants will blossom, how long they'll last, and how to produce more. We're going to give you a crash course in Peace Lily flowers. By the end, you should be an expert on your plant's blooms.
Peace Lilies typically blossom during the spring, though with good care they may flower again later in the year. Spathiphyllum plants bloom best with plenty of light, water, and warmth. They also need a mild dose of fertilizer. Peace Lily blooms should last 1-2 months before fading.
A Spathiphyllum has to be mature – usually at least a year old – to flower naturally. Encouraging it to create blooms is mostly about getting the care conditions right, though removing spent blossoms can also help. Now let's review what to expect from your Peace Lily's flowers, from their first appearance to the day they drop.
---
The Shape of a Peace Lily Flower
The blooms of a Peace Lily look different from more well-known flowers like roses and petunias. Each one has a solitary petal shaped like a pointy hood, which rears up behind a thick, knobbly spike.
That bumpy thing that looks like the head of a medieval mace is called the spadix. The true flowers of your Peace Lily are the little protrusions pushing out from all sides of the spadix. What appears to be a single flower actually contains dozens.
The delicate white sheet fanning out behind the spadix is called the spathe. The spathe has an ovoid, pointed shape much like the leaves. That's because it is a leaf, though its main purpose isn't photosynthesis. It's there to protect the flowers as they develop, and to attract pollinators with its bright white color. Together, spathe and spadix make up the inflorescence.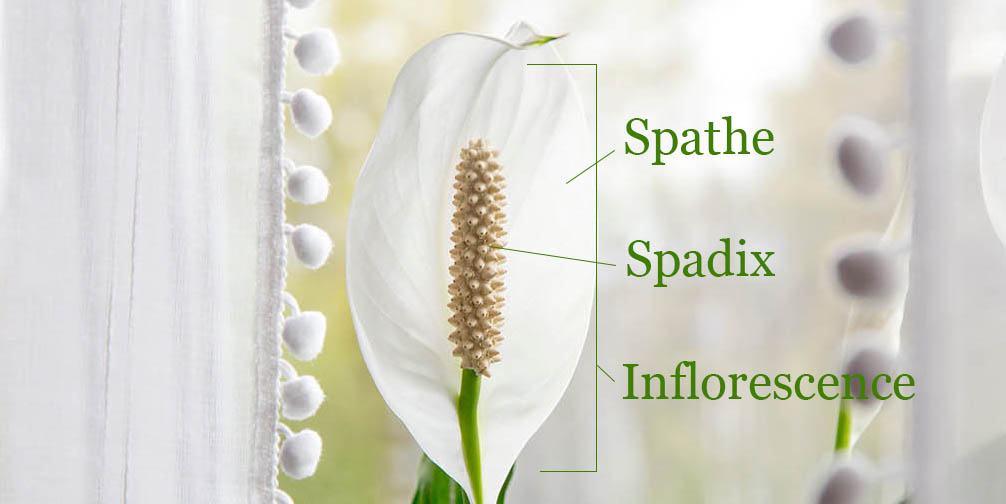 This basic structure might look familiar if you've owned other aroids (plants in the Araceae family). Many much-loved houseplants are in this group, including:
Monsteras
Aglaonemas
ZZ Plants
Anthuriums
Pothos
All aroids bloom with the same basic setup of spathe and spadix. There's a lot of variety within that arrangement, though. Some aroids have wildly colorful spathes, while others have unobtrusive green blossoms. They range in size from tiny Duckweed plants the size of quinoa grains to the monstrous Titan Arum, which grows a 10-foot-tall spadix and stinks like decaying meat.
---
When Do Peace Lilies Bloom?
The Spathiphyllum plant evolved in tropical climates where there's little variation in sunlight and warmth as the year goes by. So they don't have a built-in cycle of flowering followed by dormancy. They remain green as long as you keep them healthy.
However, your Peace Lily probably won't bloom in the winter. Bright light, warm temperatures, and moist air are important triggers for Peace Lily flowering. Most homes in northern climates don't get enough sun during the fall and winter to persuade these plants to bloom.
Peace Lilies usually flower during the late spring and early summer. After that initial burst of blossoms, the plant needs to build its energy back up before it can flower again. Healthy, mature Peace Lilies may produce a second batch of flowers during the early autumn. That's usually the limit, unless you use grow lights and humidifiers to create year-round tropical conditions.
It's also important to remember that very young Peace Lilies won't flower at all. A Spathiphyllum needs to be at least a year old to create an inflorescence. And the plant may take even longer to reach maturity if it's growing slowly.
Since they're tolerant of shade, many people keep Peace Lilies in darker conditions than the plants prefer. Or they'll wait to water until the leaves are visibly drooping. Subpar conditions like these can make a Spathiphyllum take longer to get large enough to flower.
Note that commercial growers often cheat a bit to get their plants blooming nicely for customers. They'll treat their Peace Lilies with a hormone called gibberellic acid, pushing them to flower earlier than normal. If you buy a small Peace Lily from a garden store, don't count on its flowers returning very soon after they fade. The plant may still be a year or two from true maturity.
---
How Long Do Peace Lily Flowers Last?
One nice thing about Peace Lily blooms is that they can stick around for a while once they show up. The spathe should remain crisp, white, and healthy for about a month after it unfurls. It may even last longer. Two months is usually the upper limit.
A Peace Lily flower starts out as a new stalk pushing up from the base. Just like the leaves, each bloom has its own stem. You'll be able to see the white spathe wrapped around the tip in the shape of a cone or a hook. It may take a couple of weeks to reach its full height. Eventually, though, it will push above the foliage to show off its bright white spathe as it unfurls.
You'll know the bloom is fading out when the spathe begins to shrivel and turn brown. Again, this will generally be 1-2 months from the date it opened. The stalk will wither and turn brown, like a piece of hay with the crumpled remains of the spathe on the end. There's no reason to not get rid of it at this point; that dead stem will never bloom again.
---
The Life Cycle of a Peace Lily Flower
Peace Lily flowers have both male and female parts – but not at the same time. To make the plant less likely to self-pollinate, evolution has broken their reproduction into male and female phases.
The female stage comes first, beginning pretty much as soon as the spathe begins unfurling. If you look closely, you'll see a tiny, fuzzy, whitish nub at the tip of each bump on the spadix. Those are the itty-bitty openings where the flowers can receive pollen.
They'll have to receive it from another flower, though, because the pollen doesn't show up until the female stage ends. That should be about 4 or 5 days after the spathe opens. You'll know you're at that point when the dots at the ends of the spadix bumps turn brown.
The pollen-bearing anthers pop up in between the points of the spadix. From a distance, they look like little bits of white fluff. Up close, they resemble tiny pieces of silly string.
The male stage lasts about another 4-6 days. While it's going on, your Peace Lily's upper leaves may pick up a light dusting of white pollen. If you're not expecting it, you might suspect that your plant is being attacked by mealybugs!
The spadix will turn green as the pollen-bearing phase comes to an end. The spathe usually remains white and healthy for another 2-4 weeks. Then the entire inflorescence begins drying up and turning brown.
If some helpful insect has pollinated the bloom, the spikes on the spadix will swell into large berries instead of shrinking and crumpling. The seed pod will stick around and ripen for several more weeks. You can try to harvest and sprout the seeds once the pod gets dark brown and weighted down with seeds. We have more information on growing Peace Lilies from seed here.
---
Do Peace Lily Flowers Smell Good?
Not all aroid flowers have a nice aroma – we've already mentioned the rotten smell of the Titan Arum. The Araceae family contains lots of other stinky blooms, like the aptly named Skunk Cabbage.
But the scent of Peace Lilies is pleasant and very mild. Many people never notice it, and some varieties don't seem to have any aroma at all. If you do get a whiff of your Peace Lily, it's likely to be at night. The flowers give off a stronger scent after dark.
---
Why Your Peace Lily Flower is Turning Green
Every houseplant enthusiast knows the classic Peace Lily look: big green leaves and bright white blooms. So why is the spathe behind your Peace Lily flowers turning green?
Remember that the spathe is a leaf, not part of the flower itself. As the inflorescence nears the end of its life cycle, it has no more need to attract pollinating bugs. So that bright white flag is unnecessary. Sometimes the spathe will try to make itself useful by photosynthesizing. It starts producing chlorophyll, shifting its color to green
The spathe is much more likely to turn green if the bloom has been pollinated. Presumably, the plant wants to funnel as much energy as possible into the developing seeds. This impulse drives it to produce more chlorophyll.
Like the strength of the aroma, the amount of green in the spathes varies a bit between Peace Lily varieties. Some cultivars go straight from white to brown, with little to no green in between.
What if your Peace Lily blooms are turning green too early in their cycle? Or they're not turning white at all? Many guides point to lighting issues as the cause. Annoyingly, though, no one can agree on whether it means too much light or too little.
One possibility is that both extremes can cause the blooms to turn green. Low light might trigger a Spathiphyllum to make more chlorophyll, aiming to trap whatever energy is available. On the other hand, Peace Lilies don't like harsh direct light. Excessive sun exposure might push the spathes toward photosynthesis.
Our advice: keep your Peace Lily in bright, indirect light, avoiding spots where the sun will hit its blooms head-on.
---
How to Get More Blooms From Your Peace Lily
Is there anything you can do to convince your Peace Lily to produce more flowers?
The best strategy is to make your Peace Lily as happy and comfortable as possible. Flowering has a high resource cost for any plant. If yours is under stress from poor growing conditions, it won't have energy to spare for producing flowers.
The following factors are especially important to get right:
---
Light
When a Peace Lily fails to bloom, the most likely explanation is that it's not receiving enough sunlight. These plants often get stuck in low-light areas because they have a reputation for being shade-tolerant. But a Spathiphyllum blooms most readily when it's getting at least 6-8 hours of bright sunlight per day.
The trick is to make sure that most, if not all, is indirect light. It should reflect off of other surfaces or pass through a gauzy curtain before it reaches the plant.
East-facing windows are good. So are rooms with southern or western exposures, although your Peace Lily should stay 5-7 feet away from those windows. If you want more tips, we have a whole article on finding the right light for your Peace Lily.
---
Water
The other big mistake people make with Peace Lilies is watering too much or too little. These plants don't like their roots to dry out all the way. Check your Peace Lily's soil every few days and give it a good soak when the upper inch of soil is dry. Ignore anyone who tells you to wait until the foliage droops to water it.
On the other hand, you don't want the potting mix to be waterlogged all the time. That will choke the roots and often cause them to rot. If it seems like the soil never dries out, you're probably watering too much.
---
Soil
Using the right growing medium makes it much easier to avoid overwatering. Keep your Peace Lily in a potting mix with a high fraction of large-grained ingredients like pumice or pine bark. This one, blended specifically for aroids, is a good example.
---
Climate
Peace Lilies flower best when conditions are similar to those in the rainforests where they evolved. Luckily, they like temperatures in the same general range as humans. Nighttime temperature is especially important for flower bud formation. Try to keep your plant around 65-68 degrees Fahrenheit at night.
Meanwhile, you want the humidity to stay above 50%. Depending on where you live, this may require you to set up a small humidifier near the plant.
---
Fertilizer
A Spathiphyllum isn't a fertilizer glutton like some plants. However, it does need some nutrients for flower production that it can't get from the air and the water. If you don't make up for its dietary shortfalls, it will bloom rarely, if at all.
Any reasonably balanced houseplant fertilizer should have everything your Peace Lily needs. The real trick is not to overdo it. Start with ½ the amount recommended by the packaging, adding it to your plant's water every 6 weeks during the growing season. Avoid fertilizing during the winter and when your Peace Lily is dealing with pests or other health issues.
To be safe, you should flush the soil in your Peace Lily's pot every other month. This will wash out excess fertilizer that could be hanging around in the soil. You don't want it building up to harmful concentrations.
To flush the pot, slowly pour a large amount of water into the soil. Create a steady trickle that soaks through the soil on all sides and drains out the bottom. Use at least 5 times the volume of your plant's container.
Read these articles for more information about fertilizer and compost for Peace Lilies.
---
Deadheading
It's a good idea to clip away the flowers once they've run their course and begun to wilt. In addition to cleaning up the plant's appearance, this frees up resources for the next round of blooms.
You can remove a bloom as soon as it starts turning brown and sagging. Sterilize a pair of pruning shears with rubbing alcohol or a 10% bleach mix. Then snip off the flower and as much of the stalk as you can. Cut at an angle, just above the spot where the stem splits off from the rest of the plant.
---
Maturity
We explained above that a Peace Lily won't flower when it's too young. But the reverse can also be true. It's common for plants to bloom less and less as they get older. This process is known as senescence. It takes a while for plants to get to this point, though. If your Spathiphyllum is less than 8 or 9 years old, you don't need to worry about it.
If you do think that your Peace Lily may be aging out, don't give up hope. Unlike the rest of us, your plant can cheat the Grim Reaper. You just need to split it apart at the roots into multiple smaller clones. This offers a kind of reset, bringing the new plants back to an earlier phase of the life cycle.
Try to do this near the beginning of the growing season. Uproot your Peace Lily and find a spot where two crowns of stalks are emerging from the same rhizome. Grip each foliage cluster at the base and pull them apart gently and steadily. Keep going until you've split the plant as many times as you want.
Transplant each clump of roots and stems into its own smaller pot. It will take these clones a few weeks to revive. In the meantime, keep them humid and don't let them get any direct sunlight. You should also watch out for overwatering. We've fleshed these instructions out in more detail here.
---
Final Thoughts
Hopefully, you now have a solid understanding of how your Peace Lily's flowers bloom, grow, and fade. And you also know how you can help your plant make as many blooms as possible. Mostly, that just means being as good a caretaker as possible. A well-fed, well-tended Peace Lily should flower like it's going out of style!