Something strange is happening to your Pothos. The edges of its leaves are beading up with moisture, and it's indoors – there's no way it could be morning dew. Is your plant in distress? Why does it look like it's weeping? Luckily, there's usually a simple explanation for why your Pothos is dripping water.
Like many plants, your Pothos sometimes undergoes a process called guttation, in which tiny droplets ooze from its leaves. It's not a sign of poor health, and it's not dangerous to your plant. The exact reason why your Pothos is dripping water might not be clear, but you don't need to worry that something is wrong with it.
One or two other problems can sometimes be confused with guttation. This post will explain how to recognize those issues, while also discussing the science behind this phenomenon. One important note before we proceed: although the fluid you're seeing isn't harmful to your Pothos, it could hurt you if you get it in your eyes or mouth. Handle your Devil's Ivy with care when it's leaking water.
---
Why Are There Water Droplets On Your Pothos?
You'll find many versions of this question floating around the internet. Lots of Pothos owners want to know why their plant is "crying" or "sweating". In reality, those droplets have nothing to do with sadness or stress.
They're also not pure water. During guttation, your Pothos releases a fluid called xylem sap, which contains traces of minerals and nutrients as well as pure water. When the pressure inside the plant's tissues builds up enough, the plant opens pores called hydathodes to let some sap out.
These are different from the stomata (the pores your Pothos uses to release water vapor throughout the day). As far as we know, hydathodes only open during guttation. Most of them are at the edges of the leaves, which is why that's where the drops usually show up.
What's interesting is that botanists aren't sure what purpose guttation serves. There are a few theories – for example, some people think it helps to relieve unnecessary cellular pressure from excess moisture. And we know that guttation is more common when the humidity in the air is very high. However, the exact biological function is unknown.
Whatever it's for, lots of plants do it. Guttation is particularly common among the Araceae (AKA aroids), the family of tropical plants that includes Pothos. If you've taken care of plants like Peace Lilies, Monsteras, or Dieffenbachias, you may have already observed guttation in action.
As we mentioned in the intro, you should keep the fluid away from mucous membranes, like the ones in your eyes, nose, and mouth. Pothos sap contains calcium oxalate, a chemical that can cause painful irritation.
---
Is My Pothos Crying From Too Much Water?
Some houseplant guides claim that guttation can be a sign of overwatering. On the surface, this makes sense. If guttation exists to get rid of internal moisture, it must mean there's too much water in the soil, right?
However, the research doesn't support this idea. There's no known connection between overly soggy soil and your Pothos dripping water. That's a good thing, since overwatering is one of the fastest ways to kill a Devil's Ivy plant. But droplets of water on the leaves aren't a reliable warning sign. Actual symptoms of overwatering include:
Wilting foliage
Yellowing leaves
Soft, mushy stems
Brown spots
Foul-smelling soil
It's possible that guttation helps plants relieve osmotic pressure from soil moisture during the night. Normally, your Pothos sheds water by allowing vapor to escape from the stomata on the surface of its leaves. But those pores close during the night, or when humidity is too high for much evaporation to occur. Guttation from the hydathodes may offer an alternate way for the plant to release moisture when evaporation can't get the job done.
One point in favor of this theory is that guttation happens more often when the humidity is high. However, moist air is generally a good thing good for tropical plants like Pothos. So even if there's a connection, it's nothing you should worry about.
---
Salt, Water, and Guttation in Pothos Plants
Another possible purpose guttation might serve is letting your Devil's Ivy reduce osmotic pressure from mineral salts. Plants absorb lots of mineral compounds as nutrition, but sometimes they need to adjust their internal balance of salts and moisture. Guttation could be one way to accomplish that.
Whether or not this theory is correct, it's definitely true that xylem sap contains minerals. It might leave a white, crusty residue on the leaves as it dries. A little bit of this won't harm your Pothos, but we'd suggest wiping it off occasionally with a wet cloth. Excessive mineral buildup on the leaves may reduce the amount of solar energy they can absorb.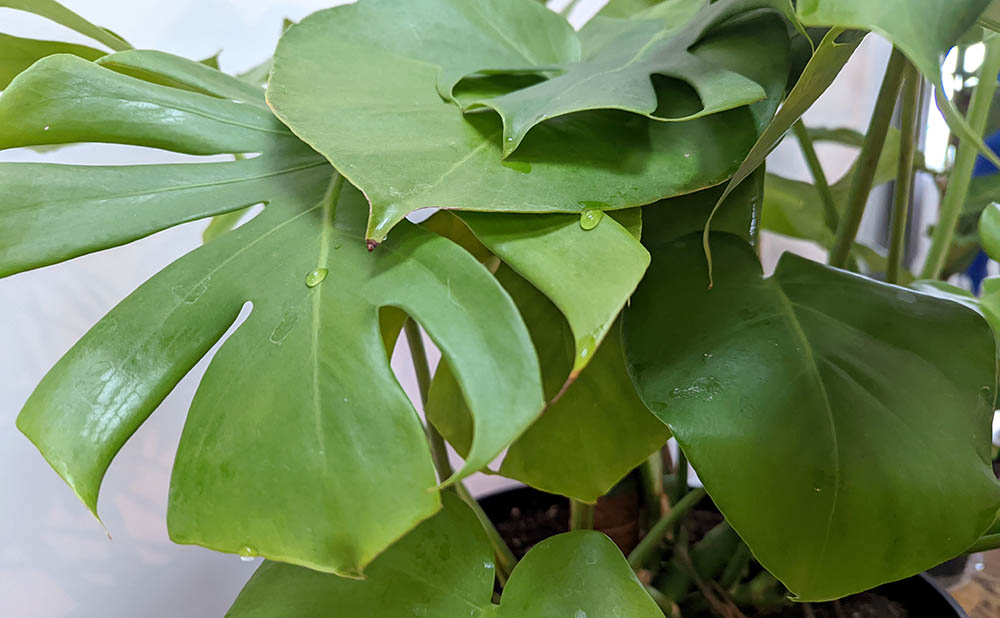 If you notice major salt deposits, there could be an excess of fertilizer in the soil. That's the most common source of mineral salts in plants, though hard tapwater can sometimes have similar effects.
Either way, you can flush out the mineral salts with distilled water. Slowly pour a large amount of water into the potting mix, letting it soak through and drain from the hole in the pot. (Always put your Pothos in a pot with a drainage hole) Doing this every month or two will help prevent mineral salts from building up to harmful concentrations. Of course, you may also want to reduce your fertilizer dosage slightly.
---
Does Your Dripping Pothos Have Pests??
Though the fluid released in guttation is called xylem sap, it's not thick and sticky like the stuff they use to make maple syrup. That's phloem sap, the substance plants use to move sugars through their bodies. So if it looks like your Pothos is dripping water, check that it actually feels watery. 
If not – if the fluid is gooey and sticky – the most likely explanation is that your plant has a pest problem. Mysterious tacky fluid on your Pothos leaves could be honeydew, which is not as pleasant as it sounds. It's a sugary goop that's excreted by several types of plant-eating bugs. Check for other signs of infestation, such as:
Blobs of white fuzz on the stems – these are probably mealybugs, or the waxy coating they use to shield themselves.
Small, smooth brown bumps – likely scale insects, which are similar to mealybugs except they stay clamped in place.
Tiny white or gray flecks on the leaves – exoskeletons left behind by molting aphids.
Clusters of little blobs around newer foliage – the aphids themselves, which like to attack young growth.
---
Dealing With an Infested Pothos
If you confirm your Pothos has a pest infestation, you should immediately quarantine it from your other houseplants. The longer your plants stay close together, the more likely the bugs are to spread.
Next, you'll have to try to assess whether you can salvage your Pothos. It's possible that the pests have spread too far or done too much damage. Assuming you're going to try curing your Devil's Ivy of bugs, you'll need some supplies. We recommend the following:
Start with the rubbing alcohol. Apply it to the cotton swabs and wipe off any visible pests. If there are scale bugs, you might have to pry or scrape them off.
Next, spray the plant down with lukewarm, soapy water. Try to get into all the nooks and crannies. If your Pothos is small enough, you can dunk the entire thing underwater for 15 minutes or so. As long as you rinse it and let the soil drain thoroughly afterward, this won't hurt your plant.
Finally, mix up ⅓ of a teaspoon of soap, 1 teaspoon of neem oil, and 1 liter of water. Put this into your spray bottle and spritz down your Pothos. Once again, it's crucial to get every bit of the plant you can reach. Don't let your Devil's Ivy get any direct sunlight for the next 3-5 days. Neem oil will make it more sensitive to burning.
If your Pothos is infested, you'll most likely have to perform a few repetitions of this treatment plan. The pests that bother indoor plants tend to be very stubborn. However, if you're patient, you should be able to cure your Pothos.
---
Final Thoughts
A Pothos dripping water is no cause for alarm. It's most likely just releasing a little bit of extra moisture and/or minerals. Check for signs of infestation or overfertilization, but if you don't find any, breathe easy! Your plant should be just fine.