The Monstera deliciosa is a well-known houseplant, coveted on Instagram for its gorgeous leaves and beautiful shape. This plant, however, comes from the tropical forests of Central and South America. In their natural habitat, Monsteras have access to warm temperatures and lots of humidity. So, can a Monstera deliciosa live and thrive outdoors in your area?
A Monstera's ability to survive outside depends on the climate of the region in which you live. Ideally, a Monstera will do best outside all year in areas with a USDA hardiness zone of 10-12. Locations prone to freezes won't be able to host a Monstera outside in the winter but may be able to do so in the summer.
This article will cover some of the main questions regarding keeping a Monstera outdoors, including planting it in the ground, how invasive it is, and how to transition an indoor plant outside during the warmer months.
---
Are Monsteras Indoor or Outdoor Plants?
In their natural habitats, Monsteras thrive outdoors. There they have unlimited access to water, humidity, sunlight, and nutrients. For a gardener in the right location, this tropical vine can be a rewarding plant, producing delicious fruit (hence the name "deliciosa") and enormous foliage. Keeping a Monstera outdoors isn't always possible, though, especially for individuals at high altitudes or in areas that receive a lot of cold weather.
For everyone else, Monsteras can also thrive as indoor plants. They won't reach the towering heights of their wild counterparts and probably won't flower, but they can still act as a breath-taking centerpiece to any room. A Monstera kept indoors requires some pretty specific care. But don't let this act as a deterrent—the Monstera deliciosa is a hardy and handsome plant.
So, the answer to whether Monsteras are indoor or outdoor plants is yes to both! A Monstera's ability to survive outside is dependent on the weather in your region, as defined by the USDA hardiness zones. We'll go more into that shortly.
---
Monsteras in the Wild
Knowing what a Monstera needs to do well outside requires understanding its natural habitat. In the wild, Monsteras are indigenous to Central and South America, extending from Mexico to Panama. They live in the tropical forests of these regions, where they grow up tall trees that can reach into the upper canopy. This trait allows the Monstera to access the limited and coveted sunlight that rarely hits the ground in these areas.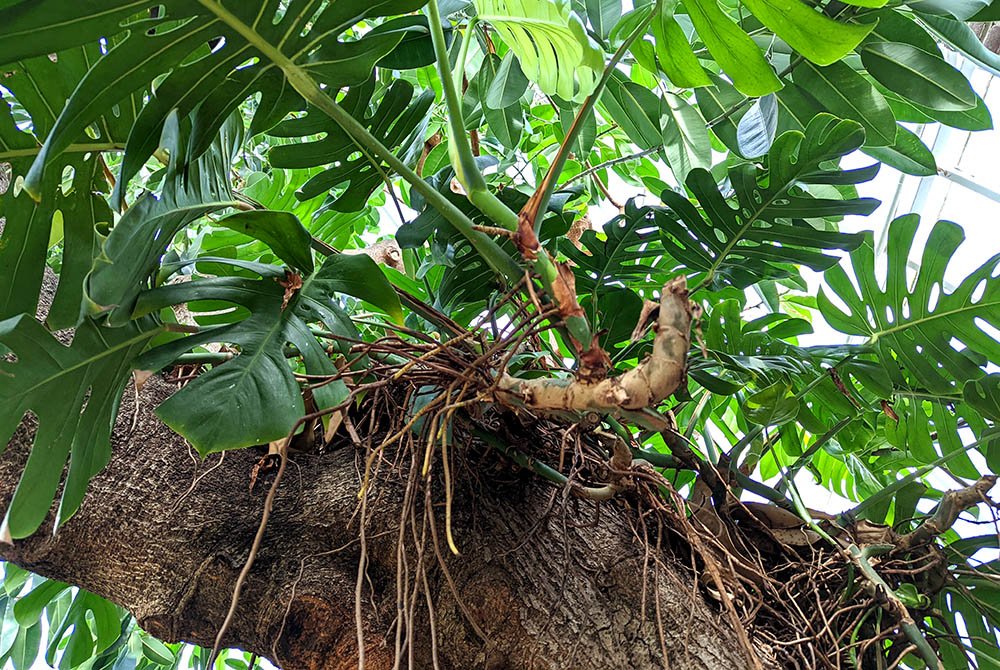 In this environment, Monsteras can reach massive heights, with some towering over 60 feet tall. They will also flower and fruit each year, producing large yields of their pineapple/banana flavored berries.
Because of their introduction to other regions with similar climates, Monsteras have also become known as an invasive species. States such as Florida and Hawaii have categorized the Monstera as an invasive species because of its aggressive growth and ability to choke out native plants. The seeds of the Monstera are spread easily through human intervention and water movement. This feature makes the plant difficult to track and maintain.
---
Can a Monstera Live Outdoors Year Round in Your Area?
A Monstera's ability to live outdoors depends on the climate that it is living in. Because these are tropical plants that rely on high humidity and bright sunlight, they will need similar conditions to survive outside. Monsteras are extremely ill-suited to areas that drop below 40 degrees F and will not make it if left outdoors at this temperature.
The ideal USDA hardiness zones for a Monstera deliciosa are between zones 10 and 12. Zone 10 ranges between extreme lows of 30 and 40 degrees F. Zone 12 ranges between 50 and 60 degrees F. Zone 11 is between the two. Areas that fall into these zones include Hawaii, central and southern Florida, parts of southern California, Puerto Rico, and other areas around the globe that fall in line with this longitude.
These areas are all ones that will likely support a Monstera outside, but it's essential to consider another variable: Monsteras need a lot of humidity. They can tolerate low humidity, and planting them near other plants can help maintain a humid environment, so this doesn't have to be a dealbreaker.
Areas outside of these hardiness zones are unlikely to support a happy, healthy outdoor Monstera all year long. Because temperatures in these areas are likely to drop below freezing, plan to bring your Monstera inside during the colder months. Keeping a Monstera in a pot that you can move readily is one way to address this—a mobile Monstera allows you to bring it inside for the winter to cut the likelihood of it getting caught outside when it is too cold.
---
Planting Monsteras Outdoors
If you've done the research and decided you're ready to try your luck on growing a Monstera outdoors, there are still a few things to consider. The most important is the likelihood of your Monstera harming local wildlife. Monsteras are epiphytes, which means they rely on other plants to survive and will overtake a well-established tree if given the opportunity. Keeping this from happening can be time-consuming and requires regular, often aggressive, pruning.
Beyond pruning, planting a Monstera in a buried container can help to keep its roots from overdeveloping and allowing the plant to grow monstrously tall, should you want to avoid that.
Monsteras need an area that has bright light and shade. Direct sunlight can be harmful, but many gardeners report that their Monsteras adapted quickly to direct light.
The area in which you plant the Monstera needs to be well-draining. Planting too close to a water source or a high water table can be detrimental, so take some time to scope out an ideal spot before planting. If a Monstera's roots can't drain quickly, they can become bogged down and drown.
If you live in an area expecting an unusual frost or freeze, you can take steps to mitigate the likelihood that such an occurrence will kill your Monstera. There are plenty of products available to cover the plant and keep it warm during these episodes, so act quickly.
---
Placing Potted Monsteras Outdoors
A more manageable alternative to planting a Monstera outdoors is to let it vacation outside in the summer. Vacationing is popular among houseplant owners because it gives the plant access to more natural stimulation that cleans the plant and encourages it to thrive.
The best way to do this and reduce the risk of something catastrophic is by slowly acclimating your Monstera to the outdoors. Acclimation can be done by putting your Monstera outside for small increments of time, increasing the length of its trips over a few weeks.
A Monstera should never be placed in direct sunlight because the intensity of the sun outdoors is much higher. Left in direct sunlight outside, a Monstera is more likely to burn and wilt. Filtered light, like on a covered deck or near other plants, is a great choice.
Monsteras placed outside in the summer are more likely to dry out than ones kept inside, so diligence is vital in watering. Check the soil's water level regularly by feeling about an inch into the pot—if it's dry, water it thoroughly.
Bring your Monstera in before temperatures begin dropping to 50 degrees F. A Monstera kept indoors that hasn't had a chance to acclimate to the changing seasons runs the risk of being damaged by the cold weather.
It's also important to remember that putting your Monstera outside opens it up to the possibility of picking up pests, especially if you're placing it near other plants. Thrips, mealybugs, and spider mites can infest a Monstera and wreak havoc on your plants. When it is time to bring plants back in for the winter, quarantine your Monstera deliciosa so that it doesn't infect any of your other houseplants.
---
Can Monsteras Grow in Shade?
Although they're always reaching for more light in the wild, Monsteras prefer to be housed in the shade, especially when they live outside. It's recommended that an indoor Monstera avoid direct sunlight because its leaves can get burnt, turning yellow, brown, and eventually falling off. This holds even more true for Monsteras placed outside as the rays of sunlight are much harsher.
Ideally, a Monstera being placed outside or planted permanently outdoors should be put in an area with full- to part-shade. Some sunlight filtering onto the leaves is natural, especially considering their wild origins, but too much can overwhelm the plant.
A Monstera planted outside will adapt as it grows and can wind up receiving full sunlight as it vines, but this isn't something to be concerned about. The plant should be developed enough to tolerate this and has been outdoors long enough to be acclimated to the weather.
---
How Invasive Are Monsteras and Their Roots?
The invasiveness of a Monstera depends on a lot of different factors. In areas that meet its specific needs, like Hawaii and Florida, the plant is considered mildly invasive. The state of Florida, in particular, recommends against planting them outdoors.
Like any opportunistic plant, a Monstera will grow as much as possible if its environment meets its needs. Monsteras are known to vine in search of a host tree and can choke out any plants they attach to. They don't leach nutrients from these host plants the way other epiphytes do, but a Monstera will compete for resources (and usually win).
There isn't much information on how invasive the Monstera's roots are, but it's safe to say that they can damage nearby plants if allowed. This is why I recommend planting them in a buried container, giving the Monstera an artificial barrier that will hopefully keep its roots from taking over an entire area.
If you are concerned about planting a Monstera outdoors and having it take over your yard, you need to consider some of the variables that go into its growth. Are there things like trees or telephone poles for it to grow up? Is the area's climate conducive for a Monstera to thrive? And do you have the time to maintain its growth?
---
How to Care for Monstera Deliciosa Outdoors
A Monstera kept outdoors needs similar care to one that lives inside. If potted, a Monstera kept outside should be brought inside for the winter to avoid any cold weather fatalities.
For sunlight, outdoor Monsteras prefer shade. Some sunlight is acceptable, but it's always best to avoid any direct light that can burn and destroy the plant's leaves. As I mentioned before, a Monstera planted outside may eventually grow into direct sunlight, but that is okay. The plant is capable of adapting as it needs to. But for Monsteras that are just vacationing, it's essential to avoid direct sunlight as they haven't had the opportunity to adapt like this.
Monsteras kept outdoors will need to be watered regularly, especially in dry areas. Watering is less of an issue if the Monstera is placed near other plants, as the combination of roots will retain moisture better. But potted Monsteras will need to be watered and checked regularly, especially in the peak of the summer when it's hottest.
Monsteras kept outside are more likely to face infestations from pests, especially thrips. Keep this in mind if your Monstera will be coming back inside for the colder months. Treating it with neem oil or an organic pesticide can take care of unwanted visitors, but an infestation must be treated diligently and checked often.
---
Why Your Potted Plant May Love Some Outdoor Time This Summer
While a Monstera might be happy living inside, a home can't mimic outdoor conditions. Putting a Monstera outside in the summer allows it to enjoy more natural conditions and encourages it to grow even more.
No matter how much light it gets indoors, the sunlight outside will always be stronger and can damage a Monstera deliciosa if you aren't careful. But this added light can also encourage the plant to produce more leaves because it has access to more resources. This increase in sunlight is good for encouraging sparse areas to grow, too.
Rain is the perfect way to water almost all plants, so there is an added benefit in putting a Monstera out during a light shower. Besides getting the naturally-filtered water, the rain will also clean the leaves, clearing them of any dust and debris that accumulates.
The wind is often treated as the one negative to putting a plant outside but is perfect for cleaning the plant. A small breeze can have a similar effect to rain, blowing debris off of the leaves.
---
Ease Your Plant Into the Transition
Arguably the most crucial part of letting a Monstera vacation on the patio in the summer is making sure that you've allowed it to ease into the transition. This goes for all plants that are being put outside after living indoors. Failing to do so can shock the plant.
To ease your Monstera into being outside, start placing it outdoors for small increments of time once the weather has fully warmed up, and there's no possibility of it being shocked by the cold. For at least the first week, these trips should only last up to an hour or two and should only happen in fully shaded areas.
Once the Monstera has had time to acclimate to this small change, increase the trips outside over time until the desired length is reached or until you feel comfortable leaving it outdoors overnight. Just remember: temperatures that get too low will damage, or kill, an indoors Monstera.
---
Final Things to Consider
While all of this may sound good, it's important to remember that invasive plants can leave your yard and travel to other places, especially if the climate is favorable. Try to keep this in mind when deciding on whether or not to plant your Monstera outside. Some states may also have ordinances and laws against introducing certain species, so be mindful of your area's rules.
Because of their delicious fruit, Monsteras can also welcome new pests that might otherwise not come into your garden. Whiteflies and different varieties of scale are a couple of the potential offenders that could move in, but there may be more.
This is an unpleasant point to make but a necessary one: be thoughtful of the area you live in. Plant theft isn't uncommon, and a beautiful Monstera can quickly get snatched off of an unattended porch. Try not to put yourself in a position to lose one of your favorite plants. 
---
Need More Help With Your Plant?
Have more questions about your Monstera Deliciosa? Want to know what you can do to keep it happy and healthy? Grab our latest book, How to Care for Monstera Deliciosa, and get all that and more.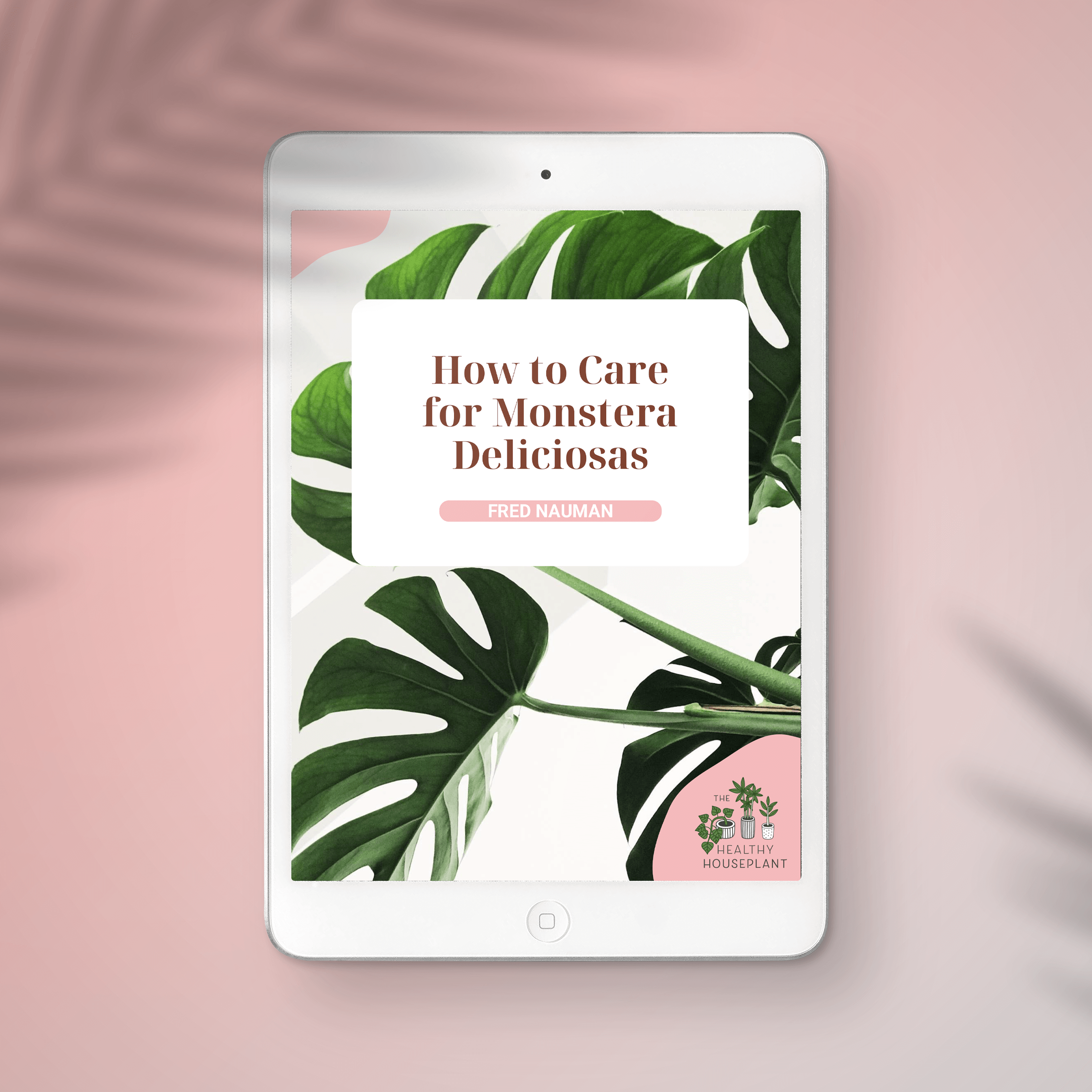 Our eBook covers:
Signs Your Monstera Isn't Getting Enough Light or Water
How to Grow Your Monstera to Epic Sizes
What are Fenestrations and How Can You Encourage Them
Tips for Fertilizing Monsteras
The Best Way to Prune this Plant
Propagation Tips and Tricks
The Best Type of Soil for Monsteras
Help Diagnosing Unhealthy Plants and How to Treat Them
And More!!
If you've got more to learn, grab a copy of our book today and get your Monstera Deliciosa back on track. Get your copy now!