Will your Pothos plant do well if you grow it in just water, with no soil? If so, how can you help it survive and flourish? Growing houseplants hydroponically has become a popular hobby. And it's fairly easy to do with your Devil's Ivy. This article is our complete answer to the question: Can you grow a Pothos in water alone?
With the right care, there's no limit to how long you can grow a Pothos in water. Keep the roots submerged at all times and change the water roughly every 2 weeks. You'll also need to provide regular doses of liquid fertilizer. If you see algae forming, take your Pothos out of the water and wash the roots.
Many plants will grow poorly in water, but Pothos don't seem to mind it. As long as you give it plenty of sunlight and fertilizer, it should be able to produce lots of new foliage. Check out our advice below for more in-depth care instructions, plus answers to the most frequent questions about growing Pothos in water.
---
Can a Pothos Live in Water Forever?
Letting plants take root in water before moving them into soil is a time-honored technique for propagating houseplants. That includes Pothos – we have instructions here if you're interested. But many plants won't do very well if you try to keep them in water over the long run. They grow slowly and never reach their full potential.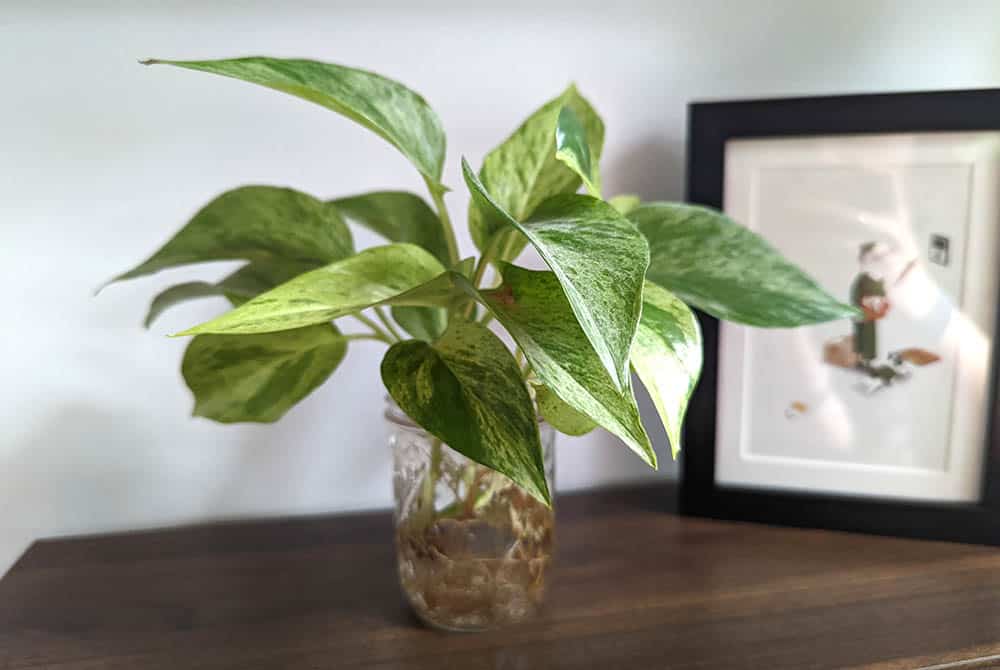 Pothos plants are more adaptable. Your Pothos will happily grow new leaves in water, almost as quickly as it would on land. As long as you take into account the differences between water and soil, you should have no problem tending to a flourishing plant.
---
Why Grow a Pothos in Water?
Is there any advantage to raising a Devil's Ivy plant hydroponically? Actually, there are a few:
---
#1: No risk of overwatering or underwatering
Your plant can't go thirsty if its roots are always wet! It sounds silly, but it works. Your Pothos will never get dehydrated as long as you keep the water level topped off. And it will grow specialized roots that can pull oxygen out of the water. They won't get suffocated the way soil roots do in an over-saturated potting mix.
Your Pothos is also very unlikely to get root rot when grown in water. This disease is one of the biggest risks for houseplants, but the fungi and bacteria responsible can't live in an all-water environment.
Bottom line: growing your Pothos in water makes one of the biggest houseplant care tasks a lot easier.
---
#2: Bonus humidity.
Pothos plants are most comfortable in the jungle. That's not a realistic option for most of us, but you should at least try to give your plant a decent level of humidity. Indoor air can sometimes be a bit dry for a Pothos. That's especially true during the winter.
However, when you grow a Pothos in water, this is less of an issue. As the liquid in the container evaporates, it creates a small zone of higher humidity immediately above it. And wouldn't you know it – that's right where your plant's leaves are. This effect won't solve a serious humidity shortage, but it will generally make your Pothos healthier.
---
#3: It's easy to move your Pothos.
Any plant that's exhibiting healthy growth needs to be repotted eventually. Its roots will grow too large for its container, requiring you to move it into a new one. This is a time-consuming and often messy task when a plant is growing in soil.
But when you grow a Pothos in water, transferring it is a snap. You can simply grip it by the stems and lift the roots up out of the jar, then plunk them down in a new one.
---
#4: The roots of your Pothos are visible.
Assuming you keep your hydroponic Pothos in clear glass, you'll be able to look directly at its roots. This allows you to keep track of their growth, alerting you when the plant needs to be repotted. You'll also be able to see if the roots are growing algae or getting any other kind of infection.
There's an aesthetic benefit, too. Aquatic roots have a distinctive appearance – they're wispier than soil roots, and they have a greenish-white coloration. If you look closely, you'll see they're covered in fine hairs. They float in the water, forming a delicate-looking cloud of fibers that can be quite beautiful. You can enhance the effect with glass beads, interesting rocks, or other bits of visual flair.
---
Drawbacks of Growing Pothos in Water
Despite the benefits above, raising a Pothos hydroponically does have some downsides. The main one is that you'll have to provide it with a regular dose of nutrition. There's no soil to hold a supply of slow-release fertilizer. On a similar note, you'll have to keep an eye on the pH and keep it properly balanced.
The other potential issue is algae. Keeping your Pothos brightly lit is essential for growth. However, sunlight can also fuel a buildup of green slime on the roots. This can block their ability to absorb nutrients and oxygen. Monitoring and removing algae buildup is another task you'll have to stay on top of.
---
Choosing a Container For Your Hydroponic Pothos
What should you use to hold your Pothos and its water? In theory, anything large enough with no holes in the bottom will work. In practice, there are a few criteria that will make your plant parenting easier.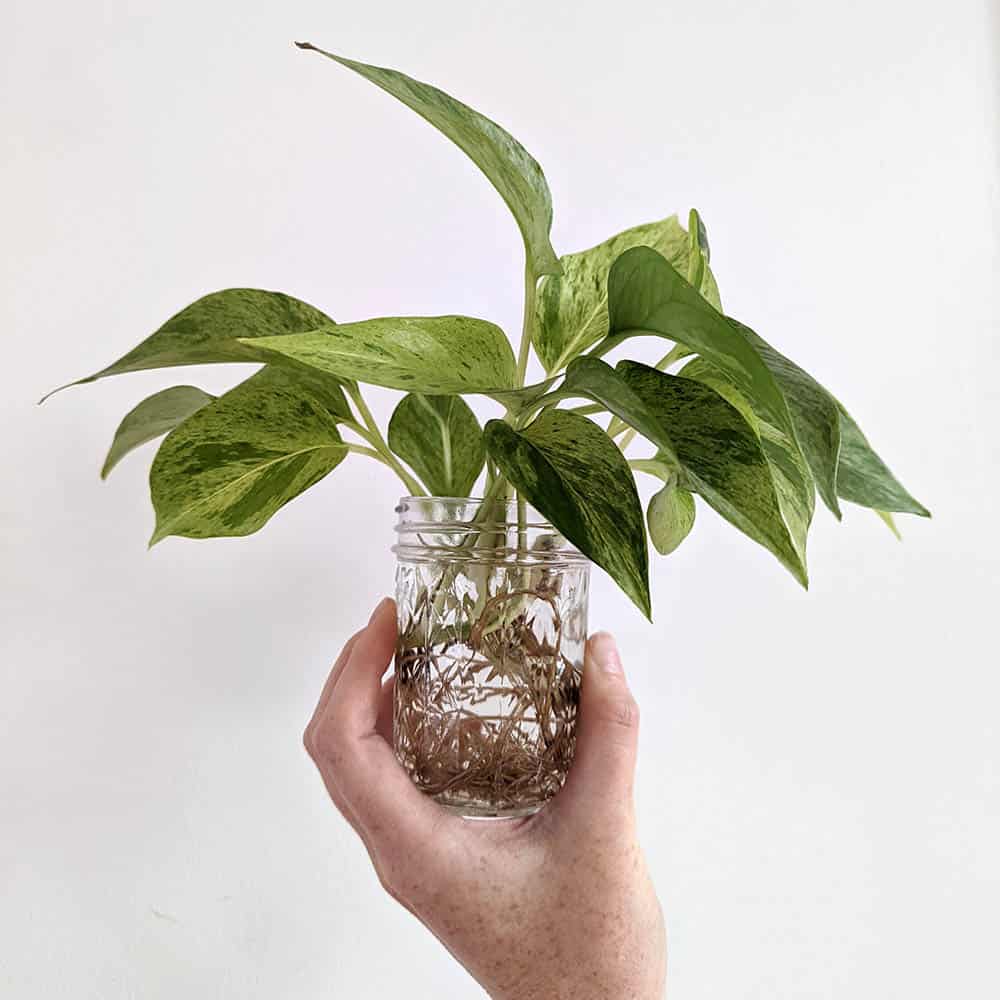 First, we'd recommend picking something made of translucent glass or plastic. As we noted previously, this makes it easier to keep an eye on the roots. You can choose tinted or frosted glass to reduce the amount of light getting in and reduce the odds of algae buildup. On the other hand, a clear container makes monitoring the root system easier.
You may also want to select a container with a wide mouth. That will make it simpler to take your Pothos out of the water when you need to repot it or clean the roots. For a smaller plant, a mason jar is a good option. For a bigger one, try a large, wide vase.
Feel free to get creative, though! We've seen Pothos plants growing happily in everything from test tubes to wine goblets.
---
What Kind of Water Should You Grow a Pothos In?
We've confirmed that you can raise your Devil's Ivy in water. But will any old water do?
For the most part, the answer is yes. Some guides will advise you to use distilled or filtered water to avoid the minerals present in tap water. But the tap water throughout most of the US doesn't contain enough additives to threaten your Pothos. Still, it's worth checking whether your region has "hard" (mineral-heavy) water. If so, distilled water is preferable.
Rainwater is even better. During its travels through the atmosphere, water picks up a small amount of certain helpful nutrients. Growing your Pothos in rainwater won't eliminate the need for fertilizer, but it will provide a small boost. The downside, of course, is that collecting rainwater is more work than turning on the faucet. 
The other main consideration is water temperature. Don't give your Pothos frigid or scalding water, which could create major stress for the roots. Cool to lukewarm water is best when you're topping off the container.
---
How to Grow a Pothos in Water: Setup
You have two options for starting your hydroponic Pothos:
Transfer an entire plant, roots and all, from soil to water.
Take cuttings from an existing plant and let them root in the water.
The first option requires less patience but more care. Uprooting and transplanting your Pothos will give it a major shock. In the process, it will almost certainly wilt and lose a few leaves. Once it's through the transitional phase, however, you'll have a good-sized Pothos growing in water.
To transfer a mature Pothos, slide your plant out of the pot and rinse the roots well. If possible, you should get rid of all the soil so that it doesn't gunk up the new container. Add some cool water to your jar or vase, then plunk your plant down inside. If necessary, add more water until the roots are all submerged.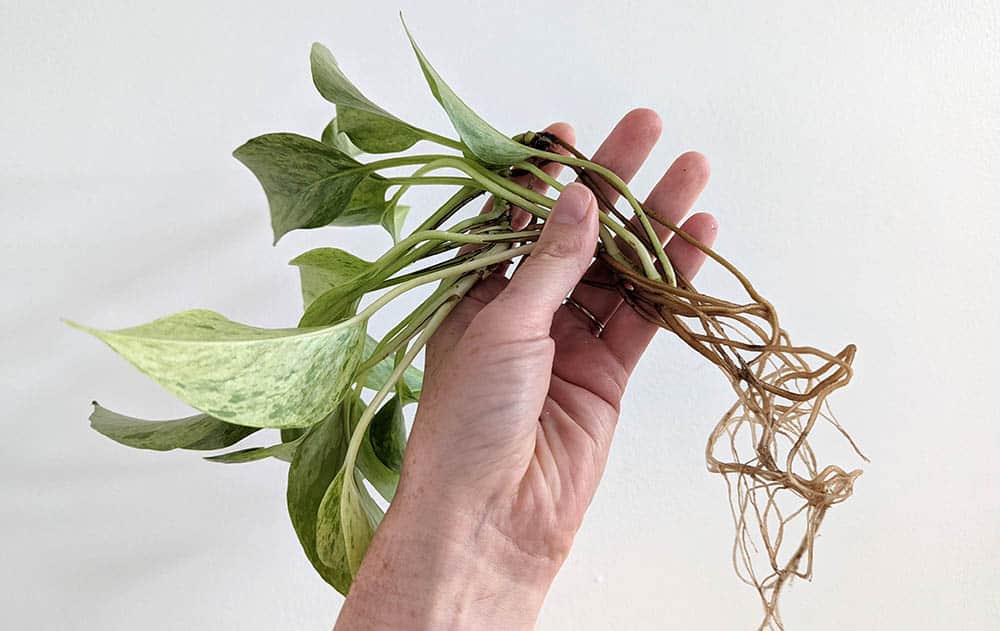 If you use cuttings, we recommend taking several at once. This will let you create a full and bushy Pothos arrangement. Get a pair of pruning scissors and wipe them down with rubbing alcohol or a similar disinfectant. Then snip off a few vines from an established Pothos plant.
Make sure each cutting you take has a couple of nodes – the darker bumps along the vine. That's where new roots and leaves emerge. Place the cuttings in your chosen container and add enough water to cover at least one node on each vine.
Within a few weeks, your Pothos should have some decent-sized water roots and may even be sending out new leaves. Don't worry if your plant slouches and sheds a bit of foliage in the meantime. It should recover soon.
---
How to Grow a Pothos in Water: Care Routine
Now that your Pothos plants are in their new jars, let's talk about how to make them happy. Here are the core requirements for your aquatic Pothos:
---
Sunlight
Devil's Ivy grows best in bright, indirect light. If you're using an illuminance meter, shoot for between 10k and 20k lux at least 8 hours per day. You can also use the "shadow test" – the plant should cast a shadow with a definite shape but fuzzy edges. It should never sit directly in the sun for more than 2-3 hours per day.
When you grow a Pothos in water, we'd suggest avoiding any direct sunlight. This will reduce algae growth. One good option is to place your plant in a room that faces south or west and keep it 5-6 feet away from the window. In general, the lighting requirements for a Pothos are the same in water as in soil. Check out this article for more detail.
---
Oxygen
Your Pothos will gradually soak up all the oxygen dissolved in its water. Fortunately, refreshing it is as simple as adding more water. Every 1-2 weeks, take your Pothos out of its container, dump out the water, and refill it.
This is also a good opportunity to check for and remove algae. If you find any green slime on your plant's roots, give them a thorough rinse. This will make it easier for them to "breathe" since they won't have organic gunk blocking their pores. You might also want to scrub out the jar before refilling it and replacing the plant.
---
Fertilizer
All houseplants need nutrition, but many get it from their soil. Commercial potting mixes typically contain some slow-release fertilizer. Compost also has some nutrients that can help a plant grow. But when you're raising your Pothos in water, you'll need to add regular doses of fertilizer to keep it healthy.
We advise using a fertilizer designed for hydroponic growth. Start providing fertilizer about a week after moving your Pothos into its new jar. Add some more about once every month.
You can do this when you're refilling the water in the jar, premixing the nutrient solution first to make sure that the dilution is right. Refer to the instructions that come with your fertilizer, but consider using a ¼ or ½-strength dose at first. Too much fertilizer can fry your plant.
If your Pothos leaves begin to get crispy at the edges shortly after you add fertilizer, you're overdoing it. Dump out and refill the container, and wait a few weeks before mixing in any more nutrients. Rampant algae growth can be another sign of excess fertilizer.
You generally won't need to fertilize your Pothos during the winter. There's not enough light for it to create much new foliage, no matter how many nutrients you add. The exception is if you're using grow lights to extend the growing season.
---
pH
The pH of water is less stable than that of soil. Get a pH testing kit before you try to grow a Pothos in water. You should test the water every time you refill the container, adjusting if necessary. A pH of between 6.1 and 6.8 is perfect for Pothos.
---
Room to Grow
A Pothos will grow a bit slower in water than in soil, but it will still fill up its available space in time. When you see that the roots are pressing up against the insides of the vessel, you should start looking for a bigger container.
---
Can You Grow a Pothos in an Aquarium?
If you raise both plants and fish, it's natural to wonder if you can combine your hobbies. A Pothos can grow in an aquarium, with some benefits for everyone involved. The plant will absorb some of the nitrates that your fish excrete in their waste. Your animals get cleaner water while your Pothos gets a bit of free fertilizer. And most fish won't eat Pothos roots, which can sometimes be a problem with other plants.
As an added bonus, your plant's roots provide cover for shyer species of fish. Guppies, for instance, like to have sheltered spaces to lay their eggs. They'll feel more comfortable with a Pothos around.
You can transfer your Pothos into an aquarium just as we described above. If it's a deep tank, you might want to clip or anchor the stem somehow to keep the leaves above the surface. A Pothos can't grow completely underwater. The foliage has to be in the open air.
Make sure to trim back your Pothos roots regularly so that they don't take over the entire aquarium. You may need to occasionally trim off some foliage as well. This will place some limitations on your plant's size, but you need to give your fish room to swim!
Remember to tailor your pH regimen to the fish, not the plant. Pothos are fairly adaptable, and they should be able to adjust to a less-than-ideal pH. Luckily, the ideal pH for fish is still around the upper end of what a Pothos prefers (about 6.8). If you're careful about monitoring and adjusting, there won't be a conflict of interest.
---
Is My Pothos Dying in the Water?
Before we wrap up, we're going to address some common troubleshooting questions. Here's what to do if…
---
Your Pothos is Turning Yellow
This could be due to a nutrient imbalance. If you're not fertilizing regularly, start doing so. If you are, try cutting the dosage in half for a while and see if the problem stops. It's also possible that the roots aren't getting enough oxygen. Change the water out, scrubbing off any algae you spot on your Pothos.
---
Your Pothos is Turning Brown
Crispy, dead leaves are often a sign of excess fertilizer. Sun scorch is another possibility – if your plant is receiving direct sunlight, you should move it back from the window. And, of course, make sure that there's enough water in the container. A plant that's turning brown could simply be dehydrated.
One other possibility is that your plant needs a bigger container. Do the roots seem to be crammed tightly against each other and the walls of the jar? That's a sign that your Pothos is root bound, meaning it needs more room to spread out.
---
Your Pothos is Pale and Skinny
Is your Pothos looking leggy – growing small, pale leaves, with lots of bare stem in between them? If so, it almost certainly needs more light. See above for our notes on how much sun your plant requires.
What if the leaves are stunted but they seem to be normally spaced, and your plant doesn't seem to be getting any bigger? This could indicate a nutrient shortage. Consider stepping up the fertilizer dosage.
---
Final Thoughts
It can be fun to grow a Pothos in water, and in some ways, it's even easier than keeping one in soil. As long as you make a regular habit of fertilizing, pH testing, and changing the water, your plant will love its aquatic home. We hope our advice comes in handy if you're inspired to try it out!