Will your Pothos thrive as a garden plant, or does it need to stay inside? Epipremnum aureum, also known as Pothos or Devil's Ivy, is a popular houseplant partly because it does well in low-light conditions. But what if you want to use it to add some flair to your garden or balcony? This post will explain when, where, and how you can grow a Pothos outdoors.
Pothos can only survive outside year-round in USDA Zones 10-12. In the US, that means roughly from South Florida to Hawaii. However, you can grow a Pothos outdoors in the summer pretty much anywhere. Just make sure you give it lots of shade and bring it indoors before temperatures drop below 50 degrees.
We'll go over some of the advantages and drawbacks of growing your Pothos outdoors, whether part-time or full-time. And we'll tell you what you can do to make sure it survives and thrives. With the right care, giving your Devil's Ivy some outdoor time will make for a lush, vigorous plant.
---
How Much Cold Can Pothos Tolerate?
Epipremnum plants are raised as houseplants all around the world, but in the wild, they grow in the tropics. That's true of many all-star potted plants. As such, a Pothos does best at temperatures between 65 and 90 degrees Fahrenheit.
Of course, they can withstand conditions a little bit outside their ideal range. A Pothos will generally survive as long as the temperature doesn't get below 50 degrees or above 100. However, its growth will likely be hampered when it's outside of its comfort zone. And if the temperature goes above or below those hard limits – even briefly – your Pothos might freeze or fry.
---
Where Can Pothos Grow Outdoors Year-Round?
You can only grow a Pothos as a full-time outdoor plant in places without much of a winter. If you live in a tropical or subtropical climate with decent moisture levels, Devil's Ivy should flourish in your garden. Its preferred approach is to start out in the shade and climb up trees as it grows.
If you want to grow a Pothos outdoors permanently, we'd suggest taking advantage of its vertical preference. Use it to add a riot of greenery to things like:
Trees
Balconies
Columns
Trellises
Gazebos
Pergolas
Walls
Spring is the best time to plant an outdoor Pothos. It will be happiest in coarse soil with good drainage. You should only need to water it if you hit a long dry spell.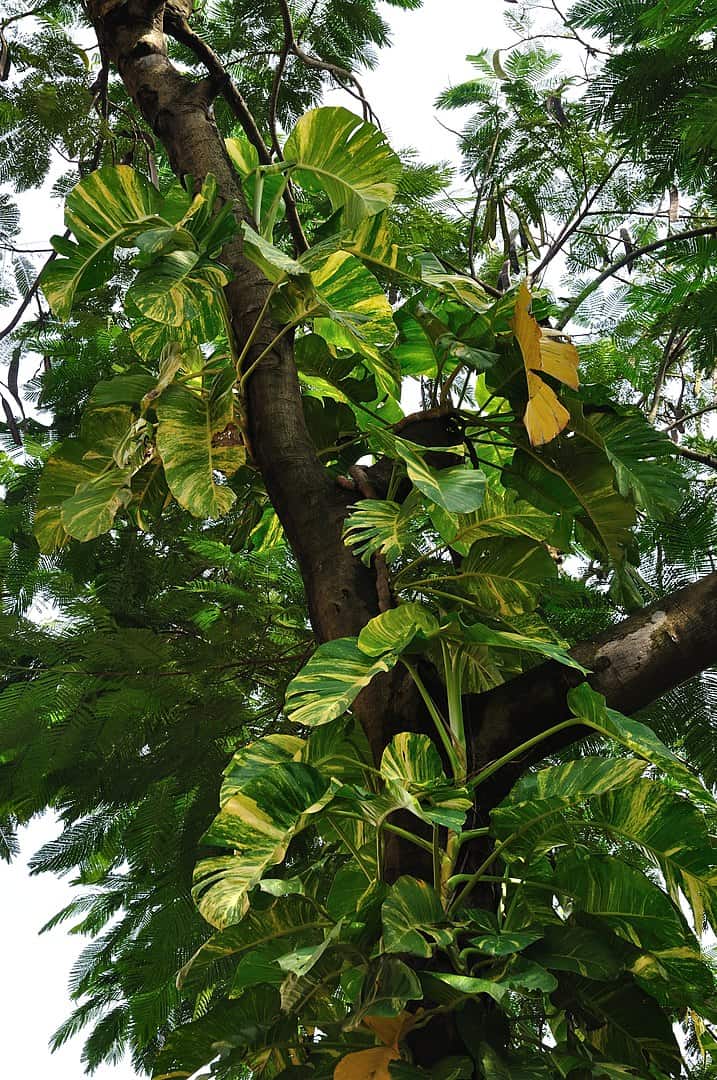 Be warned: an outdoor Pothos in a favorable climate will grow fast. Give it something to climb right away unless you're ok with it spreading over a fair amount of ground.
And be prepared for it to get quite large. Indoor Pothos plants almost never get past their juvenile stage. These plants can only reach maturity with lots of time, light, and room to climb. But a Pothos planted outdoors can grow huge. The mature plant develops leaves more than a foot long, with split sides that resemble Monstera foliage.
Remember that Pothos can be a nuisance plant, or even an ecological threat, in some areas. For instance, the Florida Exotic Plant Pest Council considers it a Category II invasive species. It's probably best to avoid planting it in your garden there.
---
Placing a Potted Pothos Outdoors
Even if your Pothos can't survive winter outdoors, it will benefit from some fresh air during the summer. There's more sunlight outside than there is in almost any indoor space. So if you grow a Pothos outdoors while the weather is warm, it will be much more vigorous and healthy. As a bonus, you get to spruce up your porch or patio with some beautiful foliage.
Choose fairly shady spot. As we noted, indoor Pothos plants are juveniles. They can't stand more than 2-3 hours of direct sun per day. So most of the light reaching your plant should be dappled, reflected, or filtered, as described in this article. Try placing your Pothos in the shade of taller plants, below a large overhanging porch, or under a patio umbrella. Don't worry – it will still get lots of bright, indirect sunlight.
It's best to give your Devil's Ivy a gradual transition to outdoor living. Your plant needs time to adapt to a brighter, windier, less climate-controlled existence. Once daytime temperatures are consistently above 55 degrees, start giving your Pothos 1-2 hours of outdoor time each morning. Make these excursions a little longer every day over the next few weeks. By the time the nights are warm enough, your plant should be ready to sit on the balcony around the clock.
Keep in mind that your Pothos may try to climb up whatever you're using to shade it. This can make it trickier to get it back indoors at the end of the season! Consider placing a stick, trellis, or moss pole in its pot instead of letting it latch onto its surroundings.
Your Pothos may need slightly more fertilizer and water than normal since its growth will be faster. However, you should still test the soil before watering to make sure the top 1-2 inches are dry. See our article on Pothos watering for more on this.
---
Will Your Pothos Flower Outdoors?
You may have noticed that your indoor Pothos never blooms. Will the increased sun exposure trigger it to flower?
The short answer: probably not. Even under ideal circumstances, Pothos almost never produce blooms. They're so effective at spreading out by extending their vines that they may have mostly abandoned sexual reproduction!
If you grow a Pothos outdoors for a decade or so, letting it climb up a tree and spread out its enormous leaves, it might one day pop up a flower or two. But don't hold your breath. The last time scientists observed a Pothos blooming without synthetic hormones was in the 1960s.
---
What if Your Pothos Gets Sunburned?
Sometimes, your best efforts to shield your Pothos from the sun fail. When your plant gets too much exposure to direct sunlight, it will develop irregular bleached or brown dead spots on its foliage.
The best thing to do at this point is to move it further into the shade. Don't let your Pothos get any direct sunlight for the next 2 weeks (but don't put it in the dark either). You can snip off any foliage that's completely scorched.
Leaves that are partly green and partly burned still offer some benefit to your Pothos. You can remove them for aesthetic reasons if you want, but only if there are plenty of healthy ones left. You shouldn't trim off more than ⅓ of your plant's foliage in one go if you can avoid it.
After a couple of weeks, your Devil's Ivy should start producing new growth again. This is a sign that it's recovered from its brush with sunburn.
---
When to Bring Your Pothos Inside
Pay close attention to the weather report as the summer draws to a close. You'll need to move your Pothos indoors once nocturnal temperatures get close to 50 degrees again.
Before you do, give the foliage a close inspection with a magnifying glass. When you grow a Pothos outdoors, it's much more likely to pick up bugs. Many insects pose little threat outside, where weather conditions and natural predators keep their populations low. But if they hitch a ride into your home, they become devastating pests.
Check your Pothos for symptoms like:
Dense patches of yellow, brown, or white scarring
Sticky fluid on the leaves
Patches of charcoal-colored mold
Stunted, shriveled foliage, especially newer growth
Flakes of what looks like ash (aphid exoskeletons)
Smooth brown bumps on the stems (scale insects)
Fluffy white blobs (mealybugs)
Wispy, dusty webbing
Tiny moving dots on the foliage (spider mites or thrips)
Even if you don't find any warning signs, it's a good idea to debug your Pothos. Try soaking the entire plant, leaves and all, in a large tub of mild, soapy water. Use a small amount of gentle soap with no degreasing additives. Leave your Pothos underwater for 15 minutes, then take it out rinse the soap off, and let the pot drain. You could also spray the leaves with neem oil, which is a natural pesticide.
When you first bring your Pothos indoors, try to place it in a very bright space at first. (Keep the rules about direct sunlight in mind, though). If you're going to move it into a dimmer area, transition it little by little, reversing the process it went through at the beginning of the season. And if possible, keep your Devil's Ivy isolated from your other plants until you're sure it's pest-free.
---
Will a Pothos Come Back After a Freeze?
What if you accidentally wait too long to bring your Pothos indoors and it goes through a cold snap? Can the plant bounce back?
Unfortunately, there's no way to give a definitive answer. It depends on how extensive the cold damage is. Inspect your Pothos thoroughly. Temperature stress causes leaves to wilt, yellow, and drop off. More alarmingly, it can kill off large patches of the roots and stems, creating mushy yellow or brown spots.
When you find these dead zones, clip off the affected vine well below the mushy area. Otherwise, the rot could keep spreading through the plant. You might find that there's not much healthy tissue left to salvage. In that case, your best bet is to slice off some cuttings and use those to regrow your Pothos. Remember: each cutting needs at least one healthy node to take root. You can find more info in our article on propagating Pothos cuttings.
If the cold damage was extensive, you might want to check whether the root system was affected too. Take your Pothos out of its pot, rinse off the soil, and look for squishy, slimy, or discolored roots. If you find any, clip them off with disinfected scissors. Then replant your Pothos in a clean container with fresh potting mix.
Once you've removed the dead tissue, move your Pothos to a location with a milder temperature. Don't try to warm it up quickly by moving it near a heater – gradual warming at comfortable temperatures is best. If your treatment was successful, your Pothos should start showing signs of life again within 2-4 weeks.
---
Final Thoughts
It's a great idea to grow a Pothos outdoors when the weather is warm enough. Your plant will gleefully soak up the extra sun and reward you with bushy, vibrant foliage. Of course, you'll need to make sure you're prepared to deal with all that extra growth! We hope your Pothos enjoys its moment in the sun.