Are Satin Pothos and Silver Pothos the same thing? And what separates them from the classic Golden Pothos? They have a distinctive color pattern, but the real differences go a little deeper than that. We'll clear up the confusion and explain what sets these plants apart.
Silver and Satin Pothos are two names for the same plant: Scindapsus pictus. Despite what it's called, Scindapsus plants fall under a different genus from the other cultivars that go by the name Pothos. Silver Satin Pothos has similar care requirements but a slower growth rate and a shinier, more grayish color scheme.
There are lots of Scindapsus cultivars, all of them with slightly different variegation patterns. We happen to think they're all gorgeous, each one in its own subtle way. This article will introduce you to a few of the most striking types of Satin Pothos and tell you what you can do to help them flourish.
---
Silver and Satin Pothos Plants
Most Pothos houseplants you'll find on the market are variants of a single species: Epipremnum aureum. It's also known as the Golden Pothos, since most of the variegated versions come with bright yellow patches.
The Silver Pothos – often called the Satin or Silver Satin Pothos – is different. It's in the same general family of plants – the Araceae or aroids – but it's genetically different enough that botanists place it in a different genus called Scindapsus.
It's easy to see why people lump these plants together. Both grow as clusters of long trailing or climbing vines. They both have heart-shaped foliage, with small-to-medium-size leaves that grow in a ladder-like formation, alternating from one side to the other. If you didn't know that the Silver Satin Pothos wasn't in the same genus as your other Pothos plants, you'd probably never guess.
---
Satin Pothos and Golden Pothos: Differences
Though the distinctions between these plants are subtle, you can spot them if you know what you're looking for. Here are the main things that separate Silver and Satin Pothos plants from Epipremnums:
---
Coloration
The patterns on the leaves of these two plants present the most obvious difference. A Scindapsus grows with irregular splotches of silvery gray dotting the deep green surface of its leaves. These spots have a slight sheen that makes them sparkle a bit in the sunlight – that's the origin of the name Silver Pothos.
Most Pothos plants tend more toward bright yellow or creamy white for their variegation. That's where the scientific name "Epipremnum aureum" came from – "aureum" means "golden". There are only a few true Epipremnum cultivars with any silvery sheen, such as the Cebu Blue Pothos. These belong to the less common Pothos species Epipremnum pinnatum. And even these varieties lack the vivid gray spotting of the Scindapsus.
---
Growth Rate
The Golden Pothos is a notoriously fast-growing plant, so much so that it's an invasive species in some parts of the world! You can expect an Epipremnum plant to gain anywhere from 10 to 18 inches every month during the growing season.
The Silver Satin Pothos doesn't have that same breakneck speed, at least not when grown as a houseplant. Scindapsus typically takes a few years to reach its mature indoor length of approximately 3 feet. The exact growth rate depends on many factors, particularly the amount of sunlight, water, and fertilizer the plant receives. However, it will almost always grow slower than a Pothos raised in the same conditions.
---
Flowers
The other difference between these plants is in their blooms. Scindapsus have them and Pothos don't. The Epipremnum aureum species has a mutation that limits it to asexual reproduction. Without artificial hormone treatments, it will virtually never bloom – the last spontaneous Pothos flower on record showed up in 1964!
In contrast, a Silver Satin Pothos that's getting enough light has a decent chance of flowering during the summer. These blooms aren't much to write home about, though. They're tiny and hard to spot, with a green coloring that makes them blend in with the leaves. The actual flowers are nearly microscopic, growing along a vertical shaft called a spadix.
---
Caring for Silver Satin Pothos
As we mentioned above, Golden and Silver Pothos are much more alike than different. Their care requirements are more or less identical. Here's what these plants need to thrive:
---
Bright, Indirect Light
Every type of Pothos, including Scindapsus, prefers dappled or reflected light. Don't keep them anyplace where the sun will fall directly on the leaves for more than 2-3 hours a day. However, they do thrive and grow best when there's a lot of indirect light. East-facing windows are often good, as are south-facing rooms where the plant can sit at least 5-6 feet away from the window.
You'll often see Pothos listed as a low-light plant. It's true that they can tolerate dim conditions better than many other typical houseplants. However, low light will slow their growth and could cause them to get skinny and leggy. That's especially true of heavily variegated cultivars with leaves that are mostly silver or white.
---
Mildly Damp Soil
The roots of your Pothos should never dry out completely. They also shouldn't sit in swampy, wet soil for long periods of time. The best way to strike this balance is to water only when the top 2 inches of the potting mix are dry. At that point, you can give your Pothos a nice thorough soak.
---
Moderate Dosage of Fertilizer
Neither Golden nor Silver Satin Pothos can get all the nutrition it needs from water and sunlight. You'll have to provide some fertilizer. For maximum precision, use liquid fertilizer, applying a ½-strength dose every 3-4 weeks. You can also use slow-release nutrient pellets. If your potting mix includes any store-bought soil, there's probably some slow-acting fertilizer in there already.
---
Medium-to-High Temperature and Humidity
Both Epipremnum and Scindapsus are tropical plants that thrive in misty jungles. They'll be at their best when the relative humidity is between 50 and 70 percent. This is easiest to control with a humidifier, though you can find some additional suggestions here.
Pothos appreciate rainforest temperatures, too – between 65 and 85 degrees is ideal. Keep your plants away from drafts, fireplaces, and other sources of extreme temperatures.
---
Silver Satin Pothos Varieties
Scindapsus plants aren't quite as popular as Golden Pothos, but they have plenty of fans. Those enthusiasts have bred several cool-looking cultivars, many of which are easy to find online. Here are a few of the most well-known types of Silver Pothos:
---
Argy
This is the informal nickname for Scindapsus pictus "Argyraeus", the most common variety. If you search for "Silver Pothos" or "Satin Pothos", this is the plant that will pop up first. Its foliage is green with silvery edges and many small dashes of silver-gray variegation. The leaves tend to be a bit smaller than other Scindapsus varieties.
---
Exotica
The Exotica has larger and thicker leaves than the Argy, and the grayish variegation comes in much larger blotches. The leaves often appear more silver than green, and their tips curve slightly to one side. This gives them an interesting hooked appearance.
---
Silver Lady
Silver Lady Pothos plants look almost like photo negatives of the Argyraeus. The leaves are mostly silver, with only small stipples of green. They have the same hooked shape as those of the Exotica.
---
Silver Splash
This cultivar would be easy to mistake for the Exotica, but its coloration is a little more subtle. There are some intermediate shades of green between the deep green and the light silver, making the colors appear to ripple and shift as your eye travels along each leaf.
---
Jade Satin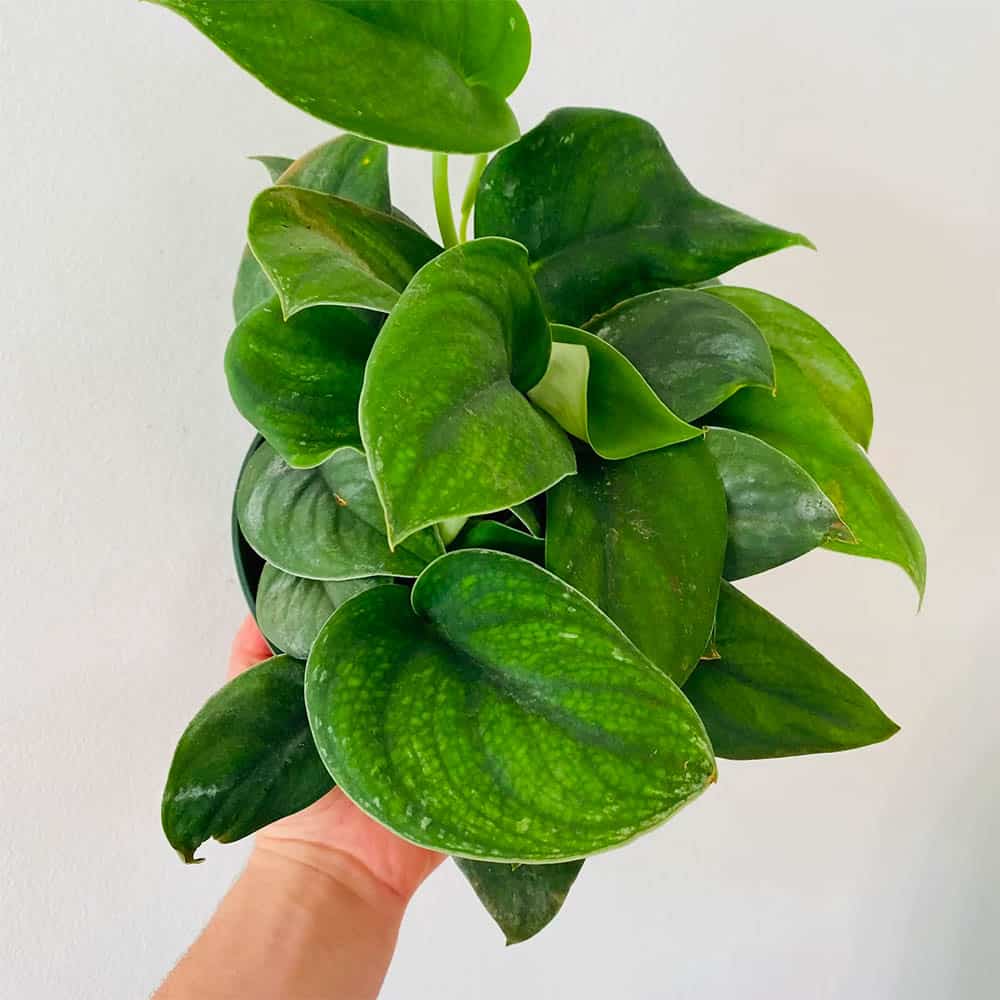 A rarity among Scindapsus plants, the Jade Satin has no silver coloring. It sports an intriguing mixture of dark and light green, with a hint of the classic Satin Pothos shimmer.
---
Moonlight
Most Silver Satin Pothos belong to just one species: Scindapsus pictus. The Moonlight is an exception. It's a variant of the closely related Scindapsus treubii species. The leaves look solid green at first glance, but a closer look reveals a light, misty gray spread over the surface. The foliage looks almost like it's been scuffed by sandpaper.
---
Scindapsus Treubii Dark Form
This is the sister plant to the Moonlight. Instead of a silvery lunar gray, this plant calls to mind the darkness of the new moon. The leaves are covered with a dark and glossy green so deep it's nearly black. Dark Form Scindapsus is one of the rarest Pothos cultivars around.
---
Final Thoughts
The Silver Satin Pothos (or Satin Pothos, or Silver Pothos) is technically genetically different from true Pothos plants. And it certainly has its own distinctive style. But if you take one home, feel free to treat it just like your Golden Pothos. Do that, and it should grow into a thriving, gorgeous plant.