We all know that Philodendrons are pretty much ubiquitous in most everyone's houseplant collection, mainly because of their various shapes and sizes and the fact that they're super straightforward to care for. However, did you know that different varieties have different growing habits?
Likely, the most recognizable type of Philodendron is the heartleaf climbing variety, which prefers to grow up some kind of trellis or cascade from a hanging basket. There are also crawling varieties that stay lower to the ground and spread along the soil. Lastly, there are upright, or self-heading, varieties that have a more tree-like appearance, often growing without any support.
With over 450 different varieties within the Philodendron genus, there's bound to be some variation in how these plants grow. The awesome thing about these different growing habits is that you can pick the type of Philodendron you want to match the conditions and space you have available in your home.
In this article, I'll go over the differences between climbers, crawlers, and upright Philodendrons, as well as how they grow and how you might best utilize them in your own space.
---
Philodendrons in the Wild
Most Philodendrons come from various tropical environments around the world, where they are typically seen as opportunistic plants that can crawl or climb their way toward new sources of water, nutrients, and light. 
Because rainforests are richly populated with dense foliage, sunlight tends to be a limiting factor for smaller plants that don't exceed the tall forest canopies so, as a survival tactic, many Philodendron varieties have evolved ways of growing taller or wider as a strategy to secure more sunlight.
Climbing varieties might start as small plants growing near the base of a tree, but their upright growth habit and use of aerial roots allows them to climb other structures (typically larger trees) to reach higher elevations. Many of these varieties are considered hemiepiphytes, which are plants that can grow both in soil and on other plants. 
Not only does this give them more access to the sun, but also gives them extra anchor points from which they can produce larger leaves to capture more light.
Crawling varieties take a slightly different approach. Rather than growing high, these varieties like to ramble horizontally, spreading their footprint wide as a means of capturing more light. Using a modified stem structure called a stolon, a Philodendron can send out exploratory vines in all directions, which, upon finding a suitable spot to grow, can create new root and shoot systems for the plant. 
Upright, or self-heading, varieties employ another type of growth habit. These plants tend to grow from a single stem, with leaves growing in from tightly packed nodes. Because of this, these types of Philodendron tend to have a more bush- or tree-like appearance, without many aerial roots protruding from the stem structures.
Of the many environments Philodendrons can grow in, you'll likely find upright varieties in less densely populated forests or clearings, where sunlight is in more abundance. In addition, many upright varieties are actually hybrids of other Philodendron varieties created by horticulturalists and aren't found in the wild.
Now that you know the different categories of growth habits Philodendrons can have, let's go through each one and learn how you can best utilize a plant's unique growth to work in your home.
---
Climbing Philodendrons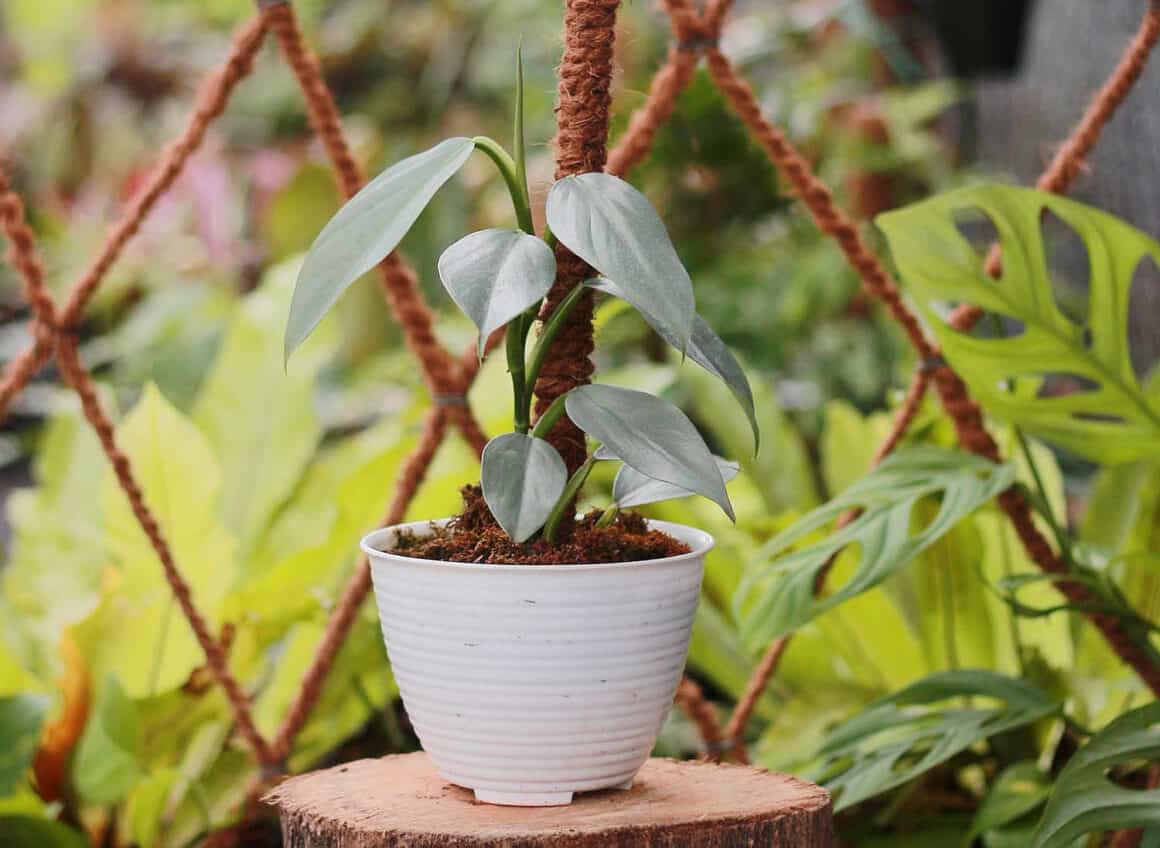 Probably the most recognizable types of Philodendron are the climbing varieties. These are the super common, easy to propagate, and often more affordable varieties that dot the shelves of almost every plant shop. 
While climbing varieties can differ wildly in leaf color and shape, most all of them tend to grow long vine-like stems, along which leaves protrude from short petioles. You may find aerial roots growing out from various points along the plant's stems for additional support, as well. 
You've likely seen this type of Philodendron potted in a container with some kind of trellis or pole to climb up. Just as common, many of these same varieties can be potted in hanging baskets or tall pots and allowed to cascade downward.
That's right! Climbing Philodendrons can often also be used as trailing Philodendrons. Because of their somewhat vigorous, vine-like growth, many climbing varieties look beautiful when planted unsupported, allowing them to grow into a curtain of foliage.
This typically works best with climbing varieties that have smaller leaves, as larger varieties can get too heavy or easily tangled. Larger-leaved varieties tend to do better when supported by a moss or coco pole, plank, or even by strings. 
Use trailing or climbing varieties anywhere in your home where you have lots of open vertical space. Climbing plants can reach impressive heights and tend to spread more as they grow, which is perfect for big, open entryways. Trailing varieties do great in hanging pots or placed on high shelves, where they can cascade down. 
Below are a few examples of excellent climbing (or trailing) Philodendrons.
Philodendron hederaceum – The heartleaf Philodendron is pretty much the gold standard of trailing Philodendron varieties. This deep green, smaller-leaved variety does equally well growing over the side of a hanging pot or growing up a support structure.
Philodendron 'Brasil' – A cultivar of the heartleaf Philodendron, Brasil's green leaves are swiped with varying streaks of gold, giving it a variegated look. Again, the smaller leaves make this a great trailing variety, but some of the most amazing specimens I've seen have been grown to great heights on a trellis.
Philodendron 'Glorious' – This is a true climbing variety with larger, deep green leaves and white veining. Glorious does well climbing a moss pole or trellis to allow ample room for its leaves to grow to their full potential.
Philodendron 'Silver Sword' – A rarer (although slowly becoming more mainstream) variety that does double duty as a climber or a trailer is Silver Sword. Beautiful, elongated, lance-shaped leaves sport a silvery green color. While it does fine as a trailing plant, having it climb will allow the unique leaves to grow larger.
---
Crawling Philodendrons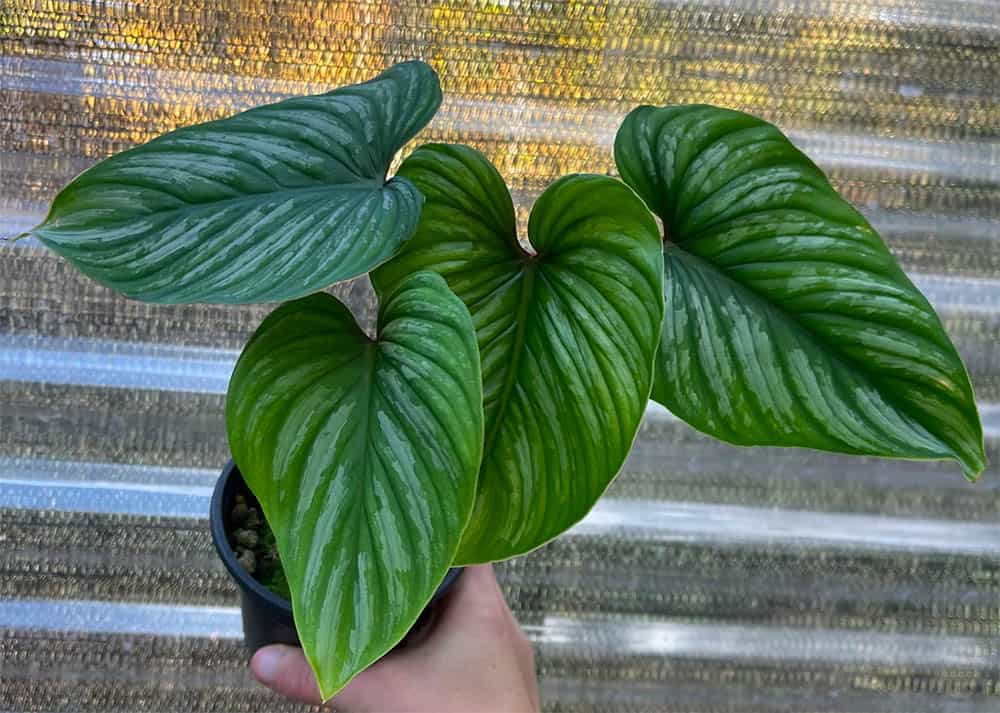 Although similar to the climbing types, crawling Philodendrons trade in vertical growth for the ability to spread along the ground. Their horizontal range, utilized through the use of stolon growth, keeps the plants lower to the ground, forming a more hedge-like appearance. 
What you end up with is a charming Philodendron that, over time, tends to ramble toward the edges of its container, perhaps spilling over the sides after a while. The stolon of the plant will continue to spread under or across the potting soil, eventually rooting out in places and producing another set of stems. 
Because of this, you may consider planting crawling varieties in elongated pots, like a rectangular shape, to allow them room to move across the soil. Over time, as the plant fills in, you'll have a small hedge of Philodendron that fills window sills or table tops nicely. I've also seen crawling Philodendrons used as room dividers or placed along empty stretches of wall to subtly fill negative space.
With a little strategic pruning, you can actually shape a crawling plant into having a bushier appearance. After some time, you may notice that a stolon of the plant pokes over the edge of the pot in search of more space. If you allow that stolon to continue growing past the pot about six inches, you can prune it back and replant the end of the stolon in the pot to root out and form a new plant.
As long as you have the space for it, you can do this several times over, alternating the direction the stolons are growing to create layers of Philodendron growth in one pot.
One last useful tip is that many crawling varieties will, in fact, still climb if you give them a support. While they may not get as impressively tall as a true climbing variety, a crawling Philodendron will grow where you train it to. This is good to know if you fall in love with a crawler but perhaps don't have a ton of space to let it roam.
Below are a few examples of crawling-type Philodendrons:
Philodendron 'Mamei' – This crawling variety has medium-sized, heart-shaped leaves with green centers and silvery feathering along the edges. This is one that will roam if you let it but can easily be kept bushier by occasionally pruning.
Philodendron 'Gloriosum' – One of the poster children for crawling varieties, Gloriosum sports large, velvety green leaves with white veins. This is a slower-growing variety that will gently creep along the soil. The climber 'Glorious' listed above looks very similar to this variety because it's actually a cross between Gloriosum and P. Melanochrism, which gives it its climbing attribute. 
Philodendron 'Plowmanii' – This one is a stunner. Although considered rare, and therefore likely a bit spendy, this crawling variety sports big, dense leaves that have gradient coloring from rich, dark green to creamy yellow. It will take up a lot of horizontal space in your home, but it's a slower grower, giving you time to stay on top of it. 
Philodendron 'Luxurians' – This is another crawler that puts out nice, big leaves. Luxurians create large, velvety green leaves with striking white veins on thick petioles that allow them to have a more upright, erect habit. This gives you more height along with the plant's spread.
---
Upright Philodendrons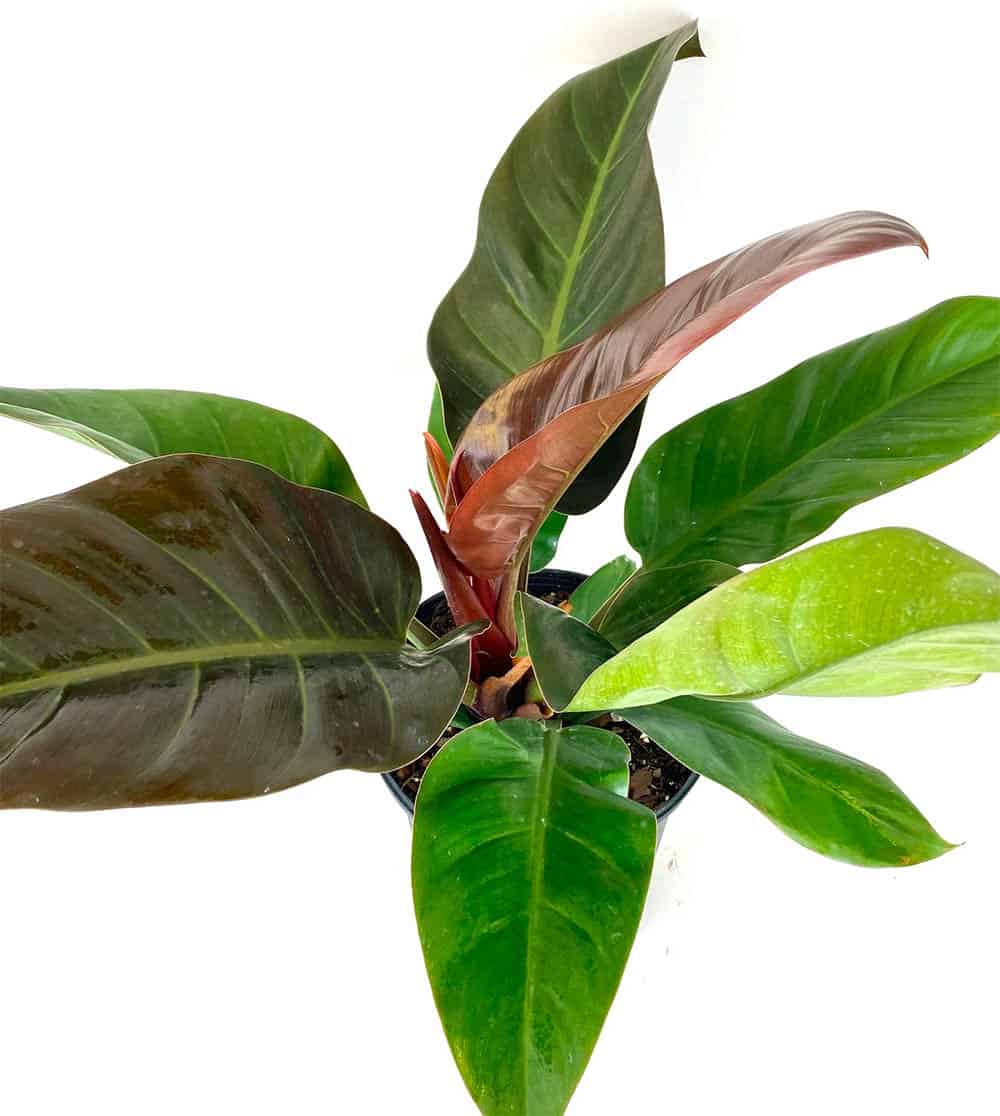 The last growth habit we'll cover is upright, or self-heading, Philodendrons. Not all Philodendrons are vines, and you've probably seen these upright varieties in plant shops or nurseries, filling out medium-sized pots with a single stem and strong, thick petioles that hold up large leaves. 
Because of their physiology, these Philodendron varieties look more tree-like in appearance and tend to stay put, only growing upward from their main stem. They don't need room to explore and don't require any sort of trellising or support to grow.
Obviously, this type of growth has lots of appeal to plant producers and horticulturalists, so many hybrid varieties have been created to achieve this habit while introducing new colors, variegation patterns, and leaf sizes to the mix. 
In your home, these plants do well almost anywhere, whether it be potted in a large container set on the floor or as a tabletop plant. They're easily repotted and don't require any pruning, so they stay low-maintenance even as they grow. 
Here are a few popular upright varieties of Philodendron:
Philodendron 'Congo Rojo' – Sporting elongated, medium-sized purple/green leaves, the secret to Congo Rojo's success is in the red color that shows up on new unfurling leaves and along the petioles.
Philodendron 'Moonlight' – This somewhat smaller variety pushes lots of new leaves that start a deep yellow color and change to a classic green hue over time, giving the plant lots of beautiful contrast.
Philodendron 'Cardinal' – This variety is a showstopper. Newly emerged burgundy leaves change to green and eventually black, giving this larger-leaved plant a super elegant appearance.
Philodendron 'Prince of Orange' – Another self-heading variety that likes to play with color. This one is all about the orange hues as the leaves grow in. This smaller variety puts out heavy autumn vibes with its collection of yellows, oranges, and greens. 
---
Final Thoughts
Now that you know Philodendrons can grow in several different ways, you are better equipped to choose a variety that works best for the space you can provide for it.
Remember that climbing varieties (which can also trail) do a great job of filling vertical space, while crawling varieties will roam across horizontal spaces without getting very tall. Upright Philodendrons can also be versatile in your home, as they can go pretty much anywhere, depending on their size.
Mix and match growth types based on your needs and have fun watching these plants grow up, down, or sideways.