ZZ Plants have a reputation for being fairly self-sufficient plants, which is why it can be shocking to find yours looking sad and unhealthy. Although generally resilient, the fact of the matter is that ZZs can still fall victim to many common plant health issues like discoloration, leaf loss, rot, and more. If you notice an issue with your ZZ, what should you do?
What is wrong with your ZZ Plant? Above all other causes, overwatering is, by far, the most typical reason for an unhealthy ZZ Plant. Other common issues include underwatering, incorrect light exposure, and nutrition issues. Diagnosing the cause of your plant's condition is the first step in getting your ZZ on the road to recovery.
The aim of this article is to gather the most common health issues people notice with their ZZ Plants and explain the potential causes, as well as the actions needed to fix the issue. Below, you'll find a chart that should help you determine the root cause of your ZZ Plant's symptoms. I also outline the potential reasons why the issue is happening and provide steps you can take to best solve the problem.
---
What's Wrong with My ZZ Plant?
If you've found your ZZ Plant in a poor state and are at a loss about what to do, you've come to the right place. Encountering an unhealthy houseplant is stressful, especially when you're not sure what the issue seems to be.
Using the chart below, you can try to determine the cause of your ZZ Plant's problem and then read the corresponding section farther down for more information on how to remedy it.
| | |
| --- | --- |
| ZZ Plant Symptom | Potential Causes |
| Turning Yellow (Leaves and or Stems) | Overwatering/Poor Drainage or Underwatering or Underfeeding |
| Turning Pale Green (Leaves or Stems) | Overwatering/Poor Drainage or Nutrient Deficiency or New Growth |
| Turning Brown (Leaves or Stems) | Overwatering/Poor Drainage or Root Issues or Underwatering |
| Visible Rot (Roots/Rhizome/Stems) | Overwatering/Poor Drainage |
| Leaves/Stems Drooping | Overwatering/Poor Drainage or Underwatering |
| Losing Leaves | Underwatering or Overwatering/Poor Drainage or Old Age of Leaves |
| Leaves Curling | Underwatering or Too Much Light or Overfeeding |
| Burned/Scalded Leaves | Too Much Light or Overfeeding |
| Leggy/Etiolated | Not Enough Light |
---
But First, Is Your ZZ Plant New to You?
When it comes to ailments and disease, we tend to jump to conclusions we discovered during a deep dive into WebMD before we ever take a moment to breathe and rationalize. I know I'm sometimes guilty of this when it comes to plants, too.
This is why I'd like to mention that ZZ Plants, like many houseplants you bring into your home, are sensitive to changes in their environments. Changes in temperature, humidity, light conditions, and more can all have an effect on the health of your ZZ. It is entirely possible that if your ZZ Plant is new to your home, or has just recently been moved to a new spot, it might just be working to acclimate itself to the new environment.
If you suspect that to be the case, avoid moving it from place to place in your home, trying to find a better spot. That might make the situation worse. Instead, wait a week or two (don't worry…ZZs are tough) to see if your plant just needed some time to stabilize in its new environment.
Alternatively, if you evaluate your plant's spot and notice it's sitting in an area where it may continue to be damaged, like too much sunlight or near a drafty AC vent, it's better to move it to a more suitable location now so it has some time to acclimate to its proper environment over the next couple of weeks.
---
A Quick Note Regarding Dormancy
When diagnosing health issues with your ZZ Plant, it is important to consider all variables to accurately identify what is going on. This includes considering the time of year, as your plant might be in a dormant state.
It's very normal for houseplants to go dormant during the winter. Typically, their growth slows or stops. Visually, not very much is happening. This is because dormancy is the time for a plant to shore up its structures underneath the soil, like root systems, and in the case of the ZZ Plant, its potato-like storage structure, the rhizome.
During periods of dormancy, the plant is busy bulking up root structures and utilizing stored nutrients. Therefore, it doesn't need nearly as many resources as it does during a growth stage. Because of this, the plant may be more susceptible to overwatering or overfeeding, which can easily lead to health issues.
Be sure to consider this when trying to identify any problems with your ZZ Plant. It's unlikely that your plant is suffering from a lack of nutrition or underwatering during dormancy, so knowing when your plant is dormant is helpful in eliminating potential causes of issues.
---
A Quick Note Regarding ZZ Plant Toxicity
I also want to quickly note that ZZ Plants are considered to have toxic attributes to them in the form of calcium oxalate. This chemical compound, present in all parts of the plant, is a known irritant to humans and pets.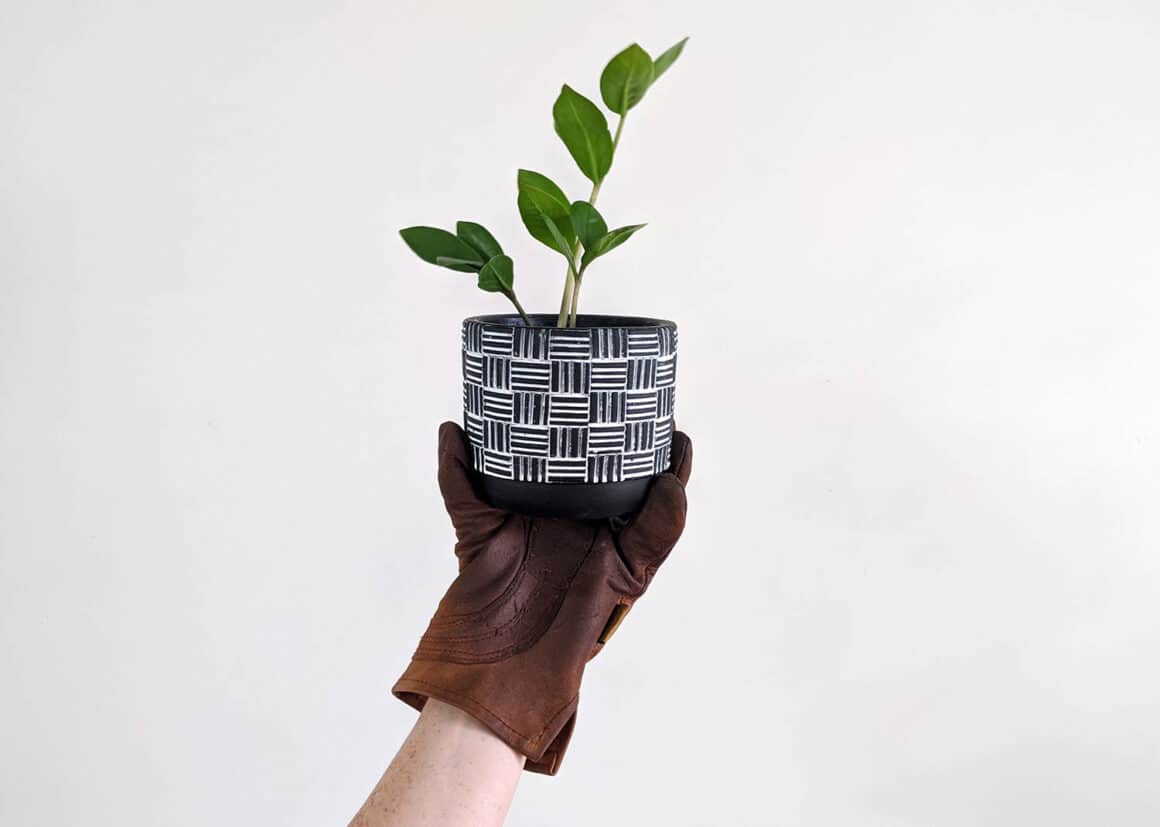 Calcium oxalate has a crystalline structure that can irritate the skin, mouth, and eyes if you come into contact with it. As it is present in ZZ Plant sap, the most common method of exposure is during times when you are handling your ZZ Plant (repotting, dividing, pruning, etc.).
Seeing as you may be required to handle your ZZ Plant to remedy some of these common health issues, I recommend you wear gloves when working with the plant and avoid touching your face. When you are finished, be sure to thoroughly wash your hands with soap and water to remove any sap that may have gotten on your hands. For more info on ZZ toxicity, read this article.
---
Proper Watering Habits for ZZ Plants
You may have noticed that almost every problem listed on the chart above can be attributed to overwatering. Not only is it the main cause of most discoloration issues in ZZs, but it is the fastest way to kill the otherwise "un-killable" ZZ Plant.
ZZ Plants hail from Eastern Africa, a land known for long periods of drought in between infrequent rainstorms. They have adapted to that climate by utilizing their rhizome as a storage structure for water and nutrients during drier times.
Because they are used to living in dry conditions and can self-regulate their water needs to some extent, they don't have much use for soggy, waterlogged soil, and actually suffer if they are overwatered too frequently.
Overly wet roots can cause a bevy of issues, from diminished nutrient and oxygen absorption to serious rot issues in the roots, rhizome, and stems. This can occur in two separate ways that I collectively refer to as "overwatering."
First, you might just be giving your plant too much water or are watering too frequently. This is obvious but important to mention because ZZ Plants tend to need much less water than many other common houseplants.
Overwatering can also be the result of poor drainage. You might be watering responsibly, but if your soil is too dense and holds too much water, or if your container doesn't have a drainage hole, the plant can still be affected by overwatering.
So, when considering the proper way to water your ZZ Plant, a few requirements must be met to keep your plant healthy. First, soil drainage is key! Be sure that the soil your ZZ is planted in is porous, fast-draining potting soil. It will still retain moisture but will prevent the plant from being waterlogged.
Second, make sure your ZZ Plant is potted in a container that is the correct size for it and that it has a drainage hole. In some cases, you can get away with potting your plants into containers without a drainage hole by putting a layer of gravel in the bottom, but this is not recommended with ZZ Plants.
Lastly, do not water your ZZ Plant on a set schedule. The plant's water needs fluctuate over time, so watering every other week may work for some times, but not others. Instead, make it a habit to check the soil moisture level before giving your ZZ Plant any water. If the top few inches of the soil are dry and it isn't waterlogged when you stick a finger in the drainage hole, you're fine to water.
Water thoroughly, making sure all the soil is saturated and allowing any excess water to drain from the pot. If your pot is in a saucer, make sure to empty the saucer of any additional water, so it doesn't reabsorb back into the soil.
If these first two requirements are met, the third one becomes easier to master, and you do end up with a little more leeway if you accidentally get a little heavy-handed with the watering can from time to time.
---
Diagnosing Your ZZ Plant
In this section, I wanted to drill down into the possible reasons someone might be asking, "Why is my ZZ Plant…?" I've tried to cover the questions I hear most often and provide the most likely reasons your ZZ is exhibiting signs of stress. Then, I'll provide you with steps you can take to keep your plant healthy and happy. Let's dive in!
---
Why is My ZZ Plant Turning Yellow?
The Problem:
We'll start with the big one. ZZ Plants tend to turn yellow in some form as an indication that there is some kind of problem present. While it's common for parts of the plant to turn yellow for different reasons, this section specifically addresses issues that cause most of the leaves and stems to turn yellow.
Why is it Happening?
OVERWATERING: The most common reason a ZZ Plant's stems and leaves begin to turn yellow is due to overwatering. When the plant becomes too waterlogged, the roots are unable to properly absorb nutrients that would otherwise be carried to all parts of the plant. As a result, the entire plant begins to fade from green to yellow.
UNDERWATERING: Although much less common, ZZ Plants can start turning yellow due to underwatering. Typically, you'll start to see the tips of leaves yellowing first and then spreading towards the stems.
NUTRIENT DEFICIENCY: Again, this is a much less common issue, but if you are certain you are not overwatering your plant, your ZZ may be suffering from a nutrient deficiency. Without proper nutrition, you'll start to see leaves yellowing around the greener leaf veins.
The Solution:
OVERWATERING: If you fear you may be overwatering your plant, adjust your watering habits so that you're only giving your ZZ Plant a drink when the top 2" of soil are dry. Also, be sure that the plant has proper drainage and well-drained soil.
If the plant is totally waterlogged, you may need to consider repotting the plant in fresh, porous soil. This is an extreme action that can stress the plant even more, so it should only be taken if proper drainage in the current container cannot be achieved. For more information on saving an overwatered ZZ, click here.
UNDERWATERING: You may be tempted to dump an entire watering can on an underwatered ZZ Plant, but use restraint when trying to rescue it from dry soil. Fungal issues can arise when soil fluctuates between really dry and really wet, and you don't want to shock your plant by going from a drought situation to overly-wet conditions.
Water your ZZ thoroughly, ensuring the soil gets evenly wet and proper drainage is occurring. Give the plant a week to adjust and then start monitoring the soil as the indicator of when your ZZ needs another drink.
NUTRIENT DEFICIENCY: If you've determined that your ZZ Plant might be underfed, invest in a well-balanced liquid fertilizer, and dose your plant one time. Then, wait about a week to see if conditions improve. If it truly is a nutrient deficiency, the plant should absorb and be able to utilize the additional feed quickly. For more information on fertilizing ZZs, read this article.
---
Why is My ZZ Plant Pale Green?
The Problem:
In many cases, if you witness your ZZ Plant turning a pale green color, this is a precursor to it turning yellow, and likely for the same reasons as listed above. It's less subtle, so keep an eye out for any fading of your ZZ's typically dark green foliage.
Why is it Happening?
OVERWATERING: Again, overwatering is most likely the cause of this scenario, and your plant is slowing fading into the telltale yellow color indicative of too much water.
NUTRIENT DEFICIENCY: Like above, if you've determined that watering isn't an issue, you might have a nutrient deficiency. However, due to the ZZ's rhizome, which is a large storage unit for nutrients, you typically don't see any signs of malnutrition until the plant has used its reserves and been without for some time. Most likely, your pale green color would quickly turn yellow, so you might not even notice this phase.
NEW GROWTH: Turns out, not every pale green or yellow stem is a problem. It's common for ZZ Plants to push new growth from the rhizome that starts off looking very pale green/yellow. Over time, as the new stem grows and can start functioning for the plant, additional nutrients help turn the growth greener.
The Solution:
OVERWATERING: Use the best practices described above to ensure your ZZ Plant isn't sitting in soggy soil. If it's not fully yellow yet, it's easier to course correct this issue by paying more attention to the amount and frequency of watering, and your ZZ should recover faster.
NUTRIENT DEFICIENCY: The same rules apply to address a nutrient deficiency as above. If you do think it's a case of underfeeding your ZZ Plant, go ahead and give it a shot of liquid fertilizer and, again, wait a while to make sure the plant has a chance to utilize the additional nutrients.
NEW GROWTH: No action is needed if you spot pale green new growth. As I said, over time, the new stem should fill in and green right up. In some cases, new growth doesn't always succeed, so if the stem fails to turn green and has other signs of distress (like dropped leaves or it becomes shriveled), consider cutting that stem out. Sad, yes, but you'll save resources for the plant to try again.
---
Why is My ZZ Plant Turning Brown?
The Problem:
You might be noticing parts of your ZZ Plant are turning brown. Generally, when it comes to plants, brown is bad. Depending on where it is starting from will help determine what your issue might be.
Why is it Happening?
OVERWATERING: If you notice your ZZ Plant stems turning brown, starting near the base of the plant and working its way up, this is a pretty clear sign of overwatering, and can actually be a sign of something worse, like rot underneath the soil.
ROOT DAMAGE: Alternatively, the same brown stems can be indicative of a root issue. If the roots get damaged, they can no longer function properly, and water and nutrient absorption are diminished.
There are also fungal issues that can crop up due to poor root health and overwatering, which attack the roots and lead to rot that can travel to the rhizome and stem, often accompanied by the wilting of the entire plant.
UNDERWATERING: It's not uncommon for a severely underwatered ZZ Plant to exhibit brown-tipped leaves. As the plant runs out of water, the leaves are the first to dry out, starting at the tips, which turn brown and start to shrivel up.
The Solution:
OVERWATERING: It's important to quickly adopt good watering habits if you start to notice brown stems. Make sure your ZZ Plant dries out properly before any more water is given. You will also want to take the extra step of removing the plant from the pot to inspect for potential rot, which would need to be removed before repotting. For more information on saving a ZZ from root rot, click here.
ROOT DAMAGE: Severely damaged roots will need to be pruned out before the plant can recover. Remove the plant from the pot, wash away any excess soil, and clip out any brown, mushy roots, leaving the healthy white ones intact. Also, inspect for any rot that may have traveled up to the rhizome.
If you believe the root damage was caused by overwatering, adjust your watering habits accordingly.
If you suspect a fungal infection might be present (you see gray, matted roots or the root sheath easily pulls off leaving a thin root thread), you will want to take the extra step of rinsing the roots, rhizome, and lower stems with a fungicide rinse. Your local garden center should carry a couple different options to choose from.
One Last Note on Brown Spots
While researching this article, I have come across a few posts about brown spots appearing randomly along the stems of the ZZ Plant. The consensus is that these small spots are naturally occurring and not harmful to the plant. Some called them "stretch marks." Others called the "age spots."
Regardless, this is an instance where brown spots on your ZZ Plant aren't indicating a problem, so don't worry!
---
Why is My ZZ Plant Rotting?
The Problem:
There are few things more disconcerting than discovering your ZZ Plant is suffering from rot. While definitely something that needs to be addressed quickly, your ZZ is tough and can fully recover from a rot issue.
Why is it Happening?
OVERWATERING: There's really only one reason that your ZZ Plant has rot either in the roots, on the rhizome, or on the stem. Because the plant evolved in a very dry climate, excess water can really do a number on the plant, which is susceptible to rot caused by moisture.
The Solution:
OVERWATERING: Fixing a rot issue caused by overwatering depends on which part of the plant is affected. However, the very first thing to do is to implement better watering practices to ensure you're fixing the issue at its source. So, ensure proper drainage and only water when necessary.
If the rot is in the roots, remove the plant from the pot and wash away the excess soil. Cut out any mushy, brown, or black roots, keeping only the healthy white ones. Be thorough, because you don't want to miss one and have it spread rot after you repot.
If the rot is in the rhizome, again, remove the plant from the pot and wash away any soil. Inspect the rhizome for soft brown spots. These will need to be removed. The rhizome isn't highly segmented, so you can easily cut out any rotten spots with a sharp, clean knife with little consequence to the whole plant.
If the rot is on a stem, typically presenting as a brown, mushy section of the stem near the rhizome, it's best to cut out the entire stem to remove the rot. It's ok if you also have to remove a chunk of the rhizome. It's terrible to lose a ZZ stem, but you'll save the plant from further damage and can propagate the healthy tip of the stem you cut out if you'd like.
For more information on saving a ZZ Plant from root rot, click here.
---
Why is My ZZ Plant Drooping?
The Problem:
ZZ Plants typically have full, firm stems and leaves. However, there are times when you might notice that your plant is drooping, causing the plant to look sick and weak.
Why is it Happening?
OVERWATERING: It's common to see signs of drooping leaves and stems on a ZZ Plant when overwatered. This issue is usually either a precursor or in addition to other signs of overwatering, such as yellowing leaves and stems, or leaves dropping.
UNDERWATERING: In contrast, drooping stems can also be a sign that the plant is severely underwatered. Just like many other plants, as they dehydrate, the water content in their cell walls is reduced, and they have a harder time holding their structure. If you notice drooping and check the soil to find the top few inches dry, it's time to water.
The Solution:
OVERWATERING: You'll need to ensure the plant has proper drainage, checking the soil and amending it if it's too waterlogged. Alter your watering habits to allow the soil to dry out between sessions. You should see a reduction in the amount the plant is drooping as it recovers, but if it doesn't get better, it may be a sign that you have secondary issues, like root damage or rot.
UNDERWATERING: Again, resist the urge to dump a ton of water on your plant. Thoroughly water it through, ensuring that the soil is draining properly. Then, wait for your plant to absorb the water and straighten back up. Adjust your watering habits so the plant doesn't get that dry again.
---
Why is My ZZ Plant Losing Leaves?
The Problem:
It can sometimes be worrisome when you notice that a leaf or two has dropped off your ZZ Plant. Sometimes, this is a regular occurrence due to the age of the leaf. Other times, this is an indicator that something more serious is going on.
Why is it Happening?
OLD AGE: If all other signs of the plant look normal, you most likely are losing one or two leaves due to the natural aging process of the plant. Leaves have a life span and are discarded after they've served their purpose.
UNDERWATERING: A dropped leaf could also indicate an issue with dehydration. ZZ Plants use leaf drop as a survival mechanism to conserve water when they experience drought conditions. Typically, you might notice the tip of a leaf has turned brown and is starting to curl before the entire leaf falls off.
OVERWATERING: A more serious scenario is that the leaves are dropping due to overwatering or inadequate drainage. This is often a more obvious leaf drop, with multiple falling off within a short period of time. Look for signs of yellowing and any droopy stems, as these will help you confirm if you have an overwatering issue.
The Solution:
OLD AGE: If your leaf drop is due to old age, you have nothing to worry about. Typically, you'll see leaves drop near the bottom of the stem as it grows heartier to support the rest of the plant. Just make sure it's only one or two leaves at a time. Otherwise, you might have an underlying condition you should check into.
UNDERWATERING: If your leaf drop is due to underwatering, it's important to water your ZZ Plant properly and then wait and watch. You may still lose a few leaves, especially if they have brown tips indicative of dehydration. However, over time, your plant should no longer be dropping leaves.
OVERWATERING: If you are experiencing severe leaf drop due to overwatering, you need to get the plant dried out as soon as possible, potentially even removing it from its pot to help the soil dry. Inspect your plant for any root damage or rot and ensure the soil has proper drainage moving forward.
---
Why Are My ZZ Plant Leaves Curling?
The Problem:
Healthy ZZ Plants usually have fairly flat, dark green leaves, sometimes with a slight crease at the midline of the leaf. Sure, they can be a bit folded up when emerging from new growth, but if you notice that your mature ZZ's leaves are curling up or starting to fold together, you might have an issue.
Why is it Happening?
UNDERWATERING: If you find that your ZZ's leaves are curling, especially downward, this could be a sign that it needs more water. As the plant dries out, it tries to conserve resources within the rhizome, so the leaves tend to wilt a bit and begin to curl.
TOO MUCH LIGHT: Sometimes, leaf curling in a ZZ Plant is an indicator that it is getting too much light. In an attempt to shield itself from direct sunlight, which can burn the leaf tissue, the ZZ Plant starts to lean away from the light source and its leaves begin to curl.
OVERFEEDING: There's a chance that leaf curl is caused by you overfeeding your ZZ Plant with excess fertilizer. This presents a bit differently from other issues, in that the leaves experiencing nutrition burn and start to get crispy as the tips begin to curl in on themselves.
The Solution:
UNDERWATERING: As long as the plant isn't severely dehydrated, and you aren't noticing any leaf drop due to underwatering, the leaf curl should be easily fixed with proper watering habits. Be sure to water when the soil is dry enough, but avoid going long stretches of time without paying attention to the plant. As soon as it is adequately hydrated, you should see the leaves bounce back.
TOO MUCH LIGHT: If you suspect the leaf curl you are seeing is due to overexposure to sunlight, you'll need to find a new place to set your ZZ Plant. Bright, indirect sunlight is what they prefer, but they can tolerate a broad range of lighting conditions. The main thing to remember is to keep them away from direct sunlight, so pull them back from the south-facing windows.
OVERFEEDING: If you are noticing the curling, dry leaf tips on your ZZ Plant and suspect you may have overfertilized, you should take action to flush the excess feed from the pot. Water your ZZ well, allowing plenty of water to drain from the bottom of the pot. While not ideal to overwater, in this case, you want to make sure you don't cause further damage to the plant from fertilizer.
---
Why Are My ZZ Plant Leaves Burned?
The Problem:
Leaf burn on any plant can be alarming, especially when that plant is known for its bright-green, waxy foliage, like the ZZ Plant. A healthy ZZ should have near-flawless, uniform leaves, so if you notice some of them look scalded or burned, something is up.
Why is it Happening?
TOO MUCH LIGHT: The most likely reason you might be seeing leaf burn is excessive sunlight. Like I mentioned above, ZZ Plants prefer indirect light. Because they look a bit like a succulent, sometimes we assume they need more light than they actually do, and their leaves can get sunburned as a result.
OVERFEEDING: Like leaf curling due to overfeeding, ZZ Plants can experience nutrition burn when they absorb too much fertilizer at one time, resulting in leaf tissue actually degrading, giving it a burned or scalded appearance.
The Solution:
TOO MUCH LIGHT: Check the positioning of your ZZ Plant. You may find that you accidentally placed it somewhere that experiences too much direct sunlight during the day. Look for a spot that gets lots of indirect light, further in the room away from the window, or on the north side of your house.
Sunburned leaves probably won't fully recover, so if a leaf has a bad case of burn, it's best to prune it off. If it's a minor case, leave the affected leaves on the plant. They should scar over and function just fine.
OVERFEEDING: The first step that needs to be taken is to flush your ZZ Plant of any excess fertilizer in the soil to prevent further scalding. Water well, flushing the soil with excess water and allowing it to drain from the bottom of the pot.
Some leaves may be burned beyond repair, while others will heal up to a certain extent and be fine, but wait a week or so after you flush out your soil to determine which ones might make it and which should be pruned off.
---
Why is My ZZ Plant Leggy?
The Problem:
In most cases, a healthy ZZ Plant has relatively uniform leaves growing evenly along the stems. If you notice that newer growth on your ZZ is sparse and elongated and the stems seem droopy and weak, you may have a leggy plant.
Why is it Happening?
ETIOLATION: Etiolation is the scientific name to describe the type of leggy growth your plant produces when it is searching for more light. Because the plant is trying to secure resources in the form of sunlight, it puts out fast, but sparse, growth to increase its range rather than focusing on efficient, compact growth typical of plants with ample light.
The Solution:
ETIOLATION: The obvious step to remedy this issue is to move your ZZ Plant to a spot that meets its light requirements. Remember, bright and indirect. Direct sun can harm your ZZ over time, leaving it sunburned.
If you are struggling to find a proper spot for your ZZ, consider purchasing a grow light. These lights are specifically designed to mimic the sunlight your plants would receive outdoors and are excellent supplemental lighting for darker spaces when you've run out of primo spots in your brighter rooms.
Once you know you've met your ZZ Plant's light requirements, consider pruning any weak, leggy growth from the plant. Yes, it's sad to remove otherwise healthy stems from a plant as slow-growing as a ZZ, but you'll be doing yourself a favor in the long run when your plant has pushed healthy, uniform stems to replace what you removed. For more info on the ideal type of light for ZZs, read this article.
---
Diagnosing Your ZZ Plant and Choosing Steps to Recovery
It's plain to see that, with ZZ Plants, one symptom may actually be caused by a variety of different factors. Sometimes this makes it difficult to accurately diagnose the issue. But using the information in this article and paying attention to the conditions the plant is living in should help you dial in on the likely cause so that you can make some changes.
It is important to remember that ZZ Plants are tough and great at surviving harsh conditions, so when you discover an issue with them, there's a really good chance you can bring your plant back to health with just a few small changes to its care.
As you've probably guessed, almost every issue with a ZZ Plant stems from overwatering or inadequate drainage. Because of this, I would recommend that, when diagnosing a problem, assume you'll need to adjust your watering habits. Then, if you know overwatering is not a factor, move on to the next logical explanation for the ailment you are seeing.
Overall, ZZ Plants aren't known for having many care issues and are probably the most self-sufficient houseplants you can have in your collection. However, when you notice something off, it's best to pay attention and work to identify the issue quickly. My hope is that this article will help make quick work of it and that your ZZ will be on the road to recovery in no time at all.