There is a ton of speculation in the houseplant world around which plants "like" to be rootbound. And with the growing popularity of the Money Tree (Pachira Aquatica), it's no wonder that people are questioning their preferences as well. While it is true that the stress of being rootbound will force other places into unique circumstances like blooming, is the same true for the Money Tree?
In my experience, no plant actually "likes" to be rootbound. But Money Tree houseplants do have smaller root systems than other plants that grow to a similar size. So while you want to choose a pot that won't constrict its growth, your Money Tree won't need as large a container as other indoor trees.
Rootbound plants are rarely at their healthiest. Many houseplants can live in such conditions, but most will never thrive. For the healthiest Money Tree, try to recreate conditions more similar to what it would experience outdoors in the wild by giving it room to expand and grow.
---
What Does Rootbound Mean?
Rootbound is the term we give to plants that have become too constricted in their containers. As plants grow above ground and extend taller and broader, the same thing occurs under the ground with their roots.
As roots stretch out, they find the boundaries of their pot and are forced to turn back in on themselves. This is the case (to some degree) in all potted plants. But when a plant keeps growing and growing and growing, it eventually has no place to go, and the roots coil up and spiral in on themselves at the bottom of the pot.
When this happens, it is not unusual to see roots poking out of the drainage hole in the bottom of the container as they desperately try to gain new ground. This can make it extremely difficult when it comes time to transplant to a new pot, as your plant has a major hold on its old one.
---
Money Trees in the Wild
Whenever people ask me what is best for certain houseplants, I always like to point to how each particular plant would grow on its own in the wild. Let's take a quick review of how Money Trees look in their natural habitat.
Money Trees are natives of the Central and South American swamplands. These trees grow to enormous heights, reaching up to 60 feet tall, and are known for their gorgeous, showy flowers and chestnut-style seeds. The seeds and flowers will rarely grow on indoor Money Trees.
In their natural habitats, Money Trees have access to nearly limitless resources (think lots of rainwater, fresh soil, etc.). This is part of the reason why they can reach such exceptional heights. But there is more to the equation. They do not find ways of constricting themselves in the wild but extend their roots and set up a solid foundation for themselves, helping them grow taller and broader.
In fact, when we look at 99% of the plants in the wild, we do not find them constricting themselves to grow taller. In my opinion, this confirms that truly no plant "enjoys" being rootbound, and that left to their own devices, they would prefer to spread out and continue growing.
---
The Dangers of a Pot That Is Too Small
There are groups of people who disagree with me and my take on plants not "liking" to be rootbound. Those people point to specific plants that will only bloom indoors when rootbound, like the Peace Lily. While you may end up with a specific outcome from a rootbound houseplant that you wouldn't otherwise see, I believe this results from the stress on the plant from its too-small container.
When plants are stressed, whether from overwatering, overfertilization, or being constricted in too small of a container, the whole plant suffers. Stress can keep a plant from growing to its fullest potential. Stressed out plants will never be as healthy as plants that have what they need to grow.
The first concern for rootbound Money Trees is this stress placed on the plant. Money Trees that are constricted will not grow to the full height potential or be as healthy and vibrant as those with space to expand.
The second concern is that the ratio of roots to dirt is off. A healthy plant has enough soil to retain the water and nutrients required by the plant. The roots can then slowly absorb what the plant needs and send it to the rest of the leaves and stems. When there are too many roots and not enough soil, this process is negatively affected.
Containers that don't have enough soil cannot retain much water at all. In fact, one sign that a plant is suffering from being rootbound is that all the water you pour in flows out from the drainage holes in the bottom almost immediately. This leads to a Money Tree that needs to be watered more frequently and one that won't absorb the water the plant needs to thrive.
Money Trees that cannot absorb water will dry up and develop curled or wavy leaves instead of the flat pointed leaves they are known for. If you let your Money Tree get too rootbound, it will not absorb water correctly, nor will there be enough nutrients in the soil to sustain the plant.
---
The Dangers of a Pot That Is Too Large
If a pot that is too small can harm your Money Tree, you should know that a pot that is too big is not the answer either. Pots that are too big hold too much moisture and keep your Money Tree's soil saturated for longer than it needs between watering.
One of the biggest dangers to your Money Tree comes in the form of overwatering. And pots that stay wet for too long are their own form of this problem. Overwatered, overly wet Money Trees develop root rot.
Root rot is exactly what it sounds like: rotting roots. It is usually caused by a fungus in the soil that comes to life when a plant has been overwatered. Root rot is the main cause of death in Money Trees, and once it has taken hold of your plant, it can be challenging to undo.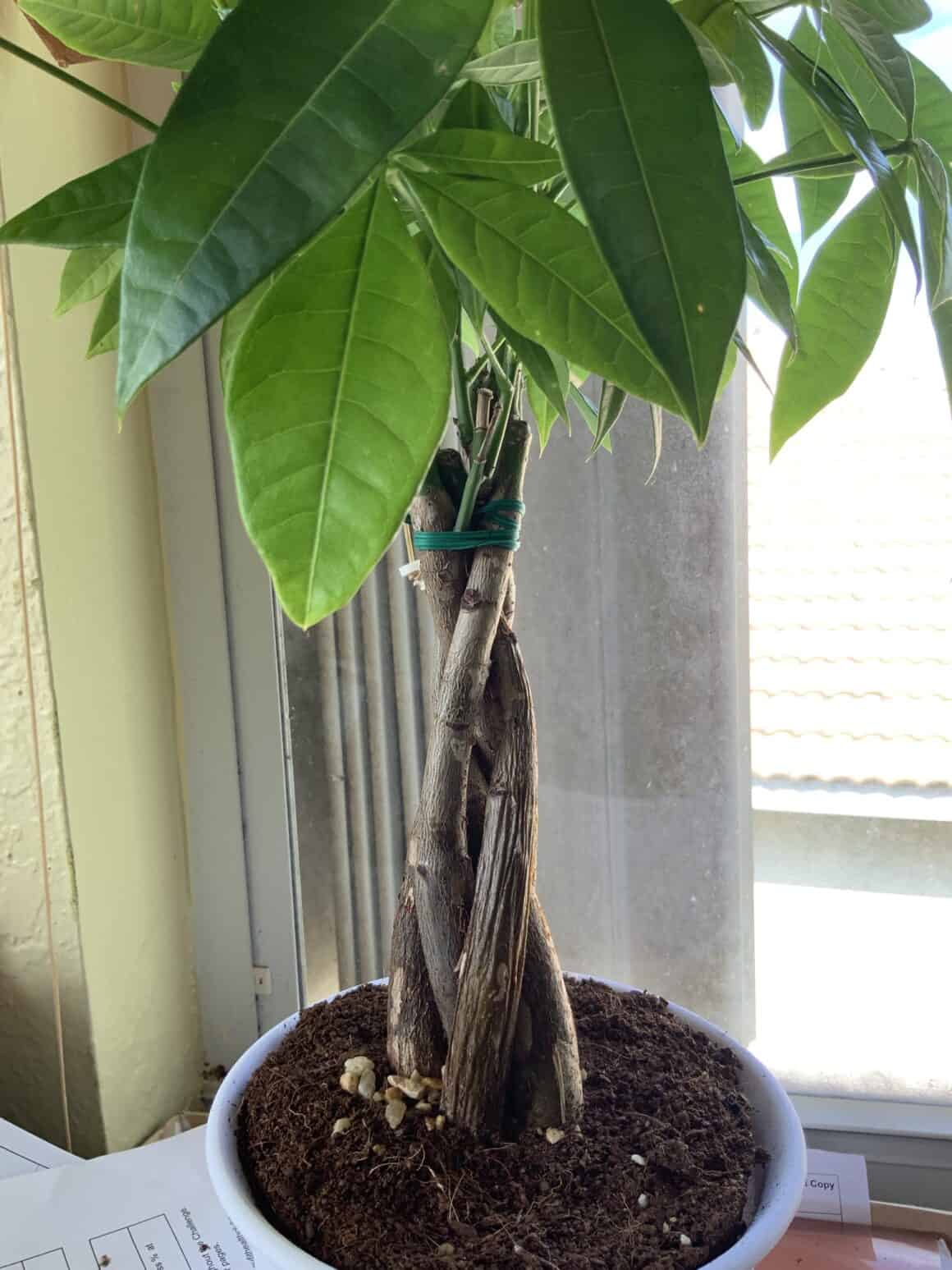 Mushy trunks, yellow leaves, and algae or mold on the surface of the soil are all aboveground symptoms of root rot. If you see any of those signs in your Money Tree, click here to learn how to save an overwatered Money Tree from root rot.
---
The Best Pot for Your Money Tree
So if a pot that is too small will stunt a Money Tree's growth, and a pot that is too large will lead to mushy trunks and root rot, what will keep your plant healthy and happy? A planter that falls in between these two extremes.
If your Money Tree has outgrown its previous pot, move it to one that is just one size larger (like an 8″ pot instead of a 6″ pot). Also, be certain to pick an option with a drainage hole. Money Trees need to be able to drain and dry out between waterings. Drainage holes are super important for that process.
If you're unsure how big of a pot to choose, the best bet is to take a look at the roots. You'll want a pot that gives the roots about two inches on each side to grow. This will give your Money Tree room to expand for the next year or two without drowning the plant in excess water.
---
Money Tree Root Systems
Some plants have such fast-growing root systems that they will not tolerate being rootbound at all. These plants grow so quickly that their roots will literally burst apart a planter that is too small. That is not the case for the Money Tree.
When we think of trees, we go straight to the idea of the Silver Maple or Oak trees growing in our own yards with root systems that sprawl and spread out in each direction, and perhaps that is the case for the 60 foot-tall Pachira Aquatica growing in the tropics of South American.
But indoors, where Money Trees rarely reach more than 6 to 8 feet tall, they have relatively small root systems. Of all my large houseplants, I am continually surprised by how small my Money Trees' roots are.
This means that while I don't support keeping Money Trees in containers that are so small that their roots coil in on themselves in the bottom of the pot, I do suggest keeping these plants in containers that are smaller than other large houseplants (like Monsteras or large ferns). Choosing the proper pot size will go a long way in keeping your plant healthy and avoiding root rot in the future.
---
When Is It Time To Replant
Some of the biggest spikes of growth that I have seen from my Money Trees have occurred directly after being repotted. When a plant can stretch out its legs (roots) and extend out beneath the surface, it is extremely common to see growth above the surface too.
But with all this talk about needing the perfect pot size, I may have scared you a bit more than I intended to. Knowing when to replant a Money Tree doesn't have to be complicated.
Money Trees should be repotted about once every two years. If you are seeing signs of the tree becoming rootbound before that, by all means, transplant it to a larger container. Look out for plants that can't retain water, roots poking out through drainage holes, or coiled masses of roots in the bottom of a pot. In those cases, they need to be transplanted.
Choose a container that is only one size larger and use a quick-draining soil for best results. For more information on the best containers and soils, click here, and for a complete guide to repotting a Money Tree, read this article.
If you wish to keep your Money Tree in the same container, or if you want to encourage it to stay smaller in size, you have the option to prune back the roots. Pruning roots is as simple as removing the plant from the pot, teasing the roots out of the root ball and then cutting back up to 1/3 of the root growth evenly on all sides.
---
Putting It All Together
In the wild, Pachira Aquatica can grow to massive heights, towering over the canopy of the swamps of Central America. In your home, you should expect a Money Tree to max out at about six to eight feet. But remember, a plant that is rootbound and stressed will never meet that full potential.
However, these plants do have relatively small root systems when compared to other similarly-sized houseplants. So, while they should never be constricted and allowed to coil in on themselves, they don't need giant planters.
Find a pot that is not too large and not too small but fits your Money Tree just right. If you're unsure where that size falls, take a look at your Money Tree's roots and judge accordingly.