We've all heard that some houseplants prefer to be root bound. But is Pilea Peperomioides, also known as a Chinese Money Plant, one of those plants? If not, at what point should we replant them into larger containers?
Pilea Peperomioides do not prefer to be root bound. To ensure they don't end up that way, Pileas should be repotted every two years to a container that is one to three inches larger in diameter than the pot they were previously living in.
If your Pilea is showing little to no growth and, upon further investigation, you determine it is root bound, you should take action and move it to a new container. If you are not sure how to determine if your plant is root bound or have questions about how to repot your Pilea, continue reading for answers.
---
What Does Root Bound Mean? Why Does it Happen?
When someone says that a plant is "root bound" (or "pot bound") they mean that the roots of the plant have become larger than what the current container can accommodate. This is often characterized by roots spiraling at the bottom of the container creating a dense coil of large roots.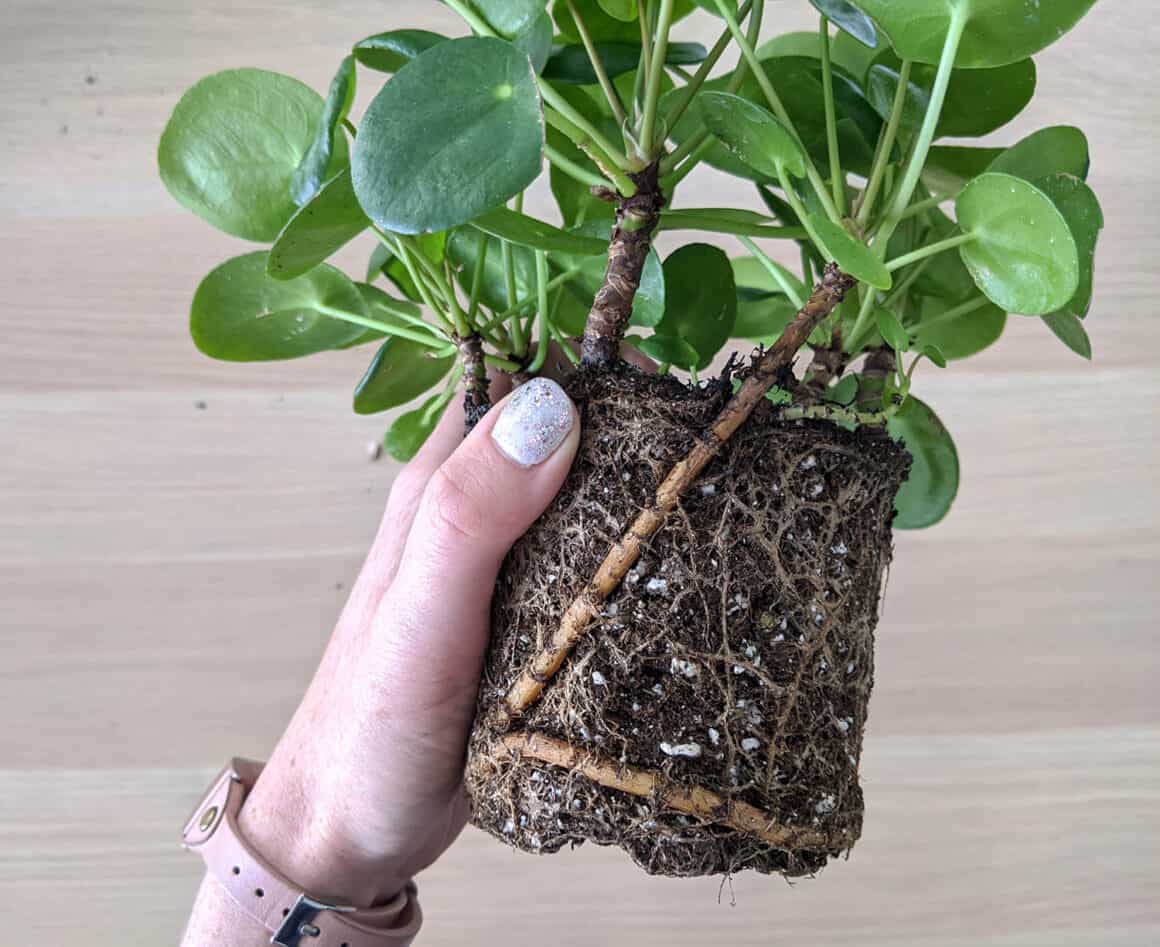 Pot bound plants often become hard and will slide out of their containers easily, retaining the shape of the pot. When a plant becomes pot bound, its roots have replaced the soil in the container meaning the plant cannot get access to the nutrients, air, and water it needs. This causes the plant a great deal of stress and will keep it from continuing to grow and thrive.
In nature, plants are able to grow as they please, stretching out their roots in all directions. But when we bring those same plants indoors and place them in containers, we put restrictions on how, and to what extent, the roots can grow. Healthy plants are plants that are allowed room to grow, more like they would in their natural habitat.
The size of the container is the main reason plants grow to be root bound. A container that is too small will not allow enough room for roots to grow out as they please and, once mostly filled with roots, will not provide enough soil for the plant to get what it needs to grow and be healthy.
---
What To Do If Your Pilea is Root Bound
If your Pilea becomes root bound, there is a very simple solution to solve the problem: repot your Pilea in a larger container. This is the simplest (and I believe the best option) to fix root bound houseplants and encourage them to continue to grow.
The new container you repot your Pilea into should be the next size container available, usually only one to three inches larger in diameter than the previous pot. To repot your Pilea, simply remove the Pilea from its old pot and discard any old soil. Then fill your new container about ⅓ of the way full with fresh soil, place your plant in, and add soil around the edges until your new container is filled. Laying newspaper out beforehand is a great way to keep from making a mess and getting dirt on your table or counter.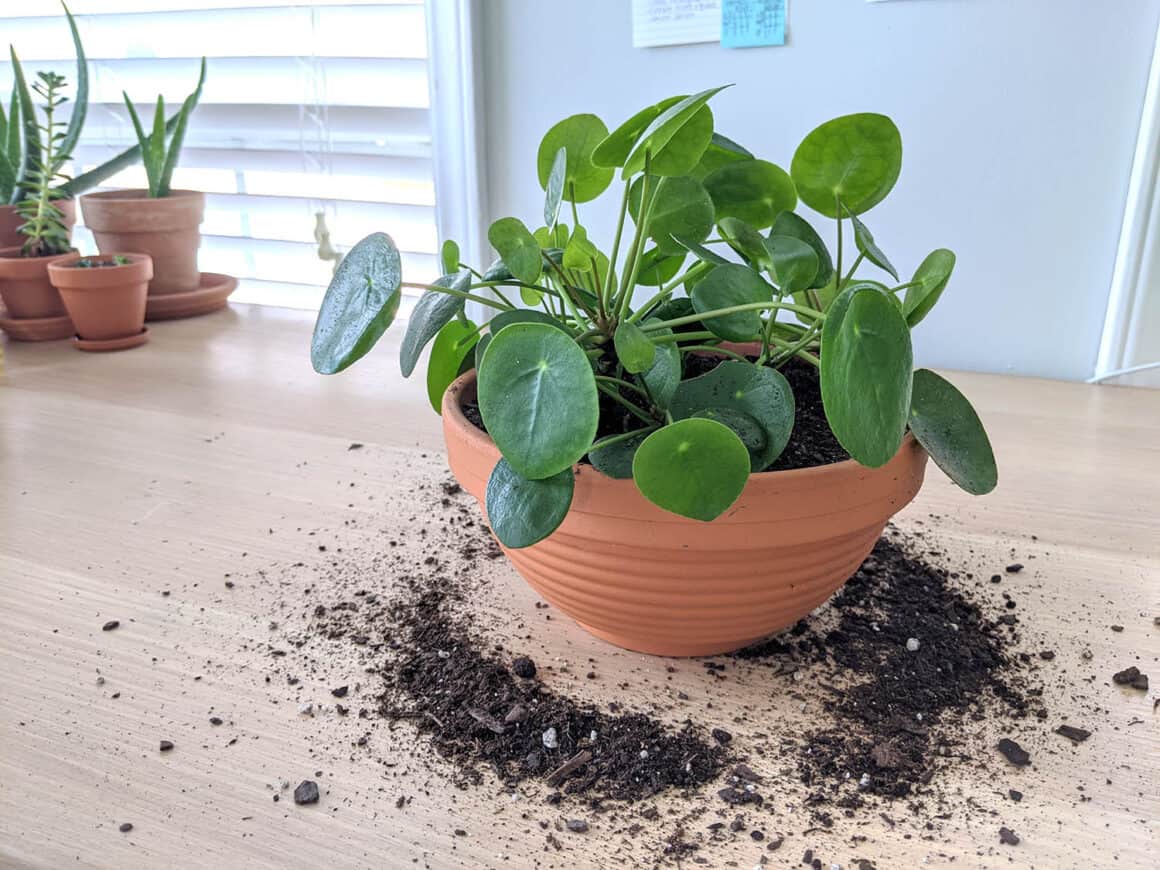 If your Pilea has become extremely root bound, something that is uncommon to this species as they do not have large root systems, you may need to take an additional step to break up the mass of roots when replanting. Once you've removed the plant from its old container if the roots are heavily coiled on the bottom, use your fingers to gently break up the mass of roots, and work out some of the old soil. By loosening up the roots before repotting your Pilea, you will give it a better chance of thriving in its new container.
---
When to Replant Your Pilea
Pileas do not need to be replanted often, usually only every two years. While it is not a complicated process, there is a certain time of year that will be better for making any change to your Pilea.
I recommend repotting Pileas in the early spring or summer. Like most plants, Pileas are in their growing season during the warmer months of the year and often slow down in winter and become dormant. Any pruning, potting, or relocating is almost always best when done within the growing season.
---
Best Containers for Pileas
Choosing the proper container is one of the most important things to consider when repotting your Pilea. A pot that is too small will not allow room for roots to grow, worsening the root bound problem. On the other hand, a pot that is too large will give the plant too much soil and cause it to dry out more slowly, something that Pileas hate.
The best size container for repotting will be one that is just one size larger than your previous pot. This means that the new pot should be only one to three inches larger in diameter.
When choosing a new container for your Pilea, you will need to select one that allows the soil to drain quickly because Pileas hate to sit in soggy soil. For this reason, you should always choose a pot with a drainage hole in the base.
Lots of people prefer the use of terra cotta pots for Pilea plants because they are simple to find and inexpensive. And, more importantly, terra cotta absorbs water and allows the soil to dry out more quickly. If you have been known to overwater your plants in the past, terra cotta may be a bit more forgiving than a glazed ceramic or plastic pot.
---
Best Soil for Pileas
The most important factor in ideal soil for Pileas is drainage. Pileas hate to sit in something soggy, so a well-draining, quick dying soil is key. There are two options for finding the right soil for your Pilea. The first is purchasing a store bought option that is ready for your Pilea. The second is to adjust soil you have at home so it is ideal for Pilea Peperomioides.
There are a lot of potting mixes available in most local garden shops. If you would like to buy a mix you can take directly off the shelf and immediately plant your Pileas into, you'll want to get a cactus and succulent mix. This will ensure that the soil you've selected won't retain too much water and will drain quickly. Hoffman's Organic Cactus and Succulent Soil Mix and Miracle-Gro Cactus, Palm, and Citrus Potting Mix are two options that do well with Pileas.
If you prefer a more hands-on or DIY solution to Pilea soil mixtures, you can create your own potting soil by using the potting soil you already have at home and adding in some perlite or pumice to improve the drainage. I like a mixture of 4 parts soil to 1 part perlite or pumice. Whether you choose perlite or pumice will depend on what is available to you and won't make a lot of difference.
---
If your Pilea is showing slow to no growth or you are noticing the roots growing out through the drainage hole of your container, it may be root bound. A root bound Pilea Peperomiodies will not be able to thrive and should be repotted in a new container. Once replanted, your Pilea will be able to expand and thrive again, giving you new growth, and, hopefully, lots of babies.