ZZ plants (Zamioculcas zamiifolia) are extremely hardy plants that many people keep in their homes for years and years. These plants can grow to 3 or 4 feet' in length and eventually become in need of dividing. However, there seems to be some confusion about whether this plant grows from a bulb or some other structure like a tuber or rhizome. This distinction, although seemingly subtle, has an impact on the proper way to divide a ZZ plant.
Although "bulbs" is a common word many plant hobbyists use to refer to any underground storage structure on a plant, the ZZ plant does not have a true bulb, nor does it have a true tuber. It actually propagates using rhizomes, which are fleshy plant structures made up of modified, swollen stems beneath the soil.
Although all of these plant features are similar in appearance and structure, there are some key differences that you should know about them. Knowing these differences will help you in the care, division, and replanting of your ZZ plant.
---
What is a Bulb?
True bulbs are typically round or oval, and have a pointed end which is considered the top of the bulb. The bottom of the bulb, or basal plate, is the side that grows roots when placed in the ground. The basal portion of the bulb usually holds a small bud that will eventually become the plant's flowering portion.
The bud is surrounded in layers by scales, which are modified leaf structures that store food. The whole bulb is often, but not always, surrounded by thicker, papery skin, called a tunic, which offers the bulb protection.
These true bulbs propagate by creating offsets, which are new, young bulbs that develop near the basal plate. When these offsets are large enough, they will eventually produce their own plants.
Some common plants that have true bulbs include daffodils, tulips, lilies, and onions.
---
What is a Tuber?
Tubers are structures that are created from modified stems of a plant. They differ from bulbs in that they do not have a basal plate or protective tunic, and the storage structure is rather simplistic. While bulbs have scales layered around a tiny bud, the interior of a tuber is a mass of simple, starchy tissue that houses the nutrition for the new growth.
Tubers have "eyes" that grow over their surface, from which both the roots and the shoots of new plants develop. Because of this, you can cut a tuber into pieces, each containing an eye, and plant them. Each piece will grow into new plants.
Tubers do not create offshoots or divide. They typically grow larger season after season, creating more growing points. Potatoes are the most common example of a tuber. Other tubers include begonias and cyclamen.
---
What is a Rhizome?
Rhizomes are also modified stem structures that develop off of an established plant. However, while tubers tend to grow down into the soil, rhizomes are stems that grow horizontally through the soil, nearer to the surface.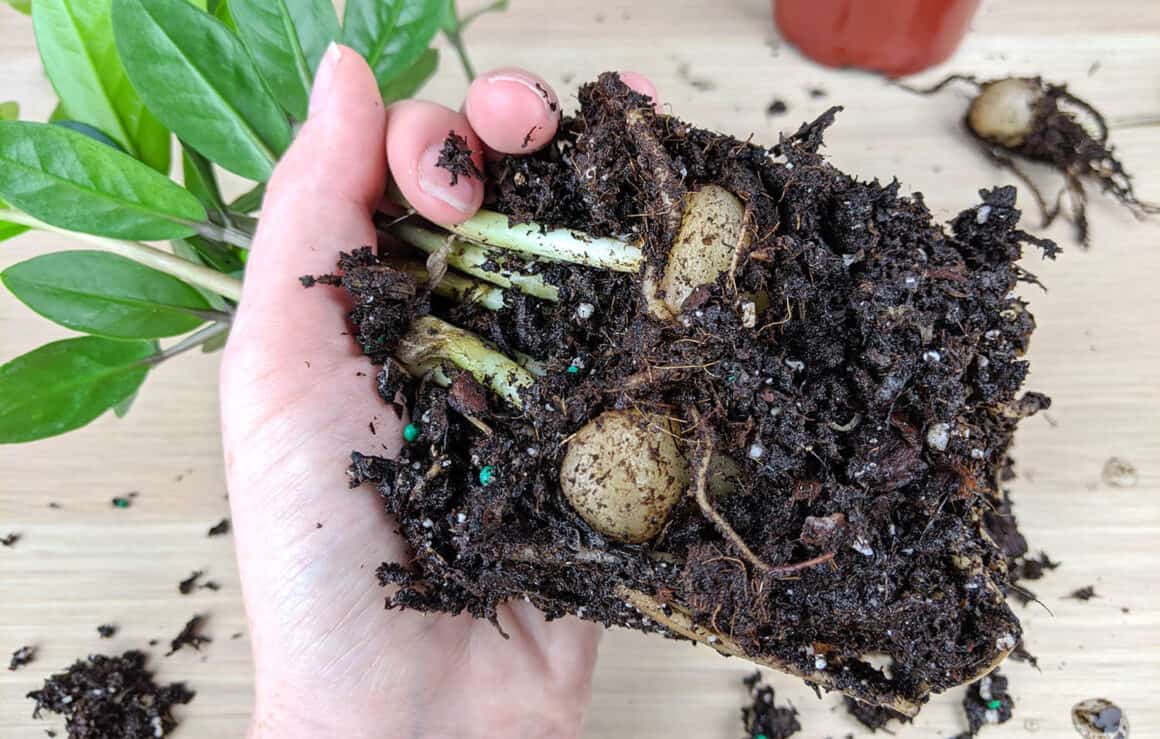 They produce nodes along their structure, from which roots can grow down into the soil, and new stems will grow up towards the surface. The underground stem structure can also serve as food storage for new growth.
Plants that propagate through rhizome growth include Iris, Lily of the Valley, and ZZ plants.
---
ZZ Plant Rhizomes
ZZ Plant rhizomes are typically very round, which may be why many people mistake them as bulbs in the first place. These swollen rhizomes are packed full of stored nutrients and water, which can be used by the plant over time. 
These rhizomes are part of the reason that ZZ Plants have the reputation of being one of the easiest houseplants to care for. They are drought-tolerant and do not need to be fertilized often because they have storage systems in their rhizomes, which means that missing a watering or feeding will have little effect on them.
Knowing that ZZ Plants have these rhizomes to sustain them through harsher conditions can even help in diagnosing a lot of common health issues. For example, you may notice your ZZ plant has yellowing leaves on the lower stems which is most likely due to you overwatering the plant. Simply knowing that your ZZ Plant has rhizome structures should put your mind at ease about skipping a weekly watering or two to see if you can get the color in the leaves to improve.
Those rhizomes give you extra time and forgiveness to figure out a proper watering schedule for your ZZ Plant, something you won't get from other, more finicky, houseplants.
---
READ OUR EBOOK
Keep Your ZZ Happy With Our Guide
ZZ Plants are tough. They can survive a range of conditions and require little input from us. But if you want your ZZ to thrive, you'll need to know a thing or two about what they need and love. Get our 80+ page care guide and you'll be on your way to a very healthy houseplant.
GET YOUR COPY NOW
---
How to Divide and Replant ZZ Plants Rhizomes
Usually, the sign that your plant needs to be divided is when you notice that it has outgrown its current pot and needs to be repotted to a larger size. With a ZZ Plant, when the time is right, you will start to notice rhizomes pushing up against the sides of the pot. 
It's always best to divide or repot a houseplant during spring or summer months. This gives your newly potted plants plenty of time to establish and acclimate to their new pots before they enter dormancy and growth slows down in the winter.
---
Dividing ZZ Plants
To divide a ZZ, carefully remove the plant from its original pot and try not to damage any of the rhizomes beneath the soil. You may want to wear gloves, as the sap from ZZ Plants sometimes irritates the skin.
Next, gently remove as much soil from around the root ball and rhizomes that you can. This will help you get a good look at what you're dealing with and where to make any cuts.
If you're lucky, you will have a couple of rhizomes that are well developed and only attached to the mother plant by a small amount of tissue. Ideally, you are looking for ones that already have a stem protruding from the rhizome.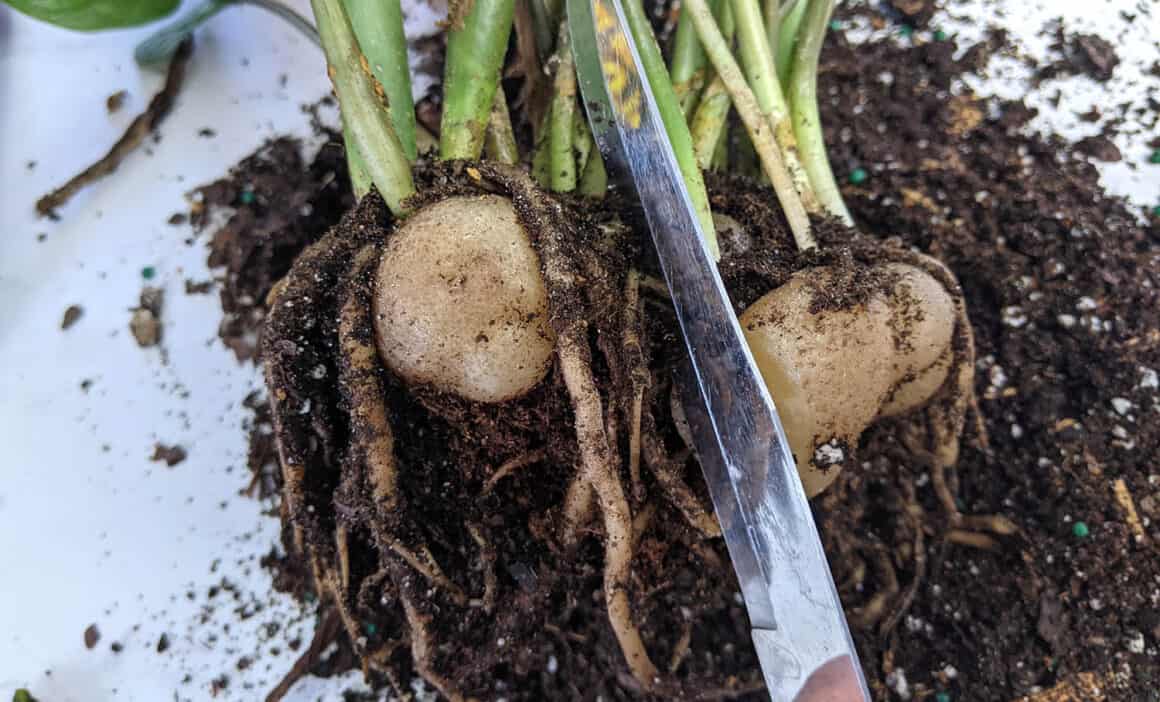 Make clean cuts with a sterile knife to separate any rhizomes from the mother plant. Wash them well with water to remove any remaining soil.
If your mother plant is really big, you can cut it in half or thirds and plant each piece separately. However, this does require cutting through larger, established rhizomes, which might be scary, but the plant can handle it. Again, make sure you are using a sterile knife and making really clean cuts (no sawing motions or serrated blades) to minimize the risk of disease.
To protect your rhizomes from disease, you can apply activated charcoal powder to the cut portions. Then, carefully trim away any dead or damaged roots on each rhizome. and leave the rhizomes out for 1-2 hours to let any cuts dry out before planting.
---
Replanting Divided ZZs
Each rhizome or plant piece is now ready to be planted into a new pot. ZZ Plants like well-drained soil, so make sure your pots have drainage holes and consider using a mixture of about ¾ regular potting soil to ¼ cactus or succulent soil. This will ensure that the new plants will get the water they need, but won't be sitting in wet soil. 
You should note that because rhizomes grow close to the surface, you don't want to plant them too deep in their new pots. Typically, planting the roots 1" – 2" deep, with the top of the rhizome exposed to the surface, is what you need to get them to root properly.
When replanting, position the rhizome cuttings with any stem structures pointing up, and any root structures pointing down. Settle into the soil and cover with your potting soil/cactus soil mix.
Water in your new pots well and then monitor the soil dampness carefully over the next few weeks as the rhizomes establish. You'll want to keep the soil evenly moist, but be mindful not to overwater. Remember, the rhizomes are providing the new growth with water and nutrients, so you don't have to go crazy with the watering. Too much water will risk the rhizomes rotting.
When properly divided, ZZ Plant rhizomes thrive, and you should start seeing growth within a matter of a few weeks to a month.
---
Final Thoughts
While it is certainly not the most common root structure for a houseplant, the rhizomes beneath our beloved ZZ Plants are one of the main reasons that these plants have gained their reputation as some of the hardiest houseplants available. If you have a ZZ that has grown enough to have you checking out its root structure, follow the steps above to divide it and turn your one ZZ into two.