If you're new to the ZZ world and you're anything like me, you're researching everything you can do to give your ZZ the perfect environment. Humidity is an important piece of that puzzle. ZZ Plants (Zamiifolia Zamioculcas) are tropical plants, but unlike a lot of their counterparts, they are not particularly sensitive to humidity levels.
Do ZZ Plants like humidity? ZZs are extremely hardy plants. They can thrive with humidity levels of all kinds, but do best with regular indoor humidity levels around 40-50%. However, it is important to note that extremely high humidity levels can invite pests and disease to your ZZ Plant.
Humidity is highly debated in the world of houseplants. Some people swear by daily misting while others prefer to leave their plants alone. Arguments can be made for both of these extreme options for ZZ Plants, but the best care probably lies somewhere between the two.
---
Ideal Conditions for Zamiifolia Zamioculcas
Like most of our favorite house plants, ZZs are tropical. They are native to eastern Africa (think Tanzania and Kenya) and are hardy year round outdoors in USDA zones 9-10. Indoors, ZZs like temperatures between 65°-75° F and average humidity levels of about 40%.
In the average home, humidity levels are usually between 40-50% which is ideal for ZZ Plants. There are some things that can affect your home humidity levels such as where you live, the weather, and even the HVAC system you use to run your air conditioning and heating.
While ZZs can tolerate a wide range of humidity, you should know that there are risks for all houseplants with extremely low or extremely high levels of humidity. Too much humidity can make your houseplant the perfect environment for disease and pests, while too little can cause your leaf tips to turn brown.
---
Determining Humidity Levels In Your Home
Humidity levels have to do with how much water vapor is present in an area and are largely influenced by the temperature. As the temperature goes up and down, the air's ability to hold water vapor increases and decreases. Home humidity levels are generally higher in the summer and lower in the winter.
Different rooms in your home will have different humidity levels. The kitchen and bathroom are always more humid than bedrooms or family rooms. Basements are also notorious for having extremely high humidity levels.
So how can you know the actual humidity level in each room of your home? The simplest way is to purchase a hygrometer. A hygrometer is a small device that measures temperature and humidity and displays it on a screen similar to a thermostat. Hygrometers can be purchased for under $10. (I have this model from ThermoPro). This small device is easy to move from one room to the next which will allow you to measure and determine the best locations in your home for healthy houseplants.
Without a hygrometer, you can check your home for signs of high and low humidity. Fogging or condensation on the windows is an indicator of high humidity levels. Also, mold and moisture on walls points to high levels. On the flip side, low humidity is characterized by the presence of static electricity and dried or cracking paint or wood.
---
Methods for Adding More Humidity to Your Plant & Home
If you've been noticing brown tips on the end of your ZZ leaves, you may need to increase the humidity levels in your home. Just because ZZs can tolerate low levels of humidity doesn't mean it is what is best for them. If you're seeing signs of low humidity in your home, there are a few simple things you can do to increase your levels.
CONSIDER A PEBBLE TRAY
Placing your ZZ Plant on top of a pebble tray can help to increase the moisture level around the plant, without adding water directly to the soil. You should note that ZZs do not like to be soggy, so adding water to the plant's soil directly in order to raise humidity is not a good idea.
To build a pebble tray, find a shallow dish or tray and fill it with small stones about one inch deep. Fill the tray with water and set your ZZ pot on top of the tray. As the water evaporates from the tray beneath, your ZZ will receive extra humidity.
GROUP PLANTS TOGETHER
Another thing you can do to increase humidity in an area of your home is to group multiple houseplants together. This is an excellent option that does not require purchasing anything new.
Plants release moisture from their leaves in a process called transpiration. When that moisture is released from plants, the water vapor increases the local humidity around the plant. With more plants together, the humidity level will be higher in that area.
ADD A HUMIDIFIER
Many people who have low humidity levels have purchased humidifiers for their homes. Since ZZ Plants do not need very high humidity, this is probably not necessary. However, if you have multiple houseplants in an area and you want to raise your humidity levels, a humidifier will give you exactly what you need.
There are lots of options for humidifiers, from small portable ones to bigger more industrial types. Humidifiers use a reservoir to hold water which then releases into the air. The reservoir will have to be refilled regularly. I personally use the 6L Warm & Cool Mist Humidifier and love it.
For more information on which humidifiers are best for tropical houseplants as well as my personal recommendations, click here.
PLACE A WATER BOWL NEAR A HEAT SOURCE
For a lower cost, more natural option, consider adding moisture to the air by placing a vessel of water on or near a heat source, such as a vent or radiator. As the water is heated, it will evaporate into the air adding moisture to the surrounding area. Be sure the vessel you use will not melt or release any toxins into the air when heated, like plastic or styrofoam.
---
READ OUR EBOOK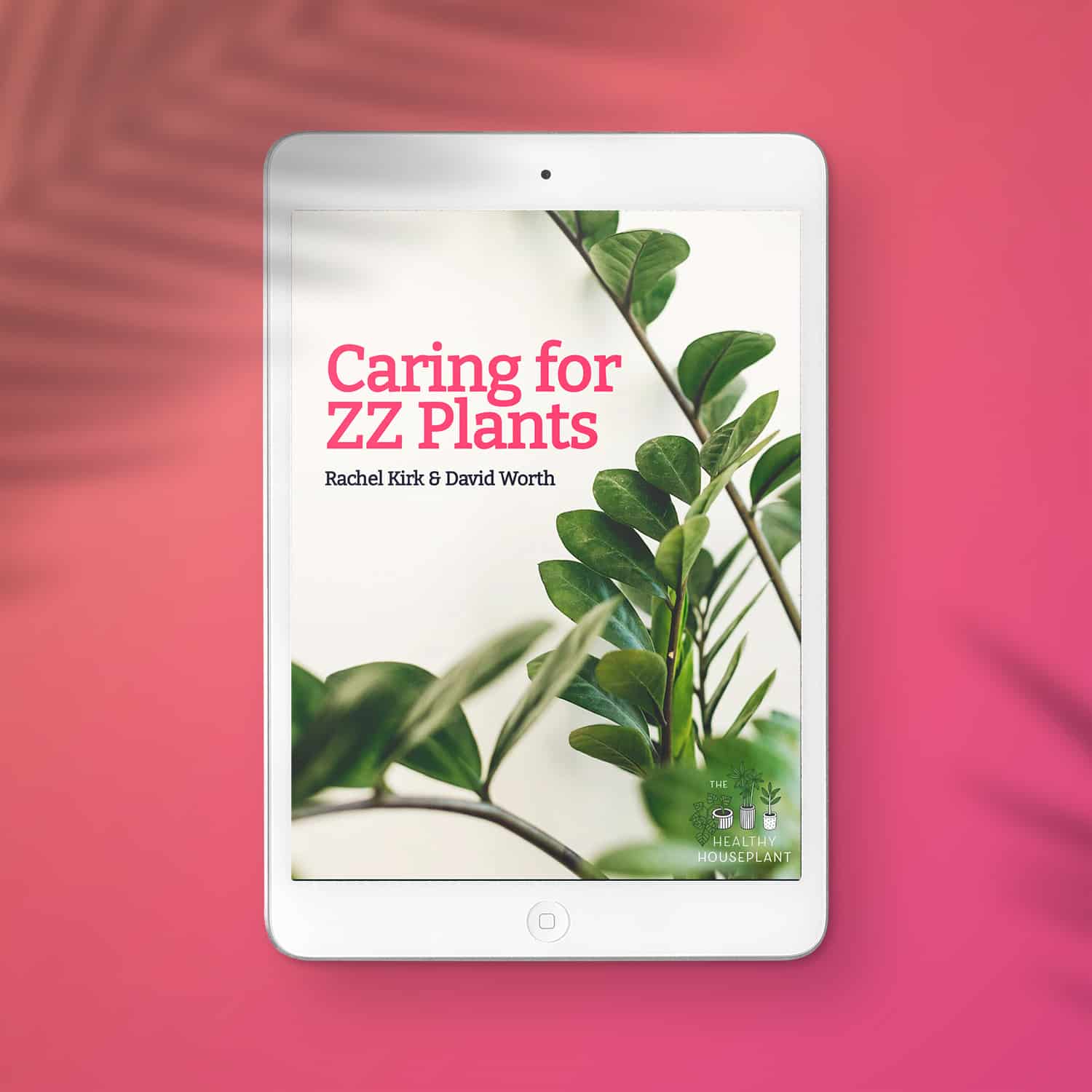 Keep Your ZZ Happy With Our Guide
ZZ Plants are tough. They can survive a range of conditions and require little input from us. But if you want your ZZ to thrive, you'll need to know a thing or two about what they need and love. Get our 80+ page care guide and you'll be on your way to a very healthy houseplant.
GET YOUR COPY NOW
---
Misting: Does It Really Add Humidity To Your Plants?
Some people swear by misting their houseplants anywhere from once a week to four times a day. Other people will tell you that you're completely wasting your time to mist a plant. Because this topic is so controversial in the houseplant world, I'll give you a bit of information from both sides.
Those who advocate misting houseplants believe that adding moisture into the air near the plant, via misting, is the best way to keep humidity levels up. They say that misting in the morning will help your plant's leaves to retain more water and reduce the amount of water they lose during the day.
On the other side of the fence are those who believe that misting houseplants is not only useless but can keep your plants too moist and spread disease and encourage pests. Those people say that spraying water into the air around your plants dissipates so quickly that it doesn't alter the humidity levels at all.
Personally, I do not mist my ZZ Plants but I do mist by Fiddle Leaf Fig. So I'm somewhere in the camp in between these two extreme opinions. I also live in the south where the humidity level in my home is always between 40-50%. If you live in a very dry area, you may want to consider it.
If you do decide to mist your ZZ, fill a spray bottle or mister (like this one from OFFIDIX) with lukewarm water. Spray your ZZ leaves top and bottom. Your plant should look like there has been a light dew. Misting is best done in the morning so that your ZZ will have time to dry out throughout the day.
---
Final Thoughts
ZZs (Zamiifolia Zamioculcas) are loved by so many people because of how simple they are to care for. As long as your home is not extremely dry, you'll probably not notice any real difference in your ZZ by adding moisture to the area surrounding the plant.
If you have multiple houseplants, some of which need higher humidity levels, your ZZ will be fine in that environment as well. When it comes to humidity and ZZs, they aren't finicky. I would recommend checking the humidity level in your home and experimenting with raising and lowering it to see what works best for your ZZ.