I love plants, and I have been especially interested in Pilea Peperomioides lately. These fun, trendy house plants have a unique look, and they're all the rage on social media right now. If you have a Pilea that you believe is not growing as quickly as it should, there are things you can do to help and encourage it to grow faster.
How do you make a Pilea grow faster? Lots of things can affect the speed of growth for plants including location or placement in your home, pruning habits, fertilization, and repotting. However, nothing will cause overnight growth and patience is still key to growing healthy houseplants.
Although I have eight helpful tips to help your Pileas grow faster, I do not suggest doing all eight of these things at once. In fact, you'll find that it is impossible to do so! I recommend reading through the whole list and then evaluate which tips you want to try first considering the age and condition of your specific Pilea.
---
Things to Consider
There are several things to keep in mind when you are wanting to grow Pileas faster. What they actually need, what time of year it is, and what kind of Pilea plant you want at the end of the day are all things to consider. Read through this section first before moving on to my eight tips to help your Pileas grow faster.
Remember: Plants Need Certain Things to Grow
Before we consider changing anything with our Pileas, let's quickly go over the things that plants need in order to grow. All plants need water, light, and nutrients, the latter of which they gather from the air and soil. In addition to these things, plants also need space and time.
If you need a reminder of the photosynthesis process, here is how it works: Pileas use the energy they collect from light and carbon dioxide in the air (both of which are collected from their leaves) combined with water they gather from their roots to create glucose to feed themselves and release oxygen into the air.
The majority of tips I have for you to encourage your Pilea to grow faster involve manipulating one of these elements in some way. Whether it's light, nutrients, time, or space, each tip takes something your plant already needs and changes it slightly.
I do not encourage adjusting your Pileas water intake, as Pileas are very sensitive to overwatering. However, it is worth noting that Pileas may need more water in the warmer months of the year because they are in their growing season.

Remember: Growing Seasons Matter
All plants have a growing season. In nature, that is the time of year where the temperature and rainfall are ideal and allow a plant to grow successfully. When we pull plants into our homes, we expose them to consistent temperatures and watering, but we do not negate the growing seasons. Houseplants still have a portion of the year where they do most of their growing.
Growing season takes place during the warmest months of the year. For most people in the US and Europe, the growing season is from spring to early fall. During this time, you will see faster growth from your plant as it turns sunlight into energy more quickly.
The further you are from the equator, the shorter your area's growing season will be. Tropical locations have growing seasons that last for most of the year, while those areas much further north or south of the equator will not have adequate heat or sunshine for a larger portion of the year, cutting growing seasons much shorter.
During the part of the year where a plant is not growing, it is said to be dormant. When plants are dormant their growth and expansion slows down greatly.
It is important to note the time of year you are in right now. If you're in the warmer months, now is the time to try out these tips and tricks to get your Pilea growing faster. If you believe your Pilea may be dormant right now, you should consider trying these things out once spring arrives.

Remember: Shape is Important
When you're thinking about growing your Pilea plant faster, you need to first decide how you want your plant to look in the end. Are you hoping for a bushy plant? A tall thin plant with a single stalk? A perfectly round plant? The shape you desire is important to decide before you start trying to grow your Pilea faster.
Some of these methods I'm going to suggest may not get you the final results you want. As I said before, each Pilea is different, and so is each Pilea owner! If you don't think a certain tip will shape your plant in the way you want, then skip it and move on to the next one!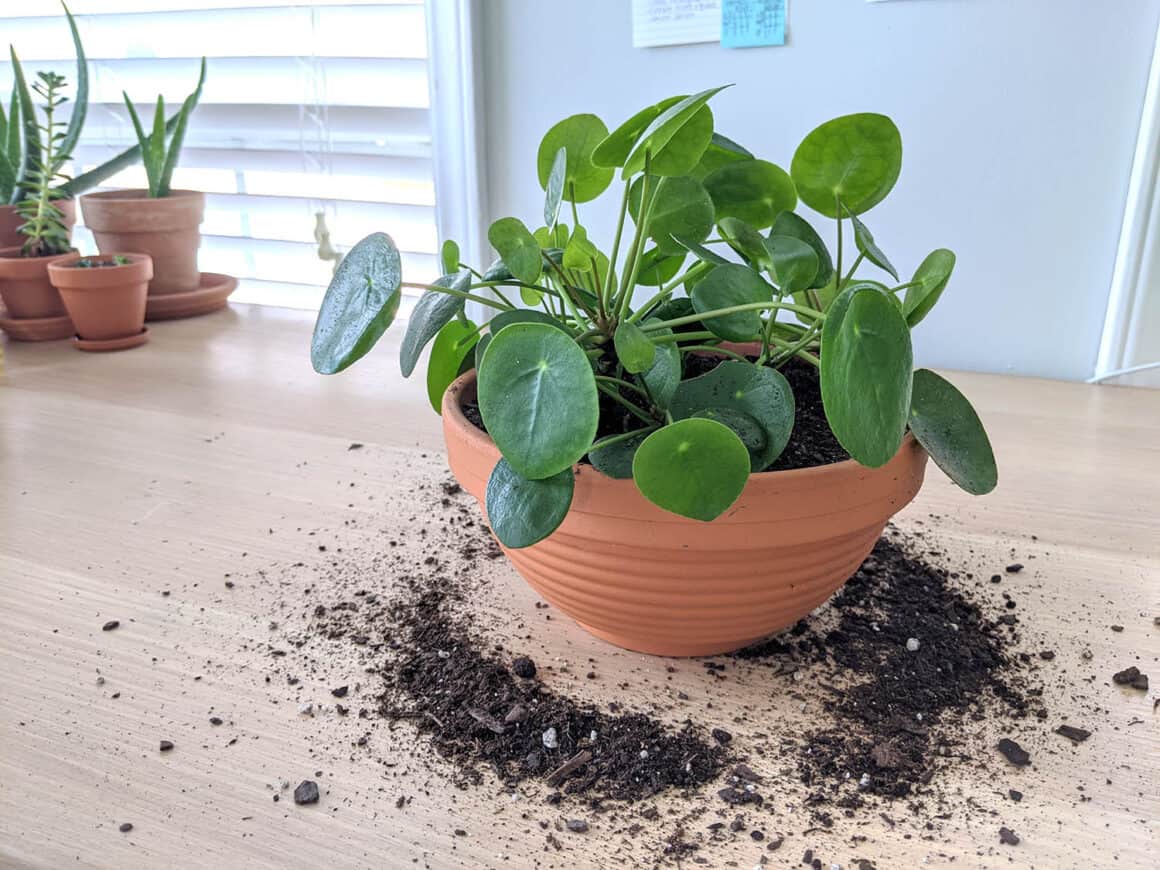 ---
Eight Tips to Get Your Pileas Growing Faster
Below are some tips that I use on my own houseplants when they are not growing as quickly as I'd like. If you have a mature Pilea that you want to encourage to grow quicker, try one or a few of these tips and get your plant growing.
---
#1 Fertilize Your Pilea Monthly
The first thing you should consider when trying to boost the growth of your Pilea is how much access it has to nutrients. In the wild, plants have access to nutrients through rainfall and by extending their roots to look for new soil. In a pot, a plant is restricted to whatever nutrients are within the soil in the pot, plus anything you add in.
Most potting soil bought in stores is fortified with nutrients to help your plant thrive. This is extremely helpful when plants are first potted, but after several months, your plant will probably use up all the available nutrients within the potting soil. So should you repot your plant every six months? No! Pileas usually only need to be repotted once every year or two. But there is another option.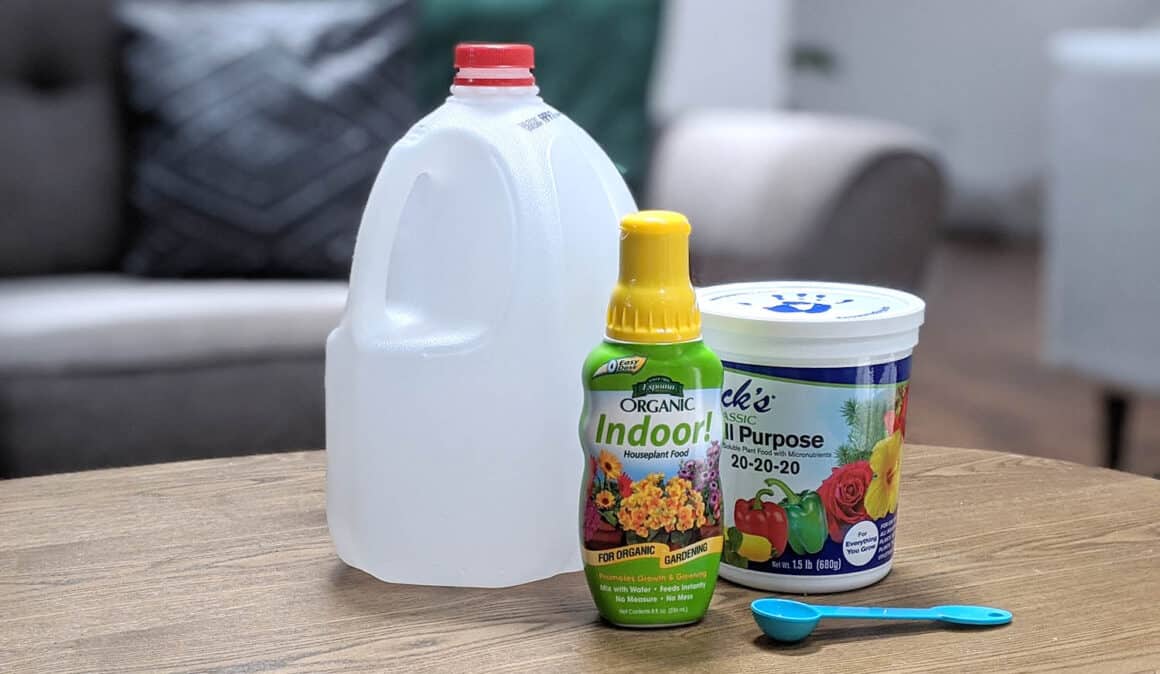 To keep a Pilea growing quickly, you will need to continue to give it access to nutrients in its soil. When the nutrients that were originally mixed into the potting soil run out, you'll need to supplement the soil with fertilizer.
It's important to note that fertilizer is not food for your plant. Through photosynthesis, your Pilea makes the food it needs from light, water, and gases in the air. Fertilizer acts more like vitamins which can be added to your plant to make it stronger and healthier.
All house plant fertilizers include a combination of three major ingredients: nitrogen (for foliage), phosphorus (for roots and blooms) and potassium (for overall growth). When purchasing fertilizer, you will notice a set of three numbers such as 10-10-10 or 6-12-6. These numbers designate how much Nitrogen, Phosphorus, and Potassium are included in the blends, in that order. I prefer a balanced fertilizer, like a 10-10-10 or 20-20-20 mixture, for Pileas.
I use liquid fertilizer for my houseplants, which is usually a premixed liquid or a powder that you mix with water and pour over the plant. I always dilute it to half or quarter strength for my Pileas as too little fertilizer is much better for your plant than too much. Over-fertilizing your Pilea can scorch the leaves and eventually kill the plant.
Pileas do not need to be fertilized when they are dormant. I fertilize my plants once per month during their growing season, which for me is roughly from April through September.
My favorite fertilizer for my Pileas is this Jack's Classic All Purpose Fertilizer. I mix ¼ tsp per one gallon water and fertilize my Pileas monthly. I also like to water my Pileas the day before I fertilize them rather than fertilizing them when they are completely dry. 
If you've noticed that your plant has not been growing much lately and you think it might be craving additional nutrients, try fertilizing. Additional nutrients are the first thing I always recommend to speed up plant growth.
---
#2 Stop Rotating Your Pilea
If you've had a Pilea for any extent of time, you have probably read about rotating your plant every few days to create the dome-like shape everyone loves. However, did you know that rotating your Pilea is actually slowing down its growth speed?
Each time you rotate your Pilea, the leaves are forced to grow in a new direction to chase the light. This constant change uses a lot of energy from your plant. When your plant is constantly expending energy to follow the light, it cannot focus that energy on new growth.
If you do not rotate your Pilea, the result will be a one-sided plant. Instead of the usual round, dome-like shape that Pileas are famous for, you'll have all the leaves growing in the same direction and the back will be bare. If you are keeping your plant on a shelf or table against the wall, this might be a good option for you.
If your goal is to have a full, fast-growing Pilea and you don't care if it is one-sided, stop rotating your Pilea and free it up to spend all of its energy growing out and up instead of moving its leaves towards the sun.
---
#3 Move the Pilea To Your Sunniest Window, But Beware…
Pileas love bright, bright light. If your Pilea is looking a little sad or growth is very slow, it is often because your plant needs more sunlight. By moving your Pilea near your sunniest window, you'll start to see new growth.
But beware! Pileas cannot tolerate direct sun on their leaves. They have a tendency to develop small brown spots, similar to a sunburn, when exposed to direct light even for short amounts of time. Be careful to place your Pilea out of reach of the sun's rays. Usually setting the plant two to three feet away from the window will do the trick.
Also, it is worth noting that Pileas have a predisposition towards becoming etiolated, or leggy. Pileas become leggy when they don't have access to bright enough light and they have to change the way they grow to find more sun. A leggy plant can be identified as a sparse plant with elongated stems that look droopy rather than full, bushy, and round. If your plant is becoming leggy, it definitely needs more light.
If you are wondering which window in your home is the sunniest, the answer (if you live in the northern hemisphere) is the south-facing one. If your home has limited windows and you do not have a south-facing window, an east or west-facing window will be okay as it will get sun either in the morning or the afternoon. A north-facing window is the least sunny option.
If your Pilea is growing very slowly or if it has become leggy, moving your plant to the sunniest window will speed up its growth and help it to fill out.
---
#4 Buy a Grow Light
If you live in an area that does not get much sunlight during the winter or a home without a sunny window, you may need to find an additional light source to keep your Pilea happy and growing quickly.
Grow lights are designed specifically to help increase the light available to your plants. They come in four different varieties of bulbs: halogen, incandescent, fluorescent, and LED. Halogen and incandescent bulbs do produce good light sources, but they also put off heat that could be harmful to your Pilea. Compact fluorescent and LED bulbs are the better options.
Compact fluorescent bulbs work well and are very reliable. They are often the less expensive option to purchase, but they are less efficient and cost more to operate than LEDs. LED lights put out more light and, while they are cheaper to run, the cost is generally higher to initially purchase.
Grow lights come in a range of temperatures, from warm to cool light. For Pileas, I prefer to use a cooler light, or one that is a higher temperature, which does a better job at imitating daylight. I use lights in the 4500-6500K range for Pileas.
You will want to make sure to place your grow light at least 18" away from the foliage of your plant. Pileas love bright light, but when intense light beams directly onto their leaves it can cause damage to the plant in the form of small brown burn spots.
Your Pilea needs light to produce energy to grow. If you live in an area where you can't provide your Pilea with much bright, indirect natural light, you might consider making a small investment into a grow light.
For information on the specific grow lights that I use in my home, click here.
---
#5 Repot Your Plant
At the beginning of this post I told you that every tip would not work for every Pilea and this is one of those tips that won't apply to everyone. Repotting your Pilea will not help boost growth in every plant. I am including it because if you haven't repotted your Pilea in a year or two, this may be just what you need to boost growth.
Pilea root systems are not complex and do not grow quickly. Therefore, they don't need to be repotted but once every one to two years. If you've had your Pilea for a while and it's still in the same pot it came in, you might be surprised what repotting it will do.
An indicator that your Pilea needs to be repotted is if it has become root bound. Root bound means that the roots of the plant have become larger than what the current container can accommodate. This is often characterized by roots spiraling at the bottom of the container, creating a dense coil of large roots.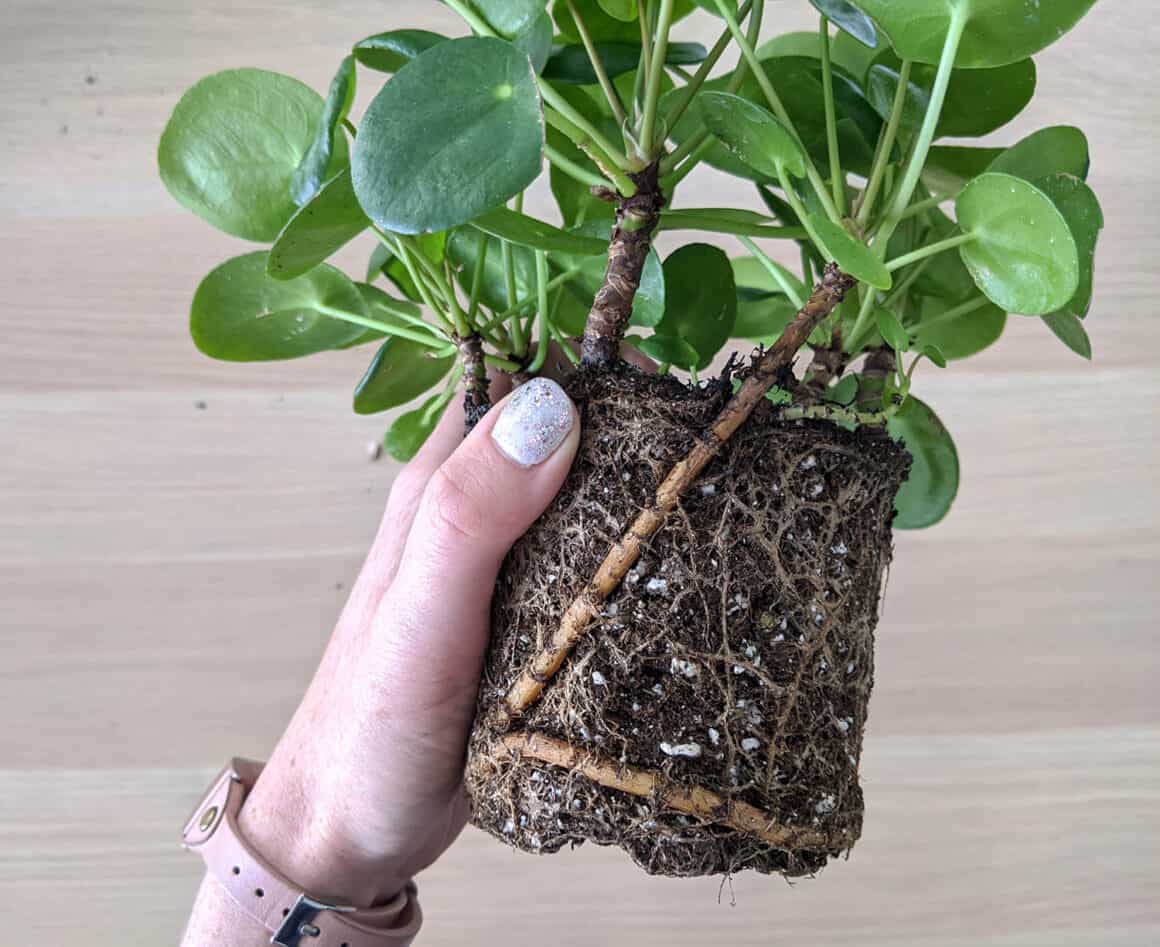 Root bound plants often become hard and will slide out of their containers easily, retaining the shape of the pot. When a plant becomes root bound, its roots have replaced the soil in the container, meaning the plant cannot get access to the nutrients, air, and water it needs. This causes the plant a great deal of stress and will keep it from continuing to grow and thrive at a quick rate.
When it is time to repot your Pilea, be sure to choose the correct container. It is important to choose a pot that is only one size larger, or 2-3" larger in diameter, than the one it was living in before. If you choose a pot that is too large, the soil will take longer to dry out and will leave the Pilea sitting in soggy soil, which it hates. Also be sure to choose a container with a drainage hole in the bottom.
If your Pilea is showing slow to no growth or you are noticing signs that indicate a root bound plant, such as the roots growing out through the drainage hole of your container, you should consider repotting it. I cannot tell you the number of times that I have repotted a plant only to see it explode with growth a few weeks later.
---
#6 Leave the Pups Alone
Everyone is excited when their Pilea starts producing new plantlets, or pups. Pileas are excellent plants for sharing cuttings with friends and family, or for creating lots of new small plants from the same mother Pilea, because they are extremely simple to propagate.
However, if you're dreaming of a full, bushy Pilea plant, constantly removing the pups that pop up from the soil and along the stem is a sure way to never get there.
Full and lush Pileas are the result of allowing multiple plants to grow over time in the same container. As new pups grow up in your pot, your Pilea will look much bigger. If you have several small Pileas, you could even plant them together in the same pot to get the fuller look quicker.
If you want your Pilea to grow out fuller faster, do not remove the new plantlets that emerge. By allowing these to all grow together, you will find you have a bigger Pilea much faster.
---
#7 Get Rid of the Pups
Remember how I said the shape you desired was important when trying to encourage your Pilea to grow? Well, if you are looking for a tall plant instead of a bushy one, cut back pups as soon as they emerge.
In the same way that pinching back blooms will help to fill out other house plants, removing the pups along the stem and in the soil will give energy back to the mother plant to grow taller.
Once your Pilea starts to reach a considerable height, you will need to stake it to keep it growing tall and straight. Tall Pileas become top-heavy as most new growth will be sprouting from the top of the plant. If not properly staked, the weight of your Pilea may cause your Pilea stem to bend and grow at an angle.
To stake a Pilea plant, simply find a tall dowel or rod and secure the stem to the stake. I prefer to use green or brown bread ties to secure but have used metal wiring to do it as well. Companies make specific materials for stakes and secures, but I find I can almost always get by with something I already have at home.
If you want to encourage your Pilea to grow taller more quickly, pinch back the pups when they are small, before they've had time to develop into plants that can be propagated and live on their own, and stake it up to keep it from tipping over or growing at an angle.
---
#8 Cut It In Half and Replant the Top of It
This might sound like a completely unreasonable option, but if you have a mature Pilea that has not been growing like it once did, cutting the top off your plant may be your best solution.
Plants send energy in all directions all of the time. That means they are pushing energy out into the leaves, up into new growth, and down into the roots. If you remove the ability to do that in one direction, by cutting the top off your plant, your Pilea will push more energy out in other directions which will help it to create more pups and new leaves.
To top your Pilea, make sure you have a sharp knife as you will want to cut the tissue cleanly. Be sure to clean your knife before using it and then find a spot about halfway up the central stem and use your knife to cut the stem in two. The bottom half of your Pilea will usually begin to grow new leaves in a matter of weeks. Also, you should know that I like to cut where there are still a few leaves on the bottom portion as plants need their leaves for the photosynthesis process.
Once you've done this, do not throw away the top half of your Pilea. Instead, put the base of the cutting into a small bottle of water and allow it to root. Once you have roots that are an inch or two long, you can replant the top into its own container and you will have exchanged your single plant for two new ones!
Cutting your Pilea in half may sound like a scary option. But if you have a mature Pilea that has very slow growth and few leaves left, cutting it in half may not only save it but reinvigorate it to grow fast and healthy.
---
Remember What I Said About Growing Seasons?
If your Pilea is currently dormant, none of these suggestions will make your plant grow any faster. All growth is slowed during the colder months of the year and you should not expect to see new leaves or plantlets from your Pilea at this time.
Any pruning, potting, or relocating will always yield the best results when your Pilea is in its growing season. If you are reading this during the winter and would like to try some of these tips to get your Pilea growing faster, I suggest bookmarking this page and coming back in the early spring.
---
The Secret Ingredient
There are a lot of things you can do to increase the speed of growth for your houseplants. Manipulating available nutrients, light, or space will have great results for a lot of your Pileas, but all good things take time.
While we can do some things to encourage your Pilea to grow more quickly, we won't be able to force it to do so overnight. The secret ingredient in large and healthy Pilea Peperomioides is time.