Pilea Peperomioides, also known as Chinese Money Plants, are propagated from new plantlets that emerge in the soil or along the stem of the mother plant. These offshoots are most commonly called "pups" or "babies." Pileas that are mature should produce these pups from time to time. But what should you do when you don't see any new pups from a mother Pilea?
How can you encourage your Pilea to produce pups? The most important factor in Pilea reproduction is to make sure the mother plant is happy and healthy and to wait for her to be in an active state of growth. At that point, you can fertilize, repot, or even chop her in half to encourage her to produce more pups.
Each Pilea is different and each Pilea will reproduce on its own timeline. There are some things we can do to encourage our mature plants to produce pups more readily or quickly. I'm going to give you my eight best tips for getting your Pileas to produce pups.
---
Things To Know First
Pilea Peperomioides is a fun plant to own because of how easy it is to propagate and share with others. Some Pileas are more prolific at producing pups than others, but before we get into encouraging more new growth from your mother Pilea, there are a few things you should know.
There are two types of Pilea pups or babies. The first is the offshoot baby which emerges from the central stalk of the mother Pilea. The second is the rhizome baby. This baby pops up in the soil near the mother plant and is connected to the mother Pilea by a rhizome under the soil, which serves as a sort of umbilical cord for the baby.
Baby Pileas don't make babies. A Pilea will have to be mature before it will begin reproducing itself. The time this takes is not an exact science. Some Pileas start producing pups after one year, while others take much longer. If you are trying to encourage new pups from your Pilea, you'll have to wait until the plant becomes mature first.
Lastly, you should know that a happy momma makes happy babies. If your Pilea is showing signs of unhealthiness, such as discolored leaves or little to no new growth, you probably have a bigger problem that will need to be remedied before you can encourage new pups in your plant. For more information on diagnosing unhealthy Pileas, read this.
This article doesn't have information about removing and propagating babies. If you want more information, you can read my article about How To Be A Good Pilea Mom which walks you through the process step by step.
And if you've got other questions about your Pilea, grab a copy of our book Caring for Pilea Peperomioides and learn all you need to know about basic and advanced care techniques.
---
#1 Wait for Spring
The most important factor for your Pilea producing new babies is the time of year. When your plant is dormant, it will not produce new pups no matter what you do.
All plants have a season where they are growing and a season where they are dormant. In nature, the growing season is the part of the year where the weather provides what a plant needs to produce new growth. When we move plants indoors, we expose them to a constant light source and temperature, but we do not negate their growing season.
Growing season takes place during the warmest months of the year. It is denoted by the last and first frosts of the year and for most of us occurs from spring to early fall. During this time you will see faster growth from your plant as it turns sunlight into energy more quickly.
During the part of the year where a plant is not growing, it is dormant. When plants are dormant, they slow their growth to conserve energy for a future time with better growing conditions.
You will not see new pups from your Pilea when it is dormant. If you are in the northern hemisphere and you're reading this during the late fall or winter, the most likely reason that your Pilea is not producing babies is that it is in its dormant state. Be patient and wait for spring!
---
Get the eBook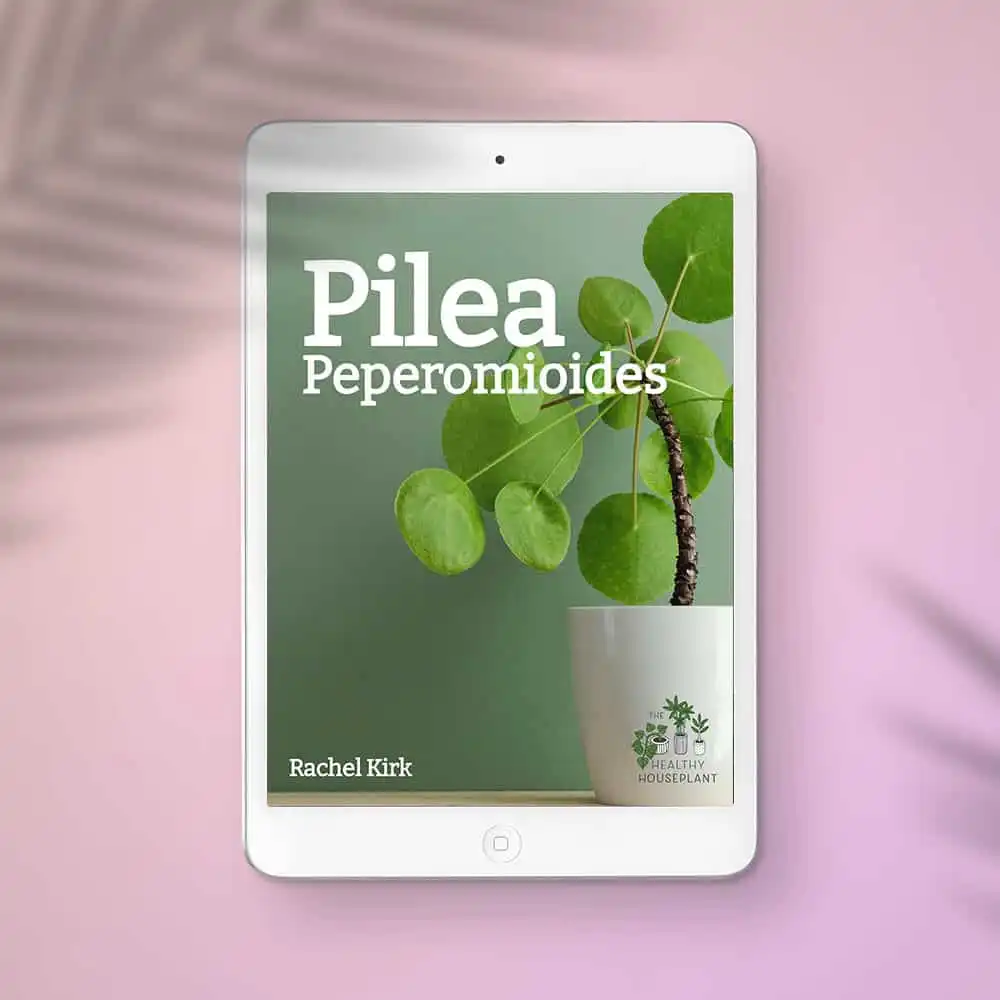 The Ultimate Pilea Care Guide
Don't waste your money by bringing home a Pilea that you're going to kill. Get our 70+ page ebook, and learn all the tips and tricks it takes to make your Pilea happy and healthy for years to come.
GET YOUR COPY NOW
---
#2 Chop Your Pilea in Half and Replant the Top
While this may seem bizarre to some of you, the best thing you can do to encourage your mature Pilea to produce pups is to cut the entire plant in two. This is sometimes called beheading or topping, but most of us Pilea owners just refer to it as "The Chop."
The chop is terrifying to new Pilea parents, but honestly, it is one of the best methods to revive the plant. Just like deadheading your outdoor flowers helps them to produce more and more buds, removing the top portion of a Pilea (which you can replant as well) is the best way to refresh your Pilea and get it back to growing and producing pups.
You can selectively choose the best place to cut your main stem. If you see new sprouts coming out on the bottom of the stem, you can choose to cut just above that for best results. You should cut with at least one leaf left on the bottom stem as plants need their leaves to gather light for photosynthesis.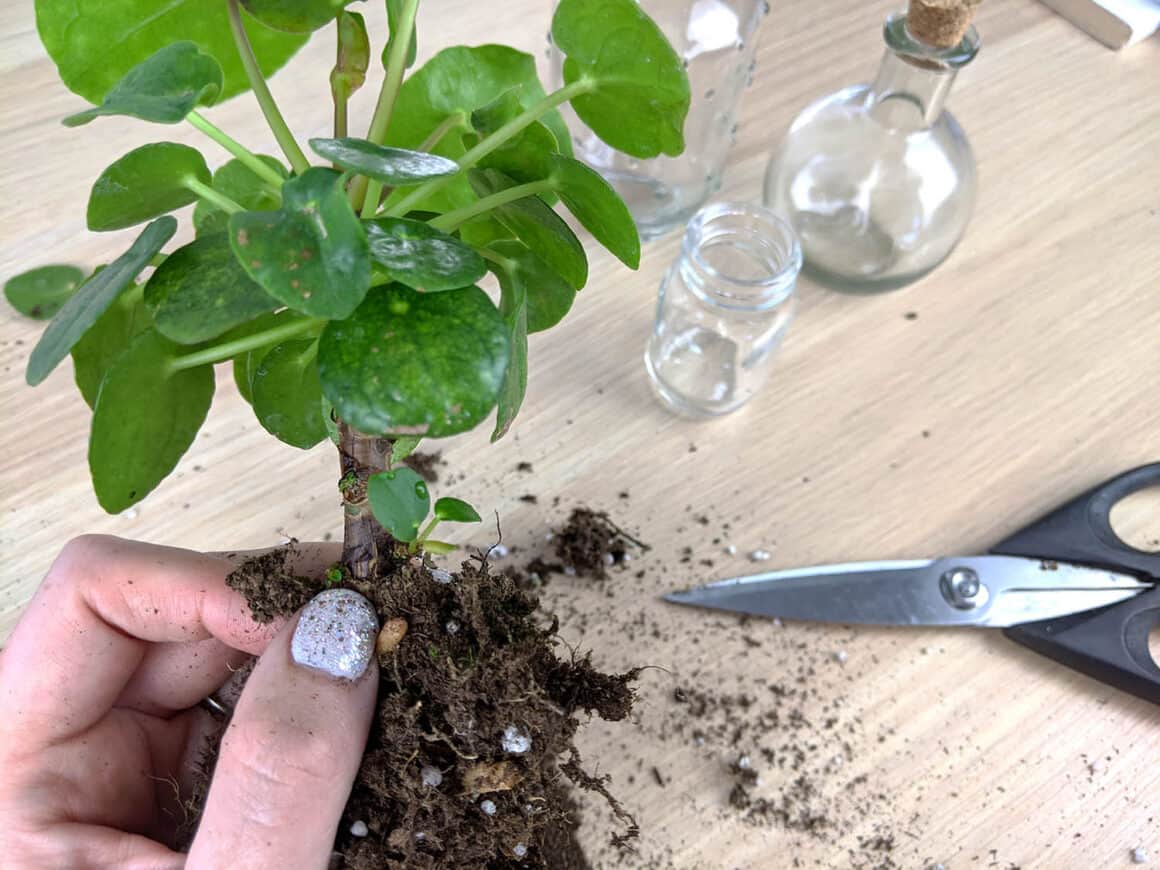 To remove the top of your Pilea, use a pair of sharp and clean scissors or knife and cut the Pilea in half at the selected location on its stem. The bottom part of your Pilea should begin sprouting new growth soon.
You should always keep the top portion of your cut Pilea, as you will be able to root and plant it in soil to create a second Pilea. To root the cutting, simply put the base in a small bottle of water. In a short time, you will begin to see roots sprouting from the base of the stem. Once the roots are an inch or two long, plant your new Pilea in a container of its own and enjoy!
Cutting the top off your plant will have your plant producing more pups and new leaves in no time. If you want more information on how to chop your Pilea, read this article by clicking here.
---
#3 Prune Back the Existing Pilea Babies
If there are any babies present in the container, removing at least one of them will actually help to encourage your Pilea to produce additional babies. I had a container full of Pilea plants that I was really reluctant to take a cutting from. However, as soon as I did, the mother started producing even more plants.
This is because a Pilea sends out the energy it creates by photosynthesis to all areas of the plant. When there is a pup attached to your mother, it is draining some of the mother's energy and once it's removed it can free her up to reproduce more plantlets.
Even if the baby is not big enough to live on its own, go ahead and cut and discard it. Pilea pups need to be two to three inches in height before they can survive on their own, but it can take a very long time for the pup to reach that size when the plant is growing slowly. Removing a small pup frees up energy from the mother and may convince her to start producing more pups more quickly.
To remove a pup from your mother Pilea, use a pair of sharp scissors or knife and clip it near the central stalk, if that is where it has emerged from the mother. If the pup is in the soil, clip it just beneath the soil. If the plantlet is large enough, you can root it in water before planting it in its own container.
---
#4 Give Your Pilea More Light
If you have a Pilea that isn't producing pups, it may not have enough access to bright indirect light. A Pilea that doesn't have enough light has to expel lots of energy to change the way it is growing to search for sun. If you can give the plant more light, it can use that same energy to focus on growing new pups.
Try moving your plant to a brighter location within your home, but be careful not to put it in the reach of direct sun. The plant cannot tolerate the harshness of direct light and will become discolored as a result – a sort of Pilea sunburn.
I like to put my Pileas near my large, south facing window. This gives them access to bright, indirect light all day long. But they are far enough away from the window that the light never hits their leaves directly.
If you live in a home without a bright window or in an area of the world where there is not much sunlight for extended periods of time throughout the year, you may need to supplement your Pilea's light with an artificial source. Grow lights are excellent options for people who need to add more light to their plants but don't have the ability to do it naturally.
I've written a large article about what grow lights are, which ones I like and use, and how they should be set up. If you are interested in more information on grow lights, visit this page.
---
#5 Replant In A Pot One Size Larger
A plant that is stressed will not produce babies. While things may look okay on the surface, below the soil your plant could be fighting for more space to grow. Repotting a Pilea is a good way to encourage your plant to produce more pups.
Pileas only need to be repotted once every two years, so if you've repotted recently, this tip is not best for your Pilea. However, if it has been a while since the last time or you have never repotted, this may be all your plant needs to start growing again.
Repotting a Pilea is a simple process. You will need a quick draining soil (like a cactus or succulent blend) and a new container with a drainage hole in the bottom. When choosing a new container, it is best to choose one that is just one size larger than where your Pilea is currently living. I recommend a container that is no more than three inches wider in diameter.
To repot your Pilea, slide it out of its container. I recommend doing this by flipping the old plant upside down while stabilizing the central stalk with your other hand. This is always a better option than trying to remove the plant from its old container by yanking or pulling up on the plant.
Then, put a mound of the quick draining potting soil in the bottom of the new container. Set the Pilea on top of the new soil, making sure that it will sit at the right height. Then, carefully scoop soil, about a cup at a time, around the plant until it has filled the container. Be careful not to bury too much of the central stem as you want to make sure your leaves have access to sunlight.
When your Pilea has been arranged with the proper amount of soil, gently pat down the soil around the plant to keep it in place and water it until water runs out from the drainage hole in the bottom. Repotting Pileas often gives them the boost they need to start producing pups.
---
#6 Remove Dead or Dying Leaves
It is always best to remove leaves that are dying or dead. Once a leaf has lost its color, there is no recovery for that leaf. If you have a Pilea with completely yellow or brown leaves, it is best that these leaves are removed from the plant. When leaves are removed, your plant will be freed up to send energy into producing more pups.
Most dead leaves can be pinched off the Pilea, but if you feel uncomfortable using your hands to prune your Pilea, a sharp, clean pair of scissors should do the trick.
---
#7 Fertilize Your Pilea Monthly During Growing Season
People differ in their opinions of fertilizing Pileas, but I believe that when done correctly, fertilizing a Pilea will encourage it to grow new leaves and new babies.
Pileas should only be fertilized during their growing season, the time of year where they are in an active state of growth, which is usually from spring through early fall. Dormant Pileas won't absorb nutrients and continued fertilization could burn the roots or the leaves of the plant.
I prefer to use a 10-10-10 balanced houseplant fertilizer, diluted to half strength, once per month while the plant is in growing season. I usually use a synthetic fertilizer as the nutrients within a synthetic fertilizer are available for uptake by the plant immediately.
When Pileas get the nutrients they need from fertilizer, they can start to grow more quickly and will even produce pups. If you want more advice on which fertilizer to use for Pileas, you can check out this article I wrote all about fertilizing.
---
#8 Don't Stress the Momma
A stressed out mother has no time or energy for babies. I'm talking about Pileas, but I could just as easily be talking about humans. The facts remain the same.
When a mother Pilea is stressed out, she must conserve all of her energy to keep herself healthy, and energy is the main component needed for producing pups. If your mother Pilea has to work to overcome being overwatered or stretch to find the light she needs, she cannot create offspring.
If your mature Pilea plant is not producing any babies of its own, make sure that it is in an area with access to bright light, is only being watered when the top one inch of soil is completely dry, and is out of reach of any hot or cold drafts, such as heating/cooling vents or doors.
Reducing stress on your mother plant will go a long way towards helping her to reproduce.
---
Final Thoughts
A happy and healthy mother will produce happy and healthy babies, so anything you can do to make your momma happy will go a long way in encouraging her to produce more pups. Be sure that she gets plenty of sun and isn't receiving too much water. Then, with a little pruning and some feeding, she should start to reproduce.
This article did not cover any information on what to do with pups that have emerged. If you need more information on the step by step process of removing babies from a mother Pilea, consult this article I wrote.