One of the most common questions I hear concerning house plants is, "Why is my plant not growing?" and Pileas are no exception. Pilea owners are constantly asking what they can do to convince their favorite plants to start growing again.
Why is your Pilea not growing? Most likely, your plant is lacking in something that it needs to thrive. Whether that is proper watering, adequate light, additional nutrients, or more space, a few small tweaks should help your plant start growing again.
Pileas should grow both out and up as they mature. If you are not seeing any new growth in the form of new foliage or plantlets emerging in the soil and along the stalk, you should consider these five potential issues below and follow the advice on getting your plant growing again.
---
It's a Matter of Energy
Plants use the photosynthesis process to convert water, CO2, and light into oxygen and chemical energy. The plant then sends out that energy in all directions, from the tip of its roots to the top of its foliage. When a plant is not growing, it is usually because that energy is being spent on survival rather than new growth.
Healthy and growing plants are able to use the energy they create to grow. However, when a plant is not getting everything it needs, it has to expel some of that energy for other purposes, like stretching to find more light or focusing on extending roots in order to find more nutrients. These things slow down the growing process.
Below I have listed out the five most common reasons that Pileas cannot focus their energy on growth. This is not an extensive list but most growth issues arise from one of these five reasons.
---
Reason #1: Your Pilea is Dormant
All plants have a season where they are growing and a season where they are dormant. In nature, the growing season is the part of the year where the weather provides what a plant needs to produce new growth. When we move plants indoors, we expose them to a constant light source and temperature, but we do not negate their growing season.
Growing season takes place during the warmest months of the year. Growing season is denoted by the last and first frosts of the year and for most of us occurs from spring to early fall. During this time, you will see faster growth from your plant as it turns sunlight into energy more quickly.
The further you are from the equator, the shorter your area's growing season will be and the opposite is true as well. Tropical locations have growing seasons that last for most of the year, while those areas much further north or south of the equator will not have adequate heat or sunshine for much of the year, cutting growing seasons much shorter.
Get the eBook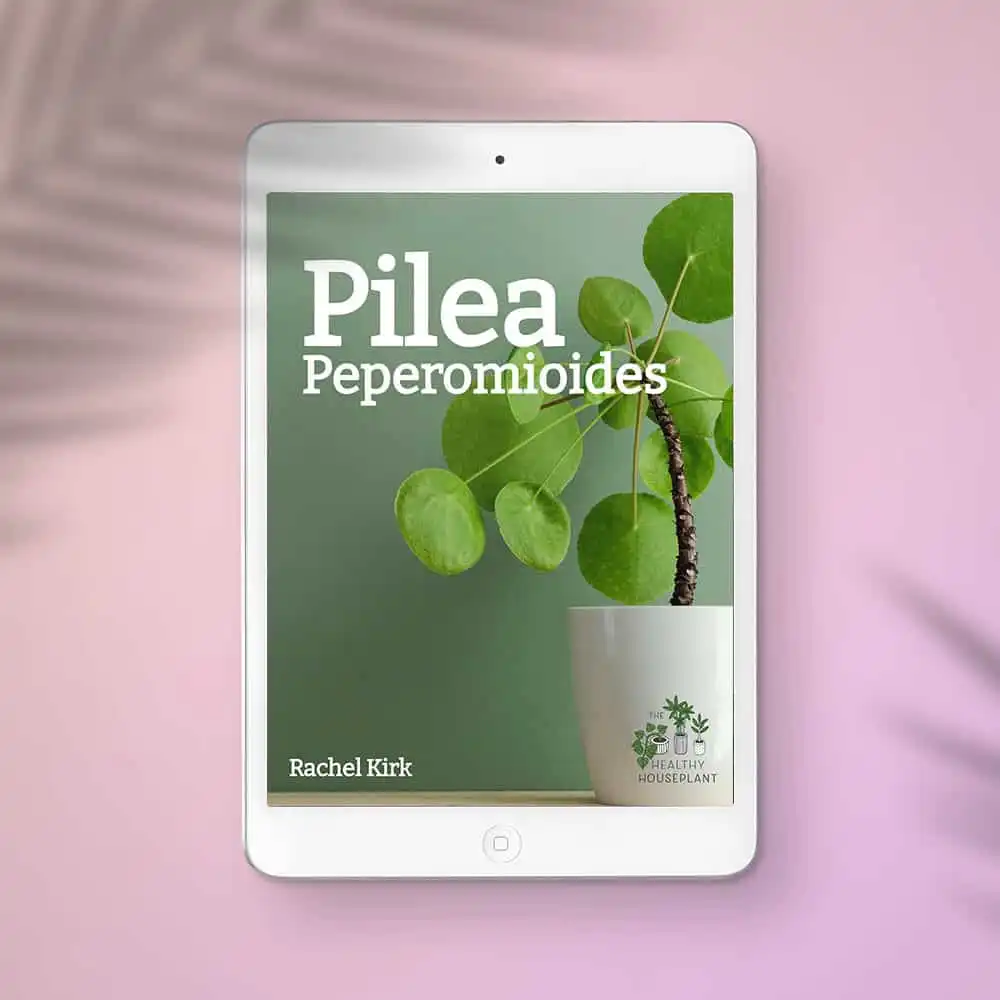 The Ultimate Pilea Care Guide
Don't waste your money by bringing home a Pilea that you're going to kill. Get our 70+ page ebook, and learn all the tips and tricks it takes to make your Pilea happy and healthy for years to come.
GET YOUR COPY NOW
During the part of the year where a plant is not growing, it is dormant. When plants are dormant, they slow their growth to conserve energy for a future time with better growing conditions.
You will not see new growth from your Pilea when it is dormant. If you are in the northern hemisphere and you're reading this during the late fall or winter, the most likely reason that your Pilea is not growing is that the plant is in its dormant state.
How To Get Your Pilea Growing Again
For dormancy, there is only one thing you can do: wait it out. I don't have a good tip here other than to be patient. When spring comes, you should start to see new growth in your plant again.
If you don't start to see new growth in the spring and summertime, your plant may have another issue. Read below for more common reasons why your Pilea may not be growing.
---
Reason #2: You Have Overwatered Your Pilea
Pileas are hardy and simple to care for, but they have one major weakness: overwatering. Lots of houseplant owners are afraid they won't water their Pileas enough, so they overcompensate and provide the plants with way too much water. Overwatering a Pilea is the most common reason for unhealthy plants.
Overwatering comes in two forms. The first is when you give your Pilea too much water too frequently. The second is a result of poor drainage. When a Pilea is planted in a container and/or soil that does not aid in the plant draining and drying out quickly between waterings, plants become overwatered and suffer.
Pileas should be planted in quick draining soil, like a succulent or cactus blend, into a pot with a drainage hole in the bottom. They should only be watered when the top inch of soil is dry.
When a Pilea gets too much water, the soil stays soggy for too long and the roots become damaged. This damage affects the roots ability to absorb oxygen and water and inhibits the plant from sending the needed nutrients to the top part of the plant.
How To Get Your Pilea Growing Again
If your Pilea is suffering from overwatering, you'll need to figure out what is causing the problem and how bad it is before making any changes to your plant.
If your Pilea is not planted in a pot with a drainage hole, you'll need to repot it with a quick draining soil such as a succulent or cactus blend. For more information on repotting Pileas, click here.
If you've been watering your plant too frequently, you'll need to adjust your watering habits. Pileas should only be watered when the top inch of soil is dry. To check this, you can insert your finger into the soil and feel for moisture. When in doubt, wait a few more days before watering.
You may also want to consider bottom watering your plant. Setting your Pilea in a dish of water and waiting until the moisture reaches the top layer of soil is a good way to make sure that all of the soil is at the proper water level.
If the plant has been overwatered for an extended period of time, it may be a victim of root rot. Root rot is what happens when the root system has received too much water and has started to die. Roots affected by root rot are dark and mushy instead of white and crisp. If you suspect root rot, you'll need to remove your Pilea from its pot, examine the roots, and potentially prune back affected roots before repotting.
For more information on overwatered Pileas and the step by step process of remedying the problem, read this article I wrote on the subject by clicking here.
---
Reason #3: Your Pilea Is Lacking Nutrients
In nature, plants have access to new nutrients all of the time. Whether by rainfall or by extending their roots to reach new soil, wild plants are usually able to find the nutrition they need.
When we move plants indoors, they do not have access to new nutrients as they are restricted to what is available in their small containers. Initially, Pileas are able to gain what they need from potting soil but the available nutrients are soon depleted. Unless we specifically add nutrition into their soil, they are left without the elements they need to thrive.
If your Pilea has stopped growing, one explanation is that it has depleted the nutrients available in its container. This is where fertilizer comes into play. By fertilizing Pileas once per month, we can add back in nutrients to the soil to be absorbed by the plant.
How To Get Your Pilea Growing Again
Use a houseplant fertilizer to feed your Pileas once per month during their growing season. This may be all your plant needs to start producing new leaves and pups.
I like to use a balanced 10-10-10 houseplant fertilizer diluted to half strength on my Pileas. Do be careful to not use full strength or fertilize your plants more often than they need, as overfertilizing leads to problems of its own.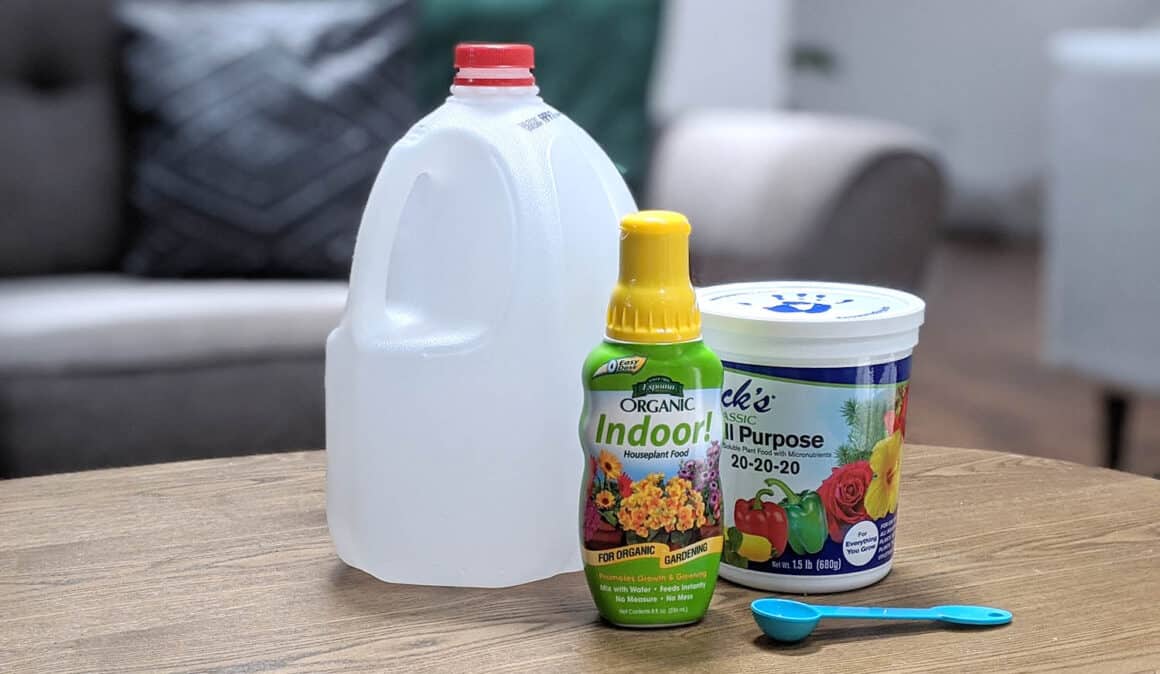 For more information on fertilizing Pileas, you can read this article which outlines the best practices for fertilizing, the options I like, and how to feed your Pileas.
---
Reason #4: There Isn't Enough Bright Light for Your Pilea
If your Pilea is not growing like it should, it may be that it does not have access to bright enough light. When a plant cannot get the light it needs, it has to use all of its energy to stretch and reach for more sunshine. That takes energy that it could be using to produce new growth.
A leggy Pilea is the best indicator that your plant needs more light. Leggy, or etiolated, Pileas have long, stretched out stems, small leaves, and sparse stalks as they've had to adjust the way they grow to try and access more light.
Pileas do best with lots and lots of bright, indirect light. They need as much sun as possible, but they cannot tolerate the harshness of the direct light as they have a predisposition towards the plant equivalent of a sunburn.
Indirect light is light that has reflected off something else before reaching your plants. If you place your hand between your plant and the nearest window and can feel the heat from the sun on your skin, that light is direct and is too strong for your Pileas.
Another way to check whether your Pilea is in direct or indirect light is to observe the shadow that it casts. If the plant casts a shadow with hard edges, it is in direct light and needs to be moved. If the plant casts a shadow with soft, fuzzy edges, the plant is in indirect light and should be good where it is.
How To Get Your Pilea Growing Again
The best thing to do for a Pilea that isn't getting enough bright light is simple: give it more light. The easiest way to do this is by setting it in a brighter location, such as near the sunniest room in your home. South-facing windows are the best option for bright light, but east and west windows will do as they receive some bright light in the morning or evening.
If you live in a home without a bright window, or an area of the world where there is not much sunlight for extended periods of time throughout the year, you may need to supplement your Pilea's light with an artificial source. Grow lights are excellent options for people who need to add more light to their plants but don't have the ability to do it naturally.
I've written a detailed article about what grow lights do, which ones I like and use, and how they should be set up. If you are interested in more information on grow lights, click here.
---
Reason #5: Your Pilea Needs to Be Repotted
When trying to figure out what is going on with our houseplants, we often forget to check what is happening beneath the surface. Unhealthy roots or roots that have run out of space to grow could be the cause of lack of growth in the leaves and stem of your Pilea.
The root system of your plant is what absorbs water, oxygen, and nutrients from the soil, which your plant uses to create energy and grow. When the roots cannot get what they need, the whole plant suffers.
As a plant grows above ground, its root system is growing and spreading out below. A single container is usually a good home for a Pilea for two years, but after that time period, it's time to size up.
To check the roots of your Pilea, remove it from its container and investigate. To remove a Pilea from the container, you may want to water it a day or two in advance as this helps the plant to slide out more easily. Once out, check to see if the roots have become pot bound by looking for coiled roots that curl in on themselves. If that is the case, it's time to repot your Pilea.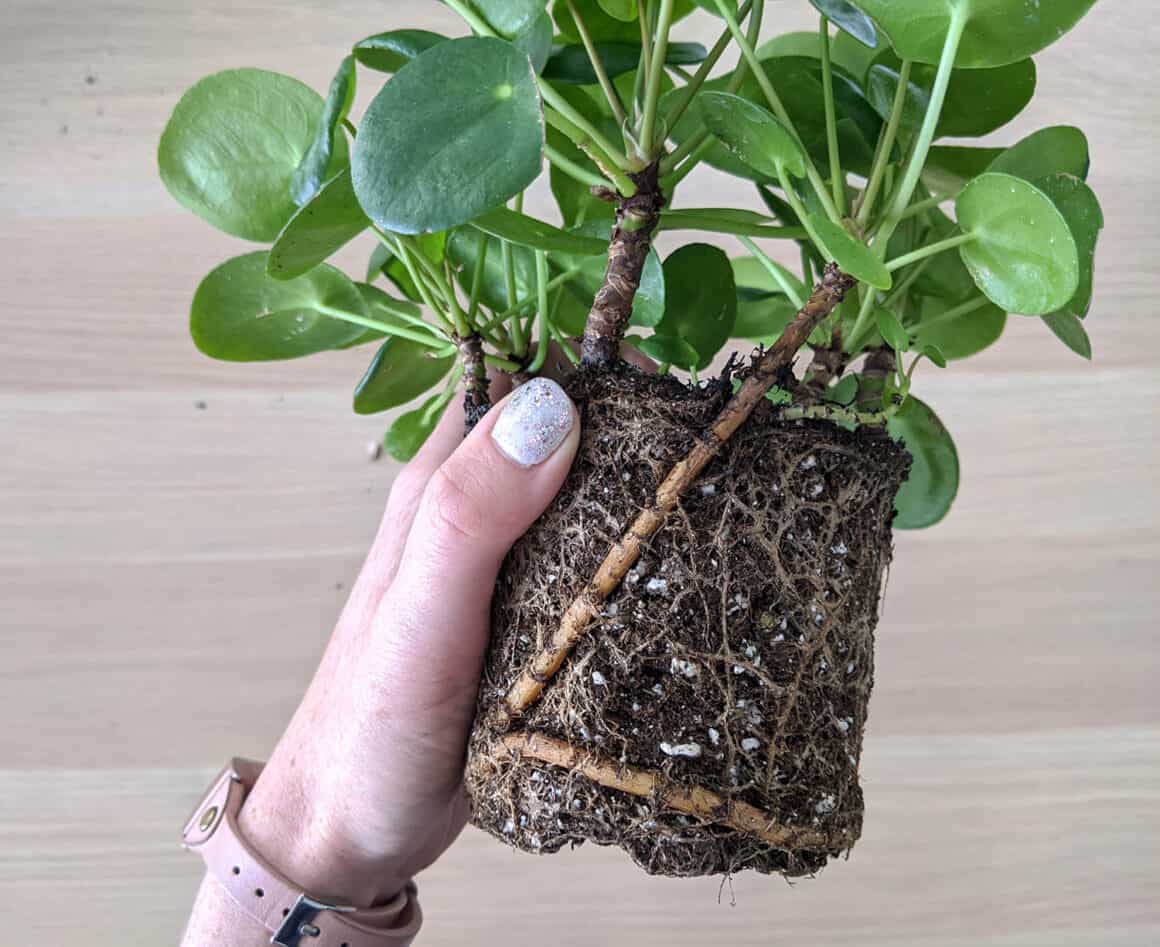 If you don't want to remove the Pilea from its container to check the roots, there is another sign that your roots have overtaken most of the soil in the pot below. If the soil is drying out extremely quickly after watering, you may have the same issue. Pileas need quick draining soil, but if you've noticed the soil drying quicker and quicker, it may be a sign that there are more roots than soil under the surface. When that happens, it's important to repot the Pilea.
Additionally, roots that are growing out of the drainage hole are another sign that your plant needs to be repotted. And, if your plant has been in the same container for two or more years, it is time to repot the Pilea.
How To Get Your Pilea Growing Again
Repotting a Pilea is a simple process. You will need your plant, a quick-draining soil (like a cactus or succulent blend), and a new container with a drainage hole in the bottom. When choosing a new container, it is best to choose one that is just one size larger than where your Pilea is currently living. I recommend a container that is no more than three inches larger in diameter.
To repot your Pilea, slide it out of its container. I recommend doing this by flipping the old plant upside down while stabilizing the central stalk with your other hand. This is always a better option than trying to remove the plant from its old container by yanking or pulling up on the plant.
Then, put a mound of the quick draining potting soil in the bottom of the new container. Set the Pilea on top of the new soil, making sure that it will sit at the right height. Then, carefully scoop soil, about a cup at a time, around the plant until it has filled the container. Be careful not to bury too much of the central stem as you want to make sure your leaves have access to sunlight.
When your Pilea has been arranged with the proper amount of soil, gently pat down the soil around the plant to keep it in place and water it until water runs out from the drainage hole in the bottom. Repotting Pileas often gives them the boost they need to start growing again.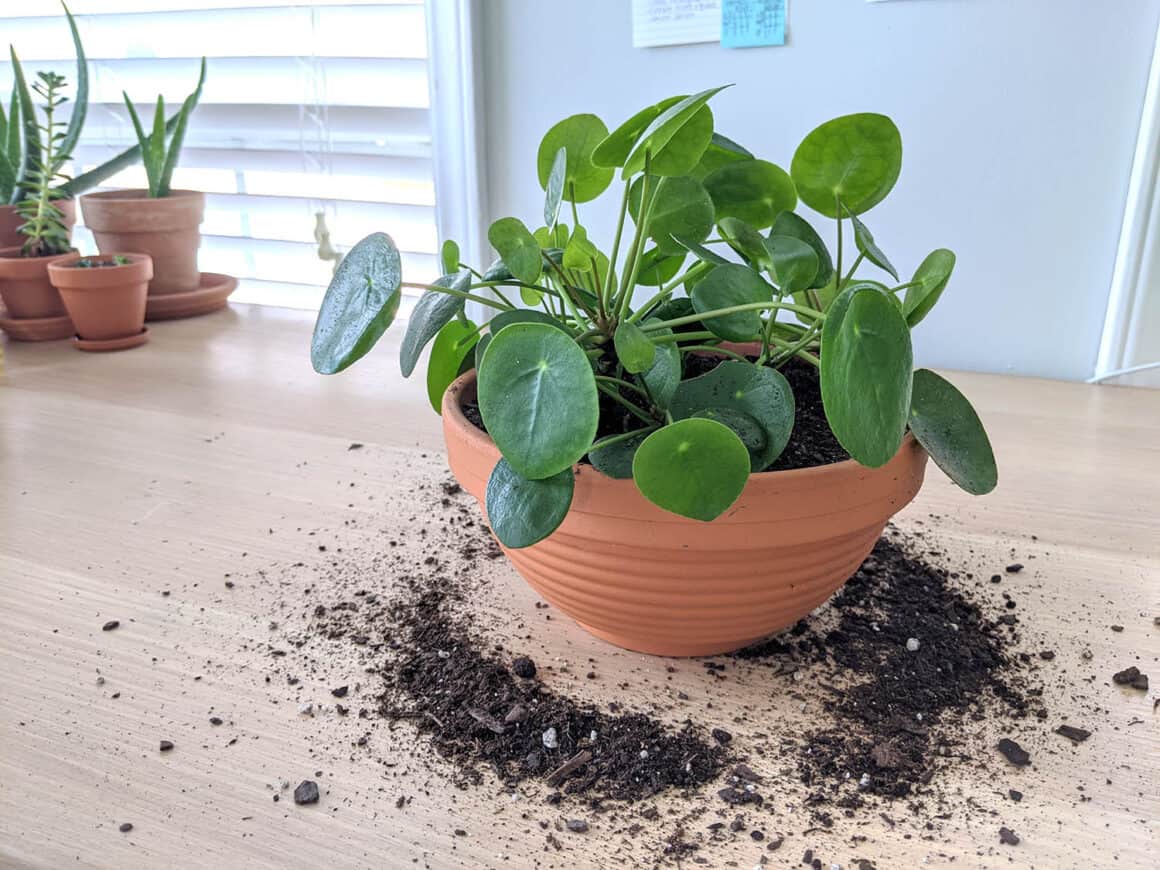 ---
Why Is My Pilea Not Growing?
The answer to this question is not always one of these five issues above, but they are the most common. If you have a Pilea with no unhealthy symptoms, other than it not growing like you think it should, consider the above tips to get your plant growing again.
If you are seeing signs of unhealthy foliage or roots and you have more questions about what might be wrong with your plant, consult this article called "Diagnosing Your Pilea and Steps to Recovery" for more information.
Finally, remember that plants do not grow year round. If your plant is dormant, it is probably healthy and just conserving its energy for the spring. The most important thing with any house plant growth is patience. Good luck!
---
For More Information
Have more questions about the best way to care for your Pilea Peperomioides? Want to know what you can do to keep it happy and healthy? Grab our latest book, Caring for Pilea Peperomioides, and get all that and more.
Our eBook covers:
The Number One Way People Kill Pileas
What Indoor Conditions Will Help a Pilea to Thrive
The Right Way to Water and Light These Plants
How to Feed, Prune, and Repot Your Favorite Houseplant
All The Options for Propagating Pileas
Step By Step Instructions for Diagnosing and Treating Unhealthy Pileas
And More!
If you've got more to learn, grab a copy of our book today and get your Pilea Peperomioides on track for show-stopping growth. Get your copy now!