Like all plants, raising a healthy, thriving Monstera is contingent on giving it the right type of light. While Monsteras can live in low-light settings, that is not usually what is best for these popular houseplants. If you're not sure whether your plant is getting the light it needs to thrive, there are a few signs you can look for to find out.
Does your Monstera need more light? If you find that the leaves on your mature Monstera are small and do not fenestrate, it may need more light. Also, soil that never fully dries, or plants that are growing slowly or lean over to one side are all signs that your Monstera deliciosa may need more light.
No matter what anyone says, your Monstera is highly unlikely to reach its full potential in a low-light setting. While it will survive, it won't thrive there. Monsteras without much light don't get as large as those in bright indirect light and are rarely fenestrated. Thankfully, you don't have to guess. Your Monstera will tell you when it is not receiving enough sunshine.
---
Before We Get Started: How Old Is Your Monstera?
If you've noticed that your Monstera leaves lack the slits and splits you desire (also known as fenestration), this can be a sign that your plant is not getting enough sunlight. However, it is important to recognize that it could also be the result of the age of your plant. If your plant is young, no splits will appear for a few years.
Fenestrations typically start forming when a Monstera is around three or four years old. Despite its exposure to the perfect light source, a young plant will have heart-shaped, solid leaves. Fenestration takes time. If your plant is still a baby, don't panic!
---
How Much Light Do Monsteras Need?
Monsteras prefer lots and lots of bright, indirect light. And while they can survive in lower light areas, in my experience, the brighter, the better – as long as the light is indirect! Direct sunlight is not good for Monsteras, and exposure to it can result in burned or scorched leaves.
Not sure of the difference between direct and indirect light? If you place your hand between your Monstera and the light source and you can feel the warmth of the sun on your skin, or if the shadow your hand casts has sharp, hard edges, your plant is in direct light, which is too extreme for Monsteras. If the shadow is soft, the area has indirect light, and your Monstera will be happy there.
I like to keep my plants near bright, south-facing windows. I never place them up against the window, where the harsh sun's rays will fall directly on their foliage, but rather, I keep the plant about 3-4 feet back. This allows access to bright light but protects the plants from the full-strength of the sun.
When thinking about the best light for Monsteras, it is helpful to remember how they grow in the wild. Monsteras are vines that start on the forest's understory and cling to trees and rocks as they attempt to climb upward to find sunlight.
With this in mind, it is understandable that their growth is directly tied to the amount and type of sun exposure. Low-light is acceptable for these plants, but more light is always better as they continue to grow and spread out.
One more quick thing to note is that Monsteras absorb light through their leaves. A Monstera with a lot of dust or build-up on the leaves will not be able to photosynthesize as well as a clean plant. For this reason, regular wiping and dusting of your Monstera leaves ensures no particles are hindering the growth process.
---
Signs A Monstera Deliciosa Needs More Light
So now that you know how much light your plant requires, how can you tell if you're meeting those needs? Luckily, most houseplants will show us signs that can help us to understand what they want. Monsteras are no different, and when it comes to not receiving enough light, there are five signs to look out for.
---
Sign #1: Leggy Monstera: Small Leaves and Long Petioles
Leggy is used synonymously with "spindly" and means that your plant is stretched out or, in scientific terms, etiolated. Leggy plants have long, weak petioles (the stalk that connects the leaf to the main stem) that have extended themselves to reach to try to find more light. Leggy Monsteras are also characterized by smaller than normal leaves.
While this might look different on other plants, for Monsteras, it often means that these long stems fall over, making your plant look untidy and unkempt. To combat this and help give your Monstera some necessary support, you can do some pruning and add a trellis or moss pole.
This is precisely why it is so crucial that you place your Monstera in the right location with the right amount of sunlight–you don't want your plant struggling and stretching to try and find the sun. If this happens, add support of a trellis or moss pole, prune back the unhealthy leaves, and move your plant someplace where it can receive the sunlight exposure it needs.
Etiolation, or legginess, is nearly always due to lack of light. If you find your Monstera is stretching out and over-extending itself to reach for additional sunlight, do it a favor and move it to a brighter area of your home or office.
---
Sign #2: Soil That Won't Dry Out Between Waterings
If your Monstera is in a dark corner of the room, you might notice that your soil never seems to dry out. If you don't believe you are adding too much water to your plant, but the soil stays consistently saturated, your Monstera may need a bit more light.
Sunlight is one of the three main factors in the photosynthesis process, so where there isn't enough of it, no portion of your plant will work as efficiently as it should. As a result, roots do not absorb moisture, the soil stays wet, and your plant cannot photosynthesize correctly.
Over-watering is especially dangerous to Monsteras since they are subject to root rot and do not like to sit in water. If you choose to place your plant in a low-light area, it is important to be especially aware of how much water you are giving it.
Other factors can also contribute to soil that does not dry out. Pots without drainage holes in the bottom or soil that is too dense can lead to overly wet soil. Be sure that you have the proper container, soil, and watering habits before assuming that your only problem is light exposure. But if your soil stays wet for more than ten days after watering (in a pot with a drainage hole), consider moving it to a brighter spot.
---
Sign #3: Leaves That Don't Fenestrate
Lack of fenestrations is a big sign that your Monstera needs more light. If you have a mature plant (at least two to three years old) with little to no fenestrated leaves, try moving your plant to a better-suited location.
Scientists believe that fenestrations form to let sunlight pass through to the plant's lower leaves in the wild. When the top leaves aren't getting what they need, they won't have the energy nor the need to split apart and allow light to pass through. If you want an iconic Monstera with large, fenestrated leaves, you'll need to give your plant as much bright, indirect light as possible.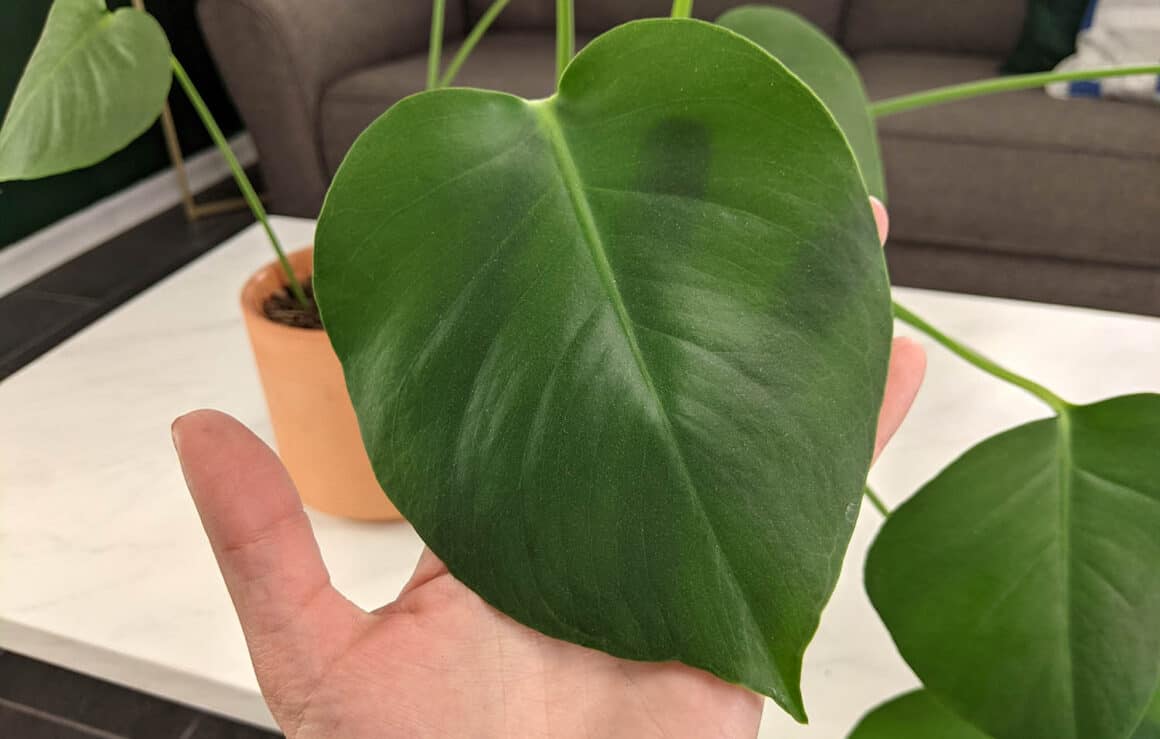 But remember, young Monsteras won't fenestrate no matter how much indirect light they get. So if you don't see any fenestration, but you believe your plant is less than three years old, don't panic. The splits and slits will come in time.
For more information on what causes leaves to not split, read this article.
---
Sign #4: Slow or No New Growth
Even indoors, Monsteras grow quickly. Under ideal conditions, they can reach heights of eight feet with gigantic, broad leaves spanning up to two feet wide. If you notice that your Monstera rarely puts out new growth, your plant may need more light.
But before you panic, there is another factor at play with growth. All plants have a growing season and a season where they are dormant. During spring through early fall, your Monstera will focus its efforts on new upward growth. But when it turns colder, growth will slow to a halt as the plant goes into a sort of hibernation where it can store up nutrients and energy for the coming spring, when conditions are better for growth.
If you believe your plant is in its growing season and you still aren't seeing any new growth, upping your plant's access to indirect light could make a huge difference. Remember: sunlight is key to plant growth.
---
Sign #5: Monsteras That Lean or Fall to One Side
Remember how we mentioned that plants become leggy when they don't have enough light? Even if you haven't noticed your stems stretching out or your leaves coming in smaller than usual, but your plant is having difficulty keeping itself upright, you should consider adding more light to your Monstera.
Leggy Monsteras have weak, elongated stems. And those stems are often not sturdy enough to support the weight of the leaf at the end. To strengthen your stems and stalks, make sure your plant gets lots and lots of bright, indirect light. Adding more light can make a huge difference in the growth and shape of your plant.
It's also worth noting that as Monsteras age and grow larger and taller, support is often needed even for thick, sturdy stems. In the wild, these plants are viners, so a moss pole or trellis for support is a natural part of Monstera growth.
---
How To Give Your Monstera More Light
If you see any of the above five signs and you believe that your plant needs more light, you may be wondering what you can do about it. Don't worry, a quick change of location may be all that your plant needs.
Move your plant to an area with brighter, indirect light. South-facing windows provide the most light for plants, but east and west are second best. Remember not to place the Monstera directly up against the window, as the harsh direct sunlight can burn the plant's leaves. But instead, pull the plant back into the room three to four feet.
When considering location, you also want to keep your plant away from areas with drafts of heat or cold. Extreme temperature changes will stress out a plant, so try to keep them away from frequently opened doors and windows and all HVAC vents. If your plant is stressed from unpredictable conditions, even proper light won't be enough to help it thrive.
If your Monstera is already in the brightest spot in your home, or if you live in an area where the days can be very short, a grow light will make a big difference in the overall health of your plant. Even though I get quite a bit of bright light in my home, I have four to five grow lights that I use each day.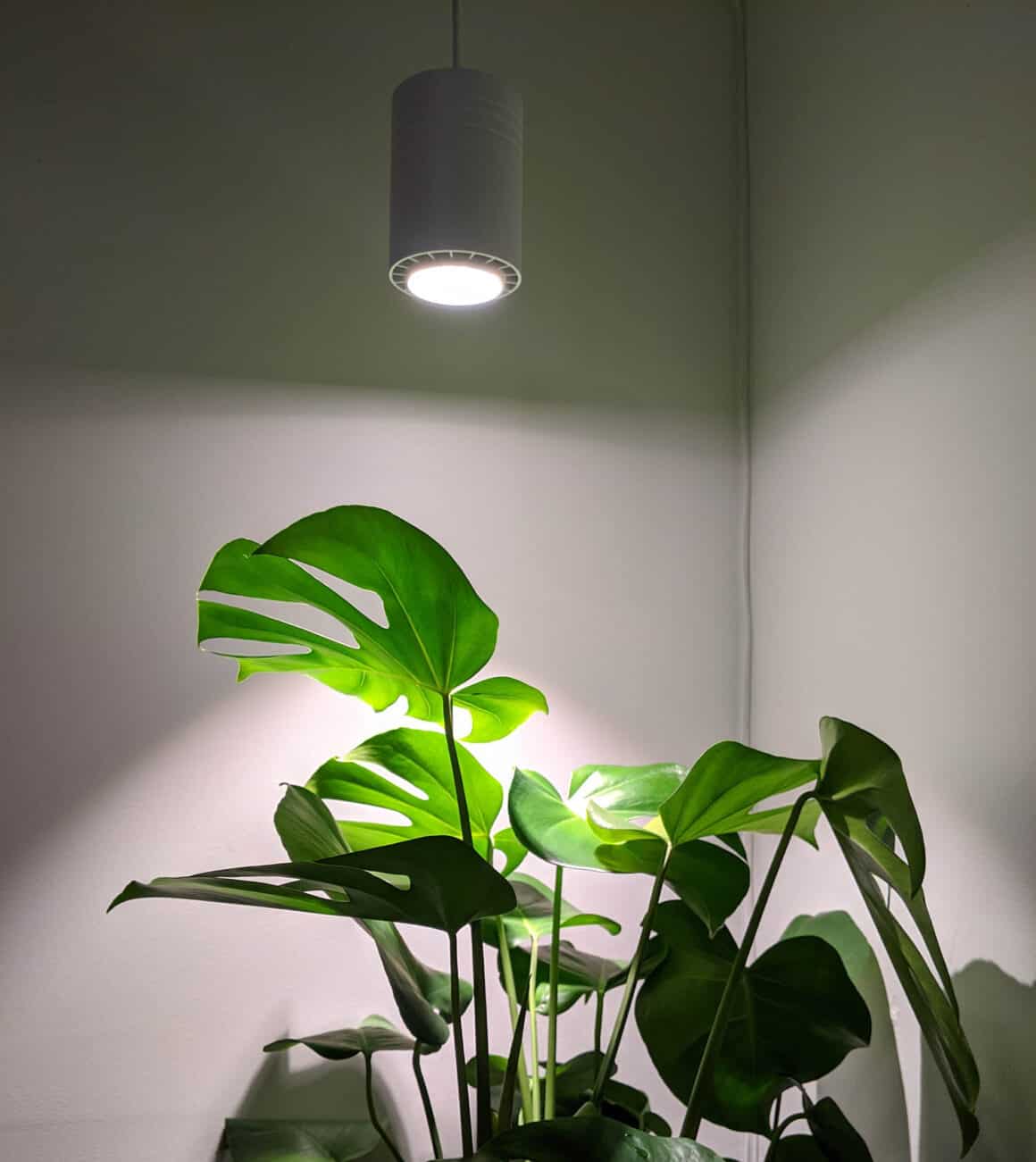 I wanted to experiment with adding a grow light to my Monstera, and I'm very happy that I did. I was shocked at the difference it made in the speed of growth, the size of the leaves, and the amount of fenestration I saw from my Monstera deliciosa. If you think a grow light could be beneficial to your plant, or if you just want to try it out like me, they are easy to purchase and set up.
I've written a large article all about grow lights here that will tell you all the scientific information and other things I considered when purchasing a light. If you'd rather not spend time reading about grow lights but still want to try one, my favorite option is the Sansi 15W LED bulb. This bulb has a standard E26 base (which means it will fit into the lamp you already own) and has given me amazing results.
No matter your plant's symptoms, if you suspect it could use more light, there is a simple fix. Move your plant to a brighter area of your home, keeping it out of reach of direct sunlight, or add a grow light to your space. Either way, you'll start to see improvement in the health of your plant within a matter of weeks. So what are you waiting for? Move that Monstera!