If you've been trying to find the perfect grow light for your houseplants, you may be getting extremely bogged down with the huge amount of information on the internet. From starting seedlings to growing plants to sell in your basement, the advice for grow lights is a bit all over the place.
So what about houseplants? Which lights are best for those of us who need to add some artificial sunlight to our dark apartments or who just want to keep our Pileas and Begonias from dying over the winter? What grow light should we buy?
Initially, I was skeptical of grow lights. I wasn't sure that I really believed they made any difference at all. But after purchasing my first set up, I became a super fan. I now have grow lights scattered all throughout my home because even after a few weeks under a grow light, my plants were healthier and growing quicker than they ever had before.
If you've never tried a grow light, I can't encourage you enough to give it a try. Whether you live in an area without a lot of natural light, or you're hoping to supplement the light your plants are already receiving, grow lights can really up your house plant game and take you to the next level.
---
The Short Answer
The best grow light for your houseplants will depend on how many plants you have, how much space is available, how much money you want to spend, and what you like. I've picked four grow lights to share with you that should meet your needs whether big or small.
I'll go into a lot more detail below, but if you want the quick and simple answer, I like these four options for use with everyday, green foliage house plants. I picked them because they are simple to use, create the outputs that I believe help indoor plants most, and don't look industrial or ugly in my kitchen and living room.
The Best One:: Sansi 15W LED Bulb
The Little One: Clip on Desk LED Grow Light
The Big One: LED Floor Lamp Glow Light by ACKE
The Beautiful One: Aspect Pendant Grow Light
---
Why Use Grow Lights
Plants need energy from light to turn carbon dioxide into food for themselves. If houseplants are not exposed to the proper amount of light, they cannot produce the nutrients they need to be healthy.
Truthfully, some homes are better suited for low light houseplants. But does that mean you can only have ZZ plants and ferns? No way! If you love houseplants that require brighter light than you have available, lucky for you we live in a time where you can easily purchase more light on the internet.
Grow lights are great for many different scenarios. Do you live in an area where sunlight is sparse in the winter? Do you have plants in an office or room without a window? Do your houseplants need a little extra boost of bright light from time to time? Is your home dark and lacking natural light? Buy a grow light!
Different grow lights mimic different types of light for different plant needs. For green, leafy houseplants, they provide light which can imitate daylight and help them keep on their growing schedules.
I also like to use grow lights to keep my plants from becoming etiolated, or leggy. Etiolated plants are ones that have had to stretch out in search for bright light when there isn't enough readily available to them. This leaves them looking sad and overextended with long stems and sparse foliage. Some plants become leggy more easily than others and for those plants I like to supplement with grow lights.
---
How Long Do Your Plants Need to Be Under Grow Lights Each Day?
If your goal is to add to the natural light your plant receives, you need to expose them to the grow light from 12 to 16 hours each day. This will simulate the sunrise and sunset that plants experience in nature and give them the best chance at surviving in a long, dark winter or a home with little to no natural light.
The simplest way to keep your plants on a schedule with their grow lights is to purchase an electric outlet timer. These timers are available all year long from your local home improvement store and often go on sale at the end of the year as they are popular items for Christmas trees and Christmas lights. I like to set my timer for 6am to 6pm which I think is a good supplement to the natural light I do get inside.
---
Scientific Information
I am keeping this section brief and to the point. I think it is important for you to understand why I made the decisions I did on my favorite lights, but if you don't care about sciencey things, you can scroll down to the bottom to see my opinions on my four favorite bulb options.
Not every bulb I suggested checks all the scientific boxes. However, I'm not making my decisions solely on science. I am also considering reviews from other people, my own experience, and how well that light fits into my daily life.
Types of Grow Light Bulbs
Grow lights come in four different types of bulbs: halogen, incandescent, compact fluorescent, and LED. Halogen and incandescent bulbs put out a lot of light, but they also put out a lot of heat making them less than ideal for houseplants. I recommend choosing a compact fluorescent or LED bulb.
Fluorescent lights are usually cheaper than LEDs to purchase, but since LEDs are more efficient, the fluorescent ones end up costing more to run. I prefer LED bulbs.
Temperature and the Kelvin Scale
Grow lights are available in varying temperatures which are measured in Kelvin. The simplest explanation of this is that some bulbs put out warm light, which is lower on the Kelvin scale and looks orange/yellow to the eye. Some put out cool light, which is higher on the Kelvin scale and looks blue. Others put out a mixture of both or a "full-spectrum," which looks more white to the eye.
Different types of light are good for different plants. Warm light, or light that is closer to the red end of the spectrum, is ideal for flowering or blooming plants. Cool light, or light that is on the other end of the spectrum nearer to blue, is great for green, leafy plants as it helps with photosynthesis.
For most houseplants I would recommend either a full-spectrum light or one that falls on the cooler side. Cool light is a much better imitation of natural sunlight and is more similar to the light a plant would experience in a greenhouse. If you want an exact temperature, I would recommend 5000 Kelvin and up for most leafy green houseplants.
Watts and Lumens and PAR
Watts are a measurement of power. This is the number that directly affects your electricity bill. Back in the day, watts were an important factor because all bulbs were incandescent and watts had a direct relationship to lumens or brightness. Now, with compact fluorescent and LED lights, watts are less important to consider. You don't need to worry about wattage for your grow lights.
Lumens are a measurement of light output. Specifically, lumens measure how much light in the visible spectrum is emitted from a light source. Lumens tell how much light humans can see, but do not measure how much of the light is available and usable for a plant to absorb, so they are not the most scientific measure to determine what light your plants need.
For the most useful measurement of light absorption by your plants, you can look at PAR ratings. PAR stands for photosynthetic active radiation and is an indicator of how much light your plant will "see" and use for its photosynthesis process. PAR is measured by sensors called PPF meters.
Lumens and PAR are both measurements of light intensity. You should note that light intensity decreases dramatically as the light source gets further and further away from your plant. For the full intensity indicated on the package of your bulb, you would have to place the light directly on top of your houseplant, which I do not recommend.
---
So What Light Do You Need?
You should not concern yourself with watts when considering a grow light. For a measure of light intensity, lumens and PAR ratings are what you'll want to focus on.
A good grow light for your green foliage plants would have a PAR rating between 400-600. If you're confused by PAR, lumens are your next best indicator.
You should provide 300-800 lumens per square foot to your plant. If a light has at least 1600 lumens and you place it about 1 foot from your plants, the light that reaches your plant will fall within the 300-800 lumens range that we're aiming for.
I prefer lights with a temperature of 5500K or higher which is very cool light. Cool light is a better imitator of sunlight and will be the best range for most houseplants.
---
Everyday Life Things to Consider
When I purchased my first grow lights, I made the decision based on more than just scientific facts. I wanted to find a light that fit my home and my lifestyle and would be simple for me to use and easy to install with my current plant setup.
Before you pick a grow light for your houseplants, consider these questions below and how your light will fit into your home and life.
How Does It Look?
To me, the look of the grow light is important. I have houseplants in my home because they are beautiful, and I like the way they add to the style or design of my rooms. So I find it important that the grow lights I use do not interfere with the overall aesthetic that I aim for.
In my home, I prefer to use desk lamps that accent the decor I already have fitted with a grow light bulb. I think they look the most natural and they have the added benefit of the lampshade helping to direct the light to my plants. I specifically like the Hektar series from Ikea. I also use small, clip-on desk lights because they are relatively unnoticeable.
Some grow lights achieve the full spectrum of light through blue and red LEDs. I do not like the look of the purple light that those grow lights put out, so I do not use them. For me, plants make my home more beautiful and colored light takes away from that.
How Easy Is It To Use?
Even though I know that compact fluorescent tubes are the cheapest and often most readily available option, I do not like the way they have to be set up.
When I want to add a grow light to a plant, I do not want to have to think about how to suspend a light from a shelf or the ceiling. I want a light that is easy to use.
That is why I prefer the clip-on gooseneck lights and bulbs that can be placed into directional desk lamps. I find that when one of my houseplants needs a boost of light, these two styles can be easily plugged in and added to the table or shelf that my plant is already sitting on.
How Big Is It?
When deciding on the size of grow light you will need, there are a few things you need to think about. How big are the plants you are wanting to expose? How many plants do you have? How much area would you like the light to cover? The answers to each of these questions will help to determine the size that is right for you.
Also, you should consider how large and heavy the light is, especially if you are wanting a light that you can move from time to time to expose different plants, as well as the space that you have available to set up your light.
How Much Does It Cost?
You can spend as much or as little as you want on grow lights. They make setups that costs over $1000 and include grow tents and reflectors. If you're growing edible plants indoors or starting seedlings for a large greenhouse, those giant setups may be worth it. But as I see it, for basic indoor houseplant needs, there is no reason to spend that much money.
My philosophy on spending money is when I am presented with a good option, a better option, and a best option, I generally choose better. I rarely purchase the latest and greatest things on the market, but I also want something that will be reliable and long-lasting. For me, better is where it's at.
I have a desk lamp that I really like that I bought from Amazon (click here to see it), and I use that lamp with a grow light bulb that costs about $20.
What Has Been Successful for Other People?
I make a lot of major purchases based on reviews, so reviews were a large part of how I originally decided which lights to buy and try for myself. If you are looking for something that is different from what I've suggested, read reviews online and watch review videos to get more ideas for grow lights that will fit your specific needs.
---
My Picks for Best Grow Lights for Houseplants
After trying several options and reading a ton of information online, I have decided on my favorite grow lights for houseplants. The grow lights I recommend are each a different size and style. Hopefully, one of these options will fit your needs.
I can hardly put into words how much I love the Sansi 15W LED bulb. I have three of them now, and honestly, I'd like to buy ten more. It has an E26 base which means it can be placed into most lamps and light sockets so it was easy for me to use in my home. And the results I get from putting a plant under the light are amazing.
Each LED in this light has both red and blue wavelengths, which means the light it emits looks white, instead of purple, and is easy on the human eye. It is a full spectrum light which means it is good for a broad range of plants and does a good job imitating natural sunlight.
It has a hanging height of 12 – 20", which is important to me because I have plants that like bright light, but can't handle too much of it at once, like Pileas. I prefer a grow light that is powerful enough to be placed one to two feet from the foliage to keep from burning those more sensitive plants.
Don't just listen to me though. This light has incredible reviews on Amazon and has won several competitions for best grow light by houseplant owners on YouTube.
This light costs around $20, which was well within the range I was willing to pay. Plus, Sansi offers a 5-year warranty and a 30 day, no questions asked, return policy so the risk is minimal.
Don't want to turn it off and on every day? Buy a lamp timer (like this one from Amazon) and automate it!
---
This small clip-on light is a good choice for a grow light for houseplants. It is compact, easy to set up, and charges with a USB charger. Plus it comes with two heads so I can use it for multiple plants at once. But I must admit, after using for an extended period of time, it was no comparison to my Sansi bulb.
This clip-on light has three color modes and ten brightness settings. There is a red light mode (ideal for flowering and blooming plants), a blue light mode (good for healthy leaves), and a full spectrum mode, which is the mode I prefer because it gives the plant an entire spectrum of light and is easy to look at.
This light has a built-in timer, which was a little difficult for me to figure out at first, but ultimately does a decent job. If you need a small light for a small space, this will get the job done. However, if you can swing it, I'd opt for the Sansi bulb listed above.
---
If you have a large plant or a large group of plants that you would like a grow light to cover, you'll need a bigger option than the two desktop examples I gave above.
I do not have this light personally, but after a bit of research, it seems to be one of the best and most affordable options available. With over 8,000 Amazon reviews, it's managed to sustain a 4.4 rating, which is pretty impressive. Commenters mention that it's easy to set up and the built-in timer is convenient.
The LBW light has an adjustable height of up to 47" and is mounted on a tripod. Some report that it's a bit lightweight and may need some extra stabilization, so you might want to consider weighing down the base or securing it to a larger fixture if possible.
Once you've got it securely in place, it can cover a wide area. You can choose between one, two, or three adjustable lamp heads depending on how stuffed your plant nook is. Even the triple-headed model is only around $50, which is frankly a steal given the amount of light it will put out. The ability to tweak the position of the heads is excellent for big plants — you can cover your giant Fiddle-Leaf Fig from every angle, or light up that awkward vining offshoot of your Monstera.
Unlike some broad-spectrum LEDs, this lamp produces a warm and relatively natural-looking white light. It still contains all the wavelengths your plants need, and it won't bathe them in weird purple light like they're growing in an alien spaceship. Purple light is fine for your plants, but I personally find a white or yellow glow easier to look at.
Plants do best with 12-16 hours of access to grow lights. As I touched on above, this lamp has an included timer function (unless you buy the absolute cheapest version). It's simple enough to use, but it only goes up to 12 hours of "daylight". If your plants need more time than that, you can ignore the built-in settings and just plug the LBW into a lamp timer like this one.
---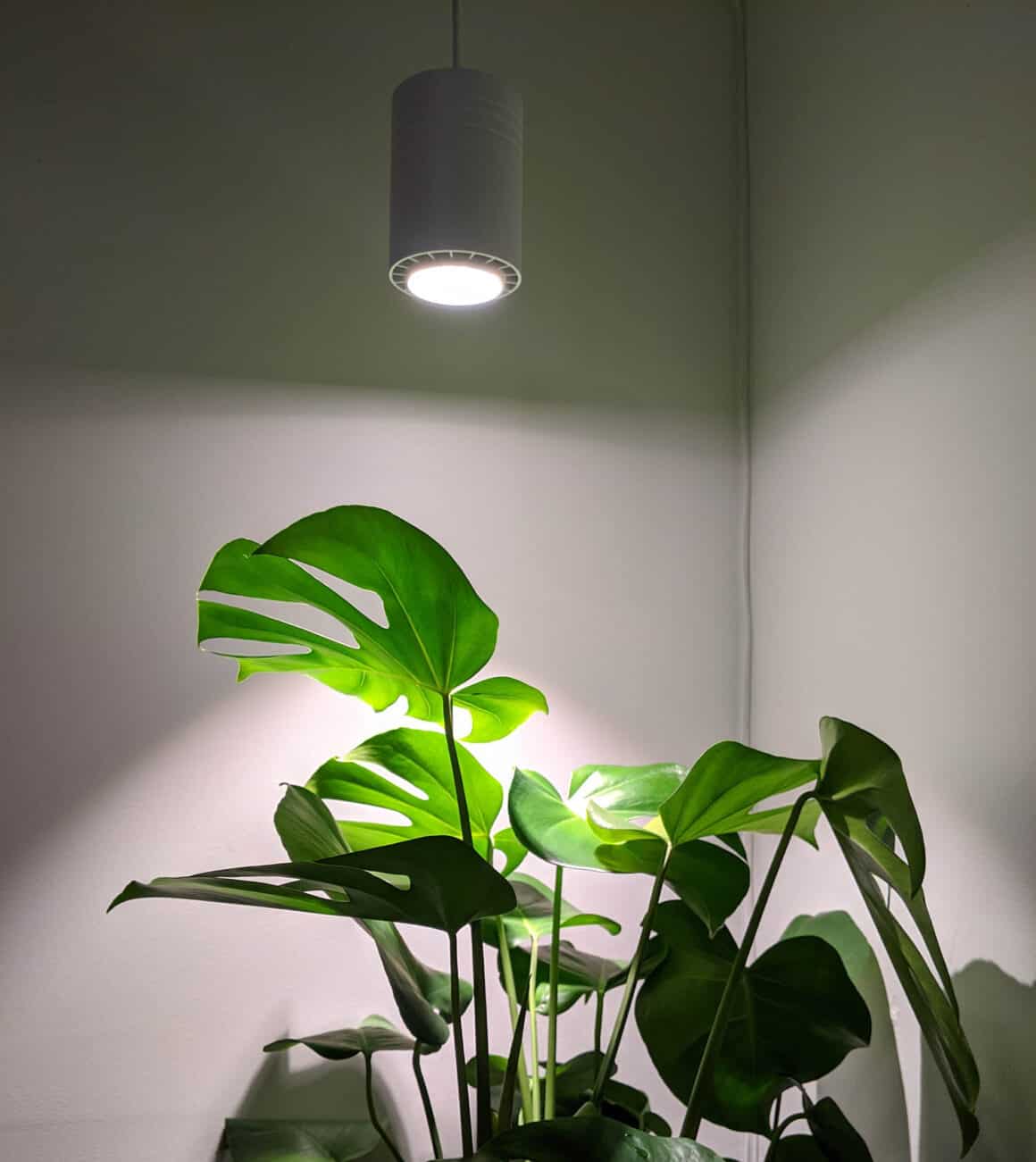 Soltech's lights fall in a higher price category, ranging between $150 and $200. But I am including them because of how much I love mine.
This Aspect Light was initially on my radar for several reasons: people who have it love it, it's made in the USA, but, mostly, because the way it looks is so so nice. I am very particular about how my home is decorated and the Aspect lights look like something out of a design catalog.
Soltech started on Kickstarter several years ago as a beautiful grow light that adds to your home aesthetic instead of taking away from it. Now available in two styles, "Aspect" and "Highland," these lights are on par with fixtures found in West Elm or other high-end home decor stores.
This light has a temperature of 3000 Kelvin, which is on the warmer side of what I usually suggest. However, keeping in mind that it is made to accent your home, it looks much more natural than a bright blue light. If looks are important to you, the expense of an Aspect light is worth it.
This one comes with a lamp timer, so no need to purchase one!
---
The Major Takeaways
There is so much technology around this industry that you can totally geek out on grow lights. However, if that's not your thing and you are looking for a simple solution to boost the light your plants are able to absorb, don't get bogged down by the outrageous amount of information available on the internet.
Also, don't let the vast amount of information intimidate you and keep you from making a purchase. Initially I was sceptic about if the lights would actually make any difference in my plants, but now I'm a believer. After just a week or two with a plant under a grow light, I almost can't believe how much healthier the plant is, and how much new growth I see.
In my opinion, a good grow light is one that meets my need for space, output, and design. Remember that your green foliage plants do best with a PAR reading of 400-600. If you prefer to look at lumens, 1600 lumens or higher is ideal for a plant that will be placed 12" – 18" away from the bulb. Also, cooler light is generally better than warm light for most green, leafy houseplants.
The four lights I've suggested are my choice for best grow lights for houseplants. I hope that this will help you to make the decision quickly and easily so you can get your plants growing and thriving.