If you ask for a recommendation for a low-maintenance houseplant anyone can keep alive, you'll most likely hear the ZZ Plant (Zamioculcas Zamiifolia) mentioned in everyone's top three. The ZZ is known for being easy to manage. But like all plants, it is not totally immune to experiencing care issues, the most common of which is when its stems and leaves turn yellow.
Why do ZZ Plant stems and leaves turn yellow? The most common reason for yellow ZZs is overwatering, which can lead to root rot and improper absorption of nutrients. There are other, less-likely factors which include underwatering, excessive light exposure, improper fertilization, and very occasionally, pest issues.
If you have a ZZ Plant that is yellowing, don't worry. Remember, you are working with a tough plant. Although you will want to quickly identify and correct the issue, your ZZ should be able to recover quite well once the problem is fixed.
---
Why Do ZZs Turn Yellow?
For the most part, ZZ Plants are perfectly happy with being left alone most of the time. Think of them like the introverts of the plant world: not fussy, hates unnecessary attention, and are quite delighted to be left to their own devices. If they could, I'm sure they'd cancel their plans and curl up with a good book instead.
That being said, when a ZZ Plant has something to say, it's usually important! So, when you see yellowing leaves or stems on your ZZ, this is a clear sign from the plant saying, "Hey you …something's not right over here. Can you come check it out?"
Correctly identifying why your plant is starting to yellow is the first step in fixing the issue, so being familiar with the different reasons this happens is helpful for a fast diagnosis.
---
Overwatering
Let's start with the biggie. Almost every time you see a yellow ZZ leaf, the most likely cause is that the plant is being overwatered. We houseplant owners often like to keep things on a schedule. As we do our weekly watering, we tend to be tempted to top off our ZZ while we have the watering can out.
Hey, I get it! We love our plants and want them to do well, but because ZZ Plants are so self-sufficient, they tend to get a little smothered by our attention, and even more so by our heavy-handed watering.
ZZ Plants do like thorough, deep watering sessions, but tend to suffer whenever the soil stays too wet for too long. The roots will do their best to absorb what water they can, but if they become too waterlogged, they begin to lose their ability to absorb nutrients from the soil. This puts the plant at a nutrient deficit, which is expressed in the lower leaves of the plant starting to yellow.
Alternatively, overly wet soil can lead to rot. A ZZ Plant sitting in improperly drained soil is susceptible to root and rhizome rot, both of which impact the plant's ability to regulate its own water and nutrient intake. Rotted root structures become inefficient at (or unable to) absorb nutrients for the plant. Again, this lack is expressed in the yellowing of the plant, typically starting in the leaves. If you're afraid your plant is suffering from root rot, click here for steps to try to save it.
---
Underwatering
Now, for a curveball. Another reason, albeit a much less common one, why your ZZ Plant is turning yellow is due to underwatering. I know…confusing! But, trust me, the signs of underwatering are easy to distinguish from symptoms of overwatering.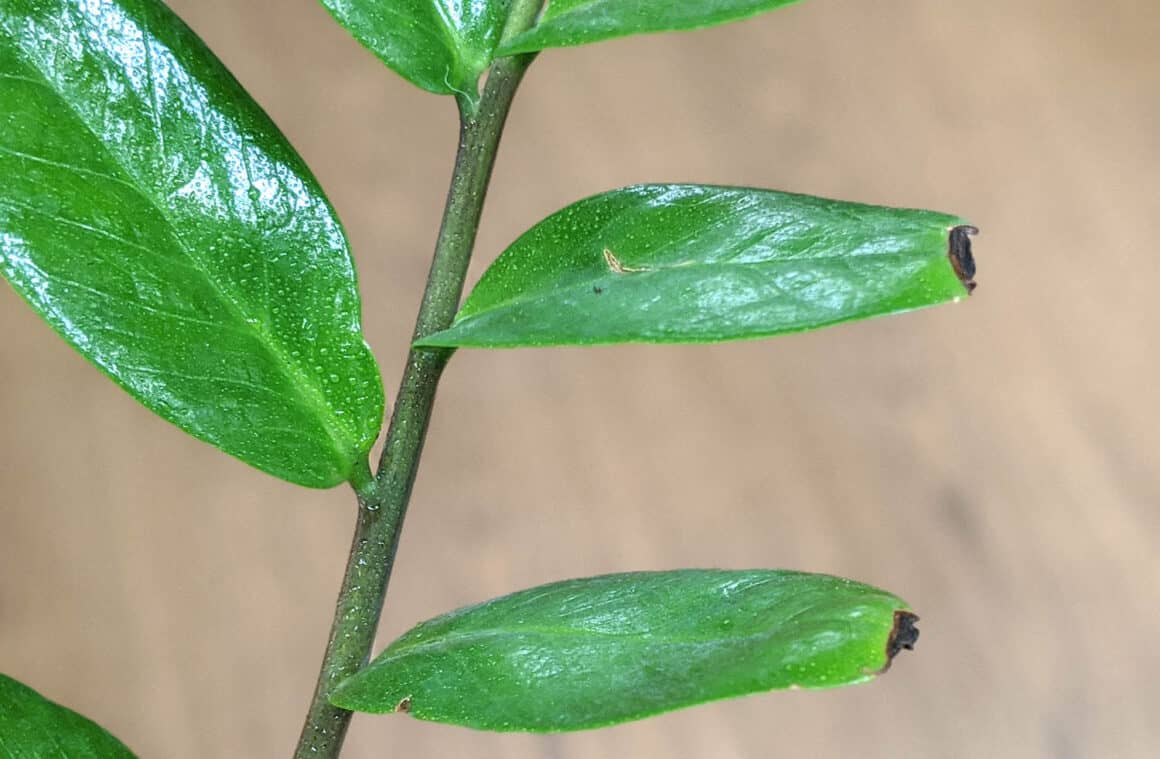 If your ZZ is turning yellow due to underwatering, you might notice that the leaves are beginning to turn yellow at the tips. This is often followed by the yellowing extending throughout the leaf. Then the leaves will curl and turn brown. You may even see these affected leaves drop from the plant one by one.
This is because your ZZ has used up much of the reserved nutrients and water that it had stored in its rhizomes, and it is taking extreme measures to survive. Since there are fewer resources to share throughout the plant, your ZZ is sacrificing a few leaves, one at a time, to keep the rest of the plant alive.
Obviously, you can confirm all of this by checking the soil when you notice the yellowing leaves. If it's bone dry, you most likely are underwatering the plant.
---
Excess Light
Because ZZ Plants resemble light-loving succulents and cactus varieties, we sometimes falsely assume that the more light we give them, the better.
ZZ Plants prefer bright, indirect light, and can even tolerate many lower light situations. When put in a south-facing window where the sun is the strongest, it can actually be detrimental to your ZZ, resulting in yellowing leaves and stems, and even sunburn. For more information on ideal lighting for your ZZ, read this article.
---
Fertilization Issues
While much less common, a lack of nutrients can cause yellowing leaves and stems in ZZ Plants. This is essentially what happens when a ZZ is overwatered and loses its ability to absorb nutrients, either through waterlogged roots or rot.
Overwatering issues aside, sometimes ZZ Plants do require more nutrients than we typically give them. As the plant grows, its nutrition needs will change. We might have to adjust how often we provide fertilizer to prevent a deficiency. For information on fertilizing your ZZ, read this article.
ZZ Plants typically don't require much additional feed. So if you are fertilizing your plant even just once or twice a year, I doubt nutrition imbalances are the cause of your yellowing ZZ.
---
Pest Issues
ZZ Plants have become so popular because they are low-maintenance plants that do well without much input. But they are also loved because they tend to be overlooked by most of the pests that burden so many other houseplants.
Occasionally, though, you may find that your yellowing ZZ Plant is caused by an infestation. Spider mites, mealy bugs, and scale can accelerate the yellowing of your ZZ as they feed on the leaves and stems, putting your plant under stress as it works to repair itself.
---
It Could Be Natural
Wait…whaat?!? Yes. While the cause of your yellowing ZZ Plant could be any of the reasons above, it could just as easily be a natural process of the plant.
Sometimes, stems which have served their plant faithfully begin to get old and die back to make room for new growth. Often, the stem will start to turn yellow and dry up as it withers, which is a natural process of the plant reabsorbing what nutrients it can from the old stem.
It usually only affects one stem at a time, so if you see the whole plant turning yellow, then something else is going on. You can leave the stem alone until it dies back fully or clip it using garden shears to keep your ZZ looking vibrant.
Also, it is important to note that ZZ Plants belong to the Arum family of plants, which includes Pothos, Monstera, and Philodendrons species. With these plants, new stems or fronds can look yellow when they emerge and turn greener as they grow and mature. If you are seeing new growth on your ZZ, don't worry too much if it starts off a little yellow.
---
Steps To Take If Your ZZ is Yellow
When you notice your ZZ Plant turning yellow, it's best to act quickly to remedy the situation, as this is a clear sign the plant is already under stress. Once you have identified the likely reason, you can take the following steps to help your ZZ recover.
---
How to Remedy Overwatering ZZs
Obvious step #1…stop watering. If you've identified the reason your plant is turning yellow is due to overwatering, the most important thing you can do for it is to let it dry out.
You then need to start looking for signs of root and rhizome rot. If you notice any brown or mushy areas of the plant or see some of the stems are getting soft, you will need to deal with the affected areas to save the rest of your plant.
Remove the plant gently from its pot and remove as much of the waterlogged soil from the roots and rhizome. With clean clippers or scissors, remove any roots that are discolored or mushy and any soft stems. Do this by trimming them as close to the rhizome as possible. If there is rot on the rhizome itself, you can cut out the affected area without issue.
Once you've removed the soil and the damaged roots, stems, and rhizomes, you'll be ready to replant. Don't forget to clean the pot with hot, soapy water, as well.
To ensure proper drainage for your ZZ Plant, repot in a mix of quality potting soil and cactus soil at a ratio of 3:1. This will make sure your soil is porous and well-drained for future watering.
For more information on saving ZZ Plants from root rot, click here.
---
How to Remedy Underwatering ZZs
If you've determined your ZZ is yellowing due to underwatering, you might be tempted to dump a whole watering can into the pot. Don't do it!
Like many plants, ZZs can get more stressed when their soil fluctuates from bone dry to super wet. To ease your plant back into health, give it a moderate amount of water to thoroughly wet the soil, being very cautious not to overwater.
The idea is to make sure you don't overwhelm the plant at first. This leads to more stress and the opportunity for fungal root diseases and rot to attack.
Work to get your ZZ back on a watering schedule that allows time for the first couple of inches of soil to dry out before you hit it again.
---
How to Remedy Excess Light for ZZs
If your ZZ is getting more than four hours of direct sunlight a day, you should consider a new spot for it. Avoid the full exposure of a south-facing window and opt for setting it further away from any direct sources of light.
ZZs can tolerate quite a range. As long as the light is indirect, it should be perfectly happy and will eventually recover from any sunburns it experienced. You can also remove any badly burned leaves to redirect some energy into new growth.
---
How to Remedy Fertilization Issues for ZZs
Although tolerant of a variety of growing conditions, it is still possible to underfeed (and sometimes overfeed) your ZZ, causing yellowing of the plant. Like I mentioned before, this is a fairly uncommon reason for it to turn yellow. But if you suspect nutrition is the culprit, invest in a well-balanced liquid fertilizer and feed your plant once to see if its condition improves.
Liquid fertilizers will have the fastest delivery system so your plant can utilize the added nutrients quickly. Typically, you will see the yellowing diminish within a few weeks of fertilizing.
Another solution to try is to repot your ZZ in new soil. Over time, as the plant utilizes the nutrients in the soil, it becomes depleted if no other inputs are added. By repotting into new soil, you'll refresh what's available to your ZZ, especially if the potting mixture already includes a slow-release fertilizer. For more information on fertilizing ZZs, click here.
---
How to Remedy Pests for ZZs
You'll rarely have to deal with a pest infestation on your ZZ Plant, but if it happens, you'll want to take immediate action to avoid further stress on your plant.
Many mild pest infestations can be dealt with by spraying your ZZ with a mixture of one quart of water, one teaspoon dish soap, and one teaspoon neem oil. Doing this for 3-4 days is typically effective against common pests like spider mites, aphids, and scale.
---
How to Avoid Yellow ZZs in the Future
Once you understand the common causes and some of the fixes for yellowing ZZ Plants, it's much easier to avoid the issue in the first place. By taking some proactive steps, you should be able to prevent the typical stressors and keep your ZZ happy and green.
---
Proper Watering
Pay particular attention to your watering habits and how they are affecting your ZZ Plant. You now know that both over- and underwatering can cause yellowing on your ZZ, so avoiding both goes a long way in keeping your plant healthy.
Do not water your plant on any set schedule. Instead, always check the soil moisture level to see if it's time to water. If the top 2-3″ are dry, you're probably fine to give your ZZ a bit more water. If you notice the top of the soil is still damp, or water pooled in the saucer, investigate to see if the soil is waterlogged and why.
If you want to learn more about when to water your ZZ Plant, click here.
---
Proper Drainage
Regardless of your watering habits, ZZ Plants will thrive in soil with excellent drainage. Make sure your soil mix is porous and drains quickly. If it tends to retain a lot of moisture, consider replanting your ZZ into a new mixture with cactus soil or perlite added to keep it airier.
Also, make sure your pot has a drainage hole. This is the best way to ensure any excess water is being removed from the soil. If your container has a drip tray or saucer, make sure that you empty it of excess liquid each time you water.
---
Proper Nutrition
ZZ Plants don't require much in terms of fertilizer. Because most of us plant our ZZs in some mixture of premixed potting soil, your plant should be set up with plenty of nutrients for at least the first six months to a year after planting. Many of the brands of premixed potting soil already have an initial charge of slow-release fertilizer added in.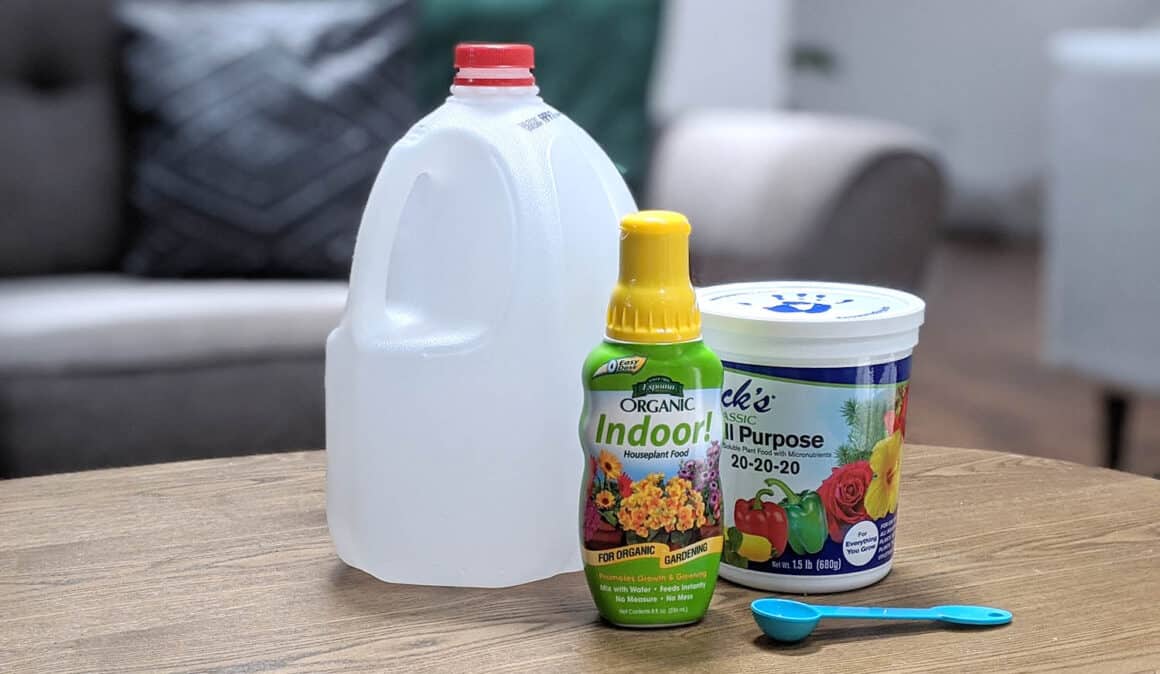 After that, it's recommended that you fertilize with a well-balanced formula, at most, once a month. In winter months, even less is needed.
If you suspect you've overfed your ZZ Plant or it's showing signs of nutrient burn (typically seen as crispy, curling leaf tips), you should flush the soil with plenty of water to remove excess nutrients. This isn't ideal but should prevent further damage to the plant, allowing it time to recover over several weeks. You may have to trim out any badly damaged leaves or stems, as they won't ever fully recover.
---
Proper Placement
The last thing you can do to ensure your ZZ is healthy and not under stress is to pay attention to the placement within your house.
Ask yourself these questions: What kind of light is it getting? Is it too close to a heater or AC vent causing significant fluctuations in temperature? Is its placement contributing to it drying out too fast or staying too damp?
ZZ Plants are capable of a broad range of growing conditions. Still, sometimes even minor placement adjustments make the difference between a happy plant and a stressed-out one.
Having equipped yourself with the knowledge of why a ZZ Plant can turn yellow and the strategies you can implement to reverse it, you can be confident in your ability to keep your ZZ happy, healthy, and, most importantly, green.