Money Trees are an attractive household plant, but how big do they get? Will they outgrow your space before you've had time to enjoy them? Since these trees are touted as one of the easiest houseplants, you must be wondering why a quick google search gives you a height that is better suited for a jungle.
Money Trees grow up to 60 ft tall in their natural habitat. In your home, they will grow to about 6-8 ft. How fast will it grow? If you keep Money Trees in smaller pots and prune them, you can slow their growth. When they are potted in larger pots, they will grow quickly.
Money Trees are beloved even by houseplant novices because they are so easy to care for. If your green thumb is more of a crunchy brown, this tree is for you. By simply changing your care routine, you can train your Money Tree to be the shape and size you desire.
---
How Big Will a Money Tree Grow?
Money Trees, also known as Good Luck Trees and Guiana Chestnut, are native to Central and Northern South America. In this tropical climate with generous rain, they grow to 60 ft tall. Money Trees produce edible fruits in the wild. The bases of their trunks look a bit swollen because they store their water there. These trees are usually found in swamps and along river banks.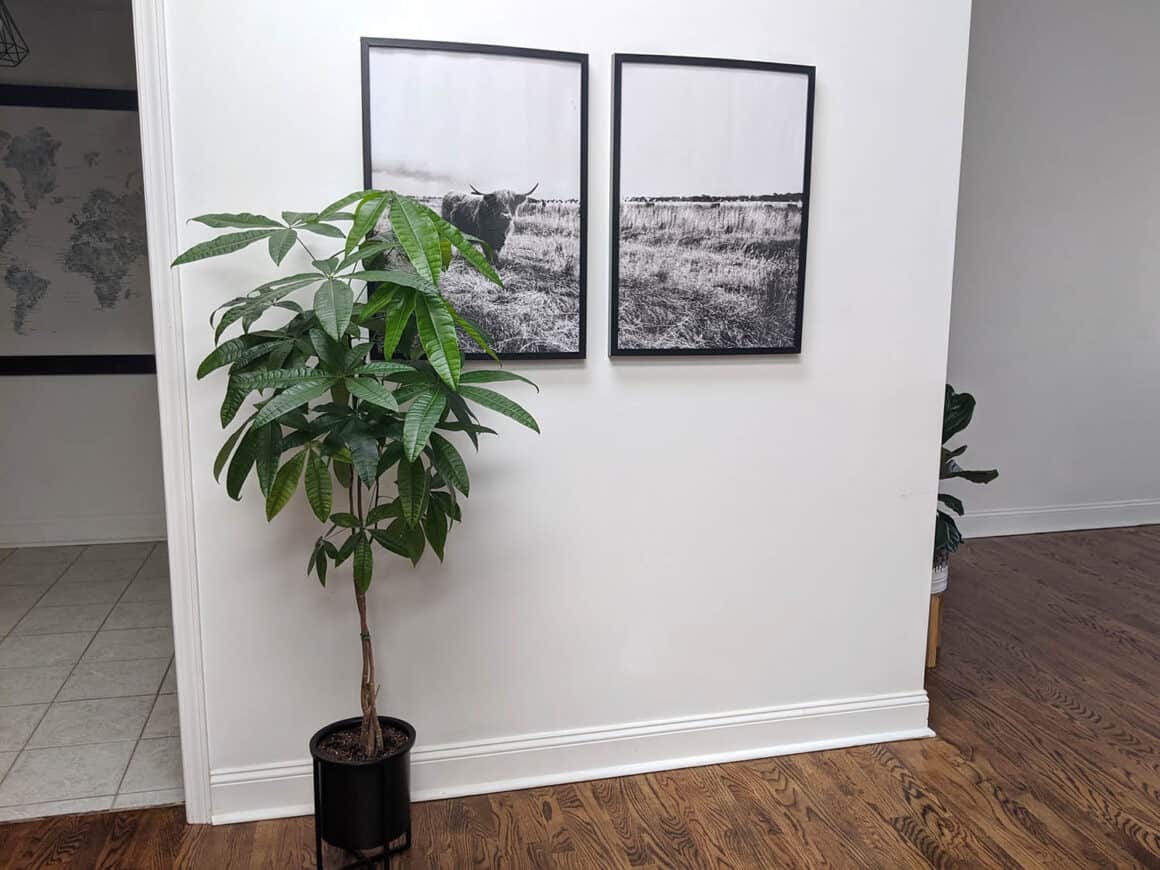 If you're worried that you will soon have a Money Tree with rainforest sized proportions, don't worry, the little Money Tree you purchased won't get that tall. The tree achieves this height through the right environment and soil type. In the wild, Money Trees don't have much restricting their root growth. They can grow and spread their roots amongst the rainforest floor. The extensive root system helps these trees achieve their massive height.
In your home, your pet tree's root system is constrained by the size of the pot you put it in. Since the roots can't spread unhindered, they will not grow large enough to support a large tree. Your Money Tree will only grow to a maximum height of 6-8 feet. You can further control this by choosing the size of your pot.
---
Are Money Trees Fast Growing?
Yes! In fact, Money Trees can grow 24 inches from seedlings in only 2 months. In their natural habitat, these trees are fast growers. This rate of growth is in optimal conditions. However, even in your home, they regrow quickly from pruning. They won't grow at their natural rapid pace, but still expect a tree that can achieve some height if not maintained.
If you brought home a small Money Tree or even decided to purchase one for your office desk, you might be wondering how long until you have to find it a home in your backyard. While they can spring up in their native habitat, these trees will not grow at the same rate under indoor conditions.
Pruning your tree can also drastically slow its rate of growth. If you are interested in one of these Pachira Aquaticas but want it to remain gift-sized, you will need to understand how to prune it correctly. For information on pruning Money Trees to keep them small, read this article.
If a little height is just what you need to fill the corner next to the window, use a medium-size pot to hold your Money Tree. If your plant has more room to spread out its roots, it will grow to be larger.
---
How to Make Your Money Tree Grow Bigger, Faster
If the corner in your living room seems like it would be the perfect spot for a taller Money Tree, but you can barely see your little tree over your couch, there are some easy ways to increase its growth and height.
Transplant your tree into a larger pot. Larger pots allow roots systems to spread out and will encourage your Money Tree to grow taller. 
Ensure the soil is the right mix to support optimal plant growth. Money Trees need soil with good drainage. You can pick a peat-moss based soil. Flower and cactus soils work great, or you can add sand and gravel to a regular potting soil for better drainage.
Fertilize your tree every 2 weeks in the spring and summer. Use a balanced liquid fertilizer diluted to half strength. For small-sized Money Trees, only fertilize every few months during the growing season.
Remember, your Money Tree is a tropical plant, it needs a sufficient amount of water. Water your tree until water comes out through the holes of your pot. Then only water it again when the first 2-3 inches are dry. Make sure to drain the water from the saucer, so your tree isn't sitting in water.
By giving your Money Tree ample space, nutrition, and water, you can increase its growth and height. Also, make sure that you don't move your tree around too much. It doesn't deal very well with being moved. You may notice that it drops its leaves for a bit. It will recover and grow back, but if you are aiming for quick growth, disturb your tree as little as possible.
---
Can I Keep My Money Tree Small?
Absolutely! Indoors, your Money Tree will top out at 6-8 ft. If this is too large for your space (or your desk), some simple care routines can keep your beloved plant mini-sized.
Keep your tree in a smaller pot. This will stop it from producing a large root network. A smaller root network will keep your Money Tree small. When you need to repot your tree, choose a similar sized pot and trim no more than one-fourth of its roots back.
Pruning your tree will help to keep it small too. You can do this by trimming back new growth, but leaving a small amount behind for the health of the tree.
Read this article for more information about keeping Money Trees small.
With just a few things in mind, you can maintain a small Money Tree that does not take over your space.
---
How to Prune a Money Tree
To keep your Money Tree at a desired size and shape, you can prune it. This can be done once a year in the spring. For this, use gardening shears or any pair of sharp scissors. Make sure these shears or scissors are clean from any other plant residues. Diseases and pests are easily spread this way.
Inspect the trunk and find any offshoots that create a V.
Trim the trunk offshoot ½ inch above the V.
Inspect the branches on the top of your tree. Find any that you would like to trim.
Look for branches that form a V and trim ½ an inch above.
Don't trim the tree more than half its height.
By pruning your Money Tree each spring, you can ensure that your tree stays a manageable size for your space. For more information on why, when, and how to prune a Money Tree, click here.
---
How Long Do Money Trees Live?
This tree will be with you for the long haul. Since it is a tree, if cared for correctly, you can expect to be with this tree for decades. It doesn't even reach maturity until 4 or 5 years of age. If you are concerned about your money tree not living long, then be sure to follow the care guidelines for this tree.
Ensure you are providing it with the appropriate amount of water, fertilizer during the warmer months, and repotting it every 2 years. Repotting your Money Tree will give it fresh soil with nutrients to thrive on. Even if your tree stays small, it is essential you change the soil every couple of years to mimic the natural rich tropical soil that these plants are used to.
Another last thing to remember if you are in a drier climate is that these plants need humidity. This can be added through a pebble tray, a humidifier, or misting. As long as you try to replicate their native environment, these trees will grow with you. For more information on my favorite humidifiers for tropical houseplants, click here.
---
Final Thoughts
Money Trees make for very flexible hardy houseplants that are easy to care for. As a plant owner, you can easily control their growth and speed of growth through choosing the appropriate container and pruning them. They can grow large enough in your house to anchor a room or be cultivated into a small tabletop plant.