Many folks purchase a ZZ Plant (Zamioculcas zamiifolia) because of their beautiful foliage and reputation for being so versatile for anywhere in the home. However, just like most plants, certain factors make all the difference between whether your ZZ Plant is merely surviving or truly flourishing. One of these important factors is light.
How much light does a ZZ Plant need? Although able to survive in many light conditions, the best answer is to give your ZZ Plant as much bright, indirect light as possible during the day, ideally around 12 hours. Direct light is too strong for ZZs and will burn the leaves. Too little light will significantly slow growth and will facilitate leggy, weak stems.
I've written other articles that tout the ZZ's ability to tolerate a range of light conditions, which is true. However, I thought it important to discuss the plant's ideal lighting conditions so you can use it as your baseline when deciding where to put your ZZ Plant in your home. This way, you'll hopefully have a better understanding of a ZZ's light tolerance range, as well as the trade-offs that come with more or less light, so you know what to expect from your ZZ Plant at all times.
---
Do ZZ Plants Need Sunlight?
I want to start with a somewhat obvious question that I ran across quite a bit in my research for this article. I think because ZZ Plants are great survivors and truly can tolerate lower light conditions, many blog writers (myself included) have perhaps accidentally convinced some new plant owners that ZZ Plants are so tough that they don't need any sunlight at all.
While they do better than most plants in lower lighting, ZZ Plants still require sunlight to survive. Just like all other plants, ZZs use sunlight as the energy source to power photosynthesis.
Photosynthesis is the chemical process that all plants utilize to turn water and carbon dioxide into sugar and oxygen, using the energy from the sun to drive the chemical reaction. The sugars become a source of food for the plant, and the oxygen is mostly a byproduct that makes it possible for us to survive on Earth.
Without sunlight, this reaction breaks down, and your ZZ Plant no longer has enough resources to grow. Eventually, regardless of the nutrients available to the plant, its food supply will run out, and the plant will die.
---
How Much Light Does a ZZ Plant Need?
ZZ Plants are native to the dry grasslands and forests of Eastern Africa, an area mainly situated right at the equator. Because the daylength at the equator is consistently around 12 hours, aiming to provide your ZZ Plant with 12 hours of sunlight per day is a great goal.
For those of us not situated right on the equator, this becomes challenging as our daylength varies throughout the seasons. In summer months, it'll be easier to give your ZZ Plant the 12 hours of light each day, possibly even more.
However, during winter months, you should consider moving your ZZ to your best-lit room or supplement with a grow light during the shortest days of the year.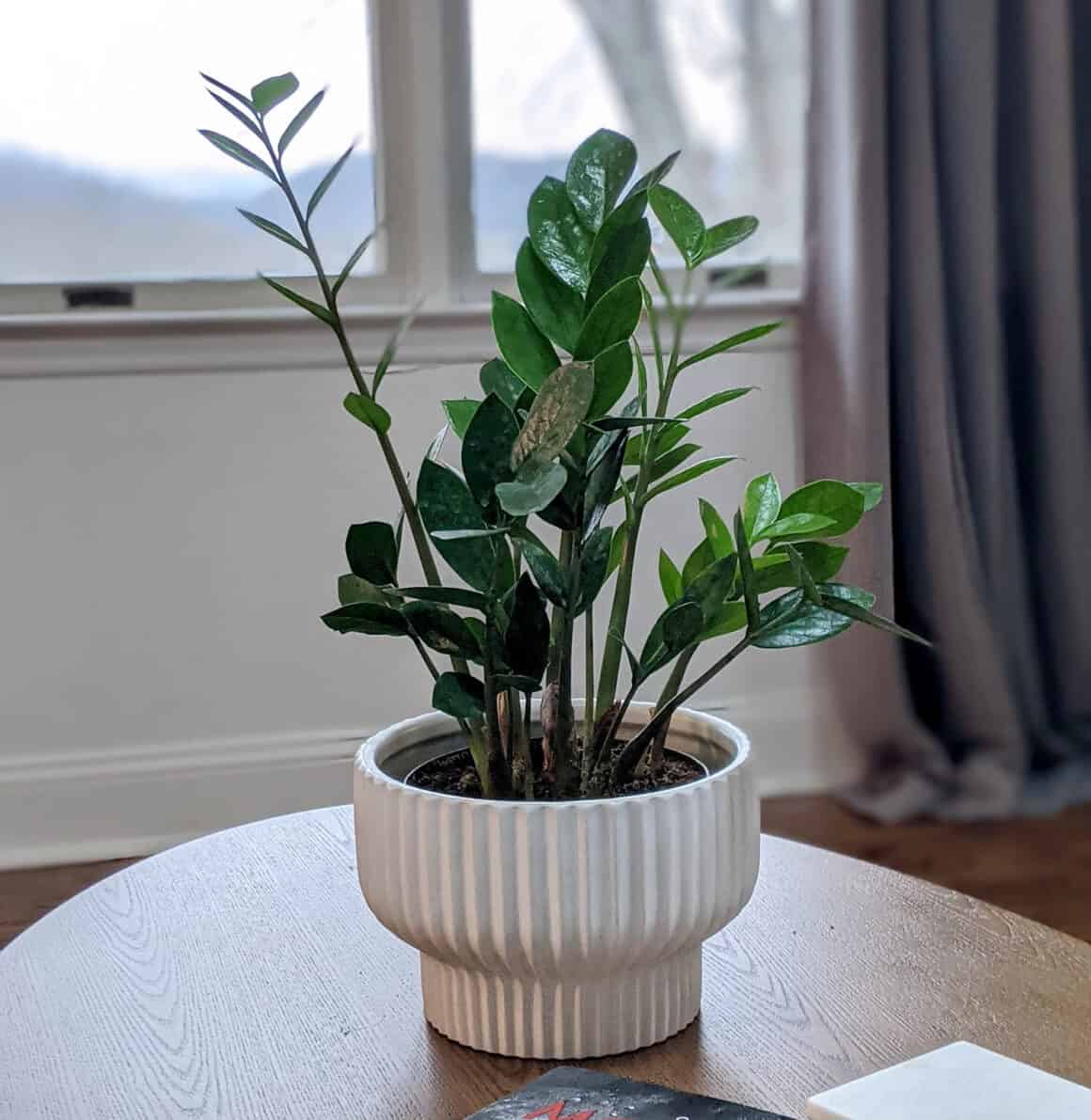 Now, ZZ Plants can tolerate much less light than the recommended 12 hours per day but consider the trade-offs that come with placing your plant in a darker spot. The less light your ZZ Plant has access to, the more pronounced these trade-offs become.
As a ZZ Plant approaches the limit of its light tolerance range, you'll see growth gradually slowing and then stopping altogether. You may also see that growth changes from healthy and compact to leggy and sparse, as your ZZ seeks out new sources of sunlight.
This isn't to say that you can't put a ZZ Plant in a dimly lit hallway, but keep an eye on it over time to see if it might benefit from a few weeks in a well-lit, premier spot in your home.
---
The Difference Between Direct & Indirect Sunlight
Almost any article about ZZ Plants will tell you they like "bright, indirect sunlight." But what exactly does that mean? How does it translate to a spot in your home? Let me try to clarify.
Direct sunlight is strong, unfiltered light that comes in through your windows. It typically casts shadows with sharp lines, and you can feel the heat of the sun when it hits your skin. This light is often too intense for plants and can result in burned foliage.
Indirect light is the light that fills up a room after being reflected off of something else, like the floor, tabletop, or walls. This is the type of light that keeps a room bright but doesn't add heat like direct sunlight.
If you're unsure of what light your ZZ Plant is exposed to, stick your hand between the plant and the window. If you feel lots of heat from the sun, or your hand produces a shadow with hard lines, the light is too direct. If you don't feel much heat and the shadow is soft, you've probably picked an excellent spot for your ZZ.
---
What Windows Are the Sunniest in a House?
Assuming you live in the northern hemisphere, south-facing windows are, by far, the ones that get the most sunlight. As the sun moves east to west, the windows on the south side of your house will be exposed to sunlight all day. Be aware, though, that they also get the most direct sun, so be sure to pull houseplants back from the window if they need indirect light.
East- and west-facing windows will be next in line, as they'll get morning or afternoon sun for up to half the day.
North-facing windows get the least amount of sun exposure and therefore aren't the most ideal placement for a ZZ Plant. However, don't overlook them completely. Often, north-facing windows get reflected light from the south-facing walls of adjacent buildings or structures, opening up the range of plants that can grow in the room.
If you're unsure how your house is oriented, remember the sun rises in the east and sets in the west. Or, pull up the compass app on your phone to see which direction your windows are facing.
---
Where is the Best Location for Your ZZ?
The most ideal location for your ZZ Plant is one where it gets its 12 hours of bright, indirect sunlight a day.
This is usually, but not always, a bright room that has south-facing windows. The sun exposure will ensure plenty of soft, indirect light in the room, but the plant should be placed far enough away from the window that any hot, direct sunlight streaming through the window will not get to it.
Besides light requirements, you should place your ZZ in a spot that is free from temperature fluctuations. Spots near exterior doors or by a heating or AC vent can get a little drafty from time to time.
---
What Happens When ZZs Don't Get Enough Light?
There are a few tell-tale signs to look for if you suspect your ZZ Plant isn't getting enough light. Typically, they can be remedied by moving your plant to a more ideal spot with better light exposure, but sometimes these signs aren't all that noticeable until, all of a sudden, they really are. So, check on your plants frequently, so you're in tune to potential changes.
The clearest sign that your ZZ Plant isn't getting enough light is that you'll start noticing all the stems are leaning towards the nearest window. Many plants reorient their stems to lean towards a light source in an effort to capture more sunlight.
If you see your ZZ Plant leaning all in one direction, rather than it fanning out like it typically does, the light level in that particular spot is too low, and you should find a brighter spot for the plant. You may also want to rotate the plant to help keep its shape in darker rooms. A quarter turn every week should help keep the stems from all leaning to one side.
If the light level in a room remains too dark for your ZZ Plant for too long, it will begin to look leggy. When people say "leggy," they are referring to the plant stems becoming stretched out and bare-looking. The scientific term for this is called etiolation.
The stems of the plant are often softer and droop more than usual, and leaves are fewer and farther between. Often, the leaves are smaller than what the plant would typically produce.
What's happening is that the plant has recognized that it needs more light to put out healthy growth and to continue food production through photosynthesis. As a last-ditch effort to find more light, the plant uses its energy to put out sparse, relatively weak stems to stretch away from the plant and increase its range.
By contrast, a ZZ Plant with plenty of indirect sunlight will put out healthy growth with strong stems and even, well-distributed leaves.
Another, less obvious sign that your ZZ Plant isn't getting enough light has to do with how much it is growing. Now, before I get into this, know that ZZ Plants are, by nature, very slow-growing plants. They don't put out a ton of growth even when their basic needs are accounted for, so it's important to keep this in mind when questioning whether your plant is getting enough light.
That being said, it is true that when all other factors (watering, nutrients, temperature) are accounted for, the lower the light exposure, the slower a ZZ Plant grows. If you have your plant in a darker room and growth has significantly slowed or stopped altogether, your ZZ probably needs more light.
This particular sign of low light exposure is pretty tricky to observe, mainly because growth on ZZ Plants are slow and hard to detect in general. However, try to pay attention to it because you might be able to catch and correct the lighting situation before your ZZ Plant starts putting out weak, leggy growth that may have to be trimmed off later.
---
What Happens When ZZs Get Too Much Light?
Unlike too little light, there is really only one major sign that your ZZ Plant is getting too much direct sunlight.
Just like we can get sunburned by staying outside for too long, plants can get burned by too much direct light. In the ZZ Plant's case, too much direct light exposure will actually burn the leaves' top layers, scorching the tissue and destroying a lot of their functionality.
If caught early, the plant generally recovers without issue, aside from perhaps losing only the most badly burned leaves. If the plant has experienced significant burn, you might find many of the leaf tips have dried up, turned brown, and are beginning to curl. Or, entire leaves can be scorched and will eventually drop off the plant.
Either way, move your ZZ Plant to less intense lighting as soon as possible. Any new growth shouldn't be affected by the burn but depending on how bad existing leaves and stems were scorched, some areas may fade over time, and some won't.
If you are lucky, you may notice that the stems of your ZZ Plant placed too close to a window are actually leaning away from the light source. If you see this, it's a clear sign that the plant is trying to escape the worst of the intense sunlight, and you might be able to catch your mistake before the plant has been burned.
---
What If I Have a Room With No Windows?
For those of us with more than a couple of plants, we often run out of "prime real estate" for our houseplants quickly, having to resort to placing plants in dimmer corners or dark hallways. Alternatively, we may want to incorporate living plants into all the rooms of our home, even those that don't have windows.
If you have a room that doesn't have access to much or any sunlight, don't worry! You can still set a ZZ up for success in these areas of your home, as long as you supply them with a reliable light source, such as a grow light.
Grow lights are light bulbs that artificially mimic the sunlight your ZZ Plant naturally needs to thrive. When sunlight isn't readily available, either due to a windowless room or a dark winter season, you can use grow lights to provide the additional light needed to keep your plants happy.
Grow lights come in a variety of shapes, sizes, and materials. The best options on the market are LED and compact fluorescent bulbs, both of which work well and are reliably consistent. To learn more about the different types of grow lights, take a look at this article.
For a ZZ Plant situated in a low-sunlight or no-sunlight room, I would recommend that you pick a grow light that does a good job at imitating daylight. Look for cooler lights (ones that are higher in temperature) that fall within the 3500-6500K range.
Keep the grow light situated above your ZZ Plant, about 18″ away from the top of the foliage. You'll want to monitor your grow light setup because the closer it gets to the plant, the more intense the light is. If it ends up getting too close to the plant, you can burn your foliage just like if it were set in direct sunlight.
Again, you'll want to shoot for providing your ZZ Plant with at least 12 hours of light per day. You may even want to give it closer to 14-16 hours if solely relying on a grow light setup, as this will ensure the plant gets the light it needs while still mimicking the normal daytime/nighttime cycle it is used to.
Pick up an outlet timer (like this one from Amazon) to automate this lighting schedule, so you don't always have to be around to turn the grow light on and off.
My personal favorite grow light is the Sansi 15W LED Bulb. I have three of these in my home now and have been extremely impressed with their effect on my houseplants. For more info on why I chose this bulb, click here.
---
Can You Put ZZ Plants Outside in the Summer?
Depending on where you live, you actually can put your ZZ Plant outside in the summertime as a way to give your plant a much-needed boost of energy. Remember, though, there are rules to indoor light exposure, and you better believe they apply to your ZZ Plant when it's outside, too.
ZZ Plants grow their best in temperatures between 65°-75° Fahrenheit, with nighttime temperatures not much cooler than that. If you live in USDA Zones 9 or 10, you can actually plant your ZZs in the ground year-round.
For the rest of us, however, where the temperatures get colder at night, we have to channel our inner-meteorologist and be diligent about checking the weather report to decide whether our ZZs can go out to play.
This typically leaves the summer months as the safe time to set your ZZ Plants outside without fear of temperature shock. Wait until you've seen a consistent number of days within the ideal temperature range, and without any anticipated dips or spikes, before you set your ZZ outside.
You may want to practice "hardening off" your plant, so as not to shock it. This means that, rather than just placing it outside all day and night, which can distress your plant, you gradually introduce it to the outdoor environment a little at a time.
Put your ZZ Plant out for a few hours the first day, more the next, and then gradually over the next few days, increase the amount of time it's exposed to until it's ready to be outside all day.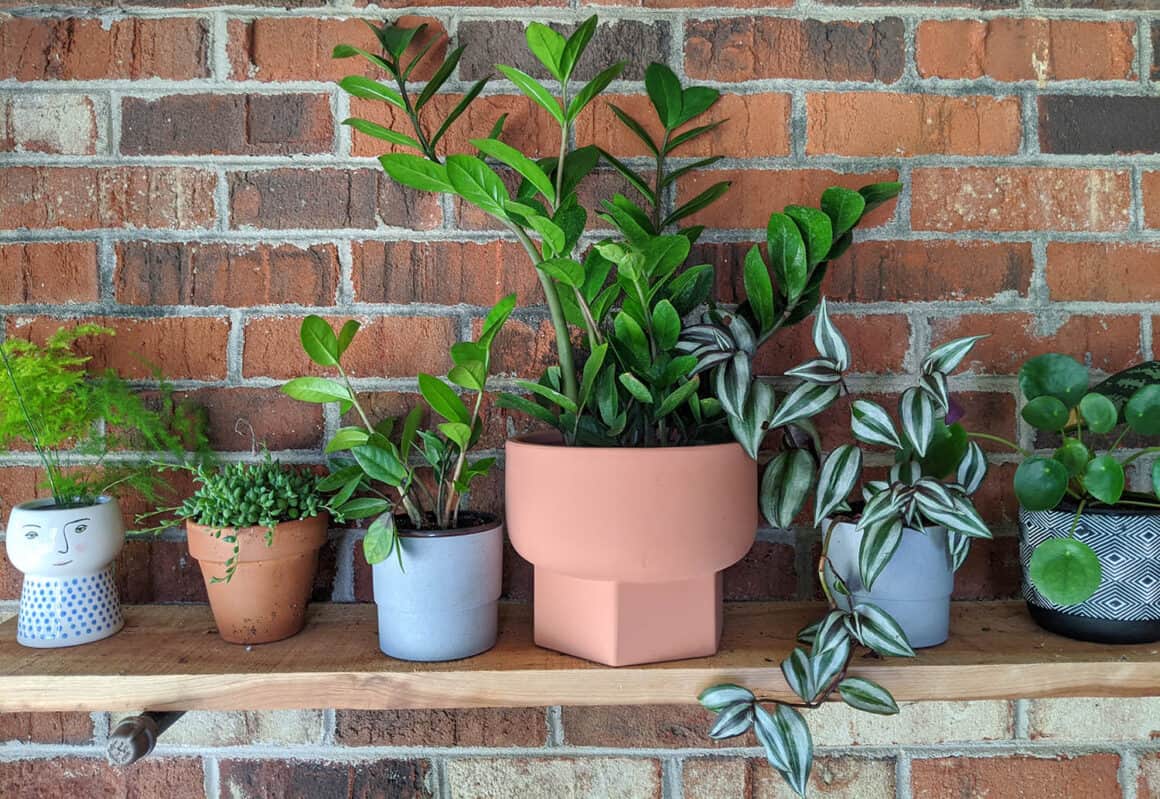 Monitor the weather to make sure you see any upcoming changes and pull your plant back inside if forecasted to get a lot hotter or colder, or there's severe weather coming your way.
Just as important as temperature is light exposure. Remember that ZZ Plants like bright, indirect light, so placement outside needs to be considered so you don't accidentally burn your plant. Shaded or covered outdoor areas with lots of bright light are best, as long as direct sunlight is never allowed to beat down on the plant. Covered patios, porches with overhangs, or shaded awnings are all ideal spots.
Also, remember that your potted plants tend to dry out faster when placed outdoors, so be mindful of your watering habits, adjusting them as needed to keep your ZZ Plant correctly watered.
---
Mistaking Symptoms for a Low-Light Situation
Above, I told you about some of the things to watch for if you suspect your ZZ Plant might not be getting enough light. However, some of these signs can be tricky to spot or might actually be caused by something else that results in similar symptoms.
So, if you notice a sign that your ZZ doesn't have enough light, but it isn't recovering when moved to a brighter location, you may need to consider a different cause.
No Growth
I've already told you that the absence of growth isn't a super reliable indicator of a low-light situation. Mainly, this is due to the fact that ZZ Plants are inherently slow-growers, but many other factors can slow or stop the growth of the plant.
Growth can be stunted by underwatering, overwatering, temperatures outside the optimal growth range or a lack of nutrients. If you ruled out light exposure as the cause, you'd need to tackle each of these factors, one by one, to determine if something else is limiting growth.
Also, always consider the time of year. ZZ Plants won't likely put out much growth during their growing season (Spring to Early Fall), but they most definitely won't grow much at all during their dormancy in Winter. If you aren't seeing any growth during the winter months, you may not have a problem at all…the plant is just dormant.
Leggy Growth/Drooping Branches
To an untrained eye, drooping branches or sparse leaves can often be diagnosed as "leggy growth," when in fact, something else is going on. If you notice your plant drooping or losing leaves, there's usually a more common issue to blame.
Overwatering is the most common issue when it comes to ZZ Plant care. A chronically overwatered plant will often display droopy branches and can start to lose its leaves, leaving the plant looking sparse and unhealthy. Keep your watering habits in check so as not to confuse the serious problem of overwatering as a light issue. For everything you could ever need to know about watering ZZ Plants, read this article.
---
Final Thoughts
ZZ Plants are very versatile houseplants that will tolerate a lot of different conditions in your home. However, just like all other plants, there's a difference between the conditions they tolerate and the conditions they need to thrive.
If your ZZ is looking a bit sad and leggy, it's time to shuffle some things around and find a more suitable spot with better lighting (or supplement with a grow light). Hopefully, you will find that your ZZ will quickly respond to its new environment and reward you with healthy growth.
By ensuring they have lots of bright, indirect light, you'll be well on your way to owning a show-stopping ZZ Plant that will enhance any room you put it in.