Not only are Pilea Peperomioides extremely trendy right now, they are super simple to care for and can be kept alive by even the most novice houseplant owner. But keeping plants alive is different than helping them thrive, and one of the main differences in Pileas that thrive rather than just survive is lots of bright but indirect light.
How much light does a Pilea need? The answer is as much as you can give it while keeping up a daytime/nighttime rhythm like it would receive outdoors, with about 12-16 hours of light being ideal. Pileas love bright, bright light, but cannot tolerate direct light hitting their leaves as they are prone to sunburn.
When I first got into houseplants, I wasn't sure how much light was enough or which areas of my home received the most light. I didn't know anything about additional light sources like grow lights or how to keep giving my plants as much light as possible during the cold, winter months. Thankfully I've done my research now, and I can help you with the answers to all of those questions and more.
---
How Much Light Does a Pilea Need?
When it comes to how much light your Pilea needs, I believe the answer is simple: as much as you can give it. However, it is still important to mimic the daytime and nighttime sunline schedule they have outdoors. The most optimal lighting situation for a Pilea is to receive bright, indirect light 12-16 hours a day.
It is extremely important that while you give your Pilea tons of bright light, you do so out of the reach of the sun's rays. Pileas cannot tolerate direct light on their leaves, even for a short period of time.
If you were to spend any time in forums about houseplants, specifically Pileas, you would see that the number one suggestion people give others to help their plants thrive and grow more quickly is to give the plant access to more light. If you want your Pilea to thrive, you'll need to make sure it can get all the light it needs.
---
What is Indirect Light?
Indirect light is light that has been reflected off something else before hitting your plant. This type of light wouldn't sunburn you and it won't sunburn your plants. It is just out of reach of the direct rays of the sun.
Sometimes it is easy to see where the light is being cast from a window by the light that shows on the floor or counter beneath the window. This is the area I often see my dogs lying in, feeling the warmth of the sun. If you can see the sun on the floor, or feel the warmth of it on your hand, this is direct light and is not a good spot for your Pilea.
When in doubt, you can test if your plant is in indirect light by placing your hand between the plant and the window and examining the shadow you cast. If the shadow has hard lines, you are in direct light. If the shadow has soft edges, this area gets indirect light and is a great option for your Pilea.
---
What Happens If I Put My Pilea in Direct Light?
Pileas leaves are damaged by direct sunlight in the same way that our skin is sunburned by the sun. For Pileas, this burn takes the shape of small, pale yellow spots on the leaves, specifically around the edges.
Depending on how long your plant has been in direct sun, the severity of these burn marks can vary. If the plant has only been slightly burned, there is a chance that the spots will go away over time. If, however, your plant has been burned more deeply, the spots will probably always be visible on the leaves. Once you've moved your Pilea from this spot, the new leaves should not be affected by these yellow spots.
---
Signs That Your Pilea Isn't Getting Enough Light
For Pileas, there are several tell-tale signs that your plant is not getting enough sunlight. By moving your plant to a sunnier spot or adding more light artificially, you should be able to remedy these common issues. For more specific answers on solving this problem, scroll to the bottom of this article and read the "HELP! I Think I've Damaged My Pilea With Too Little Light" section.
LEGGY PLANT WITH BRITTLE STEMS
The first sign that your plant is not getting enough sunlight is that it has become leggy. When people say that their houseplant is "leggy," they mean that the plant has become stretched out and bare. The scientific term for this is etiolation.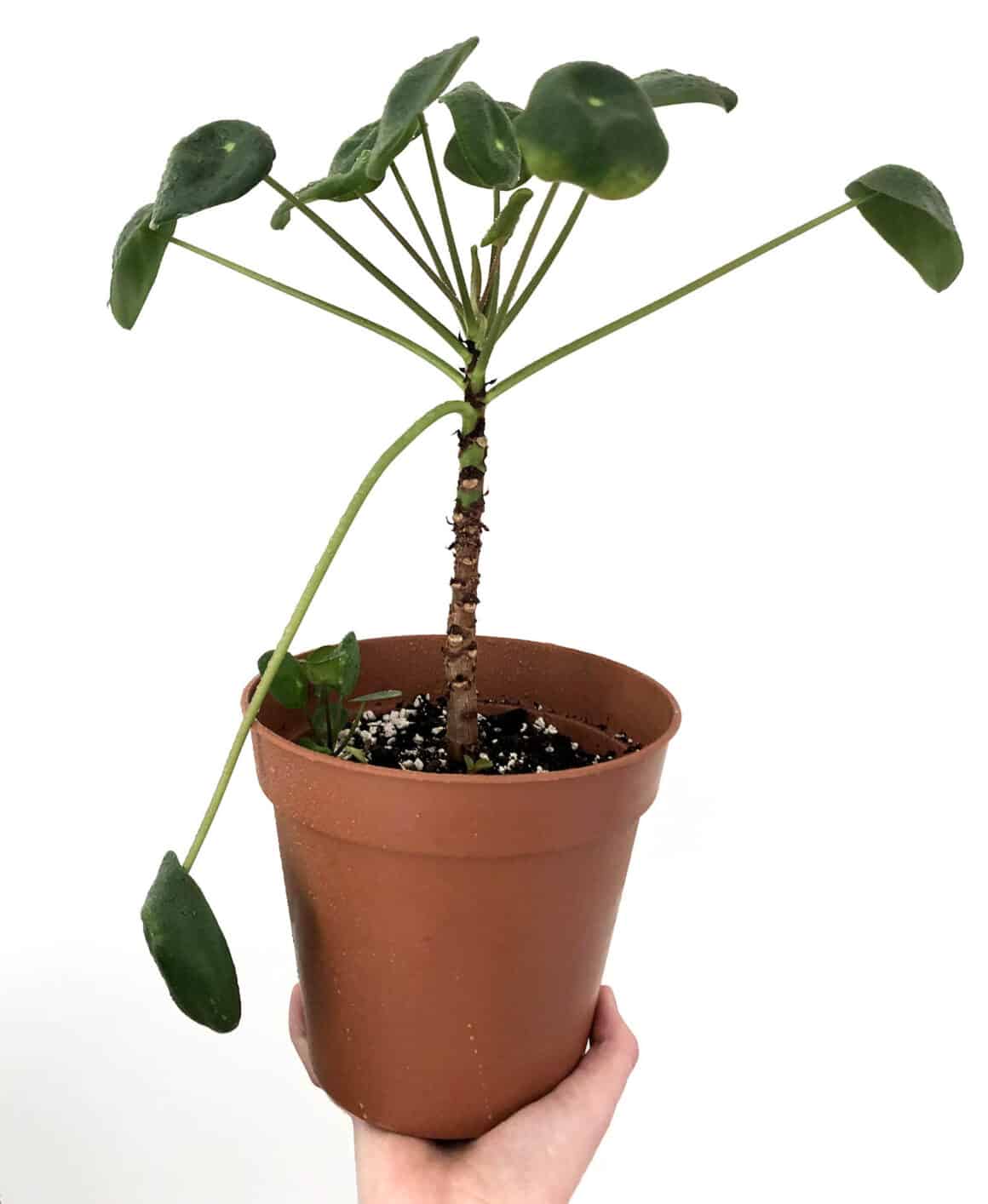 For Pileas specifically, a leggy plant can be identified as a sparse plant with elongated stems that look droopy, rather than the full, round shape we've all come to love with this plant.
Pileas become leggy because they do not have access to enough bright, indirect light. When a plant does not have enough light, it has to change the way it grows in order to adapt, so it can continue photosynthesizing light into nutrients.
Healthy plants are able to put much of their energy into new growth, while plants that do not have enough access to light have to spend a majority of their energy reaching out and stretching to find more light in order to survive. This is what causes a Pilea to become leggy.
SMALL LEAVES
Another sign that your plant has become leggy can be found in the leaves. Normally, a healthy Pilea grows large, round leaves. When a plant doesn't have enough light, the leaves it does produce will be much smaller than normal.
When a plant is having to expend all of its energy to stretch and manipulate itself to gather light in a dimly lit area, it does not have enough energy to produce big, full leaves. Unfortunately, smaller leaves actually give the plant less surface area to absorb light and become a cyclical problem for the Pilea.
CUPPED LEAVES
Leaves that are curling, or cupping, upwards are sometimes a result of overwatering, but it can also be an indicator of low light levels. If you notice your Pilea's leaves are curling, be sure you are watering it correctly, by only adding more water when the top inch of soil is dry. If you are watering correctly, your Pilea probably just needs more light.
Cupped leaves are an effort on the part of your Pilea to maximize the surface area available to collect light from their leaves as they rely on leaves heavily in the photosynthesis process.
You should note that it's normal for the new leaf growth from the top of your Pilea to be curved as they emerge, but the main leaves on your Pilea should be flat, like a pancake.
SLOW GROWTH
Before we talk about how quickly your Pilea should be growing, there is something you need to know. Pileas, as well as all other plants, have a time of year when they grow best, known as their growing season. When a plant is not in its growing season it is said to be dormant, and the growth of the plant is greatly slowed.
Growing season takes place during the warmest months of the year, which for most of us is from spring to early fall. This is the time of the year when your Pileas will be growing and producing new pups. If you're not seeing much growth in the colder months of the year, do not worry. Your plant is dormant and this is normal.
However, if you are currently in the spring or summer, your Pilea should be growing, producing new leaves, and eventually producing new plantlets in the soil and along its stem. If you are seeing no growth in your Pilea it could be that it needs more light.
Again, when a plant has to spend its energy to reach and stretch for more light, it cannot use that same energy for healthy growth.
---
Signs Your Pilea Is Getting Too Much Direct Light
Unlike with too little light, there is just one signal that your plant is getting too much direct light and that comes in the form of small yellow spots on the leaves. These yellow spots will be very pale and mostly around the edges of your Pilea's leaves.
If you suspect your Pilea has had too much direct sunlight, you'll need to move it as soon as possible to an area where the light is indirect. Depending on how deep the burn is, it may or may not fade with time.
---
Where is the Best Spot to Put My Pilea?
The best spot to put your Pilea will vary depending on where you live and what options you have available. Ideally, Pileas should be placed near the sunniest window in your home, but out of the direct light from the sun.
Remember, Pileas cannot tolerate direct sunlight on their leaves as they are predisposed towards developing a sunburn in the form of small yellow spots.
---
Which Window in My Home is the Sunniest?
If you live in the northern hemisphere, a south-facing window will be the sunniest option for your plants as it will receive light all day long. If you are in the southern hemisphere, the opposite is true.
East-facing and west-facing windows are the next best option as they will receive light either in the morning or afternoon. North facing windows are the last choice for Pileas as they receive less light than any other direction.
If you're not sure which direction your windows are facing you can use the sun or google maps. The sun rises in the east and sets in the west so you should be able to get your bearings by observing the sun. If you don't want to wait for sunset, you can always pull up your address on google maps and use the compass on the bottom of the page to help you orient yourself.
---
How Close Should I Place My Pilea to the Window?
How close to your window should you place your Pilea for the best access to indirect light? This will depend on the size of your window, if there is an overhang covering part of the light, and the direction it is pointing. My real answer is, however far back it needs to be to avoid the direct light.
It is usually pretty easy to tell what is getting direct light as it is the area that is lit up by the sun from the window. If you can place your hand in the light and feel the warmth from the sun, this is direct light and it is too close for your Pilea.
I keep my Pileas on a table two to three feet back from a sunny, south-facing window. This allows the plant to get a ton of bright light, but not to be in danger of burning from the sun.
---
Should I Rotate My Pilea for Even Light Or Not?
When talking about light and Pileas, I would be remiss if I didn't discuss the pros and cons of rotating your Pilea for even light. Most people suggest rotating your plant 90 degrees every few days to keep the leaves growing out in each direction, resulting in a beautifully round plant.
I'm running an experiment now with a small Pilea cutting that was planted a few months ago. I am not rotating it. I realize that this will give me an odd shape, maybe even one that grows at an angle or droops down completely, but I am okay with it because it is actually growing more quickly than my other plants.
Plants are constantly using energy. Among other things, plants use energy to grow taller or fuller, to extend their roots systems, and to search for sunlight. When we rotate Pileas, we are forcing them to constantly expend energy moving their leaves to search for the light. When we stop, we free up energy that the plant can now use to grow.
Whether or not you rotate your Pilea is up to you. If you want a round plant, you'll need to rotate it. But if you are okay with your plant growing more similarly to how it would outdoors and having a more unique shape, consider leaving it where it is and watching it grow more quickly.
---
What If I Don't Have a Bright Sunny Window?
If you do not have a bright and sunny, south-facing window in your home or apartment, do not fear! Pileas are hardy plants, and they can grow even in the worst of conditions.
However, if you want your plant to thrive in this situation, you're going to have to intervene and give it some additional light. If you can't get what you need naturally, there is another solution you can turn to – grow lights.
---
What If I Live in An Area With Short Days In the Winter?
If you live in the far north or far south part of the world where the days are very short in winter, you may not have enough natural sunlight to keep your Pileas thriving year-round.
Just like without someone without a bright, sunny window to place their Pilea near, if you live in a part of the world that does not receive a lot of sunlight, you should consider buying a grow light and supplementing your natural light.
---
What Are Grow Lights?
Grow lights are light bulbs that mimic the sunlight your plant naturally craves. When you don't have enough sunlight for your plants, you can trick them into believing they do by placing them underneath a grow light.
Grow lights come in four options. The two best options on the market are LED and compact fluorescent bulbs. Halogen and incandescent bulbs are also available, and while they give a significant amount of light, they also put out quite a lot of heat which is not necessarily good for most plants.
Compact fluorescent bulbs work well and are very reliable. They are often the less expensive option to purchase, but they are less efficient and cost more to operate than LEDs. LED lights put out more light, and while they are cheaper to run, the cost is generally higher to initially purchase.
Grow lights come in a range of temperatures, from warm to cool light. For Pileas, I prefer to use a cooler light (one that is a higher temperature) because it does a better job at imitating daylight. I use lights in the 3500-6500K range for Pileas.
---
How Do I Use a Grow Light?
Grow lights should be set up above your Pileas. You will want to make sure to place your grow light at least 12-18" away from the foliage of your plant, depending on how intense the light is. Pileas love bright light, but when intense light beams directly onto their leaves it can cause damage to the plant in the form of small, yellow burn spots just like direct exposure to the sun.
For best results, your Pileas should be exposed to a grow light for 12-16 hours per day. This will simulate the sunrise and sunset that plants experience in nature and give them the best chance at surviving in a long, dark winter or a home with little to no natural light.
To automate this, you can use an outlet timer to turn your grow light on and off without flipping the switch yourself.
---
Which Grow Lights Are Best?
There are tons and tons of grow light options on the market and different lights are useful for various plants and a variety of setups.
My personal favorite is the Sansi 15W LED Grow Bulb. This bulb has an E26 base, meaning it will screw into any desk lamp or socket that I already have, not requiring me to have any additional setup.
The cost of this bulb is about $20 which was within the budget I was willing to pay. If you don't already have a directional desk lamp, you will need to purchase one of those as well.
Aesthetically, I like that this light puts out a pleasant white light, unlike some of the LEDs on the market that use a very purple light. Also, because I can use it in a desk lamp, the grow light blends in seamlessly with my home decor, something that was really important to me personally.
I came across this bulb after spending hours researching the best grow lights for houseplants. I read a lot and watched a ton of videos on Youtube and this specific bulb got great reviews everywhere I turned. Now that I own and use it on my houseplants, I have to agree. This is a great grow light bulb.
I've gone in depth into how grow lights work, what wavelengths, PAR ,and lumens are important for houseplants, and the other styles of grow lights I own and use in another article. If you'd like more information on grow lights, click to be taken there.
---
HELP! I Think I've Damaged My Pilea With Too Little Light
If you're afraid you've damaged your Pilea by giving it access to too little light, the good news is that Pileas are very hardy. I've seen plants that were producing very few small leaves bounce back and begin to thrive. Don't worry. You can almost always fix this issue.
If your plant has become leggy and growth has slowed way down, most of this can be remedied by simply moving it to a brighter location. If your plant is extremely sad and bare, you may need to take additional action.
If your plant is beyond the help of a simple change in location, it may be time to take more aggressive measures and perform what we Pilea owners call "The Chop." The chop is when you cut your Pilea in two in the middle of the stem. While it may seem scary, Pileas actually do very well after being chopped as it seems to give them the fresh start they need.
To chop your Pilea, make sure you have a sharp knife as you will want to cut the tissue cleanly. Be sure to clean your knife before using it. Then, find a spot about halfway up the stem and use your knife to cut the stem in two. The bottom half of your Pilea will usually begin to grow new leaves in a matter of weeks. Make sure to leave some leaves on the bottom of the Pilea as plants use their leaves in the photosynthesis process.
Once you've done this, do not throw the top half of your Pilea away. Instead, put the base of the cutting into a small bottle of water and allow it to root. Once you have roots that are an inch or two long, you can replant the top into its own container and you will have exchanged your one unhealthy plant for two healthy ones!
---
Final Thoughts
Pileas are tropical plants, native to south China. In their natural habitat, they are exposed to long days of bright sunlight. Thankfully, they do very well as houseplants. But they do best when we can help to recreate their outdoor environments by bringing them lots of bright, indirect light.
If your plant is looking a little sad, leggy, or is not growing quickly when it should be, more light will do your Pilea a world of good. If you have a south-facing window in your home, move your Pilea nearer to there. If you don't have the ability to provide more sun naturally, consider purchasing a simple grow light and exposing your Pilea to more light that way.