After seeing Pileas everywhere on social media, I asked my mom to buy me a Pilea plant for Christmas. Since then, I've fallen in love with these unique little plants. They are simple to care for and simple to propagate, and I know I'm not the only one who has been captured by this trendy plant.
Pilea Peperomioides are hardy plants that are simple to care for. They need access to bright, indirect light, and they only like to be watered once the top inch of their soil is completely dry. If you want a round, dome-like Pilea, it is important to rotate the plant every few days.
Pileas are so simple to care for that even the most novice houseplant owner can keep one alive. To help with that, I'm going to give you all the advice you need. I've broken this article up into two overarching ideas: Basic Pilea Care and Advanced Pilea Care.
For most people, the first section will be all you'll want to know, but if you are interested in propagation, fertilization, and more, keep reading for all the tips and tricks I have to offer. I've also included a section at the very end with the three most common issues I see in Pileas.
---
How To Keep Pileas Alive: The Short Answer
Pilea Peperomioides are very easy to care for. They like temperatures between 65-75° F and lots of bright, indirect sunlight. They should only be watered when the top inch of soil is completely dry. They should be placed in an area of your home where they are out of reach of cold or hot drafts and in an area with a stable temperature.
---
About Pilea Peperomioides
Certainly the most Instagram famous of the Pilea genus, Pilea Perperomioides have recently become a huge trend among houseplant lovers. While once scarce, these plants are now readily available. Pilea Peperomioides are great plants for people who like to share cuttings with their friends as they are extremely simple to propagate.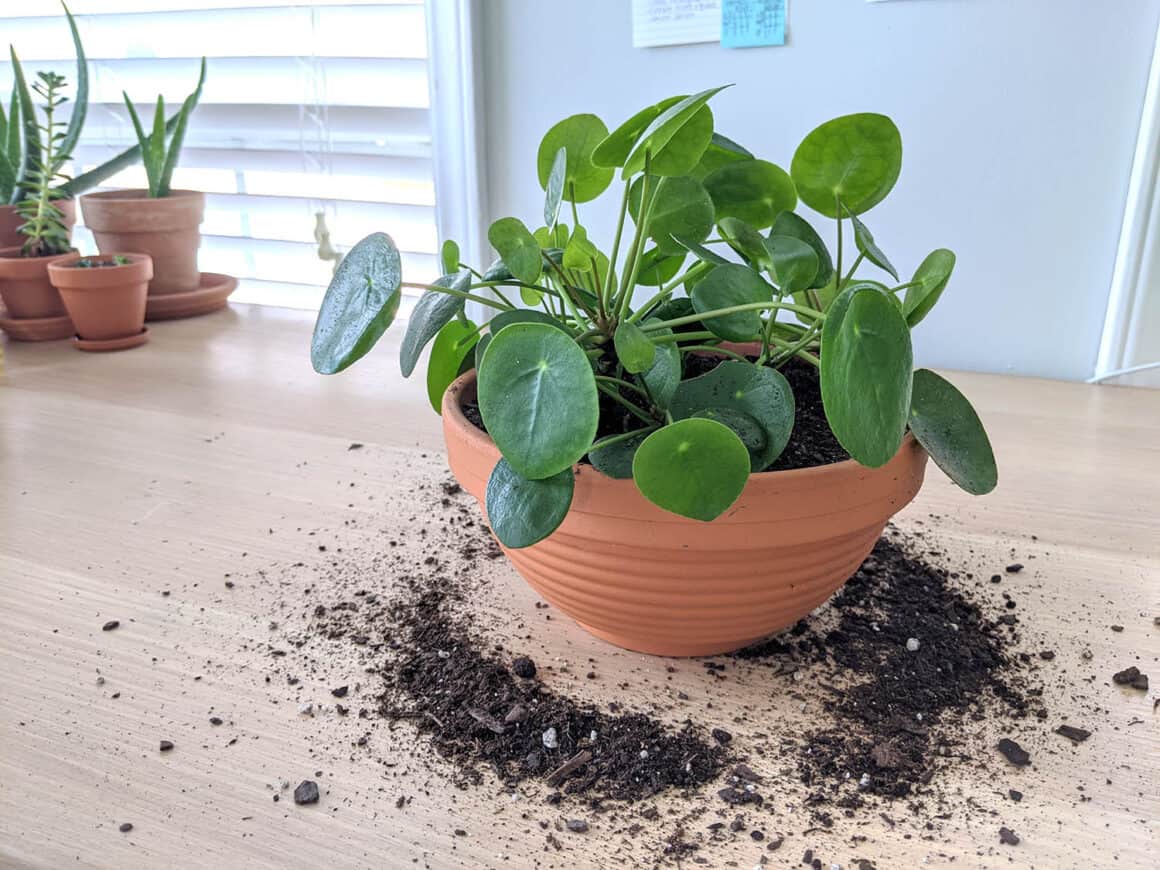 Pronounced Pie – Lee – Uh, Pileas are known by many names, such as Pancake Plants, UFO Plants, Chinese Money Plants, and Sharing Plants. Originally from the Yunnan province in Southern China, the plant was acquired by missionary Agnar Espergren who brought it back to his home country of Norway in the 1940s. As he shared planting cuttings with his friends, this plant became more and more available in Norway, becoming known by another name, the Missionary Plant.
Pilea Peperomioides are known for their unusual, dome-like shape. They have large, round, coin-like leaves that grow from the end of long stems and connect to one central trunk. If Pilea Peperomioides are evenly rotated, they will develop the round, orblike shape that these plants are known for.
---
Basic Care for Pilea Peperomioides
Even someone who is brand new to houseplant ownership, or those of you with "black thumbs," should be able to maintain a Pilea Peperomioides. If you can give it the proper water, light, and location it needs, while planting it in a well-draining container, that is all you'll have to do.
---
How Much Water Pileas Need
Because most people are afraid that they will kill their houseplants by not watering them enough, they overcompensate and have the opposite problem: overwatering. Pileas, in particular, cannot tolerate overwatering. Too much water is the number one cause of unhealthy and eventually dying Pileas.
To avoid overwatering a Pilea, you should only water it when the top one inch of soil is completely dry. To check this, I always just put my finger down in the soil about an inch deep and check for moisture. If you prefer a more scientific approach you can purchase a moisture meter and check the soil that way.
When watering a Pilea, it is important to water it thoroughly and infrequently, rather than with a small amount of water every few days. I recommend watering with room temperature water until about 20% of what you put in runs out through the drainage hole in the bottom of your pot.
Pileas can be top watered or bottom watered. I usually water from the top, careful to get most of the water on the soil, and not on the leaves or central stem. However, if you choose to bottom water (placing your pot into a dish of water and allowing it to be absorbed through the drainage hole) make sure you leave it in the water long enough for the water to reach the top layer of soil.
For more information on watering Pileas, you can read this article that I wrote on the subject.
---
Light Requirements for Pileas
Pileas need access to lots and lots of bright sunlight, but that light needs to be indirect as they cannot tolerate the full strength of direct light on their foliage.
Indirect light is light that has reflected off something else before reaching your plants. If you place your hand between your plant and the nearest window and can feel the heat from the sun on your skin, that light is direct and is too strong for your Pileas.
Another way to check whether your Pilea is in direct or indirect light is to observe the shadow that it casts. If the plant casts a shadow with hard edges, it is in direct light and needs to be moved. If the plant casts a shadow with soft, fuzzy edges, the plant is in indirect light and should be good.
If a Pilea is left in direct light, the leaves may start to discolor, turning yellow around the edges or spotting. This effect is the plant equivalent of a sunburn and can leave your Pilea's foliage permanently discolored if not remedied quickly.
For best results, you should put your Pilea near a south facing window, which will be the sunniest spot in your home. The more indirect light you can give to your Pilea, the better. Bright light helps Pileas to retain their deep green color and large flat leaves and keeps them from becoming leggy.
For more information on the best lighting conditions for your Pilea, read this article that I wrote all about lighting Pileas.
---
The Perfect Location for Pileas
Pileas are tropical plants and like indoor temperatures between 65° and 75° Farhenheit and humidity levels between 50 and 75%. Pileas do not like drafts of overly hot or overly cold air and need a location that will provide them with a stable temperature and environment.
When placing a Pilea in your home, avoid areas that are too close to doors or windows that will expose the plant to overly hot or cold blasts of air. Also, avoid areas close to heating and cooling vents. Quick changes in temperature will stress your Pilea and could cause dropping leaves, curled foliage, or scarring.
---
Properly Draining Pots, Containers, and Soil
As I said before, the quickest way to kill your Pilea is to overwater it. While we most commonly think of overwatering as giving the plant too much water too often, there is another contributor to this: poor drainage.
Drainage is extremely important for Pileas. A member of the Urticacea family, Pileas are technically succulents. And though they vary greatly from most other succulent species, they do have one thing in common, they hate soggy soil.
To assist your plant with proper draining, you'll need to make sure that your Pilea is planted in a pot that has a drainage hole in the bottom. The hole will allow excess water to flow out of the soil of your plant and will assist in drying your Pilea out quickly between waterings. A Pilea that sits in standing water will develop damaged roots and will not be able to survive without intervention.
It is also important to pick a container that is the proper size for your Pilea. Pileas do not have overly large root systems and do not need to be planted in extra large containers. A container that is the same size or only 1-2" inches larger in diameter than the pot it came in is ideal. If you plant your Pilea in a pot that is too big for the plant, the soil will stay damp for longer and you'll risk overwatering your plant.
The last factor in good drainage for Pileas is the soil you choose. Pileas need to be planted in a quick draining soil, similar to what you would plant a cactus in. For that reason, I like to use succulent blend potting mixes like this one.
If you want to mix up your own potting soil blend, be sure to add perlite or pumice to the soil to assist in your Pilea's ability to drain quickly. I like to use a mixture of 4 parts potting soil to 1 part perlite or pumice. For more information on the best soil for Pileas, read this article I wrote all about it.
---
Rotating Pilea Peperomioides
The last thing you need to know about the basic care of Pileas is how they get their round, dome-like shape. This effect is caused by constantly rotating the plant every few days.
Houseplant leaves grow towards the nearest light source, and Pileas are no different. A Pilea that sits in the same location, never being rotated, will have leaves that are all growing in the same direction, leaving the back of the plant bare. Rotating your plant every few days will counter this effect.
For the Pileas that I do rotate, I like to move them a little bit every 2-3 days. If you leave your plant in the same position for a week or two before rotating it, you may start to see a small crook in the central stem of the plant as it reaches towards the light.
If you choose to rotate your Pilea, you should note that it will actually slow the overall growth rate of your plant. Because a rotated plant is constantly having to expel energy to reach in a new direction for sunlight, that same energy cannot be used for growth and the result is a slower growing plant.
I have multiple Pileas, and I rotate some of them and don't others. This is really just a matter of personal preference. If you want the perfectly round, Instagram ready, dome look for your Pilea, rotating is a must. If you prefer that it grows more quickly and you don't mind if it looks a little one-sided or angled, you can choose to leave it still and not rotate it at all.
---
Do Pileas Bloom and Flower?
Lots of people have questions about whether or not Pileas bloom. It may surprise you to know that just like other varieties in the Pilea family, Pilea Peperomioides do develop small flowers from time to time. While tiny, when they do occur, these white or yellow flowers are a rare treat for the Pilea owner.
If you've ever had the treat of seeing Pileas in bloom, you may also be able to observe the plant pollinating and spread its seed in an explosive way. Just like its cousin the Pilea Microphylla (also known as Artillery Plant for this very reason), the small flowers on these Pileas explosively "pop" their small flowers to eject seeds and pollen, like an artillery shell, allowing it to self-seed over a wide area.
---
Advanced Care for Pilea Peperomioides
Once you've mastered the basic care for your Pilea, you'll be ready to move on to level two: advanced care. This section will tell you all you need to know about adding additional lights and nutrients to your plant, as well as information on cutting, propagating, transplanting and shaping your Pilea.
---
Pruning Pileas
Pileas do not require much pruning, but there are some cases where you might consider cutting back your plant in one direction or another. Some reasons for pruning include discolored or dying leaves, leggy or sparse foliage, or small plantlets that have emerged that you want to remove.
Pileas, like all other plants, are constantly pushing energy out in all directions from the bottom of their roots to the tips of their stem and foliage. Pruning is a way that you can help your Pilea to redirect that energy in the manner you desire.
It is always best to remove leaves that are dying or dead. Once a leaf has lost its color, there is no recovery for that leaf. If you have a Pilea with completely yellow or brown leaves, it is best that these leaves are removed from the plant. When leaves are removed, your plant will be freed up to send energy into healthy leaves and new growth.
If your Pilea has become leggy or sparse, you may want to consider doing what we Pilea owners call "The Chop." The chop is when you literally cut your Pilea in half, along the central stem, to help give it a boost of energy to start growing new leaves. The top portion of your chopped Pilea can be rooted and replanted to form its own plant.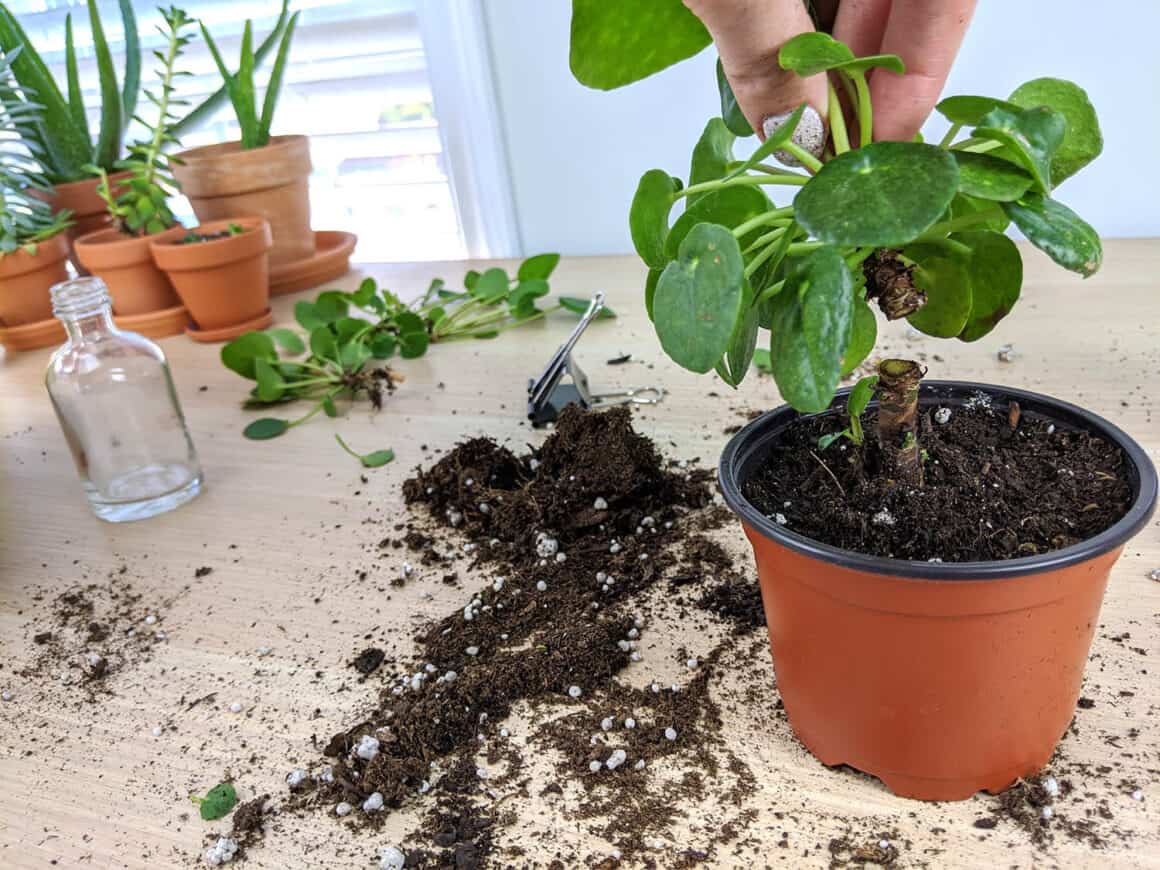 Removing plantlets from the stem or soil of your mother Pilea will help it to refocus its energy on new foliage and root growth for the mother plant. On some of my plants, I remove these new plantlets as soon as they emerge with a sharp knife and discard them. If you are interested in propagating these plantlets, read the section below on propagation.
No matter what type of pruning you are doing on your Pilea it is important to use sharp and clean tools. I always tell people that just like you wouldn't want your doctor operating on you with something they found in their junk drawer, your Pilea wouldn't either. When pruning your Pilea, choose tools that can make sharp and clean cuts. Your Pilea will appreciate it.
For more information on pruning, chopping, and trimming your Pilea, read this article about How, When, and Why to Prune a Pilea.
---
Fertilizing Pilea Peperomioides
Just like our mothers told us we needed our nutrients to grow big and strong, Pileas need access to certain nutrients to grow. Most potting soil is fortified with these nutrients for your plant, but after 3-6 months they become depleted and the need for fertilizing comes into play.
Houseplant fertilizer is made up of a number of macro and micro nutrients. The three primary macronutrients are nitrogen, phosphorus, and potassium. Each nutrient helps different parts of your plant to grow and thrive. I prefer to use a balanced fertilizer with my Pileas that is either 10-10-10 or 20-20-20.
Too much fertilizer is not good for your plants. For this reason, I dilute all fertilizer to half or even quarter strength before using it on my Pileas. Full strength fertilizer, or fertilizer that is used too often, results in burned roots and foliage, something that may kill your plant.
Pileas do not need to be fertilized when they are dormant. I fertilize my Pileas once per month during the warm months of the year when my plant is in its growing season, from spring to early fall. For more information on what fertilizer is made of and how it should be used for Pilea Peperomioides, read this article.
---
Add a Grow Light to Your Pilea
If you live in an area where the winters are cold and dark or if your home does not have any bright sunny windows, you might need to supplement your Pilea with artificial sunlight by purchasing a grow light.
I have several grow lights that I use on my houseplants and am always surprised at how quickly a new plant responds to the added light. I've written an extensive article on grow lights, which ones I prefer, and how I use them that you can read by clicking here.
Pileas like as much bright, indirect light as they can get. After overwatering, too little light is the second biggest cause of unhealthy Pileas. If your Pilea is leggy, sparse, or just looking a little sad, a grow light could boost its growth and bring it back to life.
I like to use a cool colored light as it is best for mimicking the type of light a plant would receive outdoors. I place the light, depending on the size and strength, somewhere between 12" and 18" away from my Pilea and expose them to this additional light for about 12 hours each day.
---
Repotting Pileas
Pileas only need to be repotted once every two years and can usually continue to live in the nursery pot that you purchased it in for that extent of time. However, when the time comes, repotting your Pilea can give it a real boost in growth and help it to thrive.
When repotting a Pilea, it is important to have the proper container and soil. I've written out detailed information above in the basic care section about the best pots and soil for Pileas, but the quick review is that you will need to aid your Pilea in draining quickly. This means a drainage hole needs to be in the bottom of the pot and your soil should be quick-draining.
To choose the best new pot for your Pilea, pick one that is only slightly bigger than the pot it is currently residing in. I recommend a pot that is no more than one to three inches in diameter larger than the pot you are transplanting from. If you choose a pot that is too large for your plant, it will add to the time the soil takes to dry out between waterings and could damage your plant.
I like to water my Pilea a few days before I repot it. This keeps the soil together better for repotting and helps the plant slide out of the old pot more easily.
To repot your Pilea, gently slide the plant out of its old container by supporting the central stem and foliage with one hand and flipping it upside down with the other. If the plant isn't budging, you may need to use a butter knife and slide it along the inside edge of the pot to help loosen the grip your Pilea has on its old container before trying again.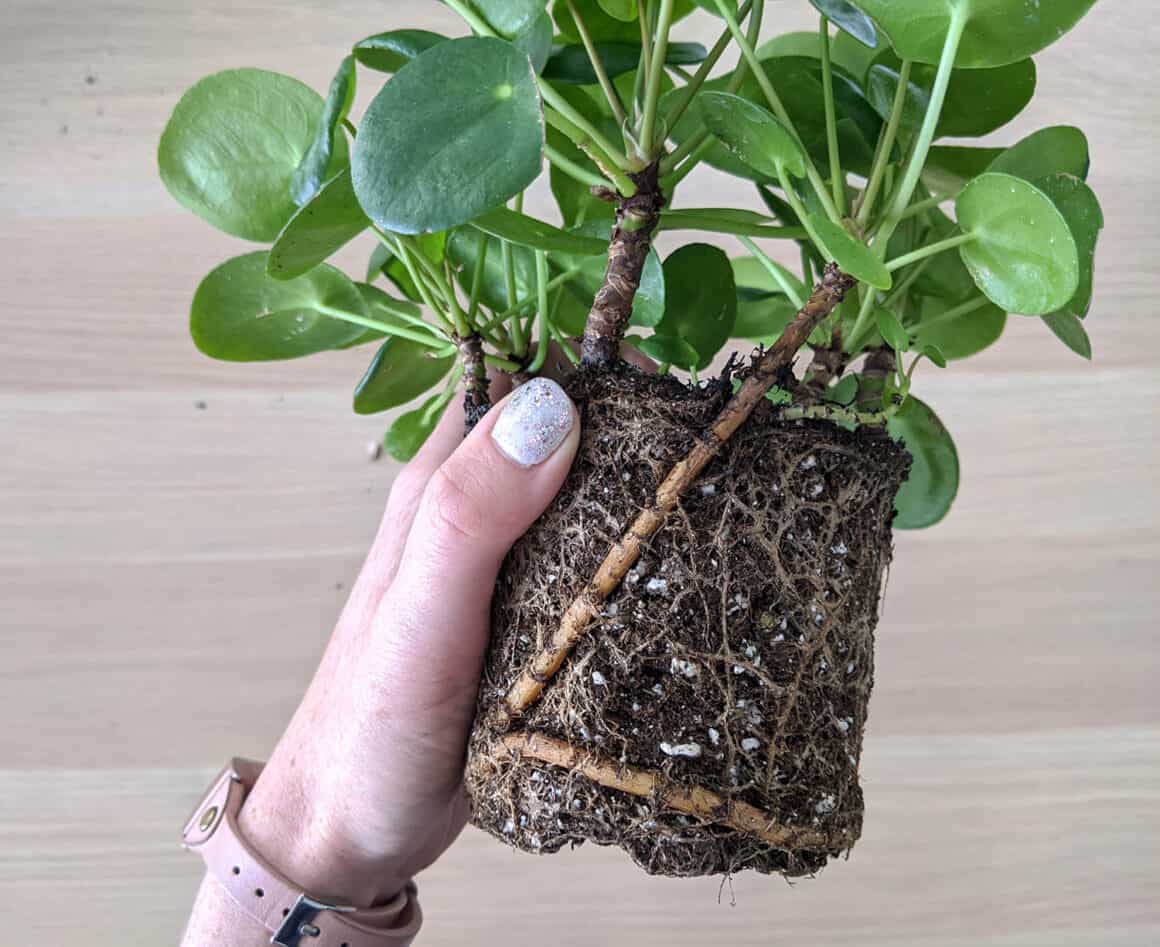 Once you've removed the plant, you'll want to put a mound of quick draining potting soil in the bottom of the new container. Then set your plant inside and slowly add in soil, about one cup at a time, until you've filled the container.
Be careful to not bury too much of the central stalk under the soil. You will want to make sure that all leaves are fully exposed and are able to absorb sunlight.
Once it has been replanted, water your Pilea until water flows out the bottom of the container from the drainage hole. Then your plant is ready to go back to its old spot in bright, indirect light and be watered as usual. For a step-by-step guide on repotting Pileas, read this article.
---
Shaping Your Pilea
Pileas are best known for their round, dome-like shape, but they can grow in a number of ways. If you want your plant to grow taller, bushier, rounder, or quicker, the steps you will need to follow will be different.
To have a taller Pilea, you'll want to focus as much growth upwards as possible. To ensure this, you may want to consider cutting back any pups (new plantlets) that emerge either from the soil or on the central stem of your mother Pilea as soon as they appear. As your plant grows taller, you may eventually need to stake it to keep it growing upright.
For a fuller or bushier Pilea, you'll need to either plant multiple Pileas into a single container or leave the new pups as they emerge from the soil and stem. The large Pileas you've seen on Instagram are rarely one single stalk but rather the result of allowing multiple plants to live together in a single pot.
If it is a round Pilea you want, you'll need to focus on rotating the plant every few days. This will keep the plant reaching out in all directions for light and will create the dome-like shape that the plant is known for. You should note though, rotating Pileas actually slows down the overall growth of the plant as it must constantly expel energy to reach in a new direction for the sun.
Making Pileas grow more quickly involves adding additional light sources and nutrients. Grow lights, fertilizer, and not rotating the plant are my three best tips for getting your plant to grow more quickly.
For more information on shaping Pileas, you can consult this article "Shaping a Pilea: How to Make It Taller, Bushier, Straighter, and More" by clicking here.
---
Propagating Pileas
Many people are initially drawn to Pileas because of how simple they are to propagate and share with friends. Sometimes called the "Pass It On Plant," Pileas reproduce themselves quickly and are easily propagated.
To propagate a Pilea, you'll need to remove the small plantlets that emerge from the central stalk and in the soil near the mother Pilea. This is simple and just involves using a sharp, clean knife or scissors to clip the new plantlet at its base. It is best to wait until a new Pilea baby is two to three inches tall before removing it from the mother plant. Remember, the larger the pup, the better the chance it has to survive on its own.
Once the plantlet is removed, you'll need to place the tip of the plant into a small bottle of water to allow it to grow roots. When the plantlet has roots that are one to two inches in length, it is ready to be potted in soil.
For a step by step guide or propagating Pileas, you can read this article that I wrote about the subject.
---
Most Common Pilea Problems
Pileas are hardy plants and generally do well without many problems. However, there are a few issues that are common among these popular plants. I'm going to go over the three that are most common and give you my suggestions for remedying each problem.
OVERWATERING
The number one problem I see with Pileas is that they are overwatered. Sometimes Pileas become overwatered when they are given too much water too frequently, but the issue can also be a result of the type of container and soil that the Pilea is planted in and its inability to drain quickly.
The most common symptoms of an overwatered Pilea are drooping, yellow, or curled leaves, or a combination of all three. When a Pilea receives too much water, it damages the roots, and when the roots are damaged they will not be able to send nutrients to the rest of the plant properly.
If you've overwatered your Pilea, you'll need to move it into the shade and let it dry out completely. To speed up the process, you may want to remove the soil and plant from its container and let it dry out on a baking rack. Depending on how overwatered the plant is, you may need to prune back some of the roots before repotting. For more information on saving an overwatered Pilea, click here.
LEGGY AND SPARSE PLANT
All varieties of Pileas are predisposed towards becoming leggy, or as it is officially called, etiolated. When leggy, Pilea Peperomioides becomes sparse with long, stretched out stems and small leaves.
This is the result of the plant not having access to enough bright, indirect light. When a Pilea cannot find the light it needs, it tries to stretch itself out in order to search for more. This results in a less than beautiful Pilea.
If your Pilea has become leggy, you should move it to a location where it will be able to receive more indirect light or consider supplementing with a grow light. In cases of extreme legginess, you may need to chop your Pilea in half and replant the top portion to get it growing new leaves.
NOT GROWING OR PRODUCING PUPS
If your Pilea is not growing, there are a few things that could be affecting that. The first thing to consider is whether it should be growing or whether it is dormant. Similar to how bears hibernate in winter, all plants have a portion of the year where their growth is slowed and they become dormant. If your plant is dormant, it is normal to experience very slow growth.
The part of the year where your plant will be in an active state of growth is called its growing season. Growing season takes place during the warmest months of the year and reaches, for most of us, from spring through early fall. Before making any changes to your plant, you should be certain that it is in its growing season.
If it is growing season, and your plant is still not producing pups or growing it could be from lack of bright light or insufficient nutrients. If you think your plant is not getting enough light, consider moving it to a new location or adding a grow light to your home.
If you think your plant is lacking in nutrients, you have several choices for what to do. If it has been in the same pot for two years, it is time to transplant it. If not, you can either choose to refresh the top layer with some new potting soil or add in some fertilizer once per month.
OTHER PROBLEMS
If you are having a different problem that is not outlined here with your Pilea, I've written a large article about diagnosing Pileas and steps to recovery. To read that article, click here.
---
Pilea Peperomioides: The Perfect Houseplant
Pileas make excellent houseplants for people with all levels of ability. If you've had issues in the past keeping plants alive, consider buying yourself a Pilea and following the information detailed above in the Basic Pilea Care section. If you're a more experienced houseplant owner, you should find all you need in the Basic and Advanced Care sections. Good luck! And happy houseplanting!