Money Trees (Pachira Aquatica) make an excellent addition to any houseplant collection. They don't require much upkeep and only need to be replanted once every year or two when they've outgrown their current home. If you're ready to transplant your Money Tree, you may have questions about which soil and containers will help your plant to thrive.
What soil and pots are best for Money Trees? Money Trees are susceptible to root rot, so their most pressing need is to be able to drain efficiently. The best soil is peat-based, potting mixes like cactus blends. The pot you select needs a drainage hole and should be one size larger than the pot it was in.
You don't have to be a scientist to figure out how to provide the best soil and pot for your Money Tree; all you need are a few potting mix and container recommendations. If you prefer the more hands-on, DIY solution, you can mix up a blend of your own with a few simple soil recipes.
---
The Most Important Factor When Replanting a Money Tree
The easiest way to kill a Money Tree is to give it too much water. This will be important to remember when selecting the best soil and container for your Money Tree. Overwatering occurs in multiple ways, the most obvious of which is giving it too much water too often. However, overwatering can also be the result of drainage problems.
This happens when your pot doesn't have a drainage hole, when the soil you're using is not quick draining, or when the pot your Money Tree is planted in is too large for the plant, and it takes too long for the soil to dry out in between waterings.
When a plant cannot drain appropriately after watering, the soil stays wet for an extended period of time. This can result in root rot and a whole host of problems for your tree. You'll need to keep this in mind when selecting the best soil and container for your Money Tree. (If you suspect you've been overwatering your Money Tree, read this article).
There is one more thing to note before we move on from watering. When watering Money Trees, be sure to water them fully and thoroughly until water runs out through the drainage hole in the bottom of the container. Watering thoroughly like much better for your tree than watering more shallowly, more often.
---
The Best Soil You Can Buy for Money Trees
Money Trees need well-draining soil to accommodate the thorough waterings that are required by your plant. A sandy, peat-based soil is the best choice for your Money Tree. The soil should be able to drain quickly and not hold a lot of moisture as that will cause root rot in your Money Tree.
Potting soils with high ratios of organic compost are not ideal. They will hold too much moisture, which again is not ideal for your tree.
While shopping for potting mixes, look for ingredient lists that include:
Sand
Pebble
Pumice
Perlite
Vermiculite
Peat Moss
Pre-mixed cactus soil is the best soil you can buy premade in stores for your Money Tree. These blends usually contain a mix of peat and sand. This is an excellent option if you want a quick solution, or don't have the space to mix your own soil.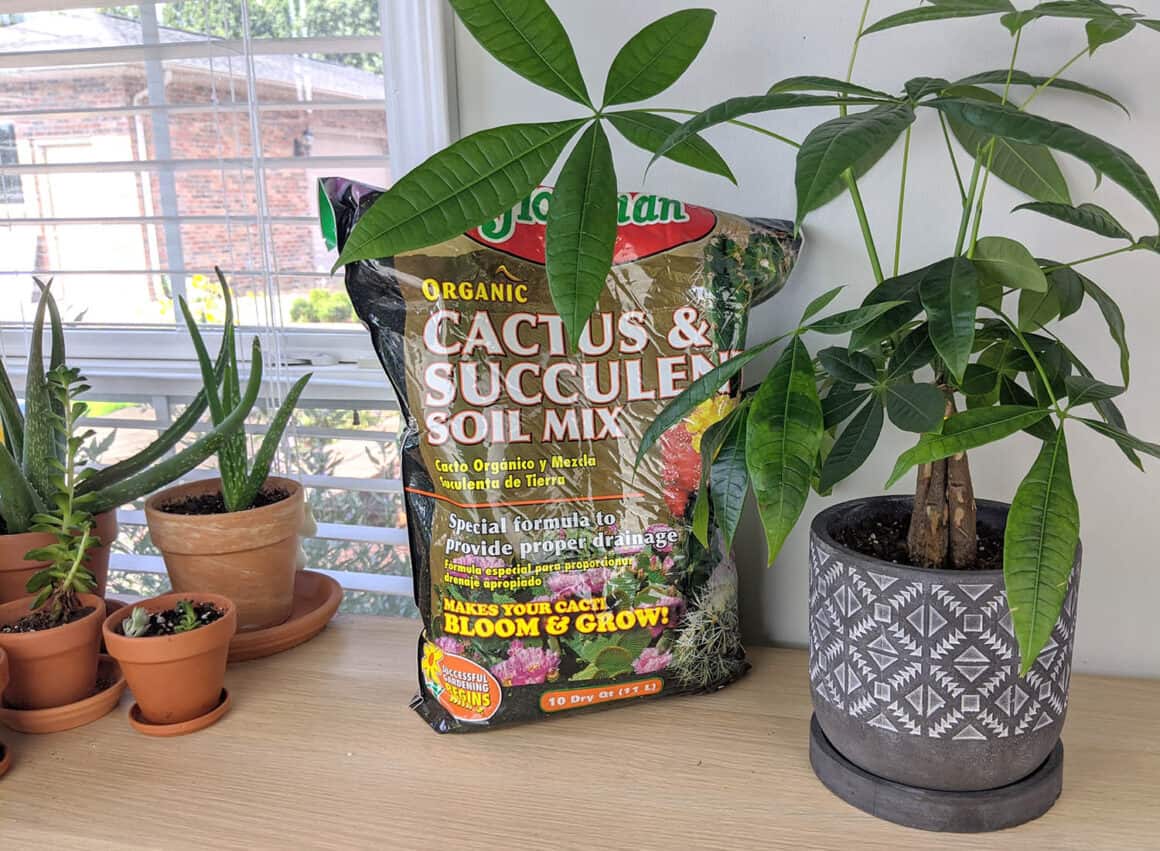 Personally, I always like to recommend this one. While this mix is a little more expensive than some of its rivals, I find the quality of the soil to be above most of the competition.
---
Mixing Your Own Money Tree Soil
Do you prefer to DIY from what you have on hand instead of buying mix for just one plant? You can make your own potting mix! Mixing your own soil will allow you to add extra ingredients for drainage and nutrients.
Recipe #1
The vast majority of potting soils are created from a peat moss base. Peat moss is easy to find and also retains a bit of moisture for the roots. On its own, peat moss is too heavy to plant your Money Trees in, but by adding one part sand and one part perlite, you'll have a soil that will keep your Money Tree happy and thriving.
Recipe #2
Coconut Coir is a byproduct of the coconut fiber industry. It is usually sold in compacted, dried bricks that need water added to them to expand before being used as a growing medium. It is also very low in nutrients for your Money Tree, so you'll need to add one part compost as well. Perlite or Vermiculite will be the last ingredient and help make sure your soil drains quickly and effectively.
---
How To Pick the Best Container for Your Money Tree
When it comes to selecting the best new container for your Money Tree, you'll need to pick one that is the proper size and allows water to drain freely from the plant.
When choosing the size for your new container, you have two options to consider: moving your tree into a pot that is one size larger than its previous home or keeping it in a similar size pot. To decide which is best for you, you'll need to consider the final height you want your Money Tree to achieve. Your Money Tree can grow to a maximum height of 8 ft. To encourage this growth, continuously size your pot up every time you repot your Money Tree. Your new pot's diameter should be about two inches wider than your current pot.
Resist the temptation to buy a large pot to speed the growth of your Money Tree. A pot that is significantly larger than your Money Tree will encourage excess water retention. This moisture will rot the roots of your tree.
Do you like the size of your Money Tree? You can preserve its size by picking a pot that is the same size as your current pot. Trim back ¼ of your Money Tree's roots if they are overgrown. Once the roots are trimmed, you can repot your money tree in its new container.
---
Do Money Tree Pots Need Drainage Holes
Money Trees need at least one drainage hole in their pot. They require intermittent, deep watering, and the primary way you can tell if they're correctly watered is to observe water dripping from a drainage hole.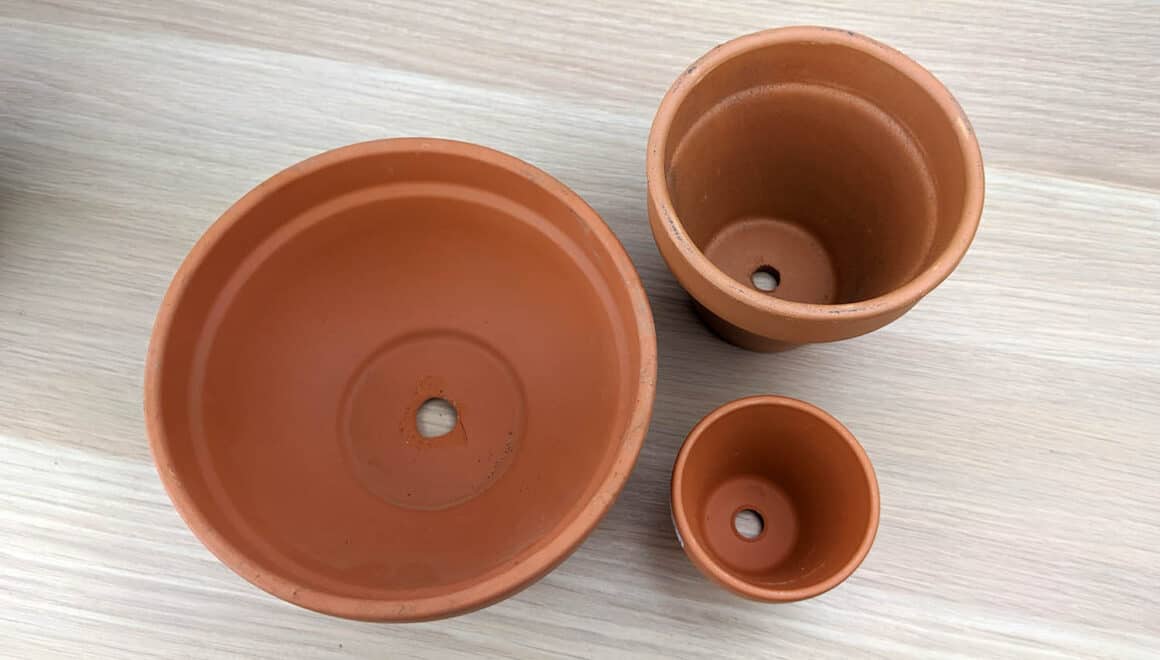 Money Trees are very susceptible to root rot caused by oversaturation. One hole is the minimum, but more holes are ideal. The extra holes allow the water to drain quickly and effectively. If your Money Tree pot does not currently have any drainage holes, replace your pot immediately.
If you're worried about soil flowing out of the drainage hole along with the water, there is a simple trick to keep this from happening. Before replanting your Money Tree, cover the drainage holes with a fine mesh, like cheesecloth or a coffee filter. This barrier will retain the soil and let the water drain through
---
Closing Thoughts
The keyword to keep in mind when choosing soil and pots for your Money Tree is drainage. The soil should mostly consist of well-draining materials with a dash of organic material. Cactus and bonsai mixes are ideal. Your pot should have multiple drainage holes to keep the roots dry. And remember, when repotting, find a container that is a similar size to your current pot or invest in a slightly larger sized pot.