Chances are your ZZ Plant (Zamioculcas zamiifolia) has been sitting on your coffee table doing just fine all by itself for some time now. However, periodic repotting or dividing does wonders for your ZZ's health and growth. When it's time to repot, choosing the right soil can sometimes be daunting. So, what is the best soil to use when repotting a ZZ Plant?
ZZ plants are tough and able to survive in a variety of different soils. However, the key factor to good health in your ZZ is proper drainage. Most store-bought potting soils are fine, but to ensure better drainage, mix one-part cactus soil or perlite to three parts potting soil.
I know it can get confusing when there are tons of different brands out there, all promising different results. But that's why I'm here! Read on for my advice on picking the proper soil, suggestions of what to use, and other great ZZ Plant tips for repotting.
---
What Type of Soil Do ZZs Need?
By and large, ZZ Plants are not particularly picky about their growing medium. After all, we are talking about one of the most resilient houseplants on the market. If they can stay alive in the dark corner of a self-proclaimed "brown thumb's" bedroom, being ignored for weeks on end, they certainly won't sweat the soil they're planted in.
However, there is a big difference between surviving and actually growing, and this is where you can help your little ZZ baby along its path to maturity. I've covered ZZ Plant care in other articles, which you can read here, but in this article, I will dive a little deeper into how soil plays a part in promoting ZZ growth.
The most important thing to know about your ZZ Plant is that it grows from a rhizome (a fleshy, bulb-like structure that serves as a storage vessel for nutrients and water for the plant.) From this rhizome, roots grow from the bottom, and stems and leaves grow from the top.
ZZ Plants are efficient at picking up water from the ground due to how they've adapted to their native climate; in this case, the dry grasslands of Eastern Africa. Plants that originate from this area need to be able to utilize the rare, periodic rainfalls and have strategies to survive longer spans of drought.
The reason ZZ Plants are so resilient is because of these rhizome structures. When the plant gets watered, the roots suck up as much as possible and store it in the rhizome. Later, they can use this stored water during drier times, like an East African drought or, more likely, when you forget to water your plants for a couple weeks.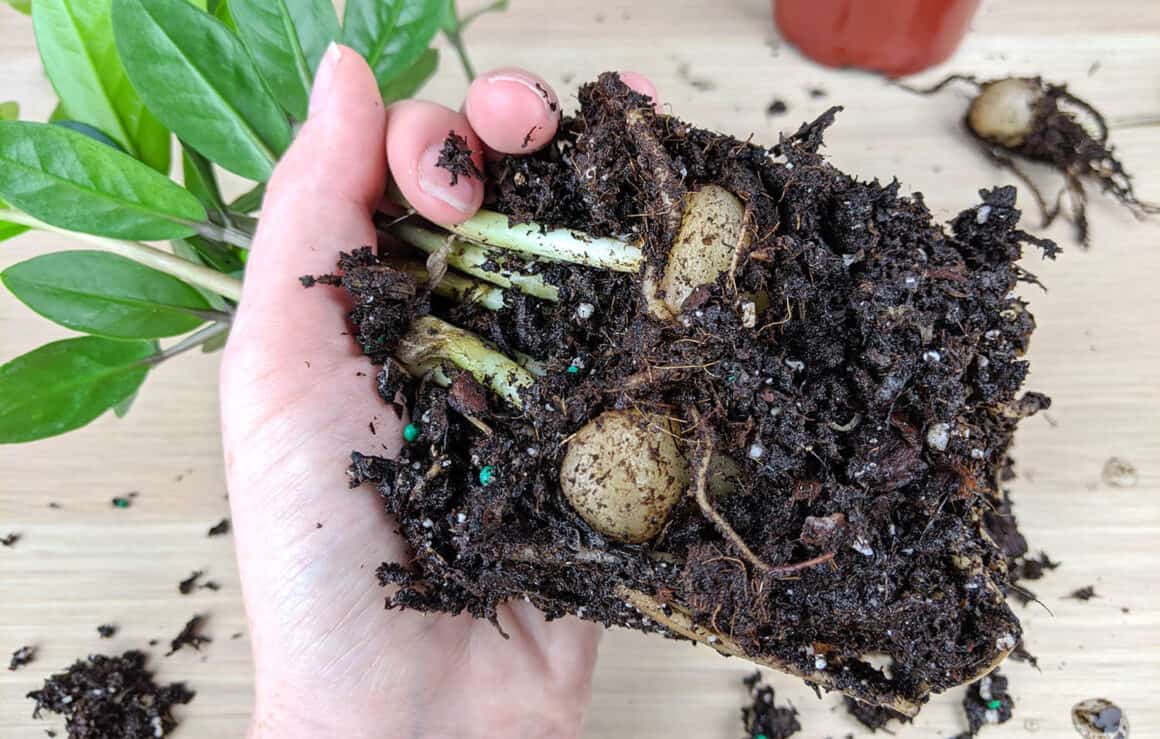 However, these rhizomes are not huge fans of cold, damp, soggy soil. They will do their part to suck as much moisture out of the soil, but if it's still waterlogged, these rhizomes tend to rot. Once that starts to happen, your ZZ Plant is pushed into survival mode, and growth tends to slow or stop.
So, while the ZZ plant is hardy and not overly fussy, you can help promote plant wellness and growth by choosing an appropriate soil that drains well and doesn't stay soggy between watering.
In my research, both on the internet and at home with my own ZZ Plants, I've found that they do just fine in regular potting soil. Typically, store-bought potting soil has some mixture of peat moss, pine bark, perlite, and sometimes sand to ensure proper drainage and nutrition for the plant. They all vary slightly in proportions of these ingredients, but most any potting soil will do.
If you want to really ensure excellent drainage for your ZZ Plant, consider mixing your own blend using regular potting soil and cactus mix. Cactus mix typically has more perlite, limestone, and sand blended into it to create a fast-draining, porous substrate.
By mixing in cactus soil or perlite, you should end up with a substrate that soaks up water quickly, drains fast, and still has sufficient structure for your ZZ Plant to grow and root into.
---
READ OUR EBOOK
Keep Your ZZ Happy With Our Guide
ZZ Plants are tough. They can survive a range of conditions and require little input from us. But if you want your ZZ to thrive, you'll need to know a thing or two about what they need and love. Get our 80+ page care guide and you'll be on your way to a very healthy houseplant.
GET YOUR COPY NOW
---
A Quick Note About Watering
Regardless of the soil you use to plant your ZZ into, proper watering goes a long way towards a healthy plant. ZZ Plants don't like to sit in water, and you can attribute almost every issue it has (yellowing leaves, stunted growth, rot) to overwatering. Be sure to have your ZZ on a proper watering schedule, allowing the soil to dry out in between. Well-draining soil will definitely help on this front, but be sure you're not drowning your ZZ. Show it love, but don't smother it. For more info on the best watering practices for ZZs, click here.
---
Buying Soil for Your ZZ Online or In Stores
As I mentioned, the base of your ZZ Plant soil can be almost any quality potting soil. Most home improvement stores and local nurseries carry a wide selection of bagged soils for any of your planting needs.
A good soil to use as your ZZ Plant's soil base is Black Gold's Natural and Organic Potting Soil. It's enriched with pumice and perlite for proper drainage and has a small amount of organic fertilizer that should feed your ZZ while it gets acclimated to its new pot. It also won't break the bank like some other higher-end organic soils.
I would avoid any potting soils that have wetting agents mixed into them. These mixtures are designed to absorb water and maintain moisture levels in the soil, so you don't have to water as frequently. Perhaps suitable for your more delicate houseplants, but your ZZ won't like it. I know, I know…remembering to water is hard, but your plants will thank you for a consistent schedule.
If you want to play around with your soil mixture by adding some cactus soil, the premade mix I like to use is this one. With higher proportions of limestone, perlite, and sand, this will lighten up your potting soil to allow for better drainage.
Another popular cactus mix is Miracle-Gro Cactus, Palm, and Citrus Potting Mix. This is a more budget-friendly option that still has ample supplies of perlite and sand to aid with drainage. You should be able to find this mix at most home improvement stores, Walmart, or online.
---
Mixing Your Own Soil Mix for Your ZZ Plant
If you want to experiment further with creating the optimal soil medium for your ZZ Plant, consider mixing your own. Most potting soils are made of similar proportions of just a few ingredients, but adjusting each ingredient's amount can yield very different types of soil.
Now, if you are new to the plant game or don't consider yourself a model plant parent (i.e. can't seem to keep your houseplant alive), my suggestion is to stick with store-bought potting mixes—no need to overcomplicate this.
Purchase a quality potting soil and some type of cactus or succulent soil. To start, blend three parts potting soil to one part cactus mix. The proportions of perlite and sand in the cactus mix will add air space and coarse matter to the potting soil, leaving you with a lighter blend that drains efficiently.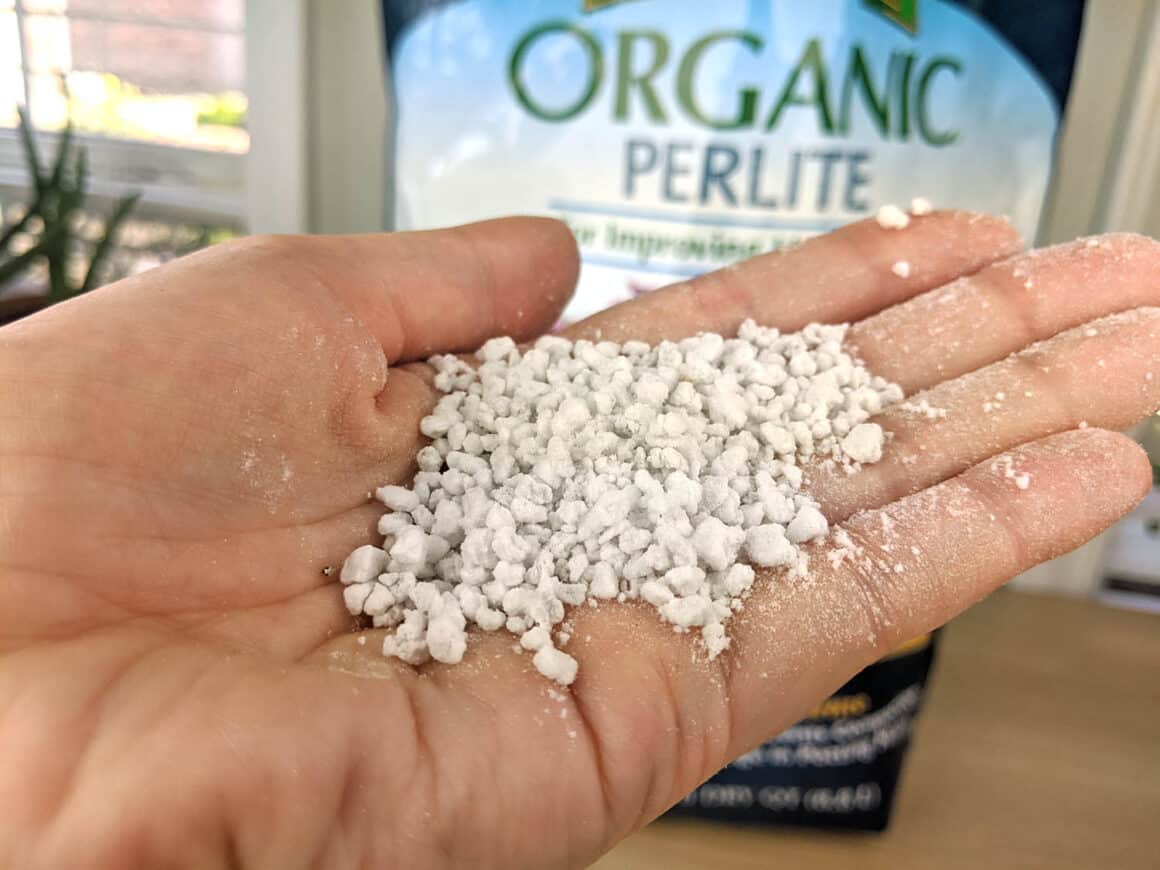 Another option to improve drainage to a regular bag of potting soil is to add perlite. Perlite (found here on Amazon) is a mined volcanic rock that resembles tiny balls of Styrofoam. Because it's so light, it keeps soil airy and less dense, so water can drain more freely. Chances are your mix already has some perlite mixed in, but feel free to add up to one additional part of perlite to four parts of potting soil.
Both of these options will yield great results for your ZZ Plant, and you can rest easy knowing that the improved drainage will protect your ZZ from excess moisture if you get a little heavy-handed with the watering can.
For you mad-scientist types, or at least those who have larger houseplant collection requiring different types of soil, keeping the raw ingredients of potting soil on hand and custom mixing small batches to meet your plants' needs might be a better and potentially more economical way to go.
If you find yourself in this situation, don't be afraid to experiment! Most potting soil recipes are pretty simple, and you can spend hours combing through posts on creating "the perfect mix." However, because ZZ Plants' requirements are fairly basic and they tolerate a variety of soil mediums, I'd recommend sticking with one of the two options above.
---
The Best Pots for ZZ Plants
So, if a ZZ Plant doesn't really care about what type of soil it's planted in, does it really matter what kind of pot it lives in? The short answer is: No, ZZs are so low key they'll basically live wherever you plant them.
However, I'll share a few tips and tricks to ensure your ZZ will thrive in what it's planted in.
POT MATERIAL
So many choices, so little time. Plastic, metal, clay, terracotta, concrete, coir fiber, and on, and on…
Don't worry too much about the pot material when considering what to plant your ZZ in. I know some delicate plants do better in certain pots. Still, the variations of pros and cons between different materials make very little difference to ZZs.
More porous materials like coir, concrete, or terra cotta planters will wick away moisture from the soil to varying degrees while others, like plastic, may retain it. However, these effects are pretty minimal in the grand scheme of things.
POT SIZE
As with most plants, ZZ's do like to have a little room to spread their roots and grow, so pot size does have an effect on plant health. These requirements are not wildly different than with most plants. Mainly, the pot has to be big enough for the plant.
The best way to determine the proper size of pot for your ZZ Plant is to periodically remove the plant and soil ball from the container it's planted in. If it seems root-bound or the rhizome is touching, or within one inch of the pot wall, it's time to graduate it to the next size up. A pot just a couple inches larger in diameter should do the trick.
For rooted cuttings or divisions, you will want to start those in smaller containers without too much extra space. Putting a small plant in a pot with too much space makes it challenging to manage water levels.
DRAINAGE
Above all else, your pot must have excellent drainage. If you've read this far, this comes as no surprise to you. ZZ Plants are cool with most everything except sitting in soggy, water-logged soil. Make sure whatever you plant your ZZ in has proper drainage!
This means, ideally, your pot has at least one drain hole on the bottom of it. If your container doesn't have one already, make one using a handheld drill or transplant to a pot that does.
If you are unable to add a drainage hole to your pot, you can fill the bottom few inches with gravel to improve the drainage. However, this isn't the most ideal solution, as sitting water can promote disease, and you still really have to pay attention to the frequency of when you water.
---
When Is It Time to Transplant Your ZZ?
ZZ Plants have a bit of a reputation for being slower growers, sometimes to the degree that people get a little miffed that their plant "isn't doing anything." While it is true they aren't the fastest growers, if you are giving your ZZ the proper care it needs, you should see at least a little growth each season.
In fact, if you realize that your ZZ's growth seems a bit stunted, that might be a warning sign that it's time to transplant to a bigger pot size. Other signs include the soil drying out too quickly, rhizomes pushing out of the soil too much (a little is to be expected, though), rhizomes touching the sides of the pot, or roots that are bound together or wrapping in circles around the bottom of the soil.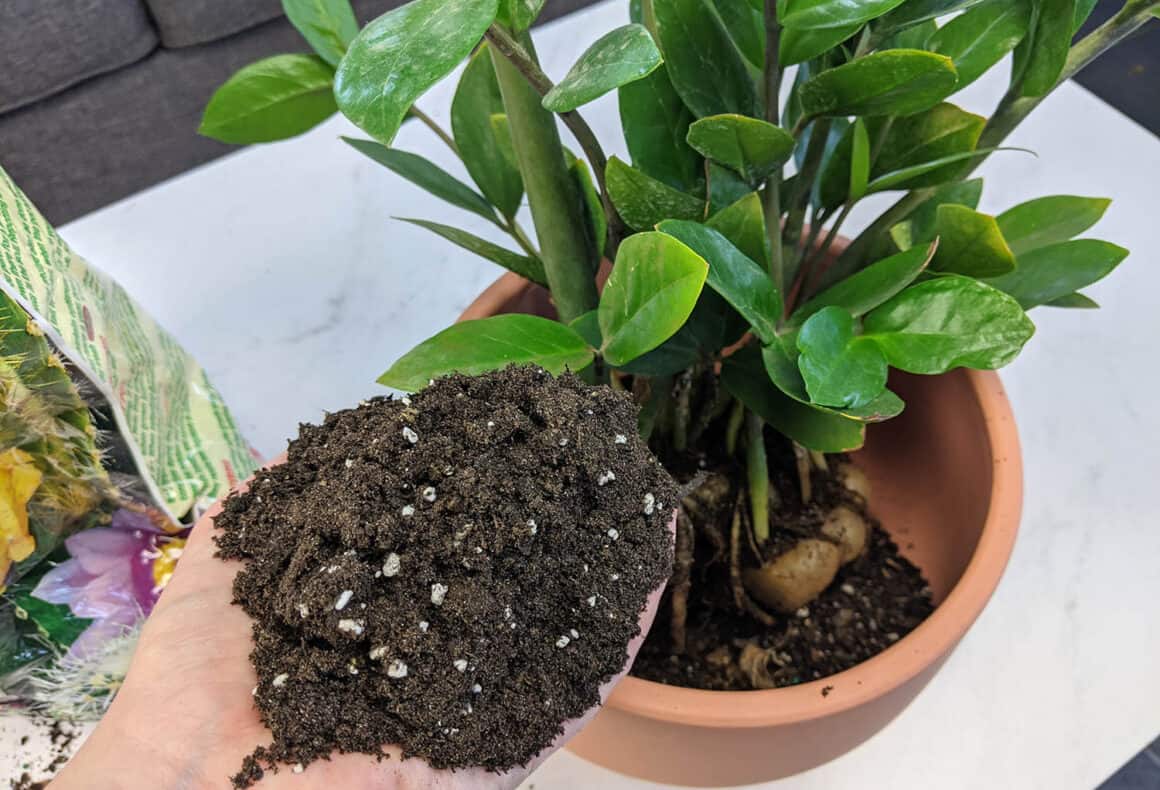 Most commonly, you will transplant your ZZ Plant when it's time to divide the plant. You'll start to notice the enlarged rhizome and the stems of the plant crowding the pot's surface. Divide up the rhizomes and plant each one individually in new pots, ensuring the depth is enough to accommodate the rhizome and root, and the diameter of the pot ensures at least two inches between the rhizome and the pot on all sides.
---
A Quick Note About ZZ Plant Toxicity
ZZ Plants are considered toxic because they contain a compound called calcium oxalate, which is a known irritant to people. When handling, dividing, or repotting your ZZ Plant, be sure to wear gloves and wash your hands when you are finished if you know you are sensitive to this irritant. For more information about ZZ toxicity, click here.
---
Experiment and Find What You Like
Just about everyone who's ever written an article about ZZ Plants has their own take on the proper soil to use when potting them. The truth of the matter is that ZZ Plants are highly resilient and adapt just fine to a variety of soil mixtures.
The key to the "perfect" soil mixture, in this case, is excellent drainage. How you achieve, that is up to you. The simplest solution is to experiment with different proportions of pre-bagged potting and cactus soils. People report success with a variety of ratios, but I've provided you with what I believe is the most consistent mixture I've found.
However, what works for one who places their ZZ Plant in a bright, sunny window may not be ideal for another who has their ZZ perched in a dim hallway. Experiment with your mixture and check in frequently with your plant to make sure it's thriving.
And, don't worry…ZZ Plants are tough, so if you don't get your mix quite right the first time, chances are your ZZ is going to do just fine until you find the soil that works best for your situation.
For more help with your Zamioculcas zamiifolia, grab a copy of our new book Caring for ZZ Plants and learn all you need to help your ZZ thrive.