If you've got a few different kinds of African Violets, you may have wondered if you can combine them to create something new. Wouldn't it be cool if you could get the reddish-pink color of one with the ruffled leaves of another? Or create a spreading, trailing version of your tidy miniature Saintpaulia? So, how do you cross breed or make hybrids from your African Violets?
You can crossbreed African Violets by gathering pollen from one plant and transferring it to flowers of a different variety. Note that combining very different plants will lower your odds of getting healthy offspring. You may need to make several crosses to get your African Violets to express a recessive trait.
Hybridizing African Violets takes patience and preparation, especially if you're looking for a particular result. You'll need to invest at least around a year before your new African Violets are blooming. And it often takes more than one crop to get the look you're after! But if you're willing to stick with it for the long haul, crossbreeding Saintppaulias can be a fun and rewarding process.
---
What is a Hybrid African Violet?
Most people have heard of hybrids, but they may not be sure exactly what the term means. "Hybrid" means the offspring of two different kinds of plants, animals, or other living things.
Some famous examples include creatures like mules (hybrids of horses and donkeys) or ligers (crosses between lions and tigers). But a hybrid doesn't have to come from different species. You can also hybridize different varieties within the same species – that's what you're doing when you crossbreed African Violets.
The opposite of a hybrid plant is a "standard". These varieties have stabilized because they've been bred the same way for many generations. Breeding one of these plants with another will result in a pretty similar plant.
Hybrids don't have that kind of consistency. If you have two plants of the same hybrid variety, and you cross them with each other, you may get offspring that display a totally different set of traits derived from their "grandparents".
However, despite the difficulties, it's the best way to get new and interesting versions of existing plants. If you enjoy experimentation and creativity, making your own custom African Violet variety can be a lot of fun.
---
Is it Hard to Crossbreed African Violets?
The process of crossing one African Violet with another isn't especially difficult. It does involve a lot of waiting and some specific preparations, but the skills involved aren't that tough.
What is difficult is getting a specific kind of African Violet from a crossbreed. It's hard to predict exactly what your new plants will look like based on the appearance of their parents. Different genes can sometimes interact in surprising ways. You can't guarantee that, for example, crossing white flowers with purple ones will produce pink-flowering offspring.
A further challenge is that many African Violets on the market are already hybrids. Breeding hybrids is tricky because their reproductive cells contain an unpredictable mix of genes from their parent varieties. Some hybrids are completely sterile or produce weak offspring that have a hard time reaching adulthood.
Of course, that's not always true. Sometimes hybrids turn out much bigger and stronger than their parents, make more flowers, or display any number of other surprising changes. That's one reason there are so many hybrid plants for sale.
The bottom line: don't expect to get the plant of your dreams the first time you crossbreed African Violets. It will probably take at least a few tries to create something you like.
---
What You'll Need to Crossbreed African Violets
Successfully breeding African Violets is all about preparation. Here's what you'll need to get the job done:
---
Space
A single African Violet seed pod can contain hundreds, of seeds. You don't necessarily have to raise every single one to adulthood, of course. But the more you grow, the better your chances of getting healthy plants with characteristics you like.
So you'll have to think through how many seedlings you want to sprout, how many of those you want to move up to larger pots, and how many of those you'll raise into adult plants. Figure out where you're going to keep the containers, along with any other equipment you'll need. You'll have to dedicate at least a roomy corner of one room to this project for several months.
---
Containers
You're going to be filling most of that space with the planters that hold your baby African Violets. You can germinate the seeds in any kind of wide, shallow container. Seedling trays with locking lids and no dividers are perfect. We like these ones, because the covers are fairly tall. That allows you to cluster your young African Violets in there even once they get fairly big.
Get some individual pots, too, for when your seedlings get big enough that you need to move them. Two to three inches in diameter should be plenty of room – African Violets like compact spaces. Unlike the seed flat, these pots need to have drainage holes.
It's up to you how many containers you want to use for the germination and transplant phases. Or, more realistically, it depends on how big of a space you have to work in.
---
Other Tools
A pair of pruning scissors will likely come in handy when pollinating your African Violets. They may also be helpful later on when you're pruning them for transplanting. Make sure you have something to disinfect your scissors with. A dirty blade can create an infection when you cut your plant. Rubbing alcohol, hydrogen peroxide, or bleached watered down to 10% strength are all good sanitizing agents.
We also recommend having a spray bottle for watering your seeds and seedlings. And you may want some resealable plastic bags and desiccant crystals in case you need to store pollen. Finally, it's useful to create some labels to hang around your African Violet's flowers. That way, you'll know which ones were pollinated with what.
---
How to Crossbreed African Violets, Step by Step
Step 1: Choose the Parent Plants
Pick two of your African Violets you'd like to hybridize. This part is entirely up to you – just keep in mind that some crosses will be harder to achieve than others. For example, crossing a large Saintpaulia with a miniature one will be less likely to result in healthy plants. The body types are so different that it's harder to get a workable combination of genes.
It can also be helpful to know if the characteristic you're looking to reproduce is dominant or recessive. A plant will only express a recessive gene if it has two copies, one from each parent.
So, for instance, let's say your African Violet's flower color comes from a recessive gene. If you breed it with a dominant-color plant, their children are more likely to have the dominant color.
You can often get the "right" color by back-crossing – breeding your first generation of hybrids with the recessive parent. Breeding the new hybrids with each other can also do the trick. Either way, it might take a few generations to get the color you want.
The African Violet Society of America has a helpful list of many common dominant and recessive Saintpaulia traits. This can help you plan your strategy for getting the type of hybrid you're after.
For the most part, it doesn't matter which plant is the "mother" and which is the "father". Our advice is to take the pollen from whichever one flowers first. Fertilization is more likely to succeed when you pollinate a "newer" flower from one that's been in bloom longer. If both plants are blossoming at roughly the same time, you can make the cross in both directions.
---
Step 2: Pollinate the Flower
We have a detailed guide to pollinating African Violets in this article. But here's the basic version:
Wait until one of the Saintpualias you want to hybridize has been in bloom for a week or more. Then crack open the hard yellow pollen sacs that grow on short stems called anthers at the center of the flower. It's often easier if you snip off the anthers (or the whole flower) first. Put a piece of paper or foil underneath to catch the pollen.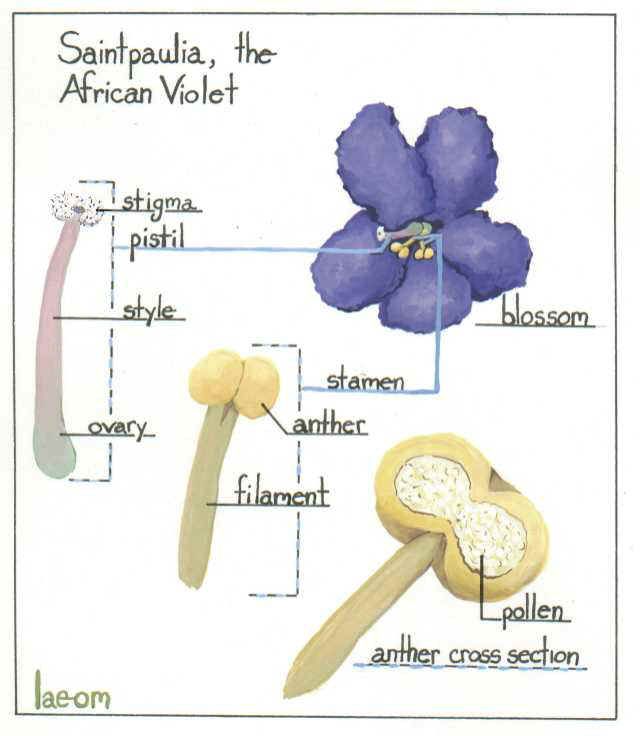 If the other parent plant is in bloom, you can pollinate it right now. Otherwise, save the pollen for later. Fold it up in the paper and place it in a resealable plastic bag with some dehydrating crystals. Then stash it in the fridge, where it will keep for a few weeks.
The best time to pollinate a flower is 2-4 days after it opens. The receptive part of the bloom is called a pistil. It's a very thin, whitish stalk growing next to the anthers, with a sticky dot at the top instead of a pollen sac. Transfer the pollen to the pistil using a finger or a small paintbrush. Or just crack open the pollen sac and rub it directly on the pistil.
---
Step 3: Harvest and Plant the Seeds
If the pollination is successful, the pistil of the receptive African Violet will swell up and turn into a green seed pod. After 6-9 months, it will ripen, turning dry and brown. Then you can crack it open. As with the pollen, you should use a piece of paper or something similar to catch the seeds. They're very small, and even breathing too hard on them can scatter them.
Fill your seed trays with a moist, peat-based seed starting mix. Then sprinkle the seeds onto the surface and cover up the tray. The high humidity should help the soil to stay moist, but you can give it a light misting anytime it starts to look dry. Maintain a comfortable temperature between 68-80 degrees Fahrenheit, and keep it brightly lit but out of direct sunlight. Grow lamps are often helpful for this.
After a few weeks, the seeds should sprout. Your baby plants will look like tiny white specks at first, but they'll soon develop green leaflets.
---
Step 4: Grow and Transplant Your Seedlings
Once the seedlings are big enough that they're getting crowded, move them into the bigger pots you got for them. They should be ready for this once they're around an inch across. You can put them in ordinary African Violet potting soil at this stage.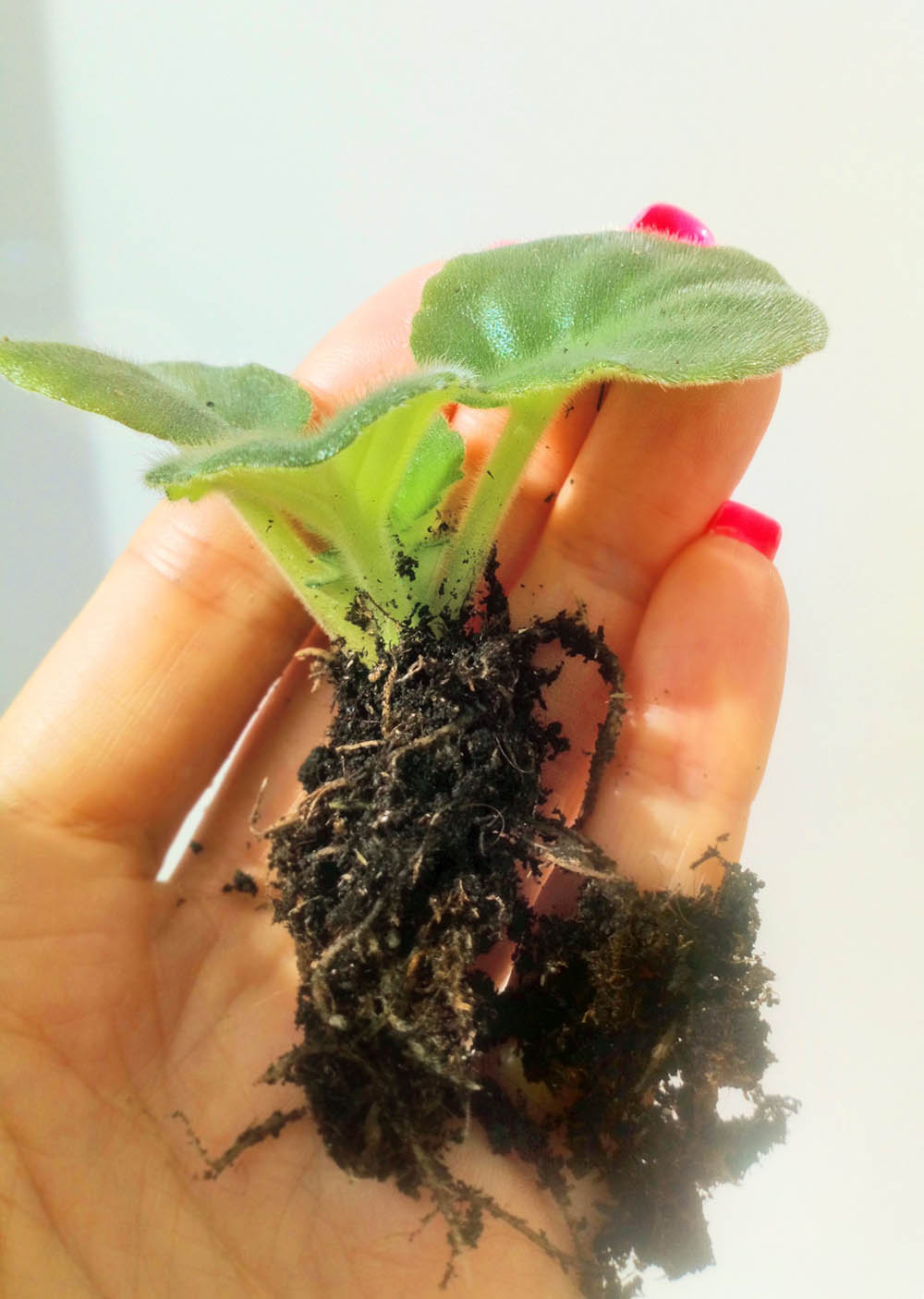 You probably won't have enough pots for all of the seedlings that sprouted. Try to pick the healthiest-looking ones and discard the rest.
Keep the seedlings in their humidity covers for a few weeks after transplanting. Then start slowly exposing them to the open air for a bit more time each day. Soon you'll be caring for them just like adult African Violets.
---
Step 5: Cull and Repeat
Assuming your care conditions are good, you should start seeing blooms on your new African Violets around 6 months. That's when you can start choosing which ones to keep. Use the strongest, best-looking hybrids as your new plants – and potentially the parents of your next generation.
Yes, you can totally keep crossbreeding your African Violets, choosing your favorites from each round and breeding them. That's where many of the most beloved plant varieties come from, from food crops to ornamental shrubs. Why not keep experimenting with your African Violet collection and see what kinds of gorgeous flowers you get?
---
Final Thoughts
Creating hybrids from your African Violets is a lengthy process that involves a lot of luck. It's also fun, interesting, and educational. We hope our advice helps you get the best possible results as you crossbreed your African Violets!