It is not hard to guess why the Monstera Deliciosa is easily one of the most popular houseplants in the urban jungles we call our homes. From its iconic split leaves to its variations of deep green hues, Monsteras absolutely beautiful. These climbing perennials grow natively in the Central American rainforests and are recognized for their massive leaves and giant aerial roots. Considering how big they get in the wild, it is natural to wonder how you can grow your own giant Monstera Deliciosa at home.
How can you grow your own huge Monstera Deliciosa? Time of year, sun, temperature, humidity, pot size, and soil conditions are all factors that contribute to Monstera growth. Optimizing and understanding the nuances of these conditions will not only ensure a happy plant but will also encourage your Monstera to grow faster and bigger.
Monsteras are very expressive. For instance, the size of their leaves often signifies how old they are, while their drooping stems indicate a need for water. Similarly, their biological and physical construction indicate how they thrive in their natural environment. Mimicking these conditions to your best ability will help you grow a huge Monstera Deliciosa.
---
How Big Can a Monstera Grow? How Fast Do They Grow?
Monsteras are not small plants despite starting out that way. They become more vine-like as they get older and bigger, growing huge aerial roots that are connected to a thick trunk. In the Central American rainforests, they can have leaves that measure up to two feet long and grow higher than 50 feet.
Obviously, an indoor Monstera will never be as large as a wild one, but that does not mean that they cannot grow to be massive. In our own homes, these evergreen plants can reach about eight feet in height. These plants also grow quickly, and most people get one to two new leaves every month if their Monstera is happy.
It is also important to remember that Monstera's growth is highly dependent on the time of year. Since they are tropical plants, they love heat and humidity and thrive in the warmer spring and summer months. My juvenile Monstera started producing two new leaves a month starting mid-April and has yet to slow down. It is usually a combination of a small leaf and a bigger, fenestrated leaf. During the winter months, I get no new growth except for the occasional and sporadic small leaf.
---
Tips To Get Monsteras Growing Bigger Faster
If you're looking for a monster Monstera, you've come to the right place. There are things you can do to encourage your plant to grow bigger and faster. Read on for my tips on growing a huge Monstera Deliciosa.
---
Make Sure Your Monstera is Getting the Right Amount of Sunlight
Sunlight is vital for leaf development and growth. Direct sunlight can give a Monstera scorched leaves, so it is important to find the right balance of light to encourage optimal growth.
These tropical plants prefer filtered, indirect sunlight with enough brightness to cast a decent shadow. If you see your plant reaching towards sunlight, remember to rotate it for even growth.
I keep my Monstera about four feet to the side of my south-facing window and rotate when necessary. It gets about an hour or two of harsher exposure but spends the rest of the day basking in bright, indirect light. I have tried a few different areas, including east and west-facing windows, but my Monstera seems happiest in southern exposure.
Since plants need to photosynthesize, it is also important to remember to keep their leaves clean and dust-free. By keeping the leaves free from dust or other particles, your plant leaves can photosynthesize without any issues, which allows your Monstera to grow faster. While time-consuming, wiping down your plant's leaves is an important aspect of plant parenthood. While there are many ways to go about leaf cleaning, I typically just use water and a microfiber cloth.
For more information on the best lighting for Monsteras, click here.
---
Make Sure Your Monstera is Properly Hydrated
Water and proper hydration are huge contributing factors for encouraging new growth. Your Monstera will be healthiest and happiest if you provide water when needed instead of resorting to a generic watering schedule.
The easiest way to determine whether your Monstera needs to be hydrated is by directly sticking your finger into the soil. If the first couple inches of soil seem dry, then it is time to water.
Monsteras are subject to root rot, which is why it is better to keep the soil a little too dry than too moist, and is yet another reason you should check the soil before watering. To avoid root rot or excess moisture, it is helpful to have a peaty, well-draining soil and a container with a drainage hole in the bottom.
When watering, be sure to water thoroughly. About twenty percent of the water you put into the pot should flow out through the drainage hole. This will ensure that all of the soil and roots have access to water.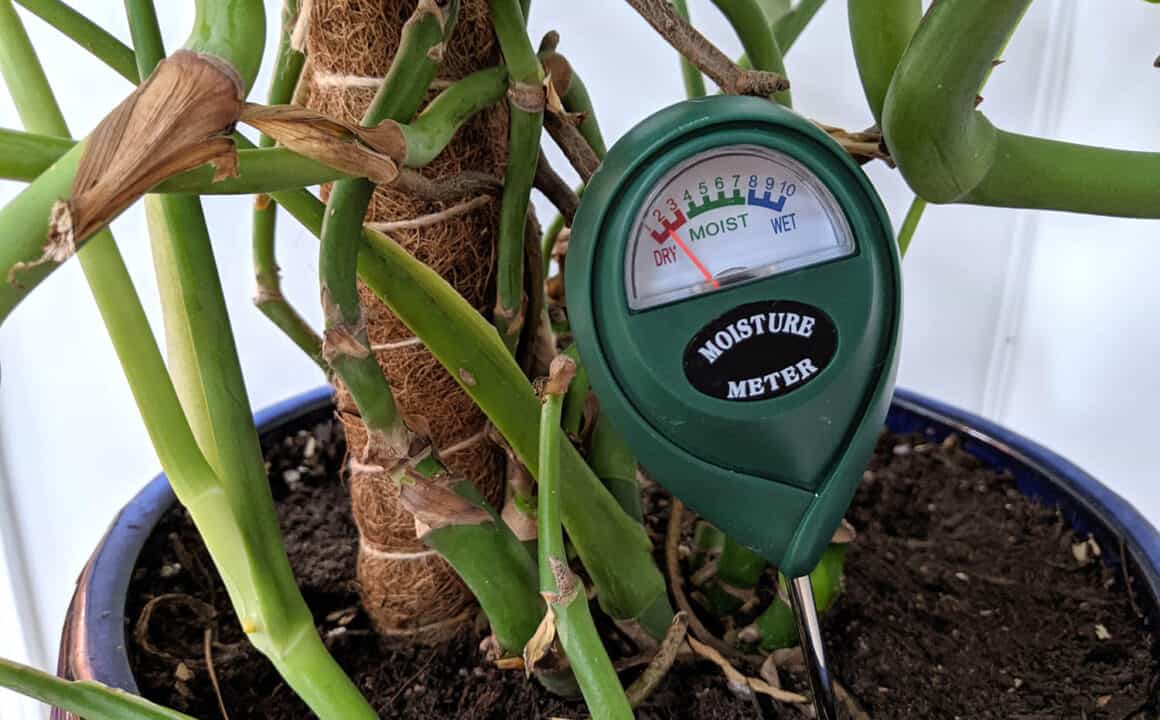 If you're looking for a better method of assessing moisture levels in your Monstera's pot, consider purchasing a moisture meter. You'll want to add water to the plant when it reaches the drier side of the meter.
---
Pay Attention to Temperature and Humidity
Since Monsteras are native to a tropical climate, it is important to try and mimic those conditions to the best of your ability.
Monsteras prefer temperatures between 68-86 °F, which is why they experience the most growth during the warmer summer months. When winter comes along, I make sure my room does not get too cold but attempt to combat the dryness by increasing the humidity as much as possible. There are a few ways to do this.
A humidifier is the best way to ensure your Monstera is getting the moisture it needs. However, moving your plant into the bathroom, whether long-term or just for the duration of a shower, is another excellent way to provide extra moisture. Additionally, grouping your plants together can also be helpful considering houseplants naturally release moisture into the air.
The easiest way to boost humidity is by misting your Monstera with water. I usually give my Monstera a strong misting in the morning a few times per week. I have been doing this for over two years, and my plant has always been happy, healthy, and consistently sprouting new leaves.
---
Know When and How to Repot Your Monstera
Monstera roots are constantly growing, which is why they need to be repotted every so often, especially if you want to grow a huge plant. It is important to make sure that your Monstera is not root-bound. If you notice that the roots are starting to poke out the drainage holes or circle around the bottom of the pot, then it is time to find your Monstera a new home.
Select a pot that is one to two sizes bigger than its current one and has drainage holes. Providing a new pot that is bigger–but not too big–gives the roots some room to move around, allowing your Monstera to grow bigger and stronger.
To read our full guide on repotting Monsteras, click here.
---
Add Some Additional Support
Monsteras are climbing plants, which is why repotting your plant is the perfect time to add some extra support. Providing a post-like structure for support will help mimic its native habitat conditions, allowing your Monstera to climb and grow faster. Once Monsteras start to climb, people often notice larger, stronger leaves.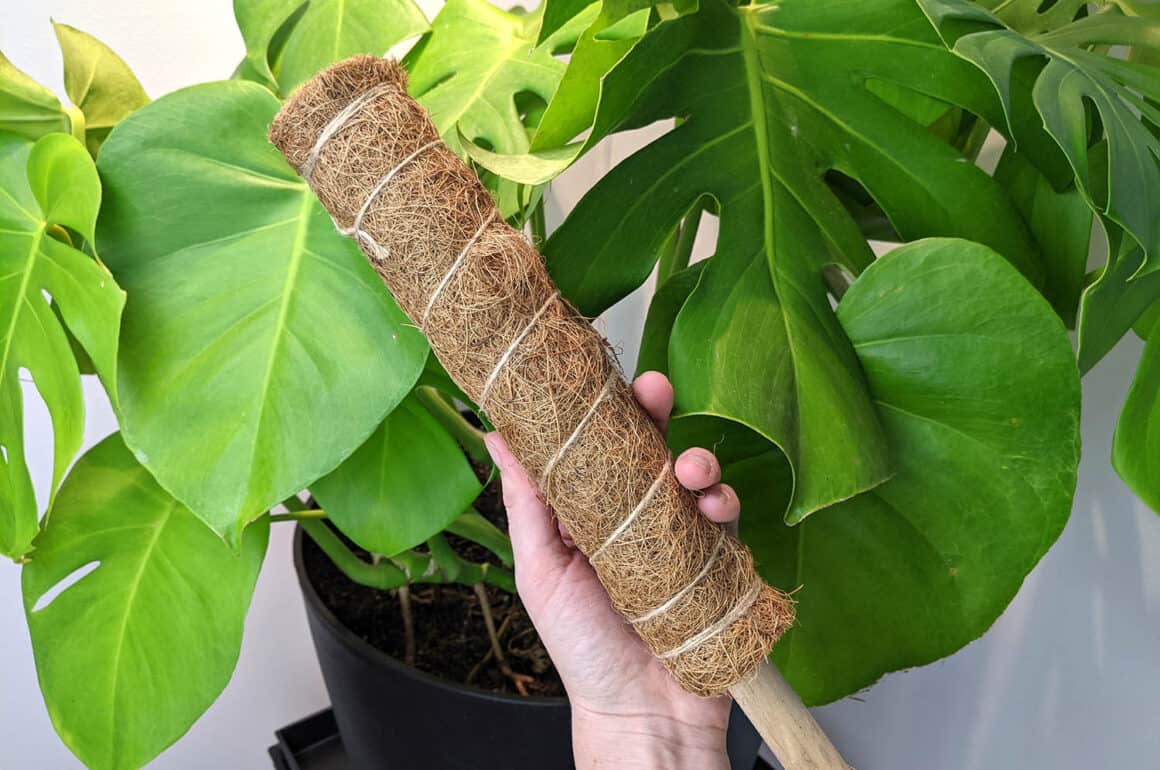 The most popular way to provide additional support is by attaching the aerial roots to bamboo stakes or moss poles. Both options can be easily DIY-ed at home, purchased online, or found at your local plant shop. This article will walk you through training your Monstera to climb.
---
Give Your Monstera Some Fertilizer
Feeding your plant helps encourage healthy growth. When choosing a fertilizer, try your best to use a gentle one or simply dilute the formula to half the strength. For a natural alternative, you can also mix worm castings into your potting soil. Want to learn more? This article has more information on fertilizing your Monstera.
---
Final Thoughts
In the end, factors are just factors and it is important to listen to what your Monstera is telling you. Experiment with your plant and see what works well, then repeat! When it comes to growing huge Monsteras, these tips are a great place to start. Follow the advice above and keep whatever is working for your Monstera Deliciosa.