So you've decided to get a Money Tree for your space, excellent! Except, you don't have much room, and you're afraid it will take over. Don't worry, there are simple steps you can follow to ensure your little Money Tree will always stay at a small and manageable size.
The biggest element to keep your favorite plant small is pruning back the leaves, stems and new growth throughout the year. In addition to pruning above ground, trimming back the roots once per year rather than repotting up a size will help keep your plant at a tabletop size.
Money Trees may be one of the easiest houseplants to care for, but keeping them small requires a little bit more knowledge. Keep reading to learn how to prune fast-growing Money Trees and find some information on the bonsai version of this beloved plant.
---
Can You Keep a Money Tree Small?
If you're hoping to bring a bit of prosperity or a little green into your house, but don't have a ton of space, a Money Tree may be the perfect addition. And while many Money Trees grow tall and spread out, it is possible to keep them small and compact.
In their natural habitat, in the tropical regions of Central and South America, Money Trees can reach upwards of 60ft tall. Here, they have ample access to water, nutrients, and space. This allows them to reach massive heights. But rest assured, they will never reach that height in your home.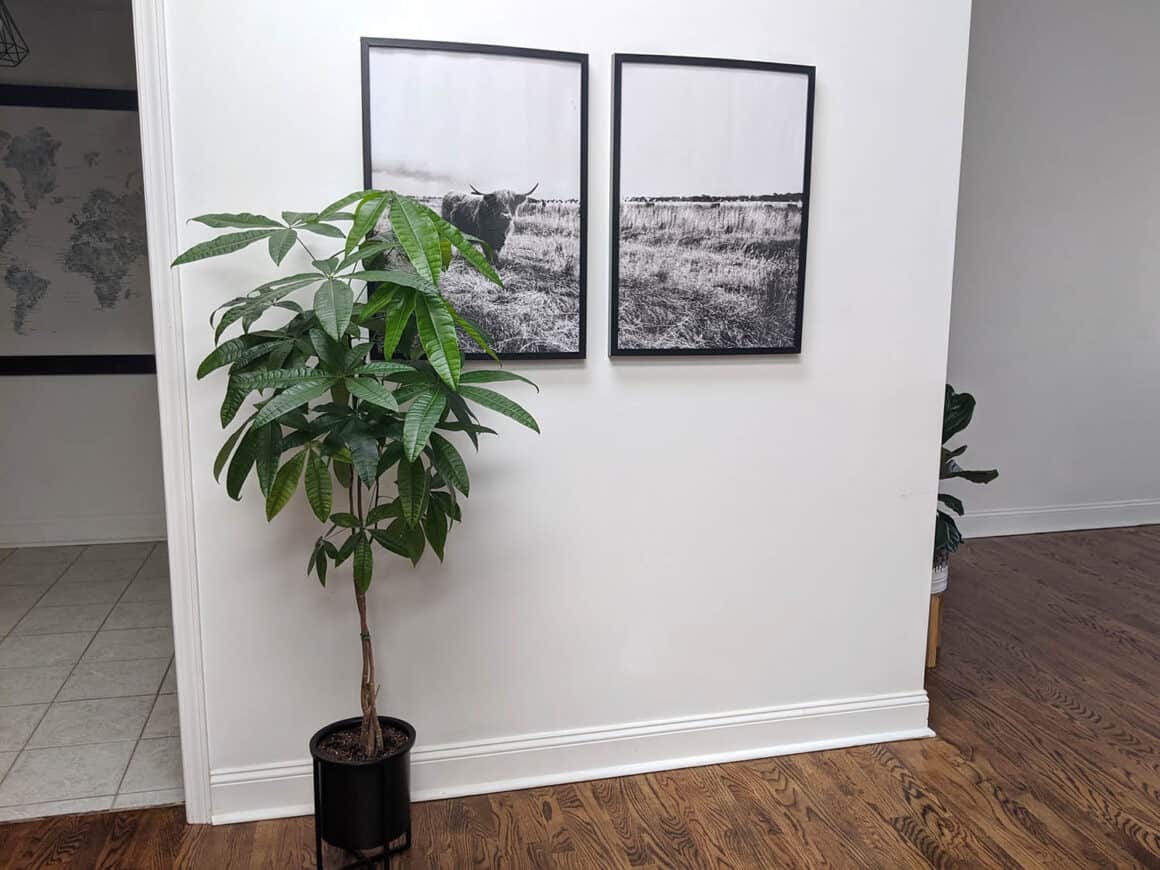 Money Trees, or Pachira Aquatica, thrive in areas with ample resources. Your house, with limited sunlight and soil, is not ideal for them to grow to their full outdoor potential. Inside they will reach a maximum height of 6-8 ft. If this size is still too large, there are many things you can do to control the size of your plant. I'll briefly discuss them here, but keep reading for the full story below.
The first way to inhibit the growth of your Money Tree is to choose the right pot. Smaller pots constrain the root size of your mini tree. The less space your plant has to spread its roots, the smaller it will be. Note that this can stress your plant and eventually even harm it. A rootbound Money Tree will not thrive like a tree with room to grow.
After you have picked the right pot, you can regularly prune your Money Tree. Pruning will keep the height of your Money Tree to a minimum while encouraging new leaf growth to be compact and near to the trunk. Pruning will help to improve the overall shape of your Money Tree.
To truly keep your plant small, you'll need to prune more than just what you can see above the surface. Pruning back roots every year can keep your plant small and replace the need for you to repot into larger and larger containers as it grows.
The final option for a small Money Tree is to buy a bonsai version of the plant. Bonsai Money Trees will only grow to about 12" in height. While they are not nearly as common, these could be an excellent choice for your office desktop. Bonsai Money Trees can be bought from nurseries online and in stores.
---
Pruning Money Trees to Keep Them Small
To keep your Money Tree small, you will need to follow a few pruning guidelines. Pruning will ensure that your Money Tree achieves a balanced, aesthetically pleasing look and if you adhere to these, you will be rewarded with a healthy, manageable Money Tree.
Even if you don't have a bonsai, you can borrow a few techniques to create a smaller version of the tree. Sometimes if you let a Money Tree's branches grow naturally without pruning them, they might start to look "leggy". These trees aren't as attractive (or as short) as trees that are pruned to encourage crown growth closer to the trunk.
To begin, pick the right shears. I'm sure you have a pair of garden shears that are great for trimming your outdoor plants. We are going to use a smaller set of scissors instead (I like these from Amazon). Bonsai pruning shears are the best choice as you will be making precision cuts to shape your tree.
STRUCTURAL PRUNING
There are two types of pruning you will be using on your Money Tree. The first is structural pruning. Structural pruning helps to keep the plant growth close to the trunk, instead of creating long, spindly stems.
This pruning should be saved for the winter when the plant is dormant. Pruning the larger branches of your tree when the plant is not in an active state of growth will allow for it to heal correctly and be ready for new growth in the spring.
To do this type of pruning, use your bonsai shears and cut the long stems on the top of the tree. Find where the tree makes a V shape (also known as a node) and cut just above this. This will ensure your tree maintains its shape.
Make your cut at a 45-degree angle. The angle should face the direction you want the new growth to happen. New stems will grow from this cut with leaves that are much closer to the trunk.
You can cut the tree down to as much as half its size. Trimming your tree like this at the end of each growing season will keep in small, compact, and growing how you want it to.
MAINTENANCE PRUNING
In the spring, your Money Tree's stored resources will be ready to be utilized for new growth. If you have already pruned your Money Tree using the above structural pruning technique, the new growth will be concentrated on these new cuts.
Maintenance pruning is what is used to maintain the size of your tree and keeps your plant looking nice and in a, controlled shape. This is a method for keeping the plant looking its best throughout the warmer months.
When pruning to maintain shape, trim back any brown or yellow branches or leaves. Leave at least ½ inch on the stem for new growth to spring up and trim offshoots from the trunk to keep the trunk clear.
If there are buds that form on your tree branches, you can pinch them with your thumb and forefinger. Pinching will encourage growth in these areas and help your Money Tree look more lush and compact.
Maintenance pruning can be done throughout the spring and summer as new growth appears.
---
Choosing the Right Pot For Your Money Tree
As I said before, one easy way to keep your Money Tree small is to choose a pot that does not allow it to continually spread out and grow. Most houseplants are repotted every year or two into a container that is one size larger than the one it is currently living in. If you want your Money Tree to grow tall, you'll need to transplant it. Otherwise, you can keep it in the same small container year after year.
Remember to choose a pot with very similar dimensions if you want to repot your tree while keeping it small. If you repot into a much larger pot, it will be an uphill battle trying to keep your plant small. Choosing the right container is the foundation for controlling Money Tree growth.
---
Pruning Back Money Tree Roots
To keep a Money Tree small, you will want to leave it in a small container. However, when any plant is left in the same pot for an extended period of time, the roots will grow to fill the container, and the plant will become rootbound.
When plants are extremely rootbound, the container is so full of roots that there is hardly any room left for soil. And when a plant doesn't have enough access to soil, it cannot find the nutrients it needs to thrive. Because of this, you'll need to manage your plant roots from time to time to keep it healthy in the same small pot.
While this may seem like extreme measures, trimming roots is a very normal part of owning a houseplant. To keep your plant small, cut back about 1/3 of the roots every year with your clean and sharp pruning shears. After cutting back the roots, replant in the same container or one that is a similar size and refresh with new potting soil.
---
Bonsai Money Trees: What Are They?
A Money Tree can be a bonsai, but most that you find in your local garden shop are not. Bonsai refers to a plant that has undergone a specific cultivation process that produces a miniature plant that resembles the fully grown plant. It is a fraction of its original scale. Bonsai plants are created by using specific pruning techniques.
A Money Tree can only be bonsai if it has been cultivated with these steps in place. A bonsai Money Tree is not a different variety or cultivar, it merely refers to the tree's care routine.
When trying to decide whether the tree you purchased is a bonsai, the first thing you should look for is a very shallow pot. These shallow, 2-3 inch pots stop the tree's roots from expanding further. If the plant cannot expand its roots to absorb height building nutrients or stabilize its body, it remains small.
If your Money Tree is a bonsai, it will not grow much over twelve inches tall. If your Money Tree is approaching 3 feet, it is not a bonsai Money Tree. Your bonsai Money Tree would've been trained at the nursery to maintain its short stature.
---
Final Thoughts
Money Trees have a lot going for them. They can grow to a size that will fill a large corner in your home, or they can be kept small and compact on your office desk at work. If you're looking for a plant that is on the smaller side, grab a money tree from your local garden shop and follow the steps above to keep it at a manageable size.