Monstera Deliciosa is a trendy and popular houseplant right now, and it's easy to see why. The broad, glossy, dark-green leaves give your room a tropical look, and with the right conditions, they grow quickly. In fact, one of the only downsides to this plant is that it can get too big for some homes. When a Monstera gets big, it tends to lean to one side or even fall over.
How do you keep a Monstera Deliciosa growing upright? The best way to keep a Monstera Deliciosa growing upright is to stake it using a support such as a moss pole, trellis, or garden stakes. These natural climbers can be tied and trained to grow up these poles and will be supported as they grow.
A Monstera won't be damaged because it's not growing upright, but for aesthetic and space reasons, most people prefer that they be as straight and tall as possible. Below I'll give you some more detailed information about why this happens in the first place and how you can keep your Monstera looking the way you want.
---
Why Your Monstera is Falling Over
If you have ever seen a Monstera growing in the wild, it will be immediately apparent why they tend to fall over when grown in pots. Their growth habit is to attach to trees and climb, using their anchor roots as support along the way.
Technically speaking, Monsteras are epiphytes, which is a type of plant that grows vertically using the support of other plants. A lot of our favorite houseplants fall into this category, like bromeliads and orchids. However, those plants don't have the same falling-over problem because of their compact growth. The combination of the large size and a climbing habit is what causes indoor Monsteras to lose their balance, unless they have some support.
When a Monstera is still small, it is light enough to stand up under its own weight. But as it gets larger, there is nothing for it to hold on to, and the weight of the leaves and stems grow towards the floor in search of support. Depending on what kind of pot it is in, it might become unbalanced enough to knock the whole pot over.
---
Does a Monstera Need Support?
Unless you want a floor covered in giant leaves, yes! Some people like the look of a Monstera trailing on the floor, but it can quickly take up a lot of space. If you prefer the look of an upright Monstera, support is critical.
If you don't provide support for your Monstera, it might find its own. It's not unusual for Monstera owners to find that their plant has started to climb up nearby walls or bookshelves. Removing it can damage your paint job, so be careful to keep your plant away from contact with things it shouldn't climb.
---
How to Prop Up a Monstera
To keep your Monstera growing straight, you will need to provide it some kind of support. Luckily, there are a few choices that all work great for keeping a Monstera upright: moss poles/coco coir pole, trellis, and garden stakes.
There are pros and cons to each option, so it really depends on your preference. I'll give you a few details below that should help with your choice.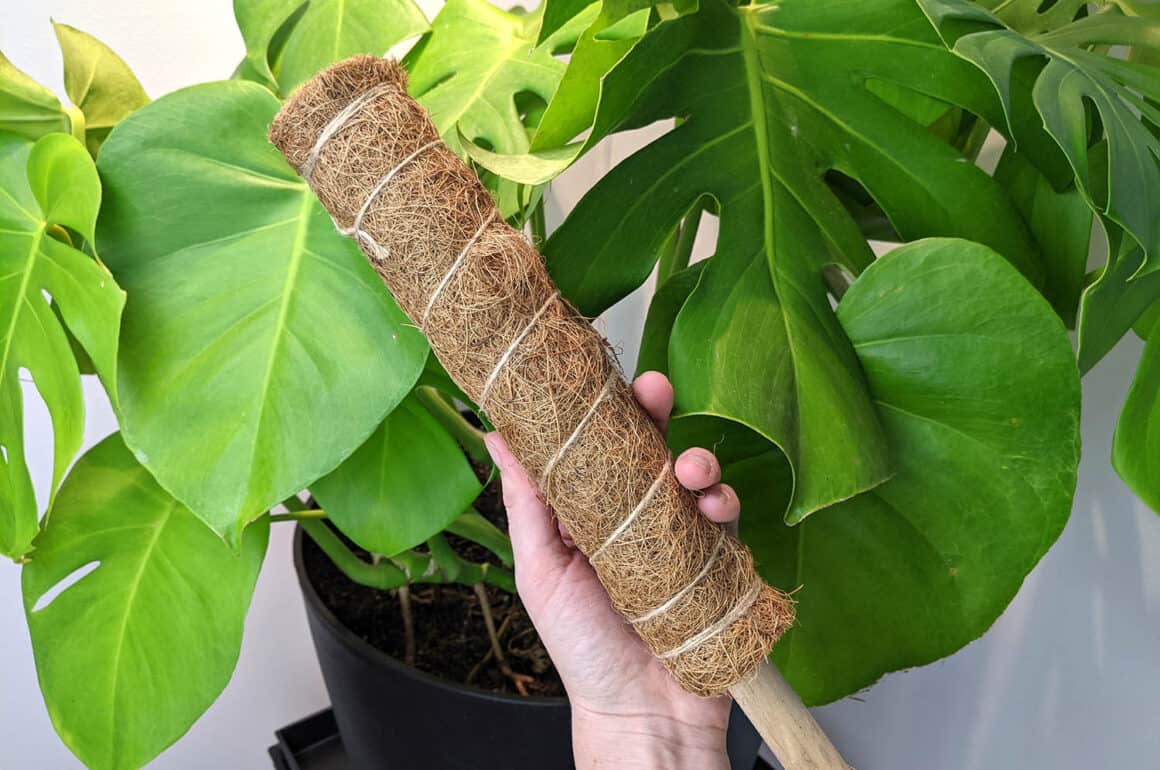 These poles are wrapped in sphagnum moss or coco coir and are specifically designed to support aroids (including Monsteras) and other plants that like to climb. The pole itself could be any type of material, but wood, metal, or PVC are most popular. These poles suit Monsteras particularly well since the texture of the natural material makes it easy for the plant to attach to the pole.
The moss or coco coir also supports your Monstera's health because it contains micronutrients and moisture, which can be conveyed to the plant through its anchor roots. You should mist the pole occasionally to increase humidity. Using a moss or coco coir pole promotes the growth of large, mature leaves.
Many people like the look of coco coir and moss poles over other types of support since they look natural and blend in with the plant.
It is possible to make your own DIY moss pole, but I have to be honest: it isn't that easy. The first time I tried to make a moss pole, I ended up with a mess. For that reason, I usually prefer to buy mine online instead of dealing with the hassle of DIY.
---
A wood or metal trellis can be used to train your Monstera to grow upright. A triangular or rectangular trellis can support more and heavier leaves than a single pole, since it has multiple points of support. This is an especially good option if you want a bushier look.
It can be hard to add a trellis to a Monstera that's already full-grown, so it's better to add one when repotting a smaller Monstera. As it grows, you can train it to the growth pattern you want.
---
Stakes come in various shapes and sizes, meaning you can probably find one that suits your plant perfectly. You have a lot of flexibility with how you configure them, so if you already have an overgrown Monstera, stakes are probably your easiest option.
You generally find garden stakes in bamboo, wood, or metal. They all work equally well, but make sure you find one that's sturdy enough to support your plant. Other than that, it depends on what appearance you like best.
---
Adding the Support
Most people like to add the support when they are repotting, since it can be difficult to insert it into a pot that's already full of roots. If your plant has plenty of room and you don't need to repot yet, check with your trowel to find where you can put in the support without damaging any roots.
It's probably best to place the support(s) near the edge of the pot instead of the center. That way, the Monstera has more room to grow, and you can more easily add more supports on the other side if needed in the future.
You want to be sure that the support is secure, so bury it as deeply in the pot as you can. Then finish repotting as usual. Check to be sure that the stake doesn't move around, and is firmly in place.
Using plant wire or garden twine, attach the larger stems to your support. If your Monstera already has aerial roots, you can wrap them around the support, cut them off, or just let them hang. As new stems and leaves come in, you might need to attach that new growth to your support to make sure your Monstera is growing the way you want.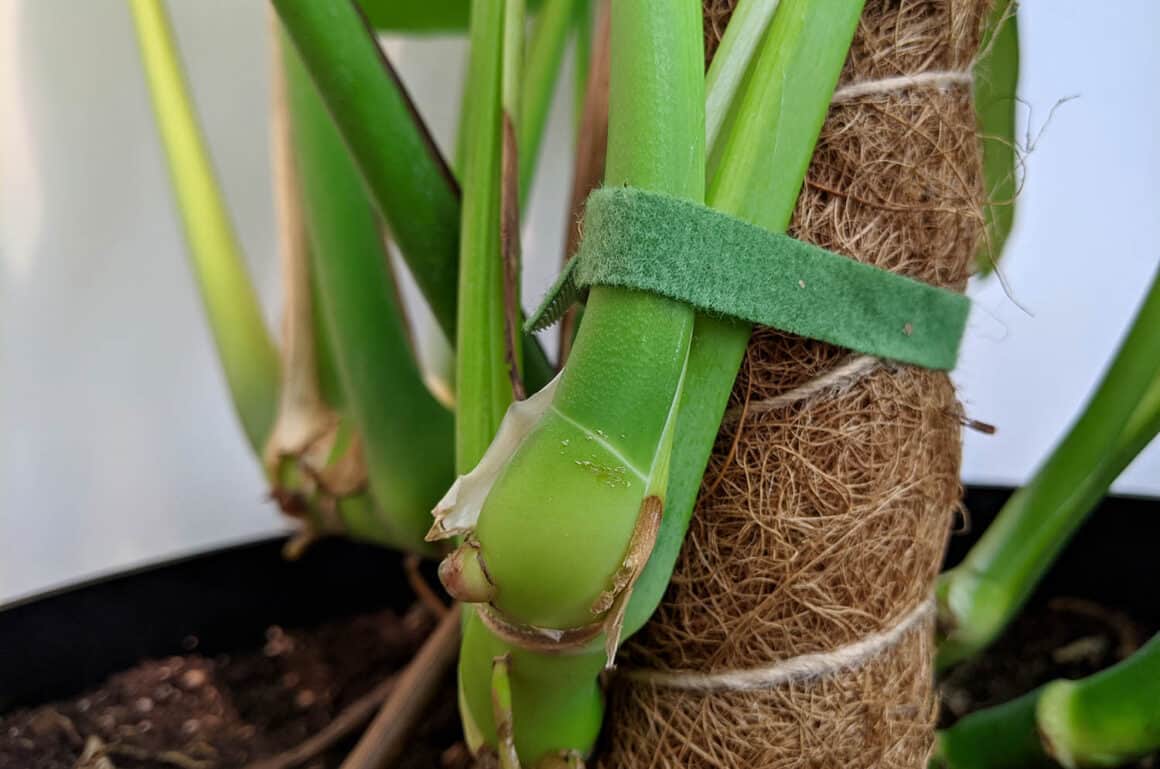 ---
When to Stake Your Monstera
Many people don't think about staking a Monstera until it's already falling over, but it's basically "the sooner, the better" when it comes to timing. When you're moving it out of the nursery pot is a great time to add support.
You will probably need to repot this plant every 1 – 2 years, so you can assess each time if you need to add more support. Over time, a Monstera may attach itself to the support structure, so you might not be able to remove it without damaging the plant. In that case, you should move the whole thing (support and all) into the new pot, and add another stake on the other side if needed.
---
Other Tips to Keep Your Monstera Growing Straight
There are a few other things you can do to keep your Monstera growing as straight as possible, for as long as possible.
First, think about your light source. Monsteras will grow towards the light, so the side that's facing a window will tend to be heavier. If you rotate the pot occasionally, your Monstera should have more balanced growth.
You could also prune your Monstera to encourage the shape you want. You would probably trim back the growth on one side so that the plant's volume is balanced in the pot. If you cut the stem below a node, you can root the cutting in water or soil to pass along to a friend. Be aware that pruning promotes new growth, especially in spring and summer, so you'll probably need to do it more than once.
Finally, if your Monstera is unbalanced to one side, you could rotate the root ball when you repot it so that it is more upright. This should not cause any problems, as long as you make sure all the roots are still buried under the potting soil.
---
Final Thoughts
Providing your Monstera with a way to grow upright will help keep it happier by mimicking its natural environment. It also saves you space and makes your plant look better. The process of staking a Monstera, especially a big one, can be a bit of a pain, but it will be worth it as you'll have a Monstera that grows up to the ceiling!
---
Need More Help With Your Monstera
Have more questions about your Monstera Deliciosa? Want to know what you can do to keep it happy and healthy? Grab our latest book, How to Care for Monstera Deliciosa, and get all that and more.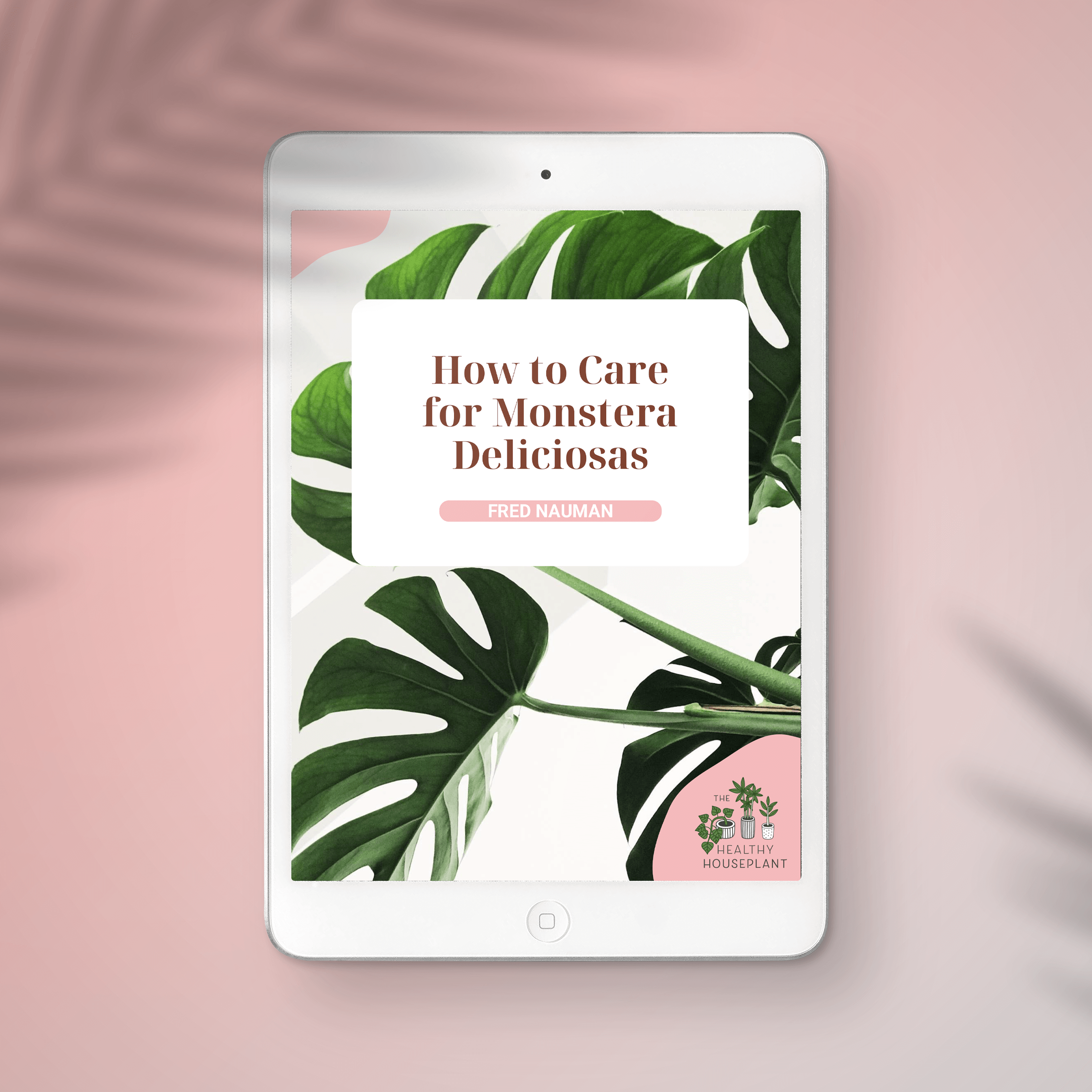 Our eBook covers:
Signs Your Monstera Isn't Getting Enough Light or Water
How to Grow Your Monstera to Epic Sizes
What are Fenestrations and How Can You Encourage Them
Tips for Fertilizing Monsteras
The Best Way to Prune this Plant
Propagation Tips and Tricks
The Best Type of Soil for Monsteras
Help Diagnosing Unhealthy Plants and How to Treat Them
And More!!
If you've got more to learn, grab a copy of our book today and get your Monstera Deliciosa back on track. Get your copy now!