When I first started to expand my houseplant collection, I picked up a ZZ Plants (Zamioculcas Zamiifolias) and, from then on, never looked back. Not only are they unique foliage plants, but their reputation for being low maintenance and easy to care for has held true. They're even easy to divide and propagate!
ZZ Plants are very hardy and are easy to care for. They prefer bright, indirect light (although they can tolerate a range of lighting conditions) and only need to be watered when the top two inches of their soil is completely dry.
As long as the ZZ Plant's basic needs are met, they are perfectly happy and don't require much attention. Because of this, they make great starter plants for the novice houseplant collector. However, if you'd like to take it a step further and see your ZZ Plant truly thrive, read on for a complete guide of their care requirements.
My hope with this article is to give you a total overview of everything your ZZ Plant needs to not only live, but really flourish in your home. The first section covers Basic ZZ Plant Care, which includes the most important aspects of keeping your ZZ alive. If you want to dive deeper, the Advanced ZZ Plant Care section covers topics like fertilizing, pruning, dividing, and propagating.
At the end of the article, I cover some of the most common care issues seen in ZZ Plants and what to do about them.
---
How to Keep ZZ Plants Alive: The Short Answer
ZZ Plants are well-known as one of the easiest plants to care for. They are very self-sufficient and require little attention from us. Typically, they do best in temperatures about 60−75° F, in a spot that has lots of bright, indirect sunlight. They are very drought-tolerant plants, so they only need to be watered when the top two inches of topsoil are dry.
ZZ Plants can tolerate a range of conditions and will typically do fine almost anywhere in your home. This is great when you have a darker corner that your other houseplants won't endure, but just remember, you might see slower growth if you move your ZZ from its ideal conditions.
---
The Indestructible Plant
Sometimes referred to as the "un-killable plant" or the "bulletproof plant," ZZ Plants have quite a reputation for being hardy. They don't need much water or nutrient input, they can tolerate bright rooms or dark hallways, and through it all, it seems the more we ignore them, the happier they are.
Also known as the Zanzibar Gem, Zuzu Plant, or the Eternity Palm, ZZ Plants originally come from the grasslands of Eastern Africa, a land that is perpetually hot and dry, interrupted by occasional rainstorms. Because of this, ZZ Plants adapted to survive a variety of tough conditions.
ZZs grow from rhizomes, which are potato-like storage structures that develop in the dirt. This rhizome is responsible for storing large amounts of water and nutrients for the plant to be utilized when conditions aren't ideal, like during times of drought.
Aside from the rhizome, the ZZ Plant has a thicker cuticle covering the leaves and stems, which helps with water retention and acts as a barrier to disease and pest infestations.
---
How Toxic Are ZZ Plants?
This probably goes without saying, but please don't believe everything you read on the internet. There's a lot of crazy conspiracy theories out there, including one that accuses ZZ Plants of being so poisonous that they cause cancer. This is, of course, not true.
However, it's worth pointing out that, while ZZ Plants won't kill you if you look at them wrong, they are considered a "toxic" houseplant.
ZZ Plants contain a naturally occurring compound called calcium oxalate in all parts of their plant structures (leaves, stems, rhizome, and sap). Calcium oxalate is chemically harmless but does have a crystalline structure. This can irritate soft tissues (skin, eyes, and mouth) when it comes into contact with them, causing rash-like symptoms or burning.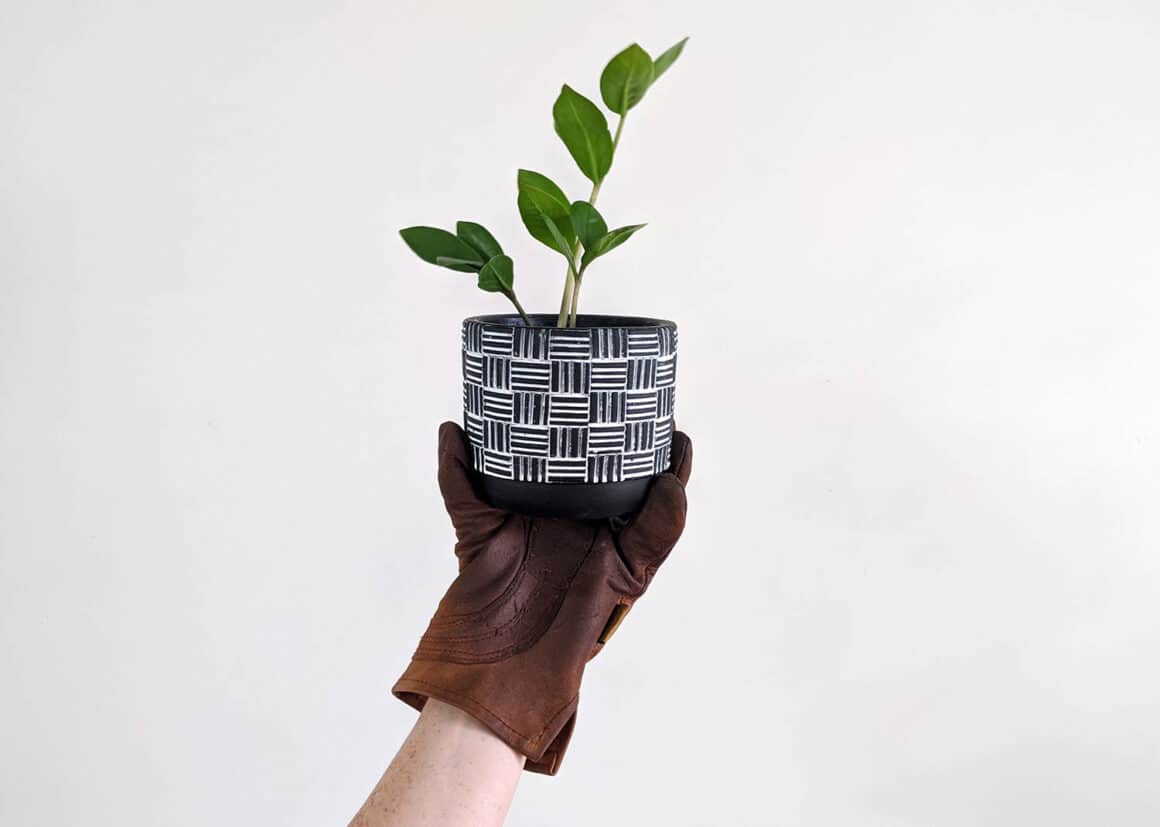 The effects are based on exposure but tend to be mildly uncomfortable. Because of this, I always recommended that you wear gardening gloves when handling your ZZ Plant. If you do get any sap on your skin, avoid touching your mouth or eyes, and wash your hands thoroughly with soap and water.
I will also mention that pets are just as susceptible as humans, so do not allow your cat or dog to chew or swallow any parts of the plant.
---
Basic Care for ZZ Plants
As I've mentioned, ZZ Plants are pretty scrappy, so anyone new to houseplant collecting or even those self-proclaimed "brown thumbs" should do just fine caring for them. Meeting a ZZ Plant's basic needs is relatively simple, and as long as you're watering correctly, giving it enough light, and making sure it's planted in well-drained soil, you should see your ZZ Plant flourish.
---
How Much Water Do ZZ Plants Need?
Back when I was a novice houseplant owner, I made a lot of mistakes when caring for my plants. I think we can all admit that we've ignored a plant long enough to kill it from underwatering at some point in our lives. I certainly have.
Once that happens, we tend to swing too far in the opposite direction, and, in an attempt to keep our plants happy, we end up overwatering, which a lot of plants don't handle well. We are then at risk of killing our plants with kindness rather than neglect.
The number one issue people face with ZZ Plants is overwatering. Because ZZ Plants are designed to tolerate hot climates and dry soil with only infrequent water input, they don't fare well when they sit in soggy soil.
To avoid overwatering your ZZ Plant, you should only water when the top two inches of soil are completely dry. It's best to actually stick a finger into the soil down to that depth to make sure the pot is properly dried out before watering. For a more scientific measurement, consider purchasing a moisture meter and checking your plants before adding more water.
When you do water, do it thoroughly, making sure the water saturates the soil and allowing any excess to drain through the hole in the bottom of the pot.
---
Light Requirements for ZZ Plants
Although ZZ Plants can tolerate a broad range of light, they prefer a lot of indirect, bright sunlight in order to thrive. But what exactly does that mean?
Without getting too scientific, when I refer to "bright, indirect sunlight," I'm talking specifically about the ambient light in a bright room rather than the direct sunlight coming through the windows and casting shadows. If you place your hand between your plant and the nearest window and can feel the heat of the sunlight, chances are your plant is getting too much direct light.
If exposed to too much direct sunlight, you might see the surface of your ZZ's leaves beginning to scorch and burn. This is essentially a sunburn and can cause permanent damage to the plant if not caught quickly.
The best spot for your ZZ Plant is in a bright room, near an east- or south-facing window, but far enough away so as not to be directly in the sunlight.
ZZ Plants can handle low light conditions, as well. This is nice when you have a dimmer spot in your home that most other plants won't tolerate. Your ZZ will typically do fine, although you might notice that growth slows, which is a reasonable trade-off. If you see that your plant is starting to get leggy, the spot is too dark for it and you'll need to move it to a brighter spot.
---
The Perfect Spot for Your ZZ Plant
Even though ZZ Plants can tolerate a wide range of conditions, a spot in your home that meets all their needs will encourage them to thrive.
ZZ Plants prefer temperatures over 60° F and are most happy in a range between 65°-75° F. Their waxy cuticle helps protect them from large changes in humidity, but they tend to prefer levels around 40%. ZZs can also handle swings in these conditions to a certain extent, but it's best to avoid placing them in a spot that creates extreme environments, like next to AC or heating vents.
Be sure to mind their light requirements, keeping them in brighter rooms but out of direct sunlight, which can also cause significant shifts in temperature.
---
The Best Pots and Soil for Your ZZ Plant
What's the quickest way to kill your otherwise "un-killable" ZZ Plant? Overwatering. When we think of overwatering, we tend to only think of the problem as giving the plant too much water too often. However, poor soil drainage should be considered as another contributing factor to overwatering, as too much water retention can suffocate the ZZ Plant's root system.
Proper drainage is the ultimate key to your ZZ Plant's happiness. Remember that they are used to growing in drier, porous soil, and have their own mechanisms to retain the water they need to survive. Because they are used to these conditions, sitting in soggy soil creates a lot of issues for your ZZ Plant, many of which can lead to serious problems like rot and root damage.
To provide your ZZ Plant with the proper drainage it requires, the first step is to choose a pot with a drainage hole in the bottom. The hole allows for any excess water to drain from the pot. This ensures that, even if you occasionally overwater by accident, your ZZ Plant won't be stuck with too much water in the soil.
People try to get around the lack of a drainage hole by adding gravel or some other porous material in the bottom of their pots to allow space for excess water, but when it comes to ZZ Plants, it truly is best to pick a pot that has a hole.
You will also want to pick a pot that is the proper size for your ZZ Plant. Pots that are too small can stunt growth and not allow for proper watering. Pots that are too large often retain too much water so that the soil can't dry out between waterings.
You'll want to measure the thickest part of the rhizome of your ZZ Plant and pick a pot that allows for one to two inches between the rhizome and the sides of the pot.
Another important factor for proper drainage is to use the right soil blend for ZZ Plants. With many plants, standard potting soil is a sufficient medium to plant in, but for your ZZ Plant, it's essential to keep the mixture porous and airy, so that water can saturate it but won't be retained for too long.
Aim for a mixture of three parts quality potting soil with one part of cactus or succulent soil added to it. Cactus soil is typically designed for quick drainage, so adding it to your mix will help keep the soil lighter. Alternatively, you can replace the cactus mix for perlite or pumice, both of which you should be able to get at your local garden center. For my recommendations on the best soils and containers for ZZs, click here.
---
Do ZZ Plants Bloom and Flower?
Surprisingly, ZZ Plants are actually considered to be flowering plants. Although extremely rare, especially for those cultivated as indoor houseplants, ZZ Plants can produce spathe-like, white flowers near the base of their stalks. These flowers very closely resemble Peace Lily flowers.
While you might be lucky enough to see a ZZ flower one day, it's probably best not to get your hopes up and consider your ZZ as an awesome foliage plant.
---
Advanced Care for ZZ Plants
Now that you've got an understanding of the basics of ZZ Plant care, you're ready to move into the more advanced tips and tricks to really keep your ZZ happy. This section covers more involved care steps like fertilizing, pruning, repotting, dividing, and propagating.
---
Fertilizing Your ZZ Plant
Just like kids need their Flintstone Vitamins, plants occasionally need a little boost of nutrients to ensure they have everything they need to grow healthy and strong. Oftentimes, houseplants you've purchased have already been planted in a soil mix with a slow-release fertilizer incorporated into it, which is enough to get them through the first few months of life in your home.
However, over time, those nutrients are utilized by the plant, and the soil becomes depleted. This is when you should start considering how often to feed your ZZ Plant. The good news here is that ZZ Plants really don't need all that much additional feed, which makes the job a lot easier.
Look for a well-balanced liquid feed (20-20-20 works well) and water it in about every other month. This equates to only a handful of times during the ZZ Plants growing season, typically Spring to early Fall. During winter months, skip the additional feed unless you see signs of nutrient deficiency, such as pale yellow or green foliage.
Too much fertilizer can lead to issues, including leaf burn, so make sure you aren't overdoing it. If you notice signs of overfeeding, you'll want to flush your ZZ Plant with lots of water to remove excess fertilizer in the soil and then either decrease the frequency of your feeding or dilute the fertilizer by half each time you apply it.
---
Pruning Your ZZ Plant
One thing you may have noticed about ZZ Plants is that they tend to be slow growers, and therefore don't require much pruning. However, there are some situations where you might consider cutting back your ZZ a bit.
The most common scenario is that one of your ZZ Plant's stems has grown more than the rest, leaving you with an uneven or unbalanced looking plant. A simple trim of the stalk is all it takes to even it out and redirect some of its energy into other parts of the plant.
Sometimes, you'll notice some discolored or dying leaves on older parts of the plant. This is normal, as all parts of the plant have a lifespan. It's best to trim these dead or dying leaves out to allow your ZZ to focus on new growth.
If you haven't been able to find a spot with enough light, your ZZ Plant might be a bit leggy or sparse. Consider doing some pruning on the worst of the leggy stems to make room for healthier growth. Then move the plant to a better location. Yes, the angst of removing stems from a slow-growing plant is real, but you'll be doing yourself a favor once your ZZ bounces back with healthy growth.
Regardless of the reasons for pruning, you should always be using sharp, clean garden shears or scissors to make clean cuts. This is the best way to minimize damage, encourage proper healing, and avoid disease. Dull blades will tear or smash the stems, and your ZZ with have a harder time recovering.
---
Repotting Your ZZ Plant
If you've owned your ZZ Plant for some time, you may be noticing that it's beginning to outgrow its current pot. When the time comes, repotting your ZZ Plant will give it more room and can jolt it into putting out a lot of new growth.
To know the proper time to repot your ZZ Plant, look at the rhizome. If any part of it touches the side of the container or is very close to it, it's safe to graduate your ZZ to the next pot size up. This can take anywhere from a year to many, depending on how fast your ZZ Plant is growing.
As I wrote in the basic care section, you'll want to choose a pot with a drainage hole and proper sizing, allowing 1-2″ between the pot's edge and the rhizome. Your soil should be a porous and quick-draining mixture, fortified with either cactus mix or additional perlite or pumice.
Try to time repotting your ZZ Plant for a few days after you water it. This helps prepare the plant, reduces potential shock, and keeps the soil and root ball together when transferring it to the new container.
Gently tip your ZZ Plant upside down and slide it out of the old container, supporting the central stems between the fingers of one hand. If it is stuck, you can run a butter knife around the inside edge of the pot to loosen the root ball.
Once you've got your ZZ Plant free, place a mound of potting soil mixture in the bottom of the new container so that, when you lower your ZZ into the pot, the top of the rhizome is within an inch of the lip of the pot.
Add enough soil to fill the pot, gently pressing it into place to support the plant. Do not bury the central stems or rhizomes too deep. In fact, you can leave a bit of the rhizome exposed without doing the ZZ Plant any harm.
Water your ZZ well until the new soil is saturated, and water flows from the bottom of the new container's drainage hole. Be sure the new pot is properly draining. You can then set your ZZ Plant back in its old spot. Watch it the first couple of days for any signs of stress to make sure it's acclimating to its new container well.
---
Dividing Your ZZ Plant
As you are considering repotting your ZZ Plant, know that this is also a great time to divide it! Dividing a plant is the act of separating the root ball and stems of a plant into sections and planting them individually to grow into new, separate, full-grown plants.
When considering the ZZ Plant, with its slow-growing stems and bulbous rhizome, this might seem like a drastic move, but remember, ZZ Plants are tough, and you'll be delighted at how easy it actually is to turn your one ZZ into many.
To divide your ZZ Plant, you'll first need to remove it from its existing pot and gently wash away all the soil, so you have a clear view of its rhizome, root system, and stems. Depending on its size, you'll most likely be dividing your ZZ into no more than two or three pieces.
You will be making cuts to the rhizome so that each piece has a section of rhizome with both roots and a few stems protruding from it. When I divide ZZ Plants, I typically start by looking for smaller rhizome sections that have begun to bud off from the main structure. They may only have one stem on them, but they're easy to separate and will eventually grow a full-sized plant.
After that, I then look at the main structure of the plant and try to divide the rhizome in half so that each piece has three to five stems protruding from it, as this will develop into a visually pleasing plant.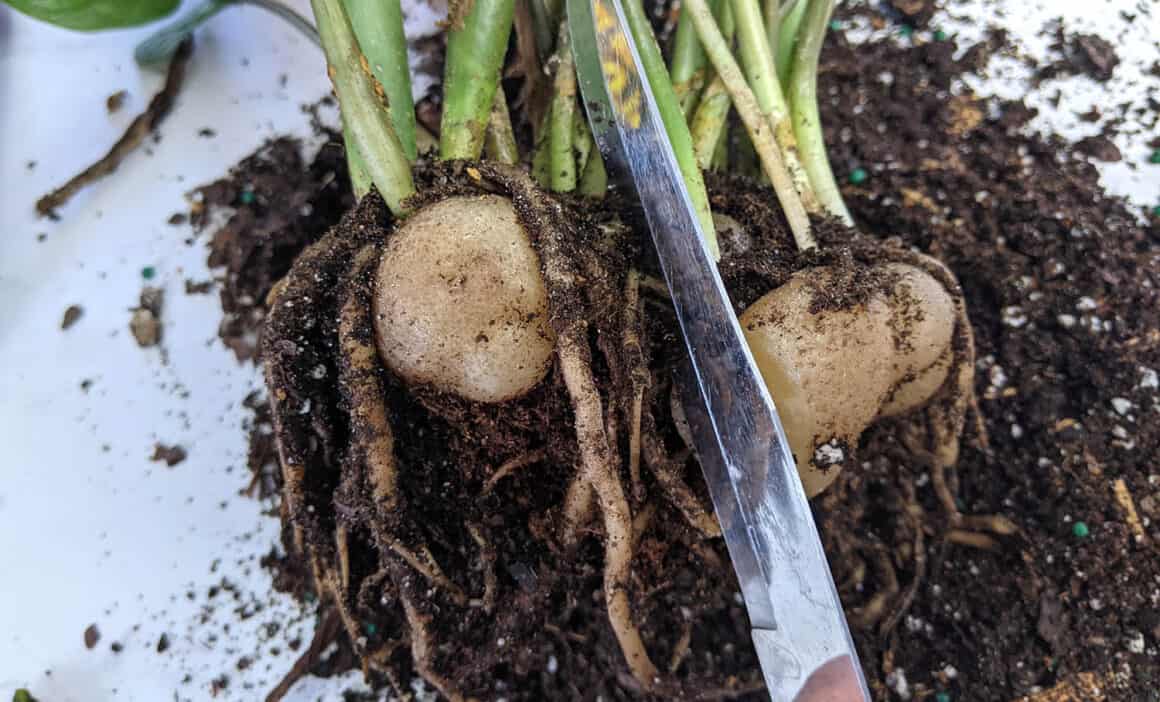 Once you've decided where to make your cuts, use a sharp, clean knife to cut the rhizome, being careful not to nick the stems. Allow your plant pieces to sit on the counter for an hour or two, so the cuts gently callous over.
At this point, you are ready to pot each piece in its own container. Follow the same guidelines above, making sure you pick the right size container and use well-drained soil. Water the new plants thoroughly, allowing any excess to drain from the bottom of the pot.
---
Propagating Your ZZ Plant
As with dividing, propagating your ZZ Plant sounds a bit daunting, but is actually quite simple to accomplish. You may want to consider propagating any healthy pieces you occasionally prune from your ZZ Plant, or when you accidentally break a piece off while you are repotting or dividing your plant.
The easiest way to propagate ZZ Plant is by cutting a portion of a healthy stem from an existing plant and rooting it out in water. Using a clean pair of scissors, snip a stem from the plant, making sure to get a portion with a few leaves on it.
Fill a small glass or container with cool water and place your stem, cut side down, into it, making sure the cut is fully submerged. Set in a window with lots of indirect sunlight and allow to sit. Change the water every couple of weeks to avoid mold issues.
Within 3-6 weeks, you should start to see the development of a new rhizome and perhaps even a few new roots. Wait until the roots reach about one inch long before transplanting into a small pot of well-drained soil.
---
Common Care Issues with ZZ Plants and How to Fix Them
Even though ZZ Plants are typically pretty easy to take care of, there are a few common care issues that crop up from time to time. Below, I've listed the most common issues and the likely reason you might be seeing this with your ZZ Plant.
Overwatering
By far, the most common issue people deal with regarding ZZ Plants is overwatering. Sometimes this is because they are given too much water too often, but it can just as easily be an issue of poor drainage and soggy soil.
Typically, when a ZZ Plant is overwatered, its stems and leaves will begin to turn yellow. When the plant is sitting in overly-saturated soil, the roots lose their ability to absorb nutrients, and the plant suffers a deficiency that begins to turn it yellow.
If you find you've overwatered your ZZ Plant, you'll need to let it dry out properly before you'll see any improvement. Make sure you understand the cause of overwatering, whether it be too much water or poor drainage, and take steps to remedy the situation. This might mean adjusting watering habits or repotting your ZZ into better soil for proper drainage.
ZZ Rot
Another common care issue people often ask about is the presence of mushy, brown stems, leaves, or rhizomes. These are signs of rot and are something that should be taken care of immediately to save your ZZ Plant from further damage.
Typically caused by poor drainage, rot is most commonly found in the roots, on the rhizome, or on the stems. The best way to deal with it is to remove the affected parts of the plant to avoid further spread.
If a stem is brown and mushy, you'll want to prune it away, making sure to remove any brown that has spread to the rhizome. If you suspect the roots have been affected, remove your ZZ Plant from the pot, rinse the dirt away, and then cut out any roots that are brown and mushy, leaving only clean, white roots.
The same can be done with the rhizome. Remove the plant from the pot, rinse the dirt away, and then inspect the rhizome for any brown, mushy spots. These can be cut out with a sharp knife with minimal damage to the plant.
Be sure to also address the root cause of any rot issue, which is typically overwatering or poor drainage. Again, adjust your watering habits or repot your ZZ Plant in well-drained soil.
For more information and step by step instructions on saving your ZZ Plant from root rot, read this article.
Slow or No Growth
ZZ Plants are notoriously slow growers, but even so, if you're providing them with the proper conditions, you should be rewarded with at least a little bit of growth each season. If you find that your ZZ Plant seems stunted, there are a few things to consider.
First, be sure your ZZ Plant is within its growing season. Don't expect it to put out any growth when it's dormant during the winter months. Instead, wait until Spring and reevaluate if your ZZ Plant is still not growing.
You'll also want to consider your water habits, how much light your ZZ is getting, and how often you fertilize your plant as possible reasons why you are getting little or no growth.
Make sure you follow proper watering guidelines, adjusting your schedule to reflect what your ZZ Plant actually needs. If you think it needs more light, consider moving it to a new space in a brighter room. If it's been a while since you've fed your ZZ Plant, feel free to do so and then monitor it over the next two weeks to see if it was able to utilize the extra nutrients as new growth.
Other Issues
If you have other issues with your ZZ Plant that aren't outlined here, I've written a large article about diagnosing ZZ Plant problems and steps to recovery. To read that article, click here.
---
Final Thoughts
ZZ Plants truly are great plants for everyone, beginners and experts alike! They're beautiful and versatile within the home, and when they have what they need, they can truly thrive.
If you've had bad luck with houseplants in the past, I suggest you pick up a ZZ Plant and follow the instructions outlined in the Basic Care section. As you gain confidence and your ZZ Plant grows, you can always refer to the Advance Care section to take your skills to the next level. Best of luck!
---