Your trailing Pothos looks cool, but could it look even cooler climbing up the wall? There's no denying the appeal of watching a flourishing Devil's Ivy vine snaking up a trellis. And growing upward can actually boost your plant's growth, resulting in bigger, richer foliage. As long as you follow a few simple guidelines, it's easy and fun to make a Pothos climb.
All you need to do to make a Pothos climb is anchor one or more of the vines to a vertical support. The plant's natural growth habits will take care of the rest. Any kind of pole or stake will work, though a moss pole is even better. A wide lattice or trellis will encourage your Pothos to spread out.
You'll often find that your Pothos gets a new burst of vigor once you train it to climb. We'll give you some tips on supporting its explosive growth. And we'll address a few common questions about growing Devil's Ivy vertically. Grab your gear, buckle your harness, and get ready to help your Pothos climb.
---
Do Pothos Like to Climb or Hang?
Epipremnum aureum, the Golden Pothos plant, has two distinct life stages. The juvenile phase looks like the Pothos most of us recognize, with small, pointed, heart-shaped leaves. In nature, this is how the plant grows when it's dangling from branches or crawling over the ground.
But when a Pothos reaches a tree trunk and begins to climb toward the sunlight. The leaves get bigger and bigger, spreading out to catch more of those plentiful rays. The leaves of a fully mature Pothos are often wider than an adult human. They may also split at the edges, forming fenestrations much like a Monstera's.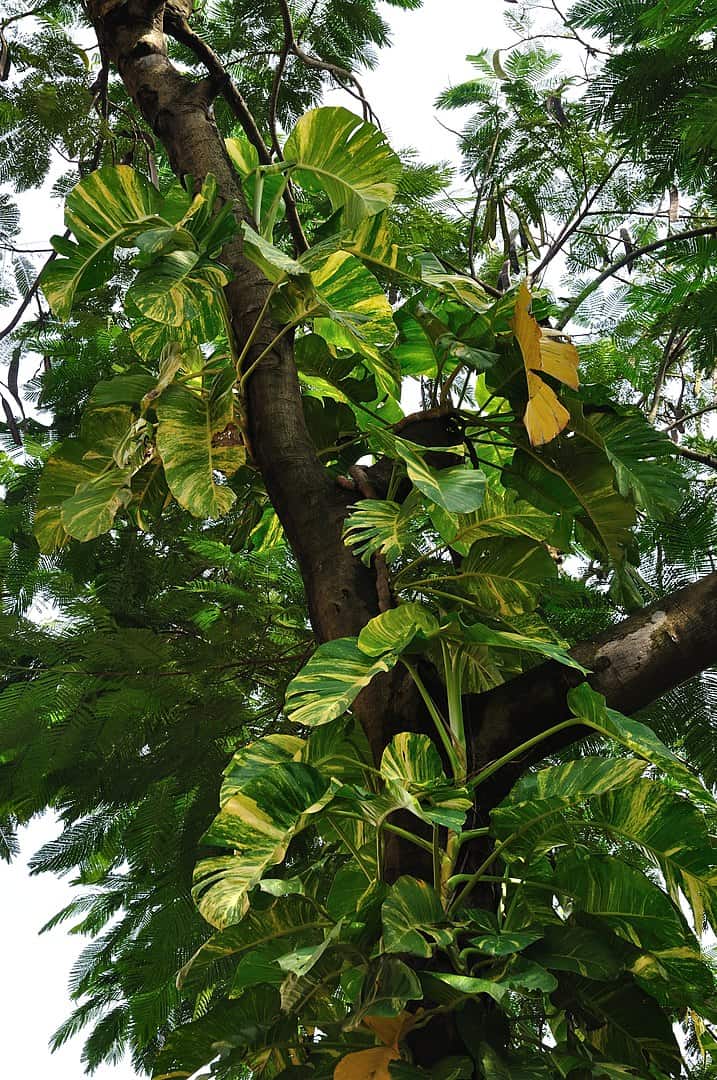 A Pothos never reaches this stage if it can't climb. As the leaves trail toward the ground, they get smaller rather than larger. This adaptation makes sense in the wild. If a Pothos vine gets knocked loose from its perch and starts hanging downward, it's now growing away from the light. There's no point in making larger leaves as it extends deeper into the shade.
Instead, the leaves dwindle to conserve energy while the bare stem pushes toward the ground. When it touches down, it will start over again in the juvenile phase. The Pothos spreads out as ground cover until it hits another tree and starts climbing again.
Growing Devil's Ivy as a trailing or hanging plant isn't bad for it. However, unless you make a Pothos climb, it will never reach its full growth potential. It will remain a juvenile with small, non-fenestrated leaves.
Note that growing a climbing Pothos isn't an immediate cheat code for huge growth. The plant can still take years or even decades to fully mature. And the process requires plenty of sunlight and nutrition.
---
When Can a Pothos Start to Climb?
If you stick a pole in a pot with a brand-new Pothos cutting, don't expect it to climb right away. The plant needs to develop a decent amount of foliage before it can head upward. Young Pothos plants tend to grow faster and stronger if you let them trail down a bit. This lines up with the plant's natural life cycle, in which it dangles to the ground and creeps along until it finds something it can climb.
It's easiest to make a Pothos climb after a year or two of growth as a trailing plant. One good indicator that it's ready is that the leaves toward the end of the vine are getting noticeably smaller.
Another sign is the emergence of aerial roots. In the wild, your Pothos would use these to cling to trees and rocks. Air roots begin as small brownish nubs pushing out of the nodes (the wide "joints" along the stem). Eventually, they'll grow into long tendrils that naturally curl around nearby objects.
---
How to Get Your Pothos to Climb
When your Pothos has gotten old enough, you can begin steering it in a vertical direction. Choose a vine and the structure you want it to climb. Then gently attach the stem to the support.
Simple garden ties are excellent tools for this purpose. Cut a short length of this flexible wire, wrap it loosely around your Pothos and its anchor, then twist the ends together. If the vine is long enough, you can attach it at multiple points.
Does your Pothos already have aerial roots? These make perfect attachment points for your plant. If an air root is long enough, you can tie it directly to whatever you want to make your Pothos climb. Otherwise, attach the stem to your support structure near where the root is growing.
As your Pothos begins to climb, make sure it's getting lots of light from above. The energy will fuel its growth, and it will naturally head in the direction of greater light intensity. But make sure your Devil's Ivy doesn't get more than 2-3 hours of direct sunlight daily (ideally in the mornings). For some tips on lighting for Pothos, you can browse our article on the topic. Or, if the natural light in your home isn't providing enough fuel, you could hang a grow lamp over your Pothos.
---
What Kinds of Things Can a Pothos Climb?
You can use lots of different structures to guide your Devil's Ivy. Once it gets growing, this plant can scramble up almost anything! You can make a Pothos climb…
---
Stakes
A simple rod of wood, bamboo, or metal makes a cheap and easy support for a climbing Pothos. You can also find fancier options on sites like Etsy. Choose whatever best fits your space and your aesthetic.
Plant your stake deep into the pot until it's touching the bottom. You want to give it as much stability as possible so that it doesn't tip over from the weight of your growing Pothos. Then use ties or twine to attach the plant to the pole.
Note that the smoother the pole, the harder it will be for the aerial roots to grip it. You may need lots of twist-ties to keep a Pothos anchored to a metal stake. Try looping each one just below the spot where a leaf or aerial root branches off the stem.
---
Trellises
A trellis is any kind of vertical structure used to grow climbing plants. Grids and lattices are popular, but you can also find trellises in all kinds of cool shapes online. Thanks to 3D printing, it's now possible to whip up a plastic trellis in the shape of anything from a geometric pattern to your favorite Pokemon.
Most trellises anchor in the soil like a stake, though they typically have two spikes at the bottom instead of one. As with a stake, you should plant them as deeply and securely as possible. You can also find trellises made to hang on the wall.
Of course, if you're the DIY type, you can also make your own trellis! Weave some flat strips of wood in a simple lattice, attach the crossover points with carpentry staples, and you've got the beginnings of a classic garden trellis. No doubt our craftier readers are already thinking of even more creative ideas. When your trellis is in place, attach a Pothos vine to it just as we described above.
---
Moss Poles
A moss pole (AKA a "moss totem") is a stake that you've upgraded by wrapping dried moss around it. Coco coir is an alternative if you don't like working with sphagnum moss – a coir pole and a moss pole are basically interchangeable.
Adding organic material serves a couple of purposes. First, the added texture makes it easier for the plant to grip. Second, the moss or coir can soak up moisture for your Epipremnum's aerial roots to drink. Third, that moisture also makes the air more humid around the leaves, which is good for the health of your Pothos.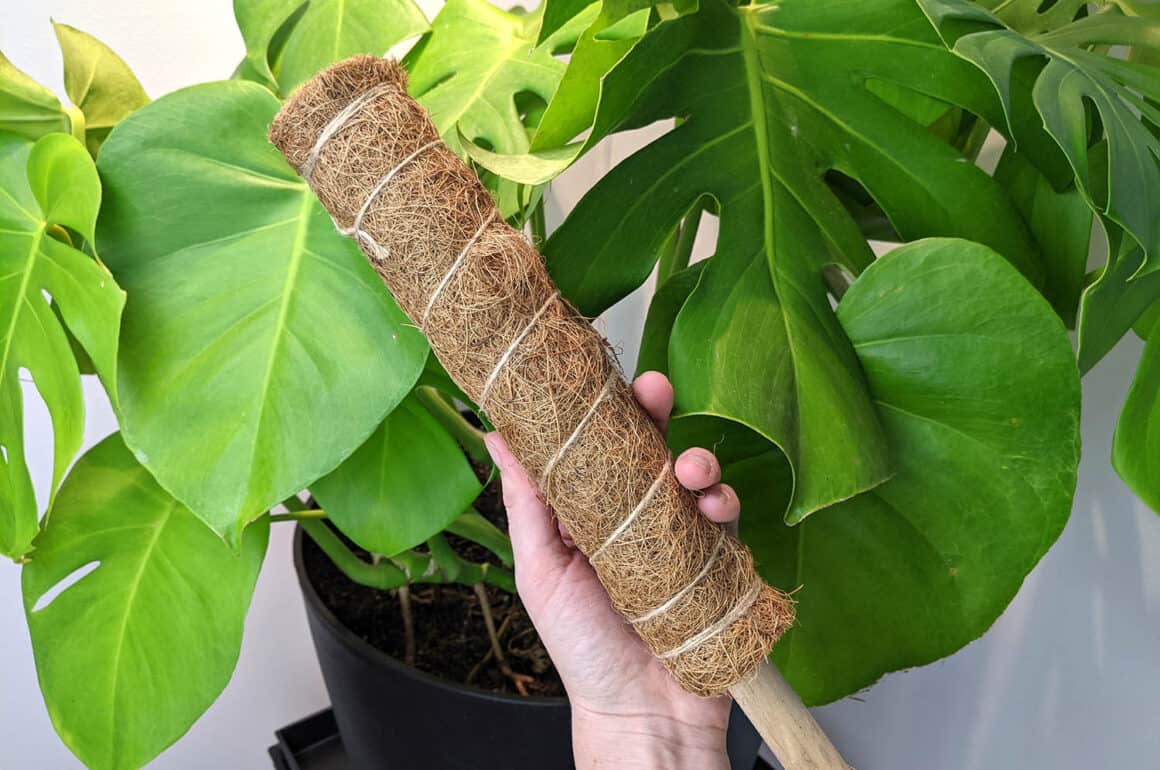 As with most gardening supplies, you can easily buy ready-made moss poles. We're fans of this type, which comes in modular units you can stack again and again. That way, your moss pole can keep growing along with your plant.
A homemade moss pole is also an option. Try using a thin PVC pipe or a bundle of bamboo stakes as the central piece. Then wrap the outside with flat sheets of lightly moistened coco coir. (You can also use dried sphagnum moss, but it tends to be crumblier and harder to work with).
Tie the coir in place with a spiral of twine, fishing line, or something similar. Or, to secure it even more, wrap the whole thing in plastic mesh and secure it with twists of wire. You can even do this without a central pole, creating a hollow column of mesh filled with moss. Then attach stakes to the outside to anchor and support it if needed. Take a look at this tutorial for a visual. 
After you've bought or built your moss pole, plant it in the soil as you would with a stake. To make a Pothos climb it, fix a couple of stems to the pole with string or garden ties.
---
Strings
A simple piece of twine or fishing line stretched between two points is an easy way to support your Pothos. If you're the artistic type, you can create some very cool patterns by crisscrossing multiple threads. Why not make your Pothos climb a wild spiderweb of interwoven strings?
Whatever pattern you're creating, the basic technique is the same. Choose two anchor points and tie one end of the string to each. Setting the anchors can be as simple as placing one thumb tack in the wall behind your Pothos and another in the ceiling above it. You could also plant a short stake in your plant's pot and send multiple strings branching out from there. There are plenty of other possible arrangements, and it can be pretty fun to brainstorm more.
When a string is in place, attach one or more of your Pothos stems to it. If it's at an angle, you might not even need the ties. You could just drape the vine over the string and gently wrap the leaves and petioles around it.
---
Walls
With a little patience, you can get your Pothos to climb straight up the wall behind its pot. This is great for that cottagecore look you've been after. Creating a lush plant wall covered with huge Pothos leaves feels like inviting a piece of the jungle into your home.
You'll have to use some anchors at first to make a Pothos climb a wall. Try sticking a few adhesive picture hooks to the wall and draping a long vine over them. Or you could use a series of push pins. Don't stick them through the vine – place the stem on the wall and insert the pin next to it, gently pinching the plant against the surface. Another option is to run a string up the wall and let your Pothos climb that.
---
Note: Pothos roots can damage your paint or wallpaper as they climb.
After a little while, your Devil's Ivy can start clinging directly to the wall with its aerial roots, removing the need for separate anchors. This can cause paint or wallpaper to peel if you try to move the vine. If left long enough, the aerial roots may even penetrate a little way into the drywall.
The roots of an Epipremnum can't dig into sheetrock, so they won't cause structural damage to the walls. There might be some cosmetic damage, but nothing you can't fix with a bit of spackle and paint. You may be fine with that in exchange for the cool factor of watching your Pothos spread up the walls.
If not, you can reduce the risk by keeping your Pothos on hooks or trellises instead of flat against the wall. You'll also want to check on the stems occasionally. When you see them starting to press against the wall, pull them back a bit to create a little space.
Another option is to attach a wide, flat board to the wall before you make a Pothos climb it. You can even glue down some coir or moss, making an ideal surface for an Epipremnum to scramble up.
---
Tips For Tending a Climbing Pothos
Here are a few more things you should know when you're trying to make a Pothos climb:
---
Pothos Vines Rarely Branch As They Climb
If you want your Pothos to grow into a wide "plant wall," you'll need multiple vines climbing side by side. The individual stems hardly ever branch – each one grows as a single, mostly straight line. The simplest way to get a wider and bushier Pothos is to take cuttings from existing vines and plant them back in the pot. Then you can anchor them to the climbing structure next to their older siblings.
You can sometimes induce branching by repeatedly clipping off the newest leaves from the end of a vine. If you prune them as soon as they appear, you'll remove the hormone that suppresses branching. Eventually, you can often get a Pothos vine to split this way, but it requires patience and vigilance. Read this post for more detail on this method.
---
Mature Pothos Cuttings Grow Bigger Leaves
Let's say your climbing Pothos has gone as high as your space allows. But it still isn't producing huge, fenestrated, mature foliage. You'd like to see if they can get even wider, but there's nowhere else for the plant to climb. What can you do?
One option is to cut off a stem section near the top and root it at the base again. Because it's coming from a more mature part of your Pothos, it will produce bigger leaves than a juvenile cutting. As this cutting climbs back up, its leaves will soon surpass those on the "parent" vine. You can repeat this as many times as needed to get fully mature Pothos vines.
---
A Moist Moss Pole Helps Your Pothos Climb
Part of the advantage of a moss pole is that stores some water for your Epipremnum's aerial roots. That requires you to moisten it periodically, though.
One option is to spritz the pole regularly with a spray bottle. You can do this every time you water your Pothos. This is a straightforward but somewhat time-consuming approach. Other indoor gardeners like to use a wick to carry water up from the pot. To do this, bury a length of twine or cotton fabric deep in the soil. Then run the other end of the wick up the moss pole, spiraling it around the outside. When you water your Pothos, some of the moisture will work its way up the fabric and into the moss.
The length of twine you use to tie the moss to the pole can pull double duty as a wick. This is especially easy if you're using a PVC pipe as the core. After you wrap up your moss pole, run the twine down through the pipe and out the bottom. Then plant the tube into your pot.
Remember that a wicking system like this may not completely remove the need to water your moss pole. It's best to keep an eye on it and moisten it if it starts to dry out. The one exception is if you start to notice mold or rot forming on the pole. In that case, let it dry out, and replace that section of coir if needed. In the future, moisten it a little less often.
---
Don't Be Shy About Pruning
Though it takes some initial effort to make a Pothos climb, it should spread like wildfire once it gets going. You'll probably need to trim it back here and there to keep it away from areas where you don't want it. The good news is that this won't hurt your Pothos – it will actually invigorate its growth.
Disinfect your trimmers with rubbing alcohol or 10% bleach before pruning your Pothos. Remember that you don't have to discard the pieces you remove. As long as there are a few nodes on a cutting, you can plant it in the soil, adding a new vine to your Pothos.
---
Repotting a Climbing Pothos
Growing vertically makes your Pothos get bigger faster. That means it will also outgrow its pot sooner. A fast-growing Pothos should get a larger container at least every other year – maybe even once a year.
You can tell that it's past time to pot up when the container no longer holds water. This happens because the overgrown roots have pushed out or absorbed all of the moisture-retentive organic matter in the soil.
But how do you repot a climbing Pothos when its vines are twining around an anchor?
You'll have to perform the operation in place. Don't try to separate the moss pole or trellis from the roots. Lift the plant straight up, slide the pot off, then slip the new container underneath. Picture Indiana Jones swapping the idol for the bag of sand.
For a very large Pothos, this may require two people. One person supports the stems, trellis, or pole while the other changes out the pots.
It's a good idea to loosen the root mass first. If it's in a plastic pot, squeeze the sides to get the roots unstuck. With a rigid ceramic or metal pot, you can wedge a garden knife or spatula around the edges of the soil. Wiggle it back and forth to pry the roots free.
When the plant is out of the pot, remove as much of the old soil as you can and tease the roots apart slightly with your fingers. Then place your Pothos in a new container about 2 inches wider than the old one (or maybe 3-4 inches wider if the plant is highly root bound). Bury the roots in fresh, lightly damp potting mix. This article has some tips on preparing soil for a Pothos.
---
Fertilize Your Pothos As It Climbs
Another side effect of your Pothos growing bigger is that it may need more nutrition. You might find that you need to increase the amount of fertilizer you're providing. Exercise caution, though – a fertilizer overdose can harm your plant much more quickly than a shortage.
Are you already supplementing your plant's diet? If not, add a ½-strength dose of liquid fertilizer every 4-6 weeks once your Devil's Ivy starts climbing. If you're already fertilizing it, you can increase the dose by ¼ as the plant starts producing bigger leaves.
After the first increase, watch your Pothos carefully for signs of distress. If it starts wilting, yellowing, or turning brown at the leaf tips, it's probably overfertilized. Flush the soil with a large amount of water, then wait 4-6 weeks before fertilizing at a lower dosage. Never fertilize your Pothos in the winter unless you're using grow lights.
---
Final Thoughts
To make a Pothos climb, you just need to provide a structure and help it take the first step. From there, it will spread rapidly and probably grow quite large. Give your Devil's Ivy plenty of light, moisture, and fertilizer as it rises. And have fun! Raising a climbing Pothos is like a cross between gardening and sculpture. It's a great way to indulge your artistic side.