With close to 500 species in the Philodendron family, you may find that it's easy to get overwhelmed when trying to pick the right variety that not only appeals to you but will also thrive in the specific environment of your home. What are some good tips to keep in mind when considering what variety of Philodendron to buy?
Most Philodendron varieties are extremely low-maintenance plants that are easy to care for and grow well in typical indoor environments. By considering your home's light levels, how much space you have, and the type of care you can realistically offer, you can easily find a Philodendron that will thrive in your home with minimal issues.
If you are interested in bringing a Philodendron home, the good news is you can't really go wrong when picking out a variety. Generally, the care Philodendrons need is the same across the board and only differs on a few points. In this article, I'll cover a few common conditions you should consider when looking for the right plant and give you a variety or two that work well for each situation.
---
How to Pick the Right Philodendron
Before we get into the specific plants that work for different types of scenarios, let's talk about what they really need. Picking the right plant for your situation is as simple as examining a few different aspects of your home and your comfort with general plant care. Even though they are generally considered to be easy plants, some varieties within the Philodendron family can favor specific conditions that determine whether or not the plant will thrive in your home.
---
Space
One of the first things you should consider is where you plan on putting your Philodendron. These plants come in a variety of shapes and sizes, so it helps to know if you are eyeing a spot on a tabletop, where a smaller, compact habit is preferable, or if you plan to hang a basket, where a vining variety will shine.
When picking out a variety for your space, you should look at attributes of the variety, such as leaf size, leaf length, stem height, and habit (whether it be vining, climbing, or self-heading). Knowing how your Philodendron is going to grow will help you visualize it in the space you are considering and will also help you determine if you need additional supports like trellises, poles, or stakes to support the plant.
Many plant stores sell Philodendrons in smaller pot sizes (4"-8") and charge a premium for larger specimens. By having an understanding of how your plant is going to grow, you can potentially save some money by purchasing the smaller size, knowing it will eventually grow perfectly to fill the space you provide it.
---
Light
Another key factor that can have an impact on which variety of Philodendron you choose is sunlight exposure. Although we all dream of having homes filled with an abundance of that wonderfully bright ambient light Philodendrons love, the reality is we often have a limited number of appropriate spots to set plants.
While it is true that most varieties prefer a steady supply of bright, indirect light, there are a few varieties that can handle the dimmer setting of a back room or the occasional brush with direct sunlight. Knowing how much light your plant will receive will help you determine which varieties are acceptable for specific areas of your home.
Sometimes, sunlight exposure can be a very nuanced environmental factor that will impact your Philodendron greatly. For example, many variegated varieties thrive in indirect sunlight, but if conditions accidentally grow too dim, variegation patterns can be lost as the plant tries to produce more chlorophyll to keep photosynthesis churning, resulting in plain, green leaves.
---
Your Plant Care Experience Level
An important thing to consider when picking out a Philodendron is how comfortable you are taking care of plants. It may seem like a pretty obvious question to ask yourself, but knowing how involved in your plant's business you want to be can help you rule out a few varieties.
In general, most Philodendron varieties grow well within a certain range of environmental conditions. As long as you are providing them with enough indirect light, water them appropriately, and keep them warm enough, you likely won't run into a lot of care issues.
However, if your track record for plant care is a bit spotty, or perhaps you are just starting your own plant collection and don't want to worry about them, you may want to stick with tried-and-true varieties over more finicky variegated types.
Even though I consider myself a pretty good plant steward, I still managed to ignore and almost kill a heartleaf Philodendron in my bathroom, despite it being an ideal spot for the plant. I was able to save it in the end, but I was thankful it wasn't a super rare variety that I spent a small fortune on.
Knowing your strengths and weakness in caring for your plants will often make the difference between a Philodendron that is thriving and one that is just surviving.
---
Uniqueness
There are other things that might influence your decision, as well. Rare varieties are, by nature, harder to come by and difficult to source (even through reputable internet resources). Many varieties can be hyper-regional, meaning they may be abundant in some countries but very scarce in others. Demand for really popular varieties can drive supply levels low, making plants tough to acquire.
All of these things impact the price of these plants, as well. Generally, the more unique the variety is, the more it costs. Some super rare Philodendrons go for several thousand dollars each and can be out of reach for the normal consumer.
---
Which Philodendron is Best for You?
Taking into consideration what we've learned so far, let's discuss in more detail how to pick the right Philodendron for your specific situation. Remember, you ultimately want to pick a variety that will acclimate to the conditions in your home and thrive in the space you provide it.
---
Best Philodendron for Beginners
If you've decided you just want to dip your toe into the world of Philodendrons and aren't quite ready to shell out the big bucks for a rare species, you will find the perfect entry point with a Heartleaf Philodendron.
Heartleafs (Philodendron hederaceum) are what you are likely going to find in almost any plant shop, nursery, or big box store. This very common variety sports the classic Philodendron look, with small, heart-shaped leaves that grow in a deep green color. This is a vining variety and does well in hanging planters, but also looks great spilling out of a tabletop planter when it is smaller.
The good thing about the Heartleaf Philodendron is that, because it is so common, it is usually very affordable, so there's really no risk in bringing one home.
It can also tolerate bright to medium indirect light, so you'll have more options of where to place it without worrying much. As long as you water it when the top two inches of soil have dried out, you shouldn't have any issues keeping this variety happy.
---
Best Philodendron for the Serious Collector
Isn't it funny that buying houseplants often begets buying more houseplants? A blessing and a curse, really. If you've decided your common Philodendrons are happy enough in your home and you want to start looking for some more unique varieties, let me tell you, you've got options!
Because there are so many species in the Philodendron family, there a plenty of odd and beautiful varieties that sport different colors, leaf shapes, and sizes.
Some of my favorite, rarer varieties include 'Silver Sword' (P. hastatum), with its sword-like, blue-silver foliage, 'Mamei,' with large, wide leaves that take on light silver variegation, and 'Florida Ghost,' which has leaves shaped like little cartoon ghosts that start white and eventually green up.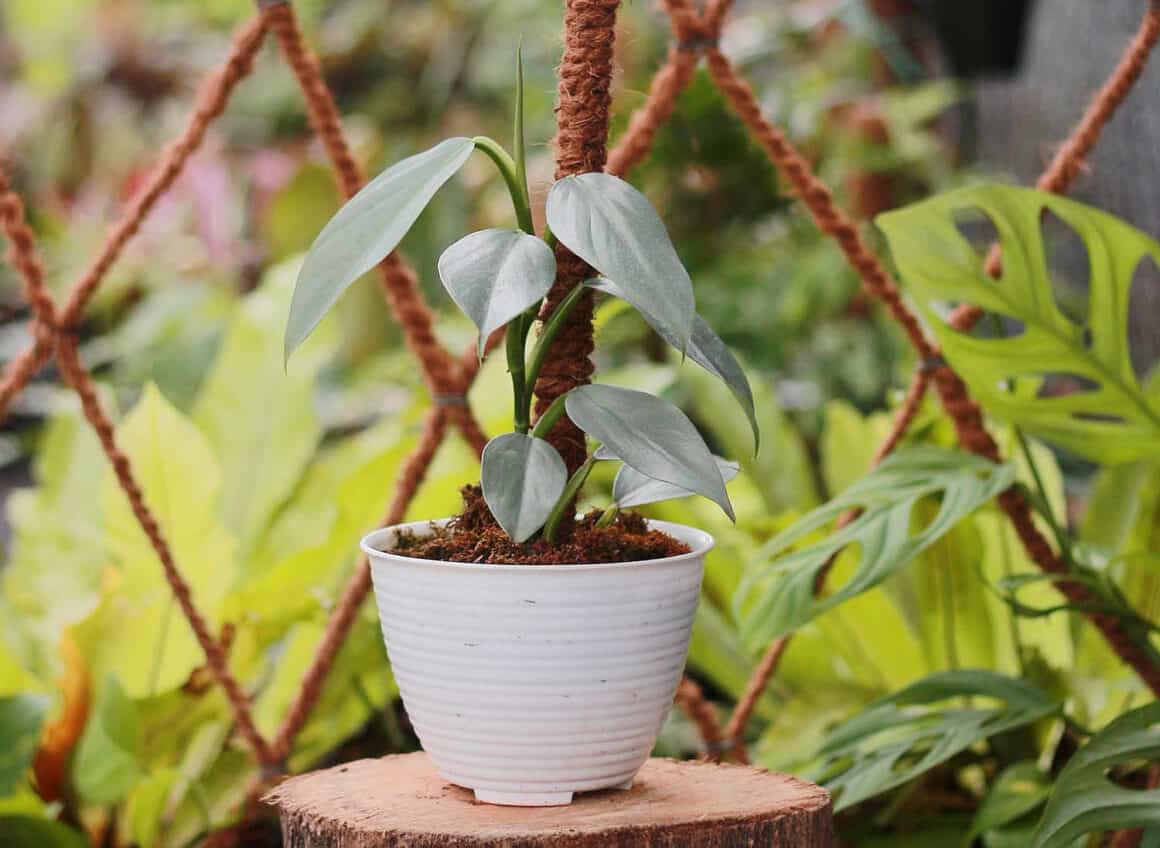 All of these varieties, while still considered rare, are becoming more common, so you actually have a chance to acquire them for a (somewhat) reasonable price.
There are plenty of other varieties that can be somewhat hard to source, but if you have the patience to do the research and the money to buy them, you may end up with quite the Philodendron collection.
If you want to learn more about some of the rarest varieties of Philodendron, check out an article I wrote on the subject here.
---
Best Philodendron for Small Spaces
I think it's fair to say that a limiting factor in most everyone's houseplant collecting is a lack of adequate space to keep said plants. Regardless of whether you have a conservatory, a bank of south-facing windows, or perhaps just one room with proper light, it seems like there is never enough space for all our plant friends.
If you happen to be working with limited space, every surface becomes a potential plant home, and you need to think small. The good news is that there are Philodendrons that can be kept as tabletop or bookshelf plants that work well in smaller pots.
Remember, there are different types of Philodendrons that have different habits. Many are vining or climbing and do best when grown from a hanging basket or with some sort of support. However, if you are looking for something more suited for a tabletop or windowsill, look for varieties that are "self-heading."
Self-heading varieties usually grow in their native environments as understory plants from the ground, so they tend to have a more upright habit that stays tidier than vining varieties. A compact, self-heading variety of Philodendron can be kept on a tabletop for quite a while before it ever outgrows its space.
'Lynette' (P. campii) is a nice, compact variety that puts out an abundance of long, thin leaves that have a textured surface to them. You could also try out Philodendron selloum 'Green Princess,' another compact variety that has glossy, oval leaves in the classic jade-green color.
Also, if you fall in love with a vining variety that you just can't pass up, you can always buy a smaller size (like a 4" pot) and keep it on a tabletop or bookshelf for quite a while before it outgrows its space. Many vining varieties look great spilling over the sides of small pots!
---
Best Philodendron for Large Spaces
Although many of us understand the struggle of running out of room for our houseplants, there are times when you need a statement plant to fill space in larger rooms. If you find yourself wanting to fill a corner in the living room or put something tall in a hallway or foyer, you've got a few options.
A bushy variety that can fill up horizontal space is 'Green Congo.' Will large, elongated leaves, this plant stays upright and tidy, with only minimal shaping necessary, while still looking quite full. There is also a dark-leaf variety called 'Congo Rojo' that is sleek and attractive.
If you really need size, you can't go wrong with 'Gloriosum.' This variety has some of the largest leaves in the Philodendron family, growing up to three feet in diameter on a mature plant. These big leaves have a velvety texture that is punctuated with white veins, giving the whole plant a very sophisticated look.
Again, many vining varieties can grow quite big, as well, and can be trained to fill larger spaces with the proper supports. Don't be surprised that some varieties can vine ten feet or more!
---
Best Philodendron for Outside
If you live in an area that doesn't get too cold, you can actually incorporate many Philodendron varieties into your landscape. Although grown as tropical houseplants in most parts of the world, many Philodendrons do just fine outdoors in USDA Zones 10-11, where they do require partial shade to avoid burning up.
There are actually a few varieties of Philodendron that are considered to be great, relatively hardy, landscape plants that actually got reclassified into a new genus (Thaumatophyllum) back in 2018. While technically no longer a Philodendron, both 'Hope Philodendron' (T. bipinnatifidum) and 'Xanadu' are robust plants that do well in warmer landscapes and sport larger, serrated leaves that give a prehistoric flare to your yard.
Another actual Philodendron that does well in the landscape or in larger planters outdoors is 'Burle Marx.' This climbing variety tends to spread horizontally and stays around two feet tall without support, making it a perfect groundcover plant in warmer climates.
---
Best Philodendron for Low Light
Let me just start this section by saying that almost every variety of Philodendron does well in bright, indirect light. This means that they prefer growing in the ambient light that bounces off the surfaces in a room and only start underperforming if things get too bright or too dark.
Now, the good news is that there are a few varieties that you can push a little bit farther than the rest of them, so when all of your prime plant spots are occupied, these Philodendrons can handle a slightly darker spot in the room.
Some varieties we've already covered do well in lower-light situations. 'Green Princess' and 'Silver Sword' are both types that are used to growing in the understory of their native habitats, where conditions are usually dimmer.
In addition, darker-leaved varieties tend to handle lower light better than most. So, picks like 'Congo Rojo' are great for darker spots. 'Black Cardinal' is a wonderful dark-leaf variety that has glossy leaves that transition from a pinky burgundy to green to black. While it does fine in bright, indirect light, too much of it can fade out the deep black coloring.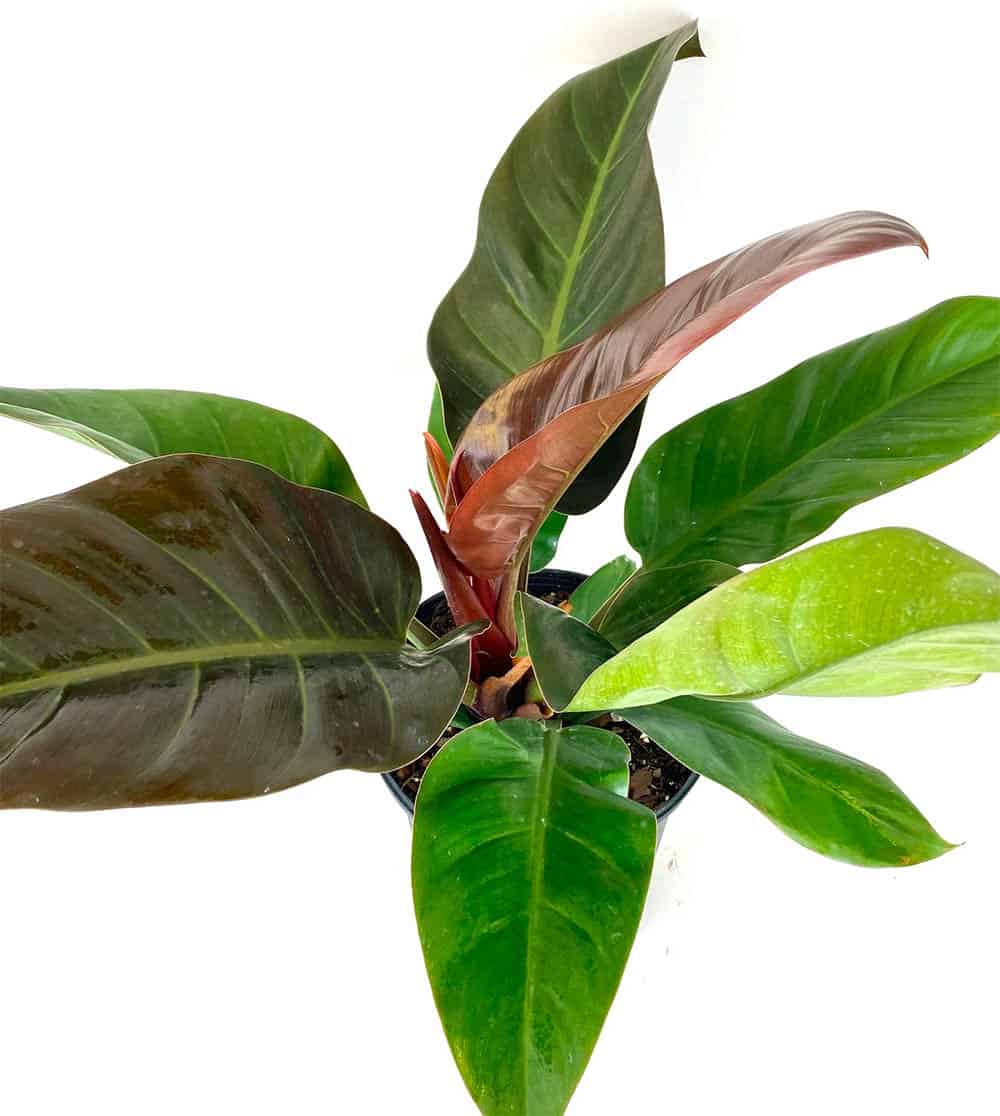 In general, it is best to keep variegated varieties out of the dimmer spots in your home. Because the variegation is often caused by an absence of the chlorophyll pigment, the plant is already at a disadvantage for carrying out photosynthesis. When the plant doesn't receive enough light, the variegation patterns will often be lost as the plant creates more chlorophyll to survive, leaving leaves solid green.
One exception to this rule is Philodendron brandtianum. This variegated, vining variety has light green leaves with large swaths of silver between the veins. In dim light, it actually does a pretty good job of holding onto its variegation.
---
Best Philodendron for Bright Light
As you may have figured out by now, bright light is the bread and butter of Philodendron plant care. As I've already mentioned, you can grow pretty much every variety in your home as long as you have enough indirect sunlight filling the room.
If your space is blessed with lots of ambient light, you have free reign to go pick out whatever variety you like without having to worry. As long as you protect your plant from harsh, hot, direct sunlight, your Philodendron shouldn't have any issues. However, if you are working with lots of light, I would suggest you focus your attention on the many variegated or colorful varieties.
With proper lighting, variegation patterns hold strongly and any coloration on leaves or stems tends to be brighter and more defined. This is because the plant, despite having less chlorophyll pigmentation in its leaves, isn't naturally limited by sun exposure, so photosynthesis continues to happen at efficient levels.
Some popular varieties of variegated Philodendrons include 'Pink Princess,' the internet-darling with brush strokes of blush pink across its leaves, the rare but beautiful 'Red Moon' and its stunning red and orange foliage, and the white-splotched 'White Knight.'
There are also lots of great varieties that have two-toned foliage, typically starting white or yellow before turning a darker green. These types usually revert to just green plants without enough light, but when moved to a brighter spot, more defined color contrasts are formed.
'Lemon Lime,' 'Brasil,' and 'Moonlight' are all examples of this. 'Florida Ghost' sports wonderfully white new leaves in bright light. Sometimes you'll find 'Florida Mint Ghost' for sale as its own variety, but this is just an example of what happens when these varieties are grown under dimmer conditions. This variety is just a regular 'Florida Ghost' that has started creating more chlorophyll, causing the white portions to turn a mint green color.
---
Putting It All Together
The best thing about all Philodendrons is that, with the proper care, you can grow almost any variety in your home without issue. These plants are diverse and unique, but when it really comes down to it, a steady supply of bright, indirect light and regular watering are all these plants really need to thrive.
If you are constrained by space or light, or if you are unsure about your own skills as a plant steward, I hope you find this guide a useful resource to find varieties that might work for your specific situation. I think you'll find that, with very little accommodations, you can be successful at growing whatever variety catches your interest. Good luck and happy growing!