Can African Violets grow well in terrariums? If you've been finding wildly different responses to this question, you're not alone. Let's clear up the mystery once and for all. Yes, Saintpaulias can thrive in a terrarium – as long as you're careful to build and maintain it right. We'll help you set up a terrarium for African Violets that will keep them flourishing for years to come.
The best place to set up a terrarium for African Violets is inside a wide-bottomed container with a large lid. Place some gravel at the bottom to catch excess water. Then add a layer of fine mesh and some moist, fast-draining soil. Plant your African Violet in the center of the terrarium so it won't touch the glass.
Remember that African Violets come in a range of sizes, and the smaller ones are often better for terrariums. The less work you have to do to keep them from crowding the container, the better! Check out our guide below for step-by-step instructions on building your perfect African Violet terrarium.
---
Why African Violets Like Terrariums
A quick web search will turn up thousands of pictures of African Violets growing happily in ordinary pots. So why would you bottle yours up in a terrarium?
Some people simply like how plants look behind glass. Others enjoy the challenge of building a miniature world in a jar. However, there are some specific reasons African Violets are good plants for terrariums:
Humidity. African Violets come from the misty, high-altitude jungles of Tanzania and Kenya. They bloom and grow better in moist air, and terrariums are all-stars at maintaining high humidity.
Compact spaces. Saintpaulias are used to growing in tight corners, especially the smaller varieties. They flower more when you stop them from spreading out through suckers. And they tend to stay healthier if you keep their stems short. That makes African Violets good candidates for the cozy environment of a terrarium.
Damp soil. With proper upkeep, the potting mix in a terrarium should remain evenly moist for long stretches of time. That's perfect for African Violet roots, which don't do well with droughts or excess water.
If you take good care of your terrarium, it will form a tiny, humid microclimate that makes your African Violet feel right at home.
---
Choosing a Container For Your African Violet Terrarium
Before we explain how to set up a terrarium for African Violets, we need to talk about supplies. The first thing to choose is the vessel that will hold your plant.
In theory, you can use any kind of glass or clear plastic container that can open and close. In practice, a terrarium with a large lid is easier to maintain, since you'll need to take your African Violet out every so often to clean up excess growth. And a narrow container isn't great for the wide but shallow roots of Saintpaulias.
The best containers for terrariums have built-in lids to let you lock in the humidity. Look for things like big glass cookie jars or cake stands with raised edges. Or, to convert an open-topped vase or bowl into a terrarium, cover it with a watch glass or something similar. If you feel like getting fancy, you could find yourself a stylish Wardian case.
You'll have to take the mature width of your plant into account as well. African Violets come in several different size categories. Make sure you know which type you have.
Miniature or semi-miniature plants grow foliage crowns around 6-8 inches across. Get one of these if you're trying to create a small-scale terrarium in a little apothecary jar. Standard or large African Violets can reach more than a foot in width. They're better suited to large containers like aquarium tanks.
---
The Best Soil For African Violet Terrariums
The next thing to prepare is the substrate in which your plants will grow. If you're going to set up a terrarium for African Violets, the right soil blend is key. The mix should be fluffy and well-aerated, but still able to retain some moisture.
We like the following blend:
You can modify this formula if you find that it gets too wet or too dry inside your terrarium. In the best-case scenario, it should stay about as moist as a wrung-out sponge. Adding more gritty, rocky ingredients will increase the drainage. More moss or coir will make it hold more water. Worm castings should never be more than 10-20% of the total, or the substrate will get soggy.
Don't have the patience to fiddle around with a custom-made substrate? You can get decent results by combining 50% African Violet soil with 50% coarse-grade perlite.
---
Building a Terrarium For African Violets: a Step-by-Step Guide
Now it's time to put your miniature garden together. We'll take you through the process from beginning to end. Here's how to set up a terrarium for African Violets.
---
Step 1: Prepare Your Supplies
You've chosen a container and prepared your soil. And you should already have an African Violet, or at least a cutting you're going to transplant. Here's what else you'll need:
Disinfectant. It's always a good idea to sanitize your terrarium container before filling it with soil and plants. We suggest using some rubbing alcohol or hydrogen peroxide
Tools. You won't need these if your terrarium is wide and shallow enough that you can easily fit your hands inside. But those with taller, narrower containers may find a set of aquascaping tools very helpful.
Rocks or gravel. Make the bottom layer of your terrarium out of chunky mineral material. That way, if you add a bit too much water, it can pool in the big gaps between the rocks instead of making the soil soggy. Pumice, LECA, and lava rock all work well. They're porous and can help soak up some water. Ordinary rocks are fine too, as long as you boil or sanitize them first.
Weed cover mesh. You'll use this to keep the soil from mixing with the gravel layer, which would defeat the purpose.
Horticultural charcoal. This an optional ingredient. Some people find that adding a layer of activated charcoal helps reduce odors in their terrarium.
The day before you're going to move your African Violet into its new container, give it a big drink of water. It will need some time to get its root system up and running after the move.
---
Step 2: Lay Down the Gravel
Swab out the inside of your terrarium container with your disinfectant. Then cover the bottom with whatever type of rocks you've chosen. This layer should be 1-2 inches thick, leaving a decent littler reservoir to catch any water overflow.
You can modify the size of this layer if you're using a very large or small container. Just remember your terrarium also needs to hold your African Violet plus 3 or 4 inches of soil (and any charcoal you're using.)
Technically, you don't need a gravel layer to set up a terrarium for African Violets. You can leave it out as long as you're careful not to overwater. However, we think it's helpful to have a slight buffer against excess moisture.
Just remember that this "drainage layer" doesn't allow any actual drainage. The whole point of a terrarium is to stop moisture from escaping. If you add too much water, your African Violet will get root rot, no matter how many rocks you put in the base.
---
Step 3: Put Your Mesh Layer In Place
Cut out a patch of garden mesh to lay over the rocks. It should be a little bit wider than the base of your terrarium. That way it can completely cover the gravel or pumice while leaving a bit of spare material at the edges.
Settle the mesh down as flat as possible over the drainage layer. Make sure it's centered, and tuck the extra material upward to create a small lip around the sides.
---
Step 4: Add the Soil
Moisten your potting mix lightly. Add water to the soil a little bit at a time, mixing it in as you go. Your substrate is damp enough when you can roll it into clumps, but it's not runny or glistening wet.
If you're going to add any activated charcoal, place it on top of the mesh first. Then lay down 2-4 inches of your moistened substrate and smooth it out so it's roughly level.
---
Step 5: Transplant Your African Violet
Now it's time to put your plant – or plants – into the mix. Yes, you can use more than one! For many people, part of the fun of terrariums is creating a tiny community of different plants. Always pair your African Violet with other tropical plants that like indirect light and airy soil. Refer to this article if you want some suggestions for other terrarium plants.
You have a few options for transplanting your African Violet. One way is to dig up the entire root ball and bury it in the terrarium soil. Grip the roots loosely in your fingers and try not to jostle them too much.
You could also grow a new African Violet from a leaf cutting. Some growers say that this results in a plant that's better adapted to the terrarium.
To transplant a cutting, pinch a healthy lower leaf off of your potted African Violet. Then slice away most of the petiole (the leaf stem), leaving around a quarter-inch. Now you can nestle the cutting into the terrarium substrate, burying the remaining stub of petiole.
Finally, you could cut off and replant the crown of your African Violet. This is the standard way to fix a Saintpaulia that's developing a long, bare neck. Snip through the central stalk with some disinfected pruners. Then scrape away the woody outer surface of the neck, revealing the green underneath. Plant that stalk in the terrarium so that the soil is just below the leaves.
Your African Violet will be happiest in the center of your terrarium. That's not because it craves attention – it's because you don't want its leaves touching the walls. If they're in contact with the glass, they could collect standing water and develop crown rot.
---
Step 6: The Finishing Touches
Here's your chance to add any fun decorative elements like colorful pebbles, interesting bits of driftwood, or little Buddha statues. Then close up your terrarium and place it somewhere away from direct sunlight. If the sun is falling directly on the glass, it can heat up the terrarium quickly and cook your plants.
Once that's done, simply wait, watch, and let your African Violet grow.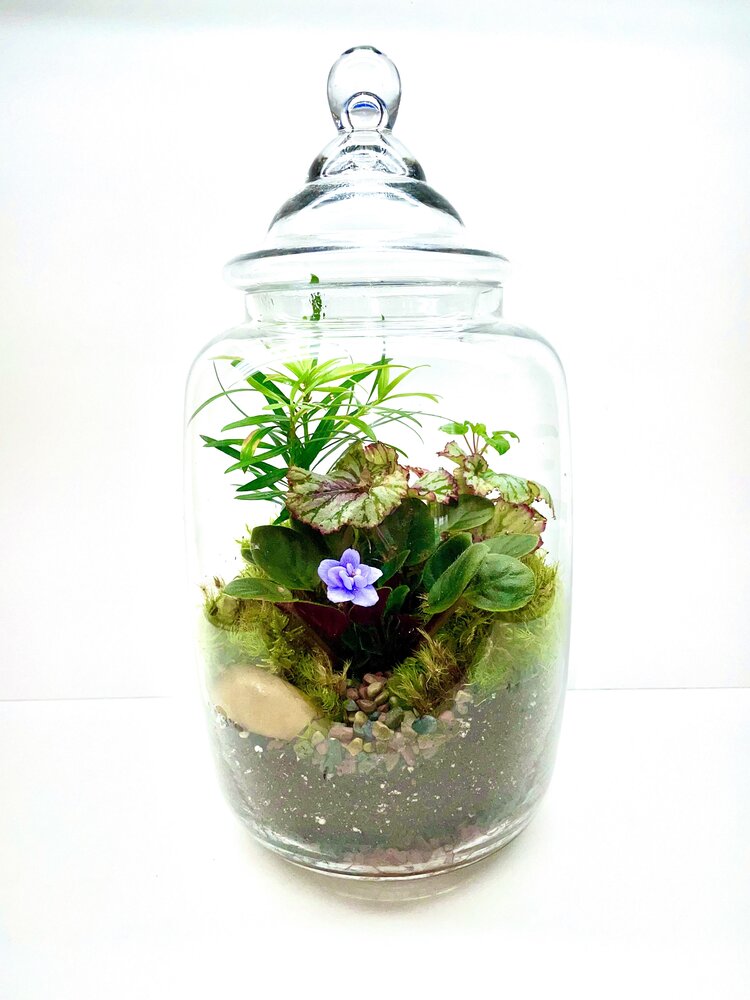 ---
African Violet Terrarium Upkeep
Once you set up a terrarium for African Violets, it's best not to fiddle with it too much. Otherwise, your plants will never get settled. However, your bottle garden is not a truly self-sustaining ecosystem. You'll need to perform a bit of maintenance to keep your African Violet healthy. Terrarium upkeep falls into a few broad categories:
---
Temperature
Make sure your terrarium stays at a comfortable temperature, which for African Violets is between 65 and 85 degrees. The good news is that most people prefer their homes within this range.
As we noted above, any sunlight hitting the jar should be filtered through curtains or reflected off of walls. Direct sun will scorch your plant. You can tell your terrarium is getting too hot if your plants wilt and their leaves turn yellow or brown.
Another possible sign of overheating is that the walls are constantly misty. Some fogging at dawn and dusk is normal, and so is a bit of condensation during the hottest part of the day. However, the glass should be clear most of the time.
---
Water
Keep an eye on the water level, especially during the first few days after you set up your African Violet terrarium. The soil should be damp, but not so damp that it's filling up the drainage layer. If you see water building up between the rocks, there's too much in the system.
Excess condensation is another warning sign. Is your African Violet terrarium fogging up all the time even though the temperature is stable? If so, it's too wet.
Leave the top open for a few hours and let some of the moisture evaporate. You can keep doing this for a few hours each day until the water levels are back to normal. Another option is to simply wipe some of the fog off the walls with a paper towel. This immediately removes a bit of water from the system.
On the other hand, if the glass never gets cloudy, your terrarium is too dry. You may also notice your African Violet drooping as it gets thirsty. Check the soil, too. When it's light in color, crumbly-looking, and shrinking back from the walls of the container, it's too dry.
Water your terrarium by lightly misting the soil or the inner walls with a spray bottle. Go slowly, spritzing a few times and waiting for the water to soak into the substrate before spraying again. Stop as soon as the potting mix appears damp. And always use lukewarm water. Cold water can damage African Violet leaves.
---
Cleanup
As the plants in your African Violet terrarium grow, they'll shed their older foliage and blooms. Remove these dead bits as they drop off. You can also proactively prune when you notice leaves turning yellow or flowers shriveling up. If you let these scraps sit in the jar, they may rot and infect your Saintpaulia.
You'll also need to monitor your plants for mold. The high humidity in a terrarium makes it easier for fungus to get a foothold. If your African Violet's leaves begin looking extra-fuzzy, gently remove the mold with a disinfected paintbrush.
African Violets also tend to develop long "necks" over time. This isn't a sign of ill health, but it can cause the plant to tilt over against the glass. Many people also find that it looks unsightly. When your Saintpaulia gets too tall, it's best to uproot it gently, slice off the crown, and replant it. For a detailed guide to this process, read this article.
It's also helpful to pluck off the lower rows of leaves from time to time. This will encourage flowering and keep your African Violet compact.
---
Fertilizer
African Violets don't consume huge amounts of fertilizer, and you don't want to encourage rapid growth in a terrarium. However, your plant will need some nutrition, if only to replace the dead tissue it sheds while growing.
Every 2-3 months during the growing season, add some liquid fertilizer to the bottle before misting your terrarium. A ¼ to ⅛ dose should get the job done.
You won't need to fertilize during your terrarium's first year if your substrate includes vermicompost or store-bought potting mix. Those materials already contain some nutrients. In fact, one alternative to adding fertilizer is to spread a new layer of vermicompost over the substrate each year.
---
Final Thoughts
When you know the right way to set up a terrarium for African Violets, keeping your plants in good shape is a snap. Use a fast-draining potting mix and a light touch with a spray bottle, and your Saintpaulia should flourish. Keep our guidelines in mind, and you'll be able to craft a miniature paradise for your African Violet.