What's better than having one ZZ Plant (Zamioculcas zamiifolia) in your house? How about lots of ZZ Plants! This remarkable plant has such great foliage, it's no wonder that people have more than one in their collections. Plants can get expensive, though, so discovering how to propagate ZZ Plants using cuttings is a great way to expand your collection.
The best way to take cuttings off your ZZ Plant is to snip shorter stems with a few leaves, or the leaves themselves, using clean shears. The cuttings should be allowed to callus over for a couple of hours and then placed into a quick draining potting soil.
The ZZ Plant can be propagated in a couple of different ways, and which method you choose will determine which parts of the plants you will take cuttings from. What you'll find below is the proper way to take stem and leaf cuttings to root them in either water or soil.
---
What You Will Need
While preparing cuttings for rooting is simple, I know from experience that it is nice to have everything you need within arm's reach. Gather up these things first and then keep reading.
You will need:
Sharp, clean garden shears or scissors
Your ZZ plant
A clean work surface
Gardening or latex gloves (see note below)
If rooting in water:
If rooting in soil:
Small propagating pots or propagating tray
Quality potting soil, preferably with high amounts of vermiculite or perlite
Cactus/Succulent soil (optional)
Watering can
Quick note: ZZ Plants are generally considered to be toxic. This is mainly in reference to consuming the plant, but it's worth noting that the sap of the ZZ sometimes irritates people's skin. If you find yourself to be one of them, consider wearing gardening or latex gloves throughout this process. For more information on ZZ toxicity, click here.
---
Taking ZZ Stem Cuttings
The most effective way to successfully create new ZZ Plants from cuttings is to propagate from stems. It is faster than using leaf cuttings and tends to have less loss throughout the entire process, so you end up with more rooted starts in the end.
Because you are taking more tissue from the mother plant, your cuttings are stronger, and their structures are more intact from the start. This means that, as the root structure grows, the plant will be ready to push growth on the existing stem and leaf structure rather than having to start fresh.
Before you go all Edward Scissorhands on your mature ZZ Plant, there are a couple of things to consider that will help guide you in where to set your shears.
Check for Stems in Need of Pruning – The easiest source of cuttings is from the stems that already need to be pruned back. Because ZZ's don't mind a trim here and there, any time you even out or thin your plant is an opportunity to collect a cutting to root.
Tips Are Best – You'll have the most luck with stem cuttings that have their tip intact. It is possible to root small pieces of ZZ Plant cut from the middle of the stems, but I've found the pieces with branch tips tend to root the fastest.
Cutting at the Soil Line – It is possible to root out large stems with many leaves by cutting at the soil line. Often, though, individual stems already have their own rhizomes, so whenever there is an opportunity to divide the plant, take it. You'll end up with a separate plant much faster.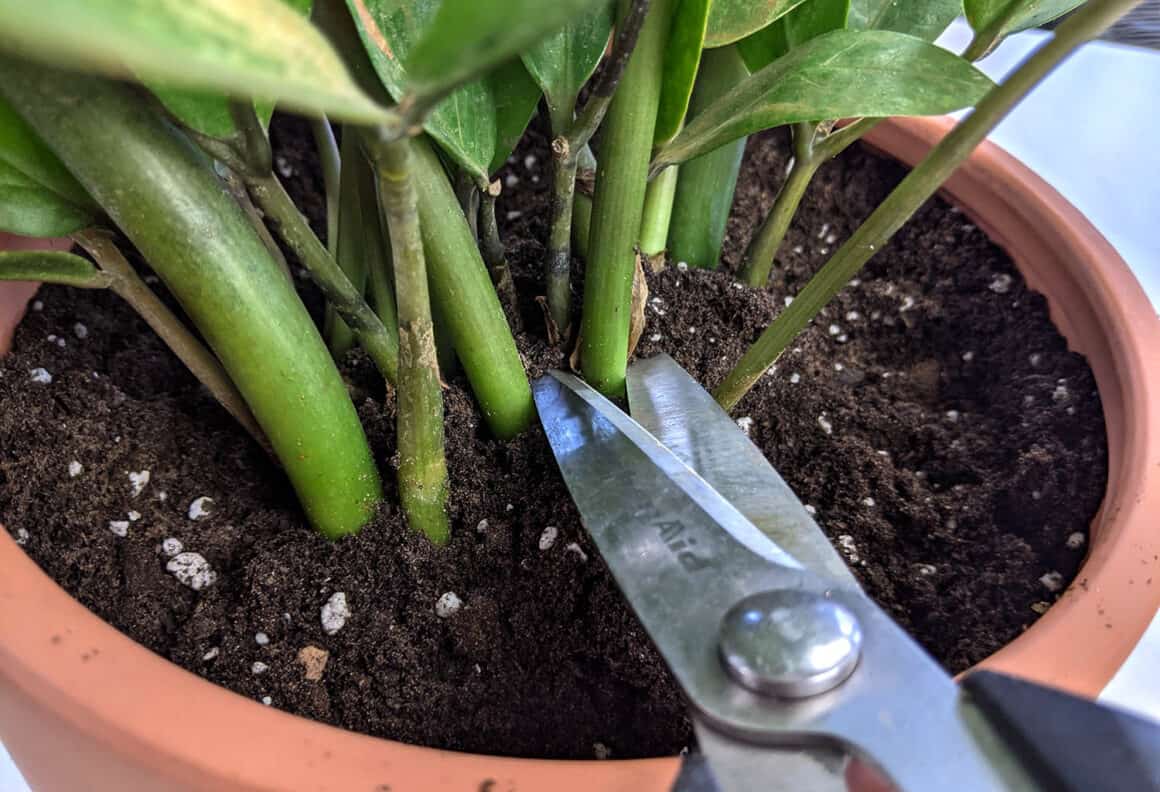 Once you've identified where you want to make your cuts, use your sterilized garden shears or scissors to snip cuttings from the plant, making clean, straight cuts through the stem tissue. By using very clean tools, you'll be reducing the risk of introducing disease to the plant.
Once you've clipped your ZZ, lay out your cuttings on a clean surface in a shady spot. This will allow the cut ends of your stems to lightly callus over for two to three hours before putting them into the growing medium of your choosing.
---
Taking ZZ Leaf Cuttings
Although stems are more of a sure bet, you can also successfully root out leaf cuttings from the ZZ Plant. It takes more time, but by making the correct cuts, they shouldn't be far behind your stem cuttings.
This is the preferred method for when you want to propagate cuttings but don't have any stems to spare from your mother plant. It also has less of a visual impact on the mother plant, as you are taking a few leaves, here and there, rather than entire stems from the plant.
Just like when taking stem cuttings, you will want to make sure you have your clean shears ready to make straight cuts across leaves. When clipping, try to make cuts that include the petiole (the part that connects the leaf to the stem).
Leave the leaf cuttings out on your clean work surface to callous over for a couple of hours while you prepare your rooting medium.
---
Rooting ZZ Cuttings
Now that you've got your stem and/or leaf cuttings ready to go, the next step is to root them either in water or soil. What you choose is entirely up to you, although rooting out in water will yield faster results. If you want to read more about the differences between rooting ZZ cuttings in water or soil, click here.
ROOTING IN WATER
Once your cuttings (either leaf or stem) have callused over, they are ready to root. To root in water, fill your jars or vials with clean water and place your cuttings into them, cut side facing down. Make sure the bottom cuts are fully submerged and place them somewhere that gets lots of indirect sunlight.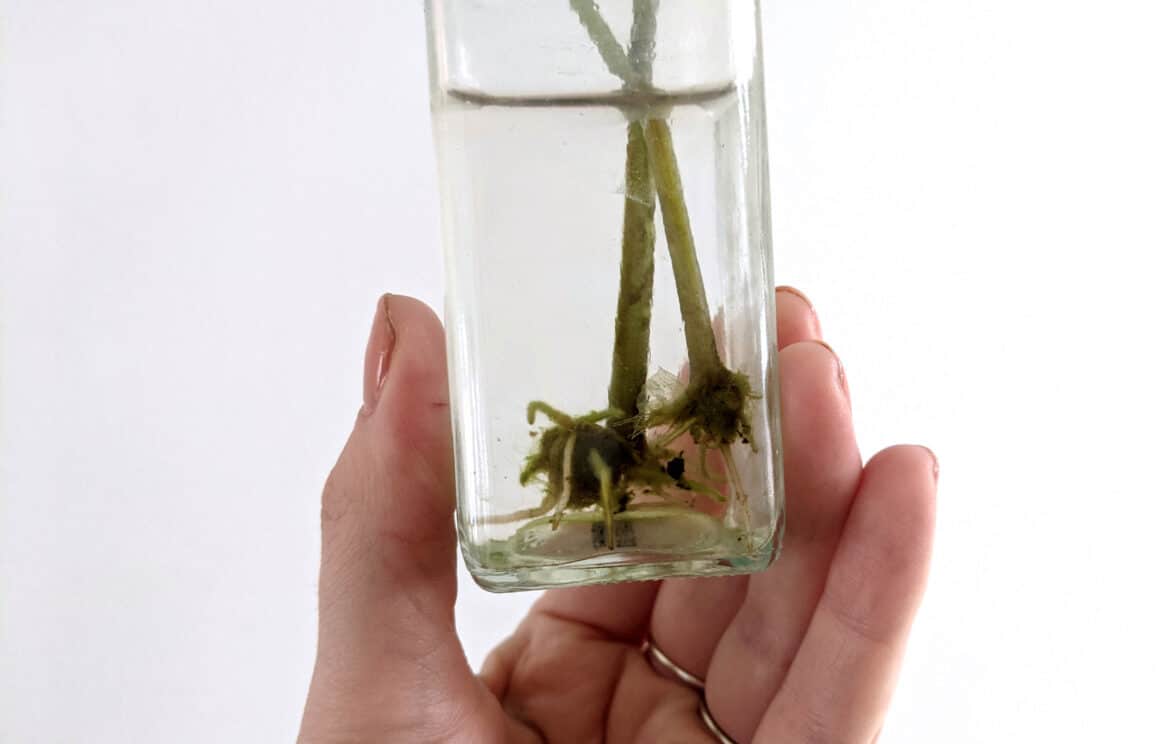 Change the water every couple of weeks to avoid mold. You can add a bit of charcoal to your container to help with this. Clean away any dead tissue that develops on the cut ends.
In about 3-6 weeks, you should start seeing the development of a new rhizome and maybe even a few new roots. Wait until the roots are roughly an inch in length before transplanting into a pot.
ROOTING IN SOIL
Alternatively, you can place your cuttings in soil to root them out. To begin, assemble your propagating pots or trays and fill them with high-quality potting soil. You will want this soil to drain well, so adding additional vermiculite or even mixing in some cactus soil will help. I generally use one part regular potting soil and one part cactus or succulent blend soil.
Stick the callused ends of your cuttings into the soil. For stems, make sure they are planted deep enough to support the weight of the stem, but always leave a few inches from the bottom of the pot to allow for root growth. For leaves, gently push into the soil about an inch or so.
Use a spray bottle or a watering can to very carefully water the cuttings and the soil, making sure each pot is evenly wet. Watering is essential during the first month of propagating cuttings in soil. You'll want to be sure that the soil stays moist at all times but never allow it to get waterlogged, which increases the risk of rot in cuttings.
Place your pots or trays in a window with bright, indirect sunlight to keep them warm and happy. Wait at least a month, if not two, before carefully checking to see if your cuttings have started to root out by gently tugging them. You can easily damage or kill cuttings if you handle them to roughly so treat them like the little babies they are.
Once rhizome and root development begin, you can occasionally check your cuttings to see if they have filled out their pots. Only transplant when the roots have reached the sides and bottom of the propagation pot.
---
Planting ZZ Cuttings
Once your cuttings have sufficient roots, you can transplant them singly or in groups to larger pots to grow into full-sized ZZ Plants. Each cutting will develop a rhizome of its own, so be sure to allow enough room in a pot to accommodate the rhizome growth of each cutting.
When planting, choose a container with a drainage hole in the bottom. ZZs need to be allowed to dry out between waterings and the drainage hole helps with that process. Also, be sure to use a quick-draining soil. I like to use half cactus/succulent mix and the other half regular potting soil.
Taking ZZ Plant cuttings for propagation, when done correctly, is surprisingly easy and fun to do. The best part…you end up with more plants! Give it a try and you'll find you have more ZZs than you know what to do with. Hint, they make great gifts.