There's a lot of great reasons to have Dragon Trees (Dracaena marginata) in your home. Aside from looking very hip and modern, these plants are easy to care for and do a great job filtering the air in your house. Another great feature is that you can actually bend and braid their trunks together for a totally unique look. So, how do you do it?
If all you want is to create bends and spirals in the trunk, you can easily achieve this by tipping the pot on its side and rotating it slightly every week until the branch begins to grow into the desired shape. To braid multiple trunks, it is best to start with young plants and use wire to tie the trunks together. Keep the wire secure until the branches hold their shapes on their own, ensuring that it doesn't dig into the bark.
With a little planning and manual manipulation, you can easily create a woven or braided trunk made from multiple Dragon Tree stems. These plants are pretty resilient and can put up with some manhandling, so don't be afraid to give a bent or woven branch a try.
However, there are some tips that will make training these stems a lot easier. Below, I will explain the different methods and step-by-step instructions on how to braid your Dragon Tree.
---
First Thing's First – Make Sure You Have Multiple Stems
This may go without saying, but you won't have a ton of success braiding your Dragon Tree if you don't have enough stems. Typically, these plants are single-stemmed plants with multiple, individual plants potted together to create the illusion of being multi-stemmed.
This usually means that the Dracaena you have at your home probably has three or more stems potted together. You can still make pretty cool spiral shapes with just two stems, but if you want to braid, it's best to have at least three.
---
When Is the Best Time to Start Braiding a Dragon Tree?
Whether you just brought home a Dracaena or have had one for years, you can start the process of weaving stems together at any time. However, the older a plant is, the stronger its trunk will be, which means it won't be as willing to bend into the shapes you want it to.
Because of this, I suggest that you start braiding your Dragon Tree when it is young. The newer the growth, the less rigid it tends to be, so twisting the stems and securing them with wire is easier and puts less stress on the plant.
If you try to bend an established stem farther than it is willing to go, you run the risk of a break or damaging the plant beyond repair.
If you have an older plant but really want to create a braided look, consider pruning the plant way down. You will lose a lot of established growth, but you will encourage each stem to branch lower on the plant. Those new stems can then be braided together eventually.
---
A Quick Note on Growing Seasons
You will also want to be mindful of the time of year you decide to start braiding your Dragon Tree. These plants, like most houseplants, have a growing season that usually lasts from spring to fall, before going dormant or severely slowing growth in the darker, cooler winter months.
Because not much growth happens outside of the Dracaena's growing season, it's best to wait until spring to start a braiding project. After you bend stems into the desired shape, it will take some time for the plant to continue to grow into and hold its shape, so doing so during the more active months will help achieve this faster.
---
How to Braid Your Dracaena at Home
If you're ready to start weaving or braiding your Dragon Tree, follow these steps to ensure you get the shape you are hoping for without causing any stress or damage to the plant.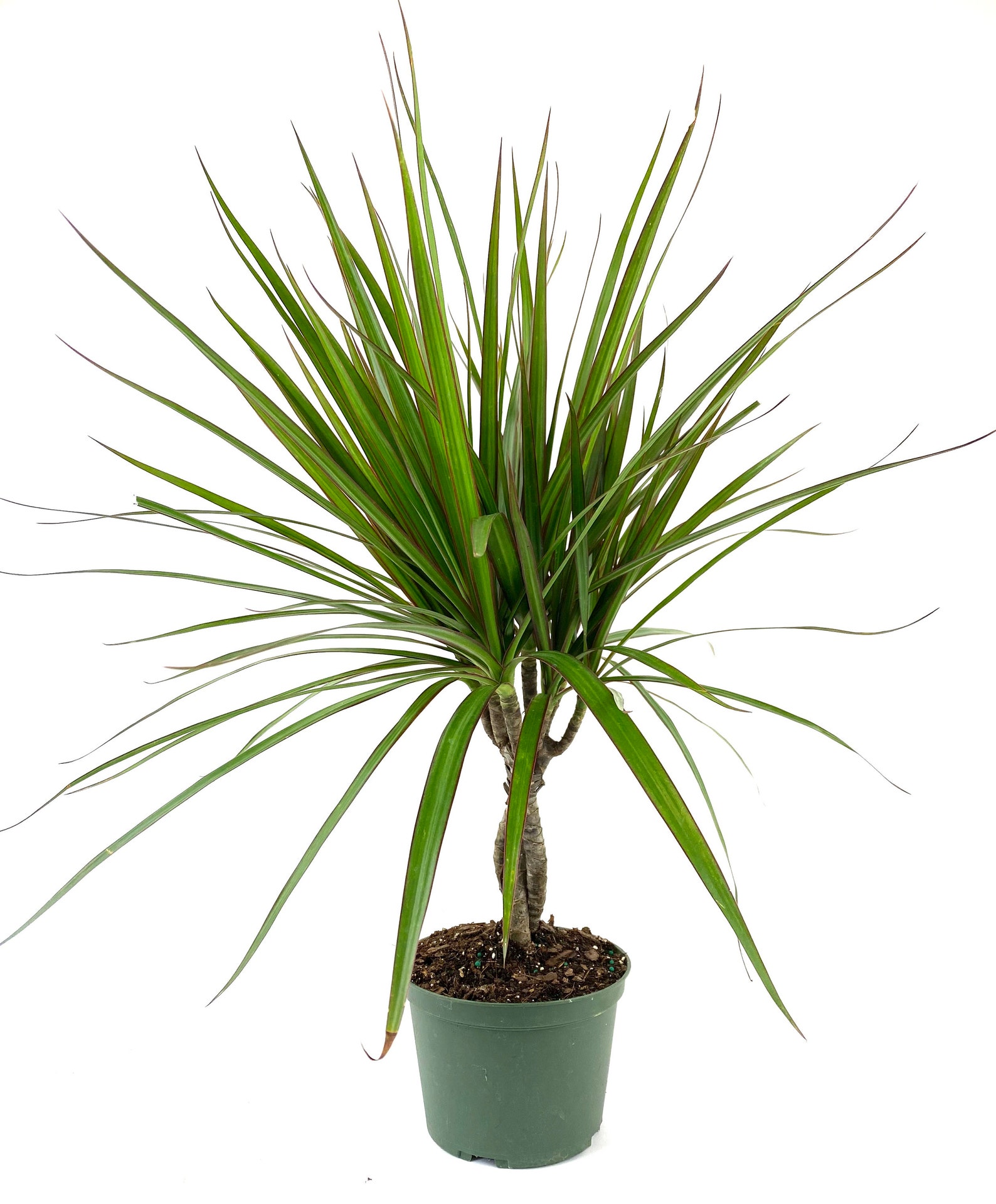 Step 1: Determine the Shape
The first step in this process is to look at your Dracaena and decide what shapes you can achieve with what you have. Count the number of stems in your pot, note how close each stem is planted to the others, and consider the age of your plant.
Like I mentioned, you can easily spiral two stems together, if that's all you have. Three stems will give you a classic braided or woven pattern. Four or more stems give you more options beyond that. I've seen up to six stems planted together, so each strand in the braid consists of two stems, giving the braid a wider, flatter look.
If your Dragon Trees are planted far apart in the pot, you may need to start to weave them together a bit higher up on the stems. Another option is to repot the stems closer together for a tighter weave, but you'll want to wait until the plants reestablish and are fully rooted out before starting a braid.
If you have an older, established plant, you can either begin the braid higher up or strategically prune your plant back to start lower. If you do this, know it will take several weeks to a few months before any new growth is large enough to weave.
Step 2: Begin to Weave
Once you've decided on your shape, you can begin to braid the stems together. The best way to do this is to bend the branches towards each other right at the point where the stems are supple and pliable, so they don't break.
Cross the stems over one another as you would in a classic braid pattern and then secure the bend with a piece of light-gauge wire, twisting it to hold the branches in place. This wire will stay secure on the plant for many weeks, so you want to aim for a tight hold, but not so tight that it will dig into the bark of your Dragon Tree.
Step 3: Continue the Pattern
If possible, continue weaving the branches together until you are a few inches from the foliage on each stem. Anywhere you cross stems, secure it with some wire.
Keep in mind that tighter braids will require much more manipulation and tighter wire, while looser weaves will be easier to achieve and won't take quite as long to secure.
Step 4: Monitor the Shape
Over the next few weeks and months, you should see that as your Dragon Tree puts out more and more growth, the braids you've already created will begin to hold their shape on their own, and the wire can be removed.
You can occasionally check your branches by loosening the wire and testing the hold. If you ever see the wire digging into the bark of a stem, you should loosen it to avoid damaging the plant. Continue this process of checking your braids and shaping any new growth until you reach the desired shape.
---
Consider an Alternative Option
If braiding or weaving your Dragon Trees seems like more work than you're willing to put in, but you'd still like some funky twists in your tree, consider training individual stems to bend or spiral.
One cool thing about Dracaena species is that they are highly responsive to "gravitropism," or the ability to grow upwards by sensing how gravity is pulling on the plant. Creating bends or spirals in Dragon Tree stems is as easy as tipping a pot on its side and allow the plant to correct its growth over the course of a few weeks.
Over time, the stem of the plant will bend upwards regardless of which way the pot is facing, so by tipping the pot on its side, you can create 90° bends before righting the pot again. To create a more spiraled effect, you can tip the pot over and then slightly rotate the pot by a quarter turn every week or two. Since the stem will continue working to grow up, the rotation of the tipped pot will create a smoother, circular stem over time.
Just remember, you still need to provide proper care for your Dragon Tree, so you will occasionally need to set the pot upright to water your plant and allow it to drain before continuing the process of creating bends.
---
Final Thoughts
Braiding or weaving Dracaena plants is actually a pretty straightforward process, as long as you keep the plant's health in mind. Remember that younger stems tend to be more pliable and apt to bend into the shape you want. Properly securing the crossed stems with wire will ensure the plants hold their shapes, but just keep an eye on the ties to make sure they don't dig into the bark.
Also, patience is key. Never force a stem to bend in a way it doesn't want to, and allow several weeks for the plant to begin holding its shape on its own. Depending on how fast your Dragon Tree grows, you may only achieve the shape you want after multiple growing seasons. But you'll get there eventually. Good luck!