Money Tree plants (Pachira Aquatica) are easy plants to grow indoors. I have three of them in my house! And while these plants may start out relatively small, they can grow quickly and spread out in sometimes-odd ways. From time to time, they require some strategic pruning to keep them looking the way I want. Luckily, Money Trees are not difficult to prune, and they even benefit from the process.
When pruning a Money Tree, you should have your end goal in mind and plan your cuts accordingly. You can prune a Pachira Aquatica to maintain or create the ideal size and shape or encourage healthy new growth. Some maintenance pruning is required year-round to remove imperfect, dying, or dead growth.
Pruning a plant can be intimidating. You might be worried about cutting too much or accidentally damaging the tree, but never fear: Pachira Aquatica is very tolerant of pruning. If you have ever wondered how to prune a Money Tree, this article will give you the basics of when and why, along with step-by-step instructions on the best way to do it. Read on!
---
Why Money Trees Need to Be Pruned
Money Trees are, as the common name implies, actually trees. They are a member of the chestnut family and can produce edible chestnuts when grown in the wild. In addition to Pachira Aquatica's most common name, Money Trees can also be labeled as Guiana Chestnuts, Malabar Chestnuts, Saba Nuts, and several other names.
Pachira Aquatica is a plant native to South and Central America, where it grows in wetlands. Because of that, Money Trees well-draining soil and a good amount of sunlight. However, this plant can tolerate low light and infrequent watering, making it great for beginners.
Outdoors, they can grow as tall as 60 feet, but their maximum height will be much shorter when grown as houseplants. Even so, this plant can easily reach ceiling height if it is given the right conditions. That's why people who are raising this plant indoors often find they need to cut it back to a more reasonable size.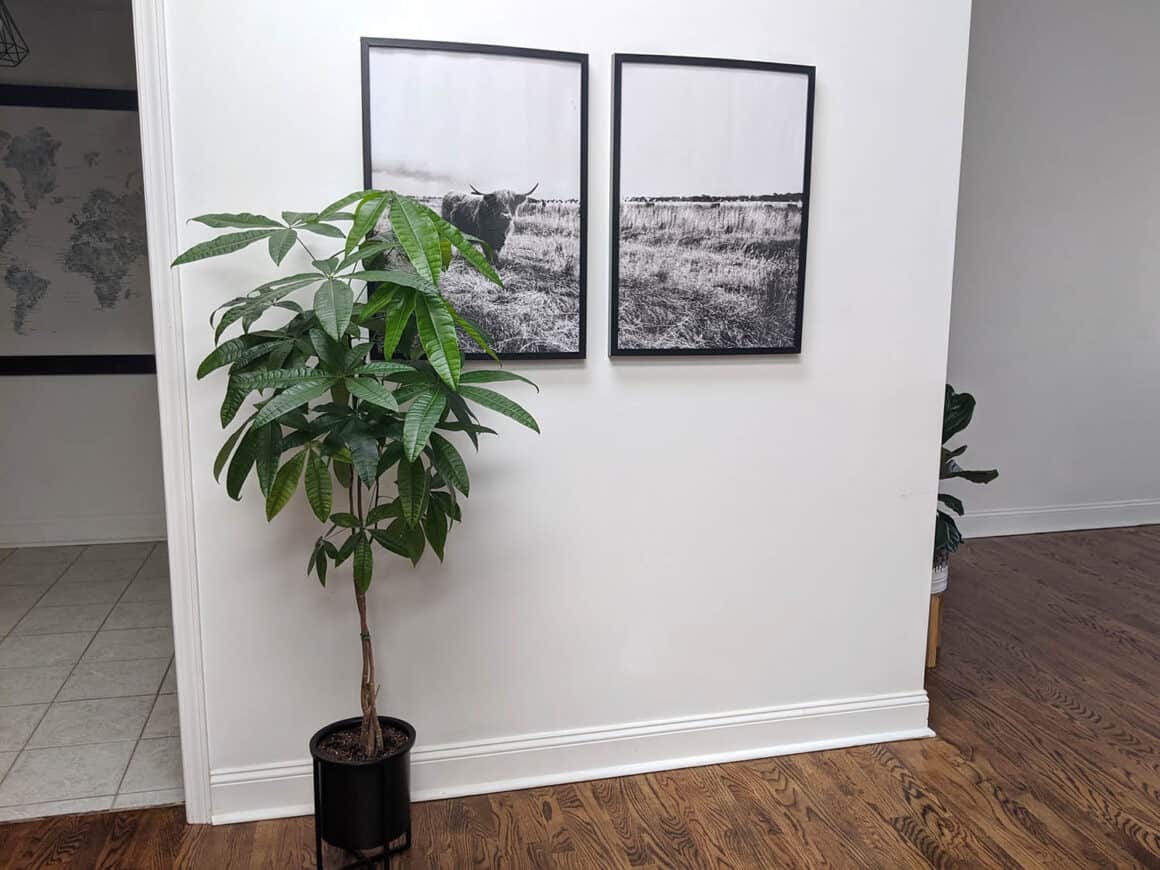 People prune Money Trees for multiple reasons. Depending on the size or state of your tree, you may be hoping to reach one of three goals:
To limit the size or change the shape: Pruning the top of this plant encourages it to grow more from the lower part of the stem, resulting in a less tree-like plant in appearance. Money Trees have a tendency to get leggy around the top, so many people prefer to keep upper leaves trimmed back for a more balanced appearance.
To encourage new growth or a fuller shape: New stems will very likely emerge from the node below where you cut, allowing the plant to branch out and develop fuller growth.
To maintain a healthy appearance by removing old, damaged, or dead growth: Regularly removing any yellowing or dry pieces of this plant is part of maintenance pruning, which I'll cover in more detail below. This keeps the plant looking tidy and focuses its energy and resources on healthy new growth.
Some people who grow Money Trees indoors never choose to prune it at all, and that's also a valid option. As with any plant, each specimen of Pachira Aquatica will develop its own growth pattern. If you like the way this plant grows naturally, there is no need to force a serious pruning on it. You can just pinch out any unhealthy leaves as you see them and leave it to develop its unique growth pattern.
---
When is it Time to Prune a Money Tree?
If you think it might be time to prune your Money Tree plant, you're probably right. When garden centers sell these plants, they are usually already pruned into a tidy, pleasing shape that might look like a small tree or bush and often have several trunks braided together.
However, this plant can soon produce growth that doesn't fit into the neat pattern it had when you bought it. You may see a stem growing sideways away from the plant or a tall spindly one sprouting above the rest of the leaves. These abnormalities can add to the plant's charm or make them look like a mess.
Most pruning is meant to improve or maintain the Money Tree's appearance, although (as you will see below) some types of pruning are intended to benefit the plant's health. You should not feel bad about pruning a Pachira Aquatica to get the look you want, as being pruned is not damaging to this plant.
No matter the reason, it is best to do all major pruning in the spring or early summer. This is because your plant will be in a state of active growth at that time. When the weather turns colder, most plants enter dormancy and work to conserve their energy for the warmer months of the year. Pruning at the beginning of the growing season will ensure your plant has enough energy to focus on healing and won't suffer from the small amount of stress a cutting can bring.
If you only need to remove a leaf or two that has begun to yellow or brown, that can be done at any time of year. Simply pinching back leaves will not stress your plant.
---
Pruning When Your Money Tree is Getting Too Big or Tall
If you want to change the size or shape of your Pachira Aquatica, structural pruning is the method that will give the fastest and most dramatic results. This type of pruning involves removing significant portions of the Money Tree, which can be stressful for the plant. It's essential to approach this with a clear plan, so you don't have to do it too often.
Pruning a Money Tree that is too tall is the most common reason people need to prune this plant. Money Trees have a tendency to grow leggy or thin stems from the top that detract from the umbrella-like canopy of leaves that are closer to the central trunk.
In this case, simply use your garden shears to trim the top stems. Cut just above a node since cutting elsewhere will leave a random piece of stem sticking up that will never generate new growth. Usually, a new stem will generate from the node where you have pruned it, so you may need to cut these parts back occasionally.
For more information on keeping Money Trees small, check out this article from our site that gives you tips for table-top trees.
---
Pruning a Money Tree for Shape
Often a Money Tree will start to sprout stems and leaves near the bottom of the trunk, which takes away from the tree-like shape that many people prefer. In this situation, you can remove the unwanted growth by cutting it about an inch away from the trunk (being careful not to cut the trunk itself). You don't need to worry about a node since you want to discourage any new growth in this area.
On the other hand, maybe you are trying to encourage more growth from a specific part of your Money Tree. In this case, you can prune your tree in a way that encourages new growth in a specific direction.
New growth will emerge from the next node below where you cut, so if you want to encourage outward growth, cut above a node that is facing out. To get more upward growth, cut above a node that is oriented up or toward the middle of the plant.
If you want to read more about shaping your Money Tree, this article has tips for helping grow trees taller, straighter, fuller, and more.
---
Root-Pruning a Money Tree to Keep it Small
If your Pachira Aquatica is rootbound, but you don't want to move it to a larger pot, you can trim the roots to keep it compact. To do this, remove the plant from its pot (watering it first can make this easier) and tease out some of the roots. Trim them back with your sterilized pruning shears, not taking off more than one-third of the roots.
Be sure you make clean cuts and remove roots equally from the sides and the bottom of the rootball. Remove as much of the old potting soil as possible from the remaining roots, and then repot your pruned Money Tree into fresh potting mix. Water thoroughly and add more potting mix if needed. Doing this will let you keep your Money Tree in the same container indefinitely.
---
Maintenance Pruning
As you can probably tell from the name, maintenance pruning is intended to maintain the health of your Money Tree and to encourage healthy growth. Unlike structural pruning, you do not need to wait for any particular season to do maintenance pruning, as it is less stressful on the plant. Maintenance pruning can be done all year long.
Pruning actually encourages a Money Tree to grow. The places where you trim back stems, leaving behind a node, will divert energy and resources to creating new growth at that node. You can do this in cases where you want your plant to look a certain way.
Another form of maintenance pruning is getting rid of old, yellow, or damaged parts of a Money Tree. If you see any stems or leaves on your plant that are yellow, brown or unhealthy, it is best to cut them off right away. An imperfect stem or leaf can divert resources away from the rest of the plant. Since these parts can never fully recover, removing them will make your plant healthier overall.
---
Steps to Prune a Money Tree
Before you start pruning your Pachira Aquatica, consider the balance of the plant overall. Try not to prune too much off any one part of your Money Tree. You can also encourage balanced growth by orienting your Money Tree so sparse areas face the light source. More growth will occur in this area as the leaves stretch toward the light.
The steps below describe the process of a big, structural pruning, but maintenance pruning is similar. Maintenance pruning takes less planning for timing and shaping but should still be done with sharp, sterilized tools and an eye toward the final appearance of the Money Tree.
Before you get started, gather all your tools and the plant to be pruned. Sterilize your cutting tools with rubbing alcohol or diluted bleach, then leave them to air dry or dry them on a clean towel.
Plan out which parts of your Money Tree you want to prune. If you have a lot of pruning to do, you can mark the spots to cut by loosely tying a small piece of string around the stem. Be sure you do not prune more than a third of any one stem.
Start by pruning the largest pieces first. Make clean cuts with your sterilized shears at a spot about ½" above a node. Nodes are the area on your stem where new growth emerges from and are generally found in the places where that new growth has split off from the main stem to form a "V" shape. Make cuts at 45-degree angles to promote new growth.
Step back from the plant after every cut to make sure you are still happy with the shape as it changes with your pruning. If needed, follow the instructions above for root pruning.
And that's it! You can propagate the cuttings from your Money Tree, as long as the section you cut off includes a node. We have another article about propagating Money Trees (which you can read here) for step-by-step information on what to do with your cuttings.
---
Best Tools for Pruning Money Trees
Pruning Money Trees is a simple process and doesn't need a lot of specialized tools. I have linked to my favorite version of the tools needed to prune Pachira Aquatica. If you have something similar to but not exactly the same as what I have listed here, you should be fine. This plant is not very sensitive about its pruning.
For pruning thicker stems and trunks: Fiskars Steel Pruning Shears
For detailed maintenance pruning and shaping: Fiskars Pruning Scissors
For disinfecting cutting tools before pruning: 70% Rubbing Alcohol
For replacing soil after root pruning: Hoffman Organic Cactus and Succulent Soil Mix
---
Final Thoughts
Although most people do not think of it this way, growing a Money Tree indoors is actually a very simple form of bonsai. You are taking an immature tree and growing it indoors while at the same time modifying its size and shape to fit your preferences.
Money Trees are suitable for being grown in this way because they respond well to pruning and grow for years at a compact size. Although you don't want to go overboard when you first start pruning your Money Tree, you can rest assured that many people have done significant pruning on this plant in the past with excellent results. So don't be shy to break out your pruning shears and tidy up your Money Tree!