All houseplants are not created equal. Some like more or less light, fertilizer, or water. Some need to be pruned regularly, and some are best left to their own devices. What about Pilea Peperomioides? Do Pileas need to be pruned?
Pileas do not need to be pruned in order to thrive and do well to grow naturally. However, sometimes pruning is helpful to encourage your plant to grow into a specific shape or to overcome a stressful situation.
While a small amount of clipping or pinching may be good for your Pilea, pruning should be done with care and moderation. In some cases, a small amount of pruning will reenergize your plant to grow, but if it is overdone it can leave your Pilea looking sad and bare. Most often, pruning Pileas is done to correct an issue or change the shape of a Pilea. Pruning isn't necessary to keep a healthy Pilea healthy.
---
Reasons to Prune a Pilea
Whether or not you should prune your Pilea depends on your goals. If you want a tall, full Pilea, pruning is not always necessary. However, if you think your plant has gotten a bit out of control or it has gone through a major stress such as overwatering, repotting, or being mailed, pruning may be the right option for you.
First, to clear up a common misunderstanding I see online. I often see people asking, "How do I prune my Pilea to become round?" The answer is, you don't! The unique shape of a Pilea comes from rotating your plant regularly, not from shaping it yourself. As your Pilea becomes more mature, older leaves will begin to droop down while new growth comes from the top, giving this plant its unique orb-like shape.
When trying to decide whether or not to prune your plant, the question to consider is what are you hoping to accomplish? Is your Pilea taller than you would like? Did it start taking on an odd shape? Is it overrun with new pups? Once you determine the reason you want to prune your plant, you can discover the next course of action.
---
What to Use to Prune Your Pilea
You should treat pruning like it is a surgery for your plant. You wouldn't want a doctor cutting into you with a knife he pulled from the junk drawer, and neither does your Pilea!
When pruning, it is important to use the correct tools. For a Pilea, a sharp knife or pair of scissors will do. Remember that cleanliness is an important factor in pruning. Cutting the tissue of a houseplant can potentially expose it to disease, so be sure to use tools that are sharp and clean. You can disinfect scissors or knives for pruning between uses with a mild solution of bleach and water.
---
Reshaping Your Pilea With Pruning
The shape you desire for your Pilea will dictate the most helpful process for pruning. Again, remember that cutting your Pilea will not make a one-sided Pilea round. The unique round shape of a Pilea is only achieved through rotating your plant, giving each side equal access to the sun. I rotate mine ninety degrees each time I water it.
Get the eBook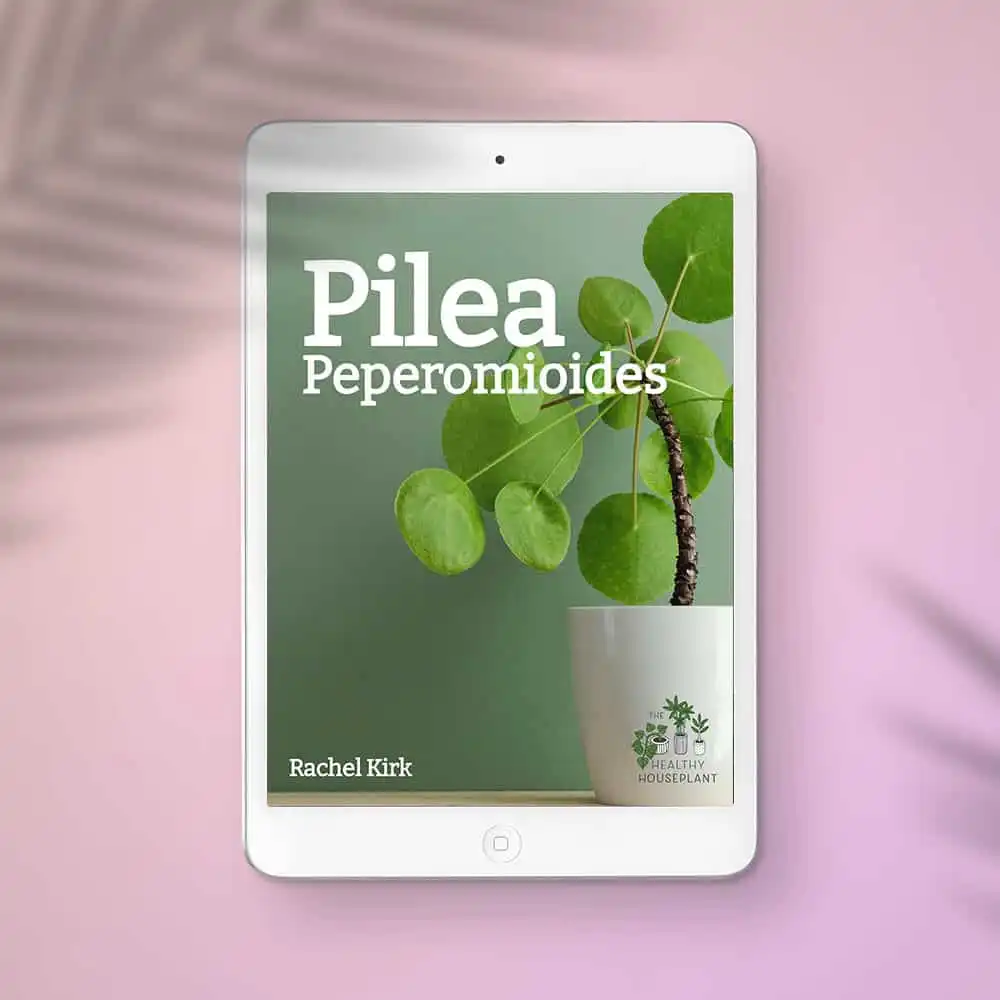 The Ultimate Pilea Care Guide
Don't waste your money by bringing home a Pilea that you're going to kill. Get our 70+ page ebook, and learn all the tips and tricks it takes to make your Pilea happy and healthy for years to come.
GET YOUR COPY NOW
If you want to encourage your Pilea to grow out instead of up, clip the topmost part of the stem. Repeat this process each time your plant starts to grow tall.
Another helpful step to gain a fuller, bushier plant is to pinch the pups off as soon as they appear. Plants focus most of their energy on growth. By removing the small plantlets as soon as they sprout, you are freeing up energy to send out more new growth from the main stalk of your plant.
---
Cutting the Top Off Your Pilea
Many people have heard about this and are wondering if you can really cut the top off of your Pilea. Absolutely! Healthy plants send energy in all directions, (up, out, and into new pups). When you remove the top of your Pilea, the energy that was focused on going up will redirect to new growth and filling out your plant.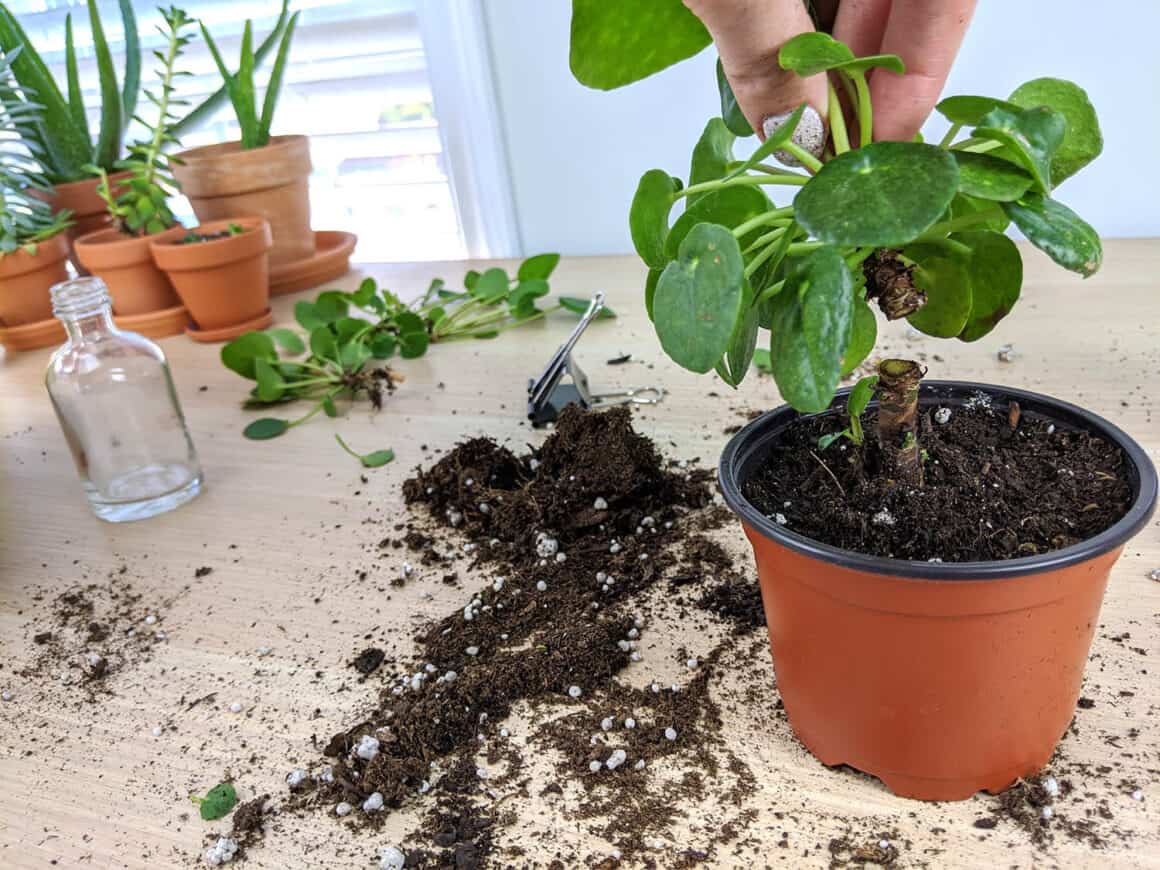 You can selectively choose the best place to cut your main stem. If you see new sprouts coming out on the bottom of the stem, you can choose to cut just above that for the best results. You should cut with at least one leaf left on the bottom stem as plants need their leaves to gather light for photosynthesis.
To remove the top of your Pilea, use your sharp and clean scissors or knife and cut the Pilea in half at the selected location on its stem. The bottom part of your Pilea should begin sprouting new growth soon.
You should always keep the top portion of your cut Pilea as you will be able to root and plant it in soil to create a second Pilea. To root the cutting, simply put the base in a small bottle of water. In a short time, you will begin to see roots sprouting from the base of the stem. Once the roots are an inch or two long, plant your new Pilea in a container of its own and enjoy your second plant!
---
Removing Pups from Your Pilea
If your plant is being overrun by pups or you're just interested in propagating your Pilea, removing these small plantlets is a simple process. If you are hoping to replant the pups, it is best to wait until they are two to three inches tall. The larger they are, the better their chances are of surviving away from their mother plant.
To remove pups from the stem of your plant, use your sharp, clean knife to cut the plantlet at the base, as close to the mother as possible. Since these pups don't have roots yet, you will need to insert the base of the pup into a small bottle of water, careful that the leaves aren't submerged, and wait until roots start to grow. Once the roots are an inch or two long, you can safely remove your baby from the water and plant in a small pot of its own.
For the pups that spring up in the soil, simply dig down about one inch into the soil and clip the rhizome (similar to an umbilical cord) that is attaching your mother to her baby, being careful to keep as many of its roots intact as possible. Because these pups already have roots, they can easily be planted in soil right away.
---
Removing Leaves from Your Pilea
It is normal for the bottom leaves of a Pilea to droop as they get older. In fact, that is part of what gives these unique looking plants their shape. Those drooping leaves do not need to be removed.
The only reason you should have to remove a leaf from your Pilea is if it is dying or dead. When a leaf has turned yellow or brown, it will not turn back to green again. That leaf can be pinched off and discarded which will free up your Pilea to send the energy it was trying to force to a dying leaf back into the rest of your healthy plant.
If lots of your plant's leaves are turning yellow or brown, you have a problem that will need to be remedied before you can have a healthy Pilea again.
Leaves that have been removed from your plant without any part of the trunk attached will not be able to be propagated into new plants. If you're interested in how you can cut a leaf to generate a new plant, read our article about Leaf Cutting Propagation.
---
When Is The Best Time to Prune Pileas
The best time to prune any houseplant is at the very beginning of its growing season. Most plants go dormant during the colder months of the year, meaning they will grow more slowly and require less watering and nutrients. Once spring arrives, plants are ready to get growing again as they begin their growing season that will last through the early fall. This will be the optimal time to prune your Pilea.
Has your Pilea gotten out of control? Is it taller than you want? Or is it completely overrun by pups? If so, pruning may be a good option for your plant. Determine which type of pruning is necessary, find the tools you need, and go for it!
---
Get More Information
Our latest book, Caring for Pilea Peperomioides, has a section on pruning but covers a lot more than that! If you have more questions concerning your Pilea and how to care for it for the very best results, get your copy today.