I love my ZZ Plants and I have them in all shapes and sizes. Some are large and spread out while others are small and compact. I love them because they require so little effort on my part. But from time to time, I do need to prune or trim back a small portion of the plant.
Should a ZZ Plant be pruned? ZZs grow slowly and do not usually require much, if any, pruning. They do well to shape themselves naturally as they grow. Pruning is generally only done to remove dead or dying leaves and stems or to keep a plant from growing too tall.
Unlike other plants in my collection, ZZs are extremely low maintenance. Because they don't require a lot of pruning, this is a plant that I can sit back and enjoy with minimal effort on my part. There are a few cases however, where you might want to consider a trim or cut to your plant. Read on for more information!
---
Before We Get Started…
You should note that the sap inside a ZZ Plant contains a compound called calcium oxalate that, when exposed to your skin, can cause irritation. Whenever you're cutting into a ZZ stem you will encounter this sap and it is important to not touch your face or eyes and wash your hands afterward. If you have sensitive skin, you may want to consider wearing a pair of gloves while pruning.
---
Pruning Back Dying Leaves
As I said before, there are very few cases in which you would need to prune your ZZ at all. The main instance you'd want to trim your plant is to remove individual dead or dying leaves from the stems.
Once a leaf has turned brown, it cannot be restored back to green again. For that reason, it is best to remove the leaf from the plant. This will free the plant up to send the energy it was trying to force to the dying leaf back into the rest of the plant where it can be used more effectively.
To remove a dead or dying leaf, simply pluck it off by hand or use a sharp knife or scissors to remove. Remember, it is important to use clean and sharp utensils for pruning. Also, no sawing motions or serrated blades. All cuts should be quick and clean.
If your ZZ has a few leaves that are yellow or brown, don't worry. Sometimes leaves die off as they get older. As long as your overall plant looks healthy, your ZZ is fine.
If, however, you're noticing a lot of leaves losing color, you may have a bigger issue with your plant that needs to be resolved. The most common cause of discolored and droopy ZZs is overwatering. ZZs have large underground rhizomes they use as reservoirs, so these plants don't need to be watered often.
---
Pruning Back Dying Stems
Sometimes yellowing spreads to an entire stem of your ZZ Plant. Again, this usually is not cause for concern as the older portions of your plant will die off over time. As long as your plant is healthy overall, the loss of one or two stems is not a problem.
If you notice multiple stems losing their color or dying, the most likely cause is overwatering. ZZs are drought tolerant and do not need much water. They only need to be watered when the top one to two inches of soil is completely dry. When in doubt, wait a few more days before watering again. These plants can definitely handle it.
Sometimes yellow stems are a result of damaged or rotted roots. If you're seeing a lot of yellowing, remove your plant from its container and examine the roots to make sure they're still healthy and white. If you find any brown or mushy roots, prune them back before replanting the ZZ.
READ OUR EBOOK
Keep Your ZZ Happy With Our Guide
ZZ Plants are tough. They can survive a range of conditions and require little input from us. But if you want your ZZ to thrive, you'll need to know a thing or two about what they need and love. Get our 80+ page care guide and you'll be on your way to a very healthy houseplant.
GET YOUR COPY NOW
Once you've evaluated your plant, removing a ZZ stem is quick and easy. Depending on how dead the stem is, it may be as easy as gently pulling on the stem to remove it from the ground. However, if it still has a good root system below, you'll probably need to use a blade to remove it completely.
In the case that your ZZ stem has a good grip on the soil, simply use a pair of sharp scissors or knife and cut it all the way back to the soil level. Again, no sawing motions or serrated blades. You'll want to make sure all cuts are quick and clean. Be careful as you'll probably expose yourself to the sap within the ZZ Plant when removing a stem this way, which can cause irritation to your skin.
If you want to be cautious, wear gloves when doing anything to ZZ stems. If the sap within the stem gets onto your skin, it can cause irritation and discomfort. If you choose not to wear gloves, be sure to wash your hands thoroughly after handling the plant.
---
Trimming a ZZ That Has Become Very Large
ZZ Plants usually grow to be 2-3 feet in height and can really spread out and take over a space. If you are hoping to keep your plant on the smaller side, eventually you will need to prune your ZZ by giving the ends a trim.
To trim your ZZ, use your sharp sharp scissors or knife and clip the ends off the stems that have become very long. Be sure to sterilize your blade first, as any time you cut into a plant you have the potential of introducing bacteria and disease. I clean my scissors with a mild bleach solution (1 parts bleach to 9 parts water) or wipe them down with isopropyl alcohol.
When trimming a ZZ, you'll want to only clip the tips of the plant. Because ZZ stems can be thick, to chop them in the middle will give your plant an odd look. I recommend trimming no more than 20% off your ZZ at one time as you don't want to shock your plant.
If you're looking to take more drastic measures than a quick trim, consider removing entire stems altogether. To remove entire stems, clip at the base as close to the soil as possible.
Again, remember to wear gloves when clipping into ZZ stems as you are likely to get sap on your hands, which can cause skin irritation and discomfort. At the very least, wash your hands completely after you're finished.
---
Prune Back Odd Shaped Stems
The last reason that you may want to prune your ZZ is if you have any oddly shaped stems. The larger a ZZ Plant gets, the heavier the stems, the more likely you are to have a spread out plant with some wild looking stems.
If you have a plant that developed a weird shaped limb that you don't like, clip it off. I personally prefer to leave the more unique looking stems on my ZZs. I have one in particular with a very odd kink in the stem that I think gives it character.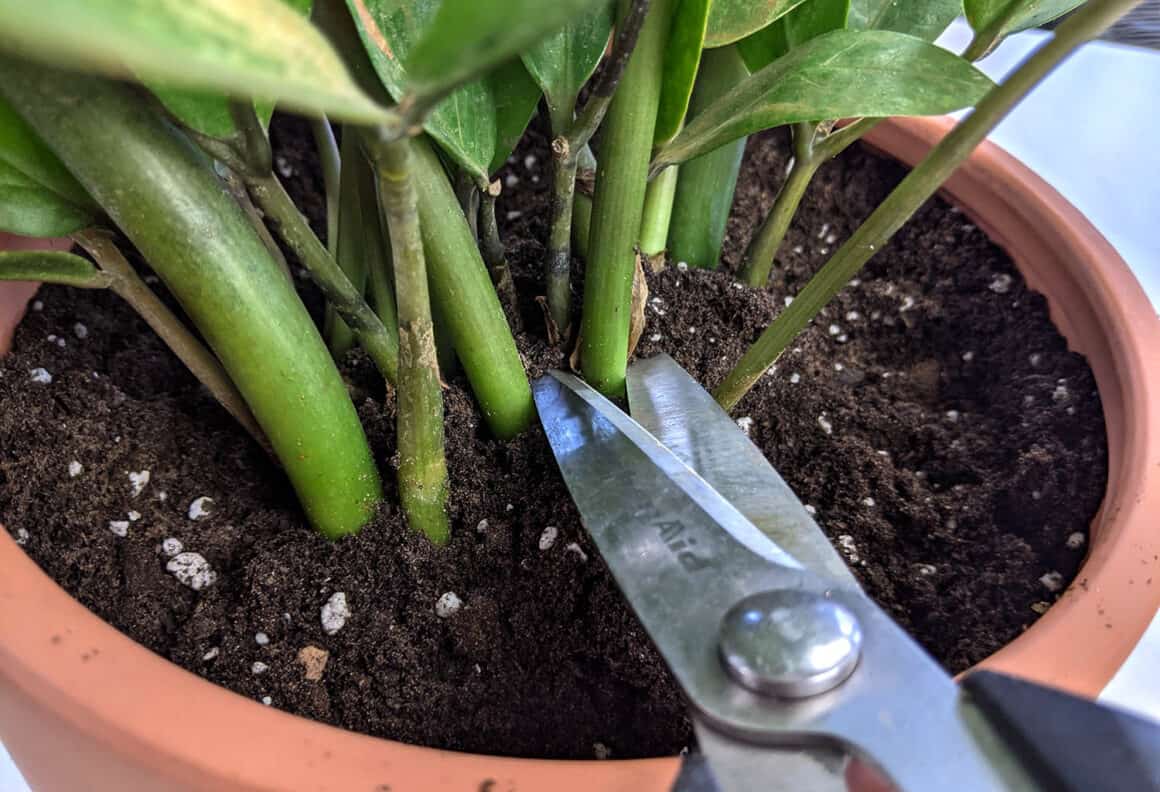 It is best to trim a stem back all the way to the soil level and remove them entirely. To do this, use your sharp scissors or knife that has been sterilized and clip the stem at its base. If the stem is healthy, you may want to consider propagating it to start a second plant.
---
Propagate What You Prune
If you are removing healthy growth due to the size or shape of the plant, you may want to propagate the stems you clip instead of throwing them into the trash. Below is a quick overview, but for all the information on propagating ZZs, click here.
To do so, remove the leaves off the bottom 4-6 inches of stem and place the tip of it into a bottle or vase of water. ZZ Plants are very slow growers and you may not see any roots or rhizomes grow for several months. However, over time, you will start to see new growth from your ZZ and it will be ready to be planted in soil.
---
ZZs are Slow Growers
In a lot of houseplants, cutting back leaves, branches and stems will encourage your plant to grow more quickly. That really isn't' the case with these ZZ plants. They are naturally slow growers and trimming them back won't change that.
Luckily, ZZs are also extremely hardy and if given enough time can turn into a beautiful show-stopper of a houseplant. If you have a ZZ with yellow or brown leaves or stems, use the tips above to prune them back and keep your plant healthy. With just a little bit of work, your plant will be with you for years and years to come.