Pruning is one of those occasional plant care tasks that can be a bit nerve-wracking, especially when it comes to a more finicky plant like the Fiddle Leaf Fig (Ficus lyrata). In particular, cutting the top off of your Fig may seem like the wrong move, but in many cases, this type of cut can be extremely beneficial for the plant and help it grow fuller and healthier. When is it appropriate to top your Fiddle Leaf Fig?
There are many instances when topping a Fiddle Leaf Fig, or pruning back the main (often tallest) stem, is beneficial. Topping your plant is a good way to control its height, encourage branching, balance heavily leaning or lopsided plants, create space for light and airflow, and can even help control damage the plant has suffered.
In this article, I'll explain this pruning technique in more depth and dive into each of these scenarios to help you identify if and when you may need to top your Fig at home. Keep reading for more information on what topping is and how to prune your Fiddle Leaf Fig successfully.
---
What is Topping?
Topping (or top pruning) is a technique in which the main growth stems or trunk of a plant is cut off, usually in an attempt to control the plant's height. Because the growth tip has been taken from the plant, its growth rate is temporarily stopped while the plant pushes new growth from buds below the cut.
While not always an appropriate pruning method, topping is useful for many perennials and houseplants, especially ones that tend to grow straight up from one stem. When cut, these stems will often activate not just one but sometimes two or three nodes just below the cut line that eventually grow into new branches. This gives the plant more active growing tips, producing a fuller, branching habit.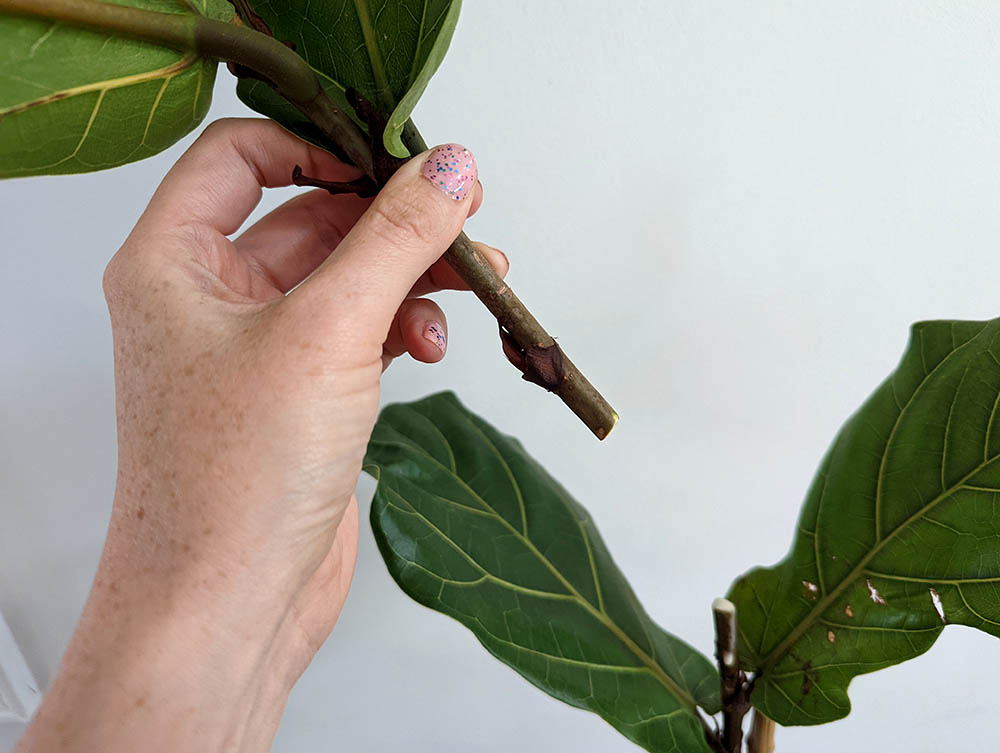 ---
Reasons to Top a Fiddle Leaf Fig
Regarding most plants, topping can seem like a rather aggressive form of pruning because, in many cases, you are removing a few, or sometimes the only stem tip the plant has. While this can be a somewhat scary prospect, it's usually the best option to keep single-stemmed plants at a manageable size and also encourages branching so your upright plant can take on a more bush-like appearance.
When considering Fiddle Leaf Figs, topping is a handy tool in shaping and maintaining your plant's overall look and health. Here are the most common situations you'll want to consider topping your Fig.
---
#1 Manage Height
Obviously, the most common reason you'll top your Fig is to manage how tall it is growing. Fiddle Leaf Figs, and many other houseplants, when left to their own devices, tend to grow from one single stem straight up with few branches. This means that within a matter of a few years, you may have a plant that is scraping your ceiling.
Topping your Fig is a helpful method of controlling height. Since you are literally cutting off the top portion of your plant, all you need to do is decided when your plant has grown tall enough and then snip the top off. Simple as that…
However, one thing to consider when deciding the "perfect" height for your Fig is that new branches will start to grow just below your cut, so it is best to think of topping as a temporary way to keep your plant at a manageable size.
Whenever I am ready to top my Fiddle Leaf, I try to visualize the shape I want my plant to be when the new branches grow in, which helps me determine where I make my cut. Since I know new growth will eventually add height to the plant, I tend to find what I consider the "perfect" height for the space my plant is in and end up cutting it just a little bit lower to accommodate the new branches that will eventually grow in.
---
#2 Encourage Branching
Like I mentioned above, any time you make a cut on your Fig, the plant will activate the leaf nodes below the cut to form new branches. It's a pretty common mechanism for plant growth.
This is an extremely useful feature to take advantage of to create a fuller, bushier Fig. I like to call it "strategic pruning." By thinking ahead to what you want your plant to look like, you can actually visualize where to make the appropriate cuts to encourage branching and, eventually, achieve the desired shape and size.
Obviously, with plants like these, the first strategic prune you will likely make is a topping cut to a single stem. This is the first step in creating a multi-branched, dynamic specimen.
As your plant ages and produces more branches with growth tips, it gets a bit more complicated to maintain the shape you envisioned, but you can continue to use topping cuts to manage growth and size.
---
#3 Balance a Heavy, Leaning Plant
Fiddle Leaf Figs can get pretty big over time, and as they add biomass to their stems, they start to get heavy. Single-stemmed plants grow super tall and begin to lean over to one side as the stem begins to strain under the weight of the plant. Bushier plants can have branches that struggle to hold up the weight of new growth, or they are just so crowded that the plant looks dense and heavy.
Topping can be a beneficial practice in both of these situations. For really tall plants, topping reduces height so that the stem can hold the weight of the plant upright and sturdy. For multi-branched Figs, by cutting back even a few of the main growth points, you can lighten the plant enough for it to grow straight and create a more balanced habit, so the overall shape of the plant is more attractive.
---
#4 Create Space and Airflow
Another great reason to consider topping some of the growth tips of your Fig is to maintain space within the plant. As your Fig grows taller and, if you're periodically pruning it back, bushier, the center of the plant tends to get pretty dense.
By pruning back a few of these branches, you gain more negative space within the structure of your Fig. This is great because it increases airflow to all parts of the plant, helping protect against mildew and rot. It also allows more light to reach every leaf on your plant. This keeps your Fig healthier and more productive in the long run.
With more space, it is easier to spot care issues that pop up and help slow the spread of disease and pest infestations.
---
#5 Remove Damage from Trauma
A less common reason you may top your Fiddle Leaf is to remove damage caused by physical injury or by sunburn.
Sometimes life happens, and that ball your kids are throwing around the house (even though they aren't supposed to) hits your Fiddle Leaf Fig. Or maybe you accidentally tip your plant over when you're trying to move it to a new spot. Either way, you've got a broken branch or two.
Obviously, there's not a whole lot you can do to fix the injury, but your Fig will spend a lot of energy trying to heal that wound and prevent any disease or infection. So, often, the best answer is to remove the damaged branches.
Cutting back these branches aggressively can be sad, but it is the best move in the long run. Your Fig will have a much easier time healing a clean-cut, and eventually, you'll see new branches growing in to replace what was lost.
Alternatively, if your plant got overexposed to direct sunlight, you may notice it has some sunburned leaves. If it's only a few leaves that bore the brunt of it, it's easy enough to just remove them, but in really bad cases where the entire top of your Fig got scalded, you may need to take more drastic action.
Again, your Fig will do what it can to repair the damaged leaves, but in all likelihood, they're never going to fully recover. In this situation, you could utilize a topping cut to remove the portion of the plant that's been sunburned, allowing your Fig to direct its energy into forming new branches.
---
#6 Salvage a Dying Plant
Although not very common, there are some scenarios where your Fig might be facing catastrophic health issues, and there's not a whole lot you can do but start over.
Like I mentioned above, you can usually manage things like sunburn and physical trauma with some light to moderate pruning. However, if you have a Fig suffering from extreme health problems like root rot or heavy leaf drop, you may want to consider topping your plant and propagating a new start from what is left of the healthy portions of the plant.
In many cases, rot issues or extreme nutritional deficiencies work their way up from the bottom of the plant. Although there are many corrective measures I would encourage you to take to fix these issues first, if you can't handle them, your plant may still reach the point of no return.
In this scenario, topping your Fig might be your only option to save at least part of the plant. By topping what remains of the healthy growth tip, you can take steps to root out the cutting you are left with and eventually replant it to grow into another full plant.
---
How To Top Your Fiddle Leaf Fig
There's not a whole lot you need to top prune your Fig besides a pair of sharp, clean garden shears and a little know-how.
Sterilize Your Tools: The key to great pruning is to make clean cuts. This means whatever you are using, whether it be garden shears, a knife, or scissors, needs to be sharp and sterile. Any time you make a cut on your plant, you need to be aware that you are creating an open wound, so you want to minimize the chances that disease or infection can set in. By keeping your cutting implements sharp, your cuts create less damage that needs to be repaired by the plant.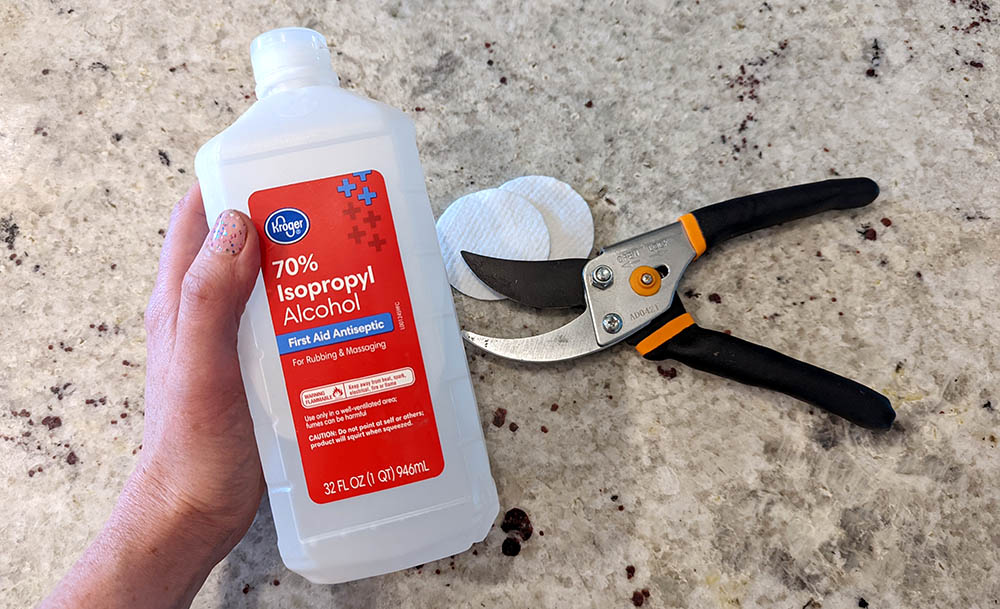 Visualize The End Result: When making your topping cuts, start by visualizing the size and shape you want your Fig to be. It's not a perfect science because plants tend to grow how they're going to grow, but by putting a little thought into where you want to see branching stems and how the plant fits in the space you've provided, you'll have a better idea of where to make your cuts.
Find a Node: Once you've decided where to make a cut, look along the stem locate the nodes. Usually, nodes are located just above where a leaf petiole attaches to the branch. They are generally a little thicker and may also appear to have a line or ring around the stem. The space between leaves and nodes is called the "internode." This is where you want to make your cut, in the internode, about an inch or two above a node.
Make The Cut: By cutting along an internode, you avoid damaging the node tissue that the plant will eventually activate to create new branches. Typically, once a cut is made, it is pretty common to have the node just below it to start producing new growth. In some cases, two or more nodes will be activated.
Give It Time: After making the cuts, your Fig will begin working on healing the wound, and you should see the cuts scale over within a matter of a few days. Over the next several weeks, you'll likely see new growth pushing from the nodes below the pruning site.
---
When to Top a Fiddle Leaf Fig
When is the best time to top your Fiddle Leaf Fig? While you can prune back dead or damaged leaves at any time during the year, leave these more significant cuts for when the plant is in its growing season. Spring or early summer are typically the best times to make topping cuts because the plant is more equipped to heal any wounds, and there is plenty of time for it to push new growth before it goes dormant in the winter.
---
How Far Should You Cut Back?
As far as how much to prune your Fig back, a good rule of thumb is to not take more than a third of a stem at one time. This estimate is geared more towards single-stemmed plants because you want to preserve enough leaves for the plant to continue vital processes like photosynthesis and have enough energy to push new branch growth.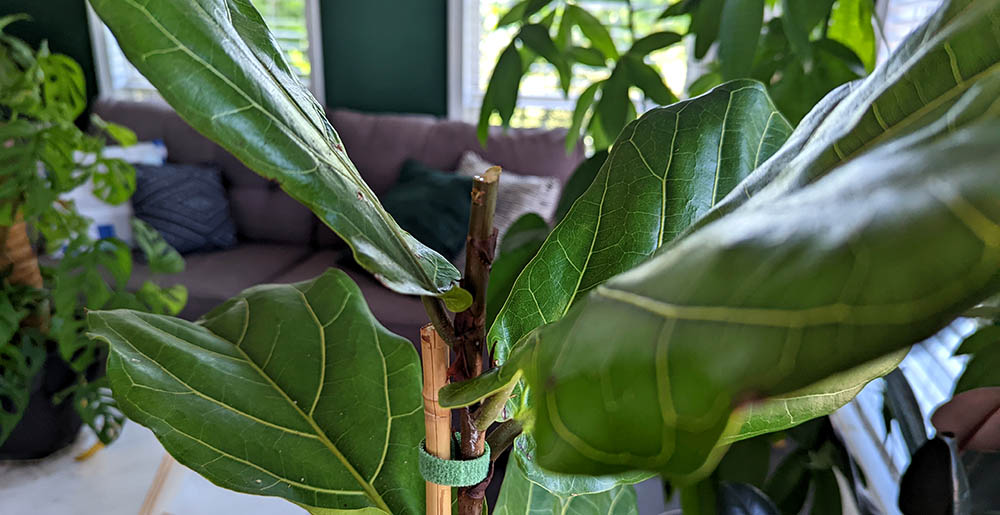 In my own experience, I've found that, as long as the plant is in relatively good health, I've been able to take closer to half of the height of my Fig at one time.
On relatively well-branched plants, try to avoid topping all growth tips at once. It is better to stagger these cuts over several months to ensure you don't stress your plant out too much. By doing it this way, you also have the added benefit of knowing how many nodes are producing new branches beneath each cut, which helps you visualize the shape of the plant and can guide where you make your next cut.
---
Don't Ditch The Top…Propagate It!
Wait, wait! You're not done yet. With every topping cut you make to your Fiddle Leaf Fig, you have the opportunity to propagate a new plant.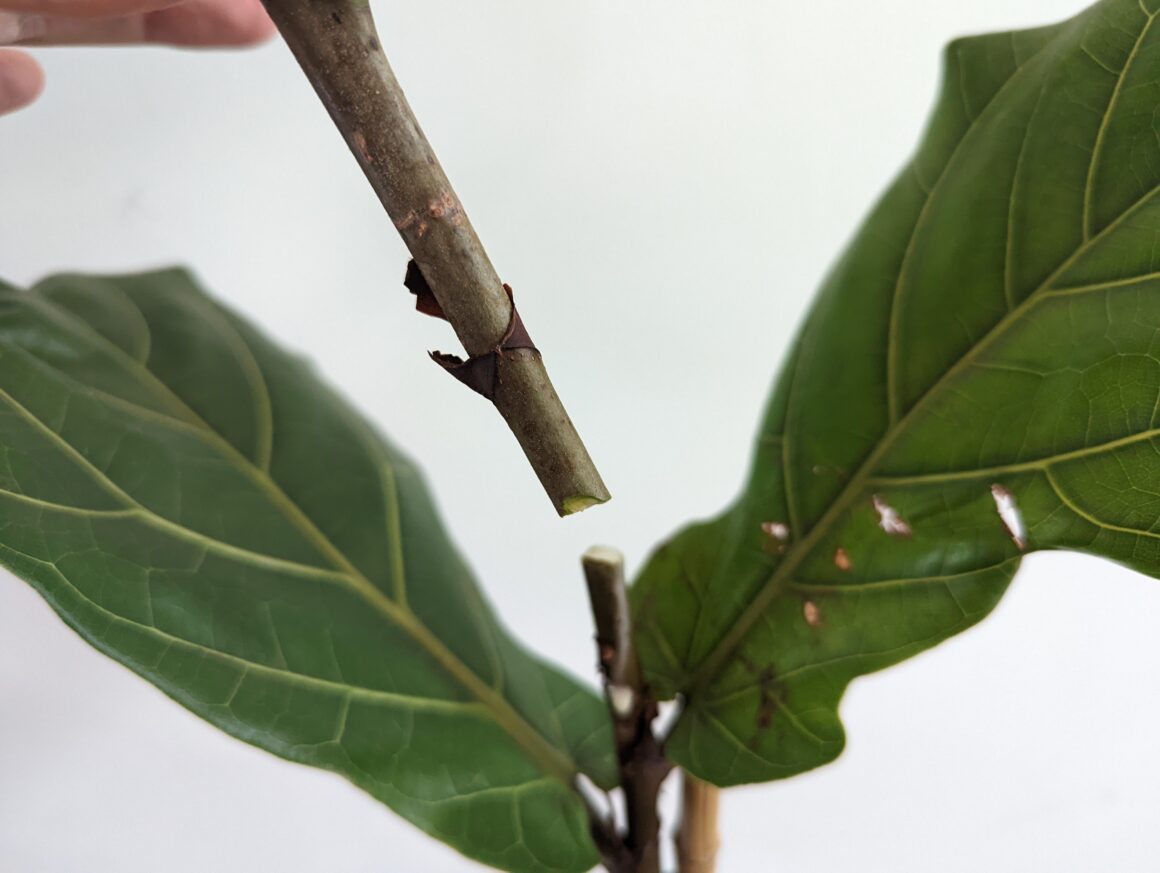 The growth tips you just clipped off your Fig can be rooted out in water over about four to six weeks and repotted to create new plants. Simply place your cut stems in a jar or glass of water and place it in a bright location that gets lots of indirect light. Change the water in the container at least weekly, if not more often, and watch as your Fiddle Leaf-cutting starts producing new roots.
Once the roots reach about three inches in length, transplant the rooted cutting to a small pot with fresh, high-quality potting soil. Water it in thoroughly and provide it with lots of light. The cutting should root out and establish in the soil in a matter of weeks, and, eventually, your new Fiddle Leaf Fig will start pushing new growth!
---
Final Thoughts
Topping, or top pruning, is an essential pruning practice that should be included as part of your regular Fiddle Leaf care. Without it, every Fig would be a single-stemmed plant reaching for the ceiling…pretty fun, but maybe not very practical.
By periodically utilizing topping on the growth tips of your Fig, you can successfully shape your plant to fit your space and will be better able to maintain its size and health. Don't hesitate to make the necessary cuts to achieve the habit you want. Often, these strategic prunes need to happen long before we think to do them, so always having a vision of what you want your plant to look like will help you determine the appropriate time and location of a topping cut.
With a little forethought, some patience, and a sharp pair of shears, you'll have a truly striking Fiddle Leaf Fig in your home for years to come.