Did you know that pruning is one of the best things you can do to maintain the overall health of your Fiddle Leaf Fig (Ficus lyrata)? Although cutting back a prized houseplant can sometimes feel a bit daunting, there are many different reasons to prune your Fig, all of which contribute to either the plant's wellness or the long-term maintenance of its size and shape.
Whether you want to control its height, balance out or maintain its shape, encourage branching, create more space for light and airflow, remove physical damage, or propagate new plants, regular pruning promotes a healthier plant. Pruning is best done in the springtime to allow time for recovery and new growth.
The scariest thing about pruning a beloved plant is that, once it's done, there's no going back. However, we shouldn't let that stop us from occasionally cutting back our Figs because the benefits almost always outweigh the risks. In this article, we'll go through the many reasons why you should cut your Fig back, as well as cover topics like the best time to prune and exactly where and how to make the cuts. Let's dive in!
---
Do Fiddle Leaf Figs Need to Be Pruned?
Like many other Ficus varieties, Fiddle Leaf Figs tend to grow straight up in the air with minimal branching when left to their own devices. This, of course, is totally fine if you are looking for a plant with a tall, skinny habit, but once a Fig gets taller than you, care and maintenance start to become much more of a chore.
Also, Figs tend to be pretty consistent growers that can put out several inches in one season. If they aren't occasionally pruned back, they can grow very tall without adding much width to their stem. If this happens too quickly, the plant can start to lean heavily to one side and, in some cases, break under its own weight.
If you prune your Fig, there are a few different things you'll be working towards. First, you will control height so that the plant doesn't outpace itself and begin leaning. You'll also encourage branching, which helps distribute the weight of the plant and provides multiple growth tips that you can further use to shape the plant. And lastly, you slow the growth rate so that your Fig has more of a chance to bulk up its trunk, stems, and branches to support more weight as the plant grows larger.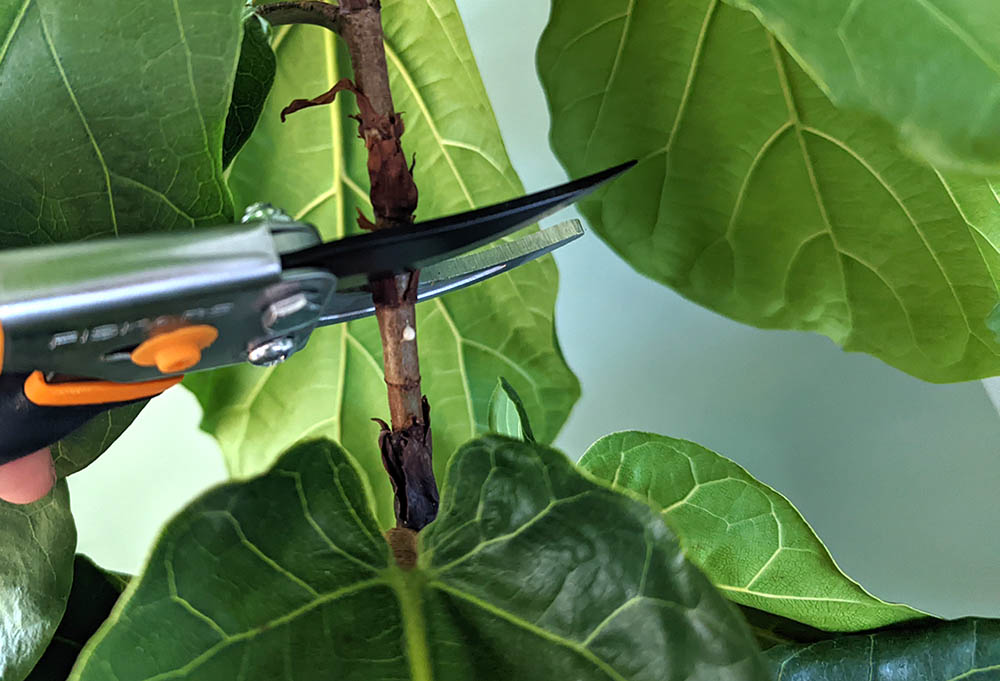 In general, a well-maintained Fig that gets a pruning once or twice a year is usually a stronger plant that can support much more biomass overall. Also, because you are maintaining the shape and size of your Fig, each pruning event will have much less impact on the plant than if you only make one or two large cuts every few years. Your Fig tends to recover faster, and the chance of shocking the plant is much lower.
---
Reasons to Prune Your Fiddle Leaf Fig
As I've already mentioned, there are many different reasons why you might consider pruning back your Fiddle Leaf. Remember, a frequently pruned Fig tends to fare better in the long run, so knowing when and why to do so goes a long way in maintaining the health and wellness of your plant. Let's go over the most common reasons to cut back your Fig.
---
1. Control for Height/Keep Small
Likely, the most common reason you'll ever need to make a cut on your Fiddle Leaf Fig is to take some height off your plant. Figs can grow upwards of 10 to 12 feet tall indoors, so after a couple of years, you might have a plant that is jammed up against your ceiling.
Controlling for height is as easy as determining how tall you want your Fig to be and making a topping cut on the main growing stem of the plant. This may sound severe, especially if you wait until your plant is 6 feet tall or more, but keeping the plant at a manageable size is necessary.
You can also use pruning as a method to keep your plant, if not small, at least "smallish." Figs grow tall, and they do so at a fairly fast growth rate, so while you won't be able to keep them forever as a desk plant, you can use strategic prunes to control the height of the plant and keep branches short and tidy.
This helps you maintain its shape and size to avoid outgrowing its spot in your home. Other than pruning, there really isn't any other method to keep your Fig on the smaller side.
---
2. Maintain Balance and Even Out Shape
Another common reason to utilize pruning is to maintain your Fig's shape. Regardless of how much visualization and shaping we try to do, plants will be plants and will grow how they want to grow.
Figs often get busier and fuller on the side exposed to more sunlight, and despite our best efforts, sometimes branches grow at funny angles or cross through the plant rather than growing out. All of this can lead to a Fig that looks a little lopsided.
Occasionally assessing your Fig's overall shape and structure and making decisive cuts can go a long way in balancing out its architecture and creating a more visually pleasing shape for your space. This also aids in the plant's weight distribution, so nothing is at risk of buckling or breaking under its own bulk.
---
3. Encourage Branching
Something to keep in mind is that Fiddle Leaf Figs create new branches any time a pruning cut is made to a stem or branch. Auxiliary buds, located at leaf nodes along stems, are activated by the plant when a cut is made. Within a matter of weeks, new growth will emerge, eventually creating new branches on the plant.
This growth method can be extremely useful when you want to create a Fig plant with a bushier, well-branched appearance. On their own, Figs tend to grow straight up without branching at all. In order to create a fuller plant, you need to encourage branching by strategically pruning back your Fig's stems every so often.
Each cut to your Fig can activate anywhere from one to three nodes just below the cut line, so you can transform your single-stemmed plant into a multi-branched specimen rather easily over the course of a couple of growing seasons. If you'd rather keep a Fig with a narrow, slender habit, you can still prune it back to control for height but then remove all but one new growth tip to avoid it creating too many auxiliary branches.
---
4. Create Space Within the Plant
Pruning back your Fig not only helps maintain its size and shape but also promotes long-term wellness, and one way to do this is by creating more space within the plant itself. Figs can grow dense and tight, especially when it has been encouraged to branch a lot. These bushier plants tend to have more leaves overall, and because multiple branches grow from each cut site, there can be lots of crossed branches that overlap one another.
By occasionally cutting out some of that dense biomass, you create more space within the plant, allowing greater airflow and more light to penetrate all parts of your Fig. More light means higher productivity, more resources the plant can utilize, and an overall boost in strength and wellness. More airflow allows for better plant respiration and helps prevent the harboring and spread of fungus, mildew, and pests.
---
5. Remove Physical Damage
Another way to keep your Fiddle Leaf happy and healthy is to quickly remove any damaged portions of the plant. Figs will often try to save and repair any physical damage they may suffer as a way to preserve their health. Unfortunately, this often requires a lot of energy that the plant can better utilize elsewhere. So, generally, when your plant incurs damage, it is often better to prune it off.
Physical damage on your Fig can be caused by many different things. Perhaps your plant got a bit too much direct light and suffered sunburn on its leaves. Or, a pest infestation did significant damage to a section of the plant. Sometimes, branches get broken when we are moving or transplanting our Figs.
Regardless of the reason, your Fig is probably much better off expending energy to try and push new growth through healthy auxiliary buds rather than trying to repair the damage that it won't ever fully recover from.
---
6. Propagation
Lastly, you may consider pruning back your Fiddle Leaf Fig because you want to propagate new plants. Rooting out Fig cuttings is pretty easy and usually successful, so taking a few cuttings every now and then is a great reason to cut back your Fig.
Many of the above reasons will leave you with plenty of stem tips you can use as unrooted cuttings, so it is often easiest to propagate any time you are pruning your Fig to manage height or shape but feel free to take a cutting whenever you want to propagate a new plant.
---
The Best Time to Prune Your Fiddle Leaf Fig
Figs are pretty resilient houseplants and can usually handle a light prune here and there almost any time of the year. However, when you want to make more significant pruning cuts, your timing can have a big impact on your plant's recovery time and the risk of shocking your Fig.
Generally, the best time to prune your Fiddle Leaf will be near the beginning of its growing season. Figs tend to slow way down or go fully dormant during the winter months when the days are shorter, and the light levels are significantly lower. They start waking up in early spring and the plant's productivity increases through spring and early summer.
By waiting until late spring to make any sizeable pruning cuts, you will ensure your plant has the resources it needs to recover quickly without disrupting its growing cycle too much. The added benefit of doing your cuts in the spring is that there are still several months in your Fig's growing season, so you will likely start seeing new branches forming from any cuts you make within a matter of weeks or months.
The exception to this is if your plant has any old leaves or has suffered from physical damage. Regardless of the time of year, it is best to remove dead or dying leaves or any broken branches as soon as you notice them, so your Fig doesn't waste too much energy trying to preserve them. It is easier for the plant to heal a clean cut rather than a jagged wound.
---
How to Cut Back Your Fiddle Leaf Fig
Making pruning cuts to your Fig is pretty straightforward and shouldn't be thought of as some big, anxiety-producing event. You only need a few choice tools and a little bit of know-how to ensure that your Fig can handle the cuts you will be making.
---
Tools for the Job
First, you'll want to collect the tools you will need to make good pruning cuts. Usually, this requires a pair of sharp gardening shears, scissors, or a florist knife. Just make sure your tools are sharp so the cuts are clean. Dull blades tend to tear or chew the wood of the stem more, making it harder for the plant to heal and allowing more opportunity for disease to infect the wound.
You will also want to make sure your blade is clean. Dirty shears are among the most common culprits in spreading disease, so be sure to sterilize them before cutting on your houseplant. Rubbing alcohol or a diluted bleach solution should do the job.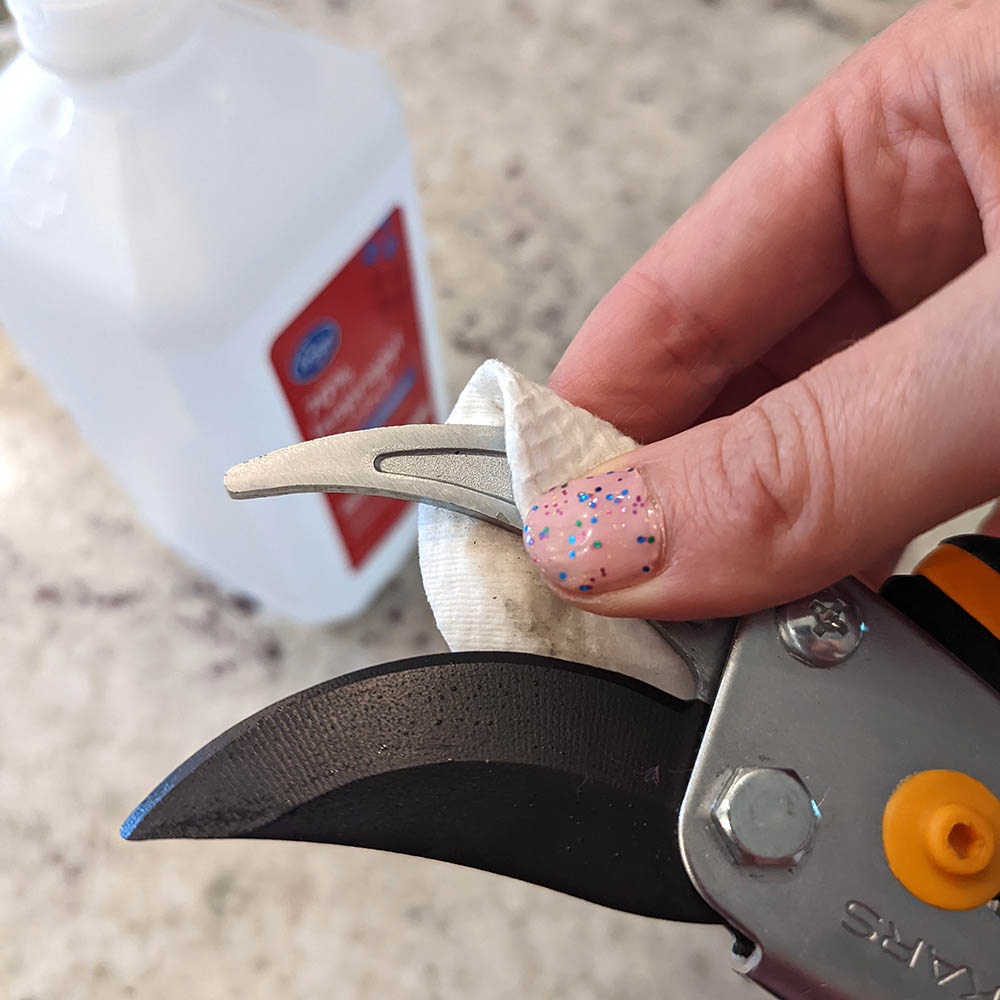 You may also want to wear gardening gloves to protect your hands and have a rag handy to mop up any sap that leaks from the cuts you make on the plant. Don't worry, though! Your Fig will seal up any cut wounds quickly, but it might drip some sap, which can get a bit sticky.
---
Where to Make Your Cuts
Depending on why you are pruning back your Fig, you will be making your cuts at various points along the plant. If you are controlling for height, you will likely make a significant topping cut to the main growth stem at or just below where you've deemed the ideal height. If you are shaping your plant, you first want to identify any tangled or crossed branches that are growing across or through the inside of the plant and remove those first.
If you want to encourage branching, it helps to visualize what shape you want your Fig to eventually have and use that as a way to guide where you make your cuts. It's definitely not a perfect science (more of an art, I'd say), but you can always make smaller corrections as new branches grow in.
---
Look for the Nodes
Regardless of the reasons why you are pruning your Fig back, there is a specific region on the stem that you want to aim for. The auxiliary buds that create new branches are located at the leaf nodes along the length of the stem.
These nodes are typically located just above where a leaf petiole meets the stem. When you make a cut, you want to preserve these nodes, being careful not to damage them, so new branches can form just under the cut line.
This is why, when making a cut, you should aim for a stretch of stem or branch between two leaves, often called the "internode." There aren't any structures essential to growth located within the internodes, so cutting along those sections ensures a node containing a lateral bud will be located just below the cut. Within a matter of 4-6 weeks, you should start to see signs that one to three nodes right below the cut line have started pushing out new branch growth.
---
Things to Consider When Making a Cut
When making the cuts, be sure to make clean, flat cuts perpendicular to the stem. Some people like to angle the cut a little bit, but flat cuts reduce the surface area of the wound so the plant can heal them faster.
Keep in mind is how much stem or branch you are cutting off at one time. In general, it is pretty safe to remove about a third of the plant at one time without putting it at too much risk.
If your Fig is in good health, you can often remove what you need to without much worry of shocking the plant. Figs are tough and will bounce back quickly when properly cared for. However, if your plant is suffering from disease or pests, or you aren't confident that it is as healthy as it should be, be more conservative on how hard you prune it back at one time.
Try to preserve some leaves on the plant after a pruning session. This helps the plant continue with vital functions like photosynthesis and respiration and will help ensure it has enough resources to heal and push new growth. This isn't usually a concern when pruning a multi-branched Fig, but if you are topping a single-stemmed plant, you will want to pay attention to its leaf distribution to help guide where you should be making a cut.
---
Propagate What You Prune
Once you've removed some sections of the stem of your Fig, you'll be able to turn those pieces into new plants for your collection. For propagation advice read: Can a Fiddle Leaf Fig Be Grown from a Leaf? Tips for Proper Propagation.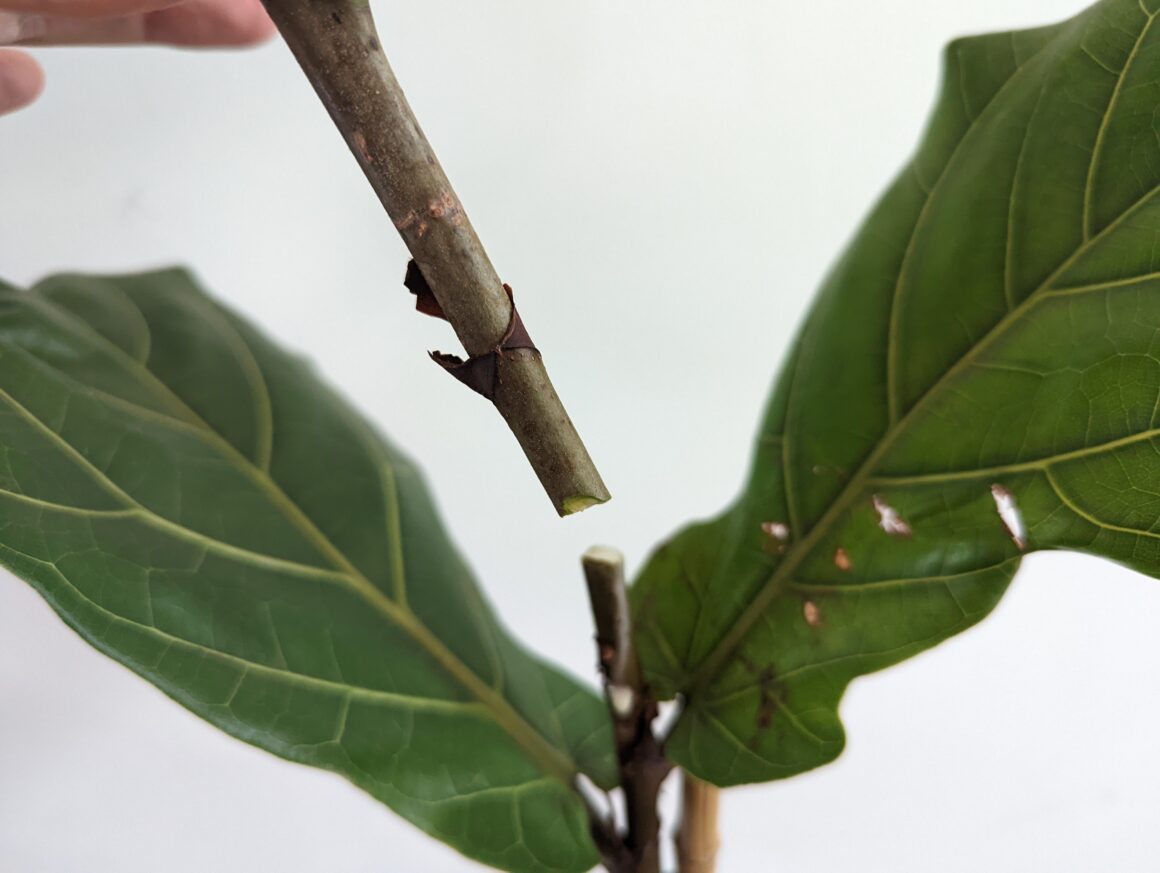 ---
Putting It All Together
Fiddle Leaf Figs are popular houseplants because they grow big and tall, and they make quite a statement in our homes. However, I would argue that a really stunning Fig is best achieved through regular pruning sessions to maintain height, manage shape, and promote the plant's overall wellness, setting your Fig up for success for years to come.
Don't be afraid to get in there with your pruning shears! Use what you now know about why, when, and how to cut back your Fig and watch how your plant responds with lots of sturdy, healthy growth. Good luck!
Want to keep reading? Here are a few more posts about caring for your Fiddle Leaf Fig: