Monstera deliciosa has a well-deserved reputation as one of the most iconic houseplants around. It can fit perfectly with many interior decorating styles, and it has an unmistakable look. This is one houseplant that does not take a long time to grow. With a few years of proper care, a Monstera can grow into a striking showpiece in your home.
Is Monstera deliciosa easy to care for? Yes! Monsteras are known as one of the easier houseplants to keep happy. Their main requirements are plenty of light and correct watering. Although they do have some other preferences, these two are the most important factors for having a healthy Monstera deliciosa.
eThis is a great plant for people who want something that can grow really huge indoors but aren't interested in the challenge of some of the more high-maintenance options. Even if you are new to houseplants, a Monstera deliciosa can make it look like you have a green thumb. You don't have to let anyone know how low-maintenance this plant really is!
---
Monstera Deliciosa in the Wild
Monstera deliciosa is native to Central America, though you can find it growing wild in many other locations where the conditions are right. The ideal environment for this plant to grow is in a bright but shady location (under the canopy of trees), with high humidity, and moist (but not swampy) soil.
Outdoor Monsteras climb and grow up trees or other structures using their aerial roots. They do not harm their host trees, which means they are epiphytic and not parasitic. In the wild, Monsteras reproduce by producing edible fruit, as well as spreading to new areas through their vining growth.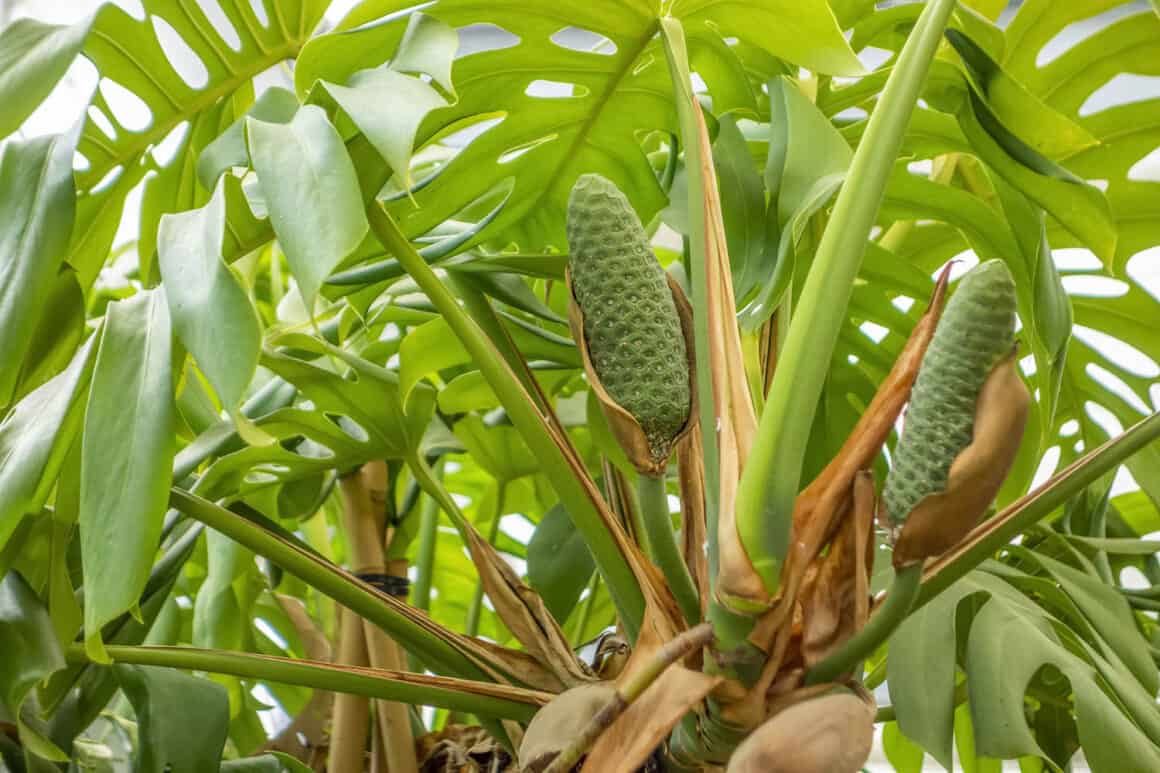 Monsteras start out growing from the soil, and seek out trees to climb. In fact, they are attracted to shadier areas in their early stages of development, since it is likely to be darkest under a nearby tree. Then, as the Monstera grows, it starts to attach to the bark with its aerial roots and grows vertically. Aerial roots don't just allow this plant to climb, though; they also absorb nutrients and moisture to support growth. Over time, a Monstera specimen will sometimes lose its connection to the soil altogether, becoming fully epiphytic.
In the wild, Monstera deliciosa can grow both big and tall. They can reach as high as 60 feet tall, with leaves over 2 feet wide. It is considered mildly invasive in places outside its original habitat, so keep it in a pot if you are growing this plant outside in a warmer climate.
---
Monstera Deliciosa as a Houseplant
When you grow Monstera deliciosa inside your home, obviously you will have a slower rate of growth and a smaller maximum size than it reaches outside. You can probably expect your Monstera deliciosa to grow to a maximum height of around 7 feet indoors. If even that seems overwhelming, you can always use these tips in this article to keep your Monstera small.
Our indoor spaces tend to be significantly darker and drier than Monstera deliciosa's ideal conditions, but luckily these plants are quite adaptable to our preferred environment. They can deal with the lack of humidity, and are fine being kept in a container instead of being able to spread out freely. As long as you can maintain the most important requirements listed in the section below, you should be able to grow a Monstera deliciosa successfully.
---
Monstera Deliciosa: Basic Care Requirements
As with any plant, there are many factors that contribute to a Monstera's overall health and growth. Some are more important than others, but they are all worth some attention to ensure the best performance from your plant.
Water
Light
Temperature
Humidity
Potting soil
Container
Fertilizer
Pruning & maintenance
Pest prevention & treatment
Of these, light and water are the most vital to get right. Most of the problems people experience with Monstera deliciosa result from overwatering or lack of sufficient light. If you get those right, you will avoid the most common issues, but it is still important to consider everything on this list for your Monstera to have the best appearance and growth.
---
Are Monsteras Pet Friendly?
Monsteras and many other common houseplants are often called "toxic" or "poisonous" because their leaves contain insoluble calcium oxalate crystals which can irritate the mouth and digestive system if eaten. Although this toxin can cause symptoms that look serious, such as vomiting, swollen lips and mouth, and excessive salivation, the good news is that it does not generally cause any real damage.
Given how unpleasant the sensation is, most pets are unlikely to make the mistake of biting into a Monstera more than once. However, to avoid that situation ever coming up, try placing your Monstera somewhere your pet can't access it.
---
How to Water a Monstera
I can't overemphasize how important it is that you not overwater your Monstera. Overwatering is by far the most common mistake houseplant owners make, especially when they're first starting out. Monsteras are prone to root rot if there is too much moisture around their roots, and root rot will kill a plant in a hurry.
For best results, always allow the potting mix to dry out between waterings. The top two inches should be dry, and it is better to err on the side of too little water over too much. Your Monstera will need more water during the warm, dry summer months, while you can hold back during winter when it takes longer for the potting mix to dry out and the plant is growing more slowly.
Before adding more water to my plants, I always check the soil. To do so, I simply insert my finger about an inch or two down into the soil and feel for moisture. If the soil is damp, I wait a few days before checking again. If the soil is dry, now is the time to add more water.
If you don't like the thought of constantly sticking your finger down into your houseplant's dirt, you can opt to use a moisture meter (like this one). These devices are inserted into a potted plant and give a reading to indicate how wet or dry the soil is. Once your moisture meter reads that the plant is dry, water your Monstera thoroughly and let the excess flow out through the drainage hole in the bottom of the pot.
Too much water will usually show up in the form of yellowing leaves. In most cases, you can just skip your watering for the next week or two and the plant will recover (go ahead and remove those yellow leaves though). In more serious cases of overwatering, you may want to remove the wet potting mix and repot the plant in fresh soil to keep it from developing root rot.
If you have any questions about watering a Monstera deliciosa, this article provides the details you need: How to Water a Monstera Deliciosa: All Your Questions Answered.
---
How Much Light Do Monsteras need?
Monstera deliciosa likes a lot of light, and second to overwatering, lack of light is the most common cause of problems with this plant. The type of light should be bright, but this plant should not be left in direct sunlight for long. Dappled or filtered sunlight is best. In general, you should try to provide at least six hours of sunlight per day in order to get optimal growth from your Monstera.
Lack of light will result in slow growth, small leaves without fenestrations (holes), and yellow or brown leaves. Insufficient light can also contribute to overwatering, since it leads to lower temperatures and less evaporation compared to more ideal light conditions.
Remember that the strength of the sunlight your plants receive will vary based on the time of year, the direction your windows face, and how close you live to the equator. Be sure to account for those factors when you consider recommendations for light levels.
You can refer to this article for a thorough explanation of what light conditions are best for Monstera deliciosa.
---
The Best Location For Your Monstera
Monsteras thrive in dappled or filtered sunlight. Next to a west- or south-facing window is a great option, or outside in a shady location when the temperature is warm enough. Keep them away from areas that are drafty or get cold, and if possible keep them away from where people or pets might accidentally bump them.
Monstera deliciosa grows in humid locations, but it does fine with normal indoor humidity levels. If you mist your plants or provide a humidifier, that will be a benefit, but it is not necessary for them to grow well unless you live in a particularly dry climate.
If you have the option, a well-lit bathroom or kitchens can be an excellent spot for your Monstera deliciosa. Bathrooms and kitchens are generally more humid than other rooms in our homes and are better suited for tropical houseplants like Monsteras.
When it comes to temperature, Monsteras grow in warm locations, and they can't tolerate getting too cold. Their temperature range is the same as what most people prefer as well – 65°F-85°F (18°C-30°C). They can tolerate a bit colder temperature than this for a short time, but can suffer damage if they get too cold.
---
The Best Pots and Soils for Monsteras
When choosing a pot for your Monstera, avoid going too large. A large pot is going to surround the roots with a bunch of excess potting mix, which holds moisture when you water. Monsteras like to dry out between waterings, but a pot that's oversized makes that much more difficult.
When repotting, be sure you move up only one container size (usually a 2" diameter difference). Monsteras do fine with any kind of container – terra cotta, ceramic, or plastic. Personally I like terra cotta because it "breathes" and is heavy enough to keep my bigger Monsteras from toppling over. It is vital that the container have at least one drainage hole, so excess water can drain from the pot.
For Monstera deliciosa, the potting mix you choose should drain well, to allow some air to circulate around the roots. The potting mix should feel fairly light and fluffy, not dense. If your soil feels heavy or retains a lot of water, you can add in perlite or sand to help it drain better.
This article can provide you with more detailed instructions about what kinds of containers and potting soil work best for Monsteras: The Best Soil and Containers for Monstera Deliciosas.
---
Advanced Care for Monsteras
Once you've got the basics down, and your Monstera deliciosa starts to show some vigorous growth, you are ready to tackle some of the more advanced care tips listed below. Much of the information in this section deals with how to handle a Monstera's growth – for example, how do you handle pruning an oversized Monstera? When should you move it to a larger pot?
You are bound to run into questions like these if your Monstera is growing well, so consider it a sign of success! This is an indication that you have met your Monstera deliciosa's basic needs well enough to keep it happy and growing.
---
Should You Fertilize a Monstera Deliciosa?
Monsteras in their natural environment absorb nutrients from the organic matter on the ground or the trees they climb. It's not a particularly nutrient-rich environment, so this plant is low-maintenance when it comes to fertilizing. It is better to use a light hand when fertilizing, since giving too much can result in fertilizer burn.
Fertilizer comes in a wide range of options, with different ingredient ratios and delivery methods. Almost all fertilizers are made up of the three main ingredients nitrogen, phosphorus, and potassium, and you can see their relative percentages listed on the container as the N-P-K ratio. For Monsteras, I like to use a balanced 20-20-20 water-soluble fertilizer like this one.
Remember that a recently repotted Monstera will not need additional fertilizer, because it will be provided plenty of available nutrients in its potting mix. It's also best to limit your fertilizing schedule to the spring and summer growing seasons. I never recommend fertilizing when a plant is dormant in the late fall or winter.
There's a lot more to know about fertilizing Monstera deliciosa, so you can check out this article for detailed information: How, When & Why to Fertilize Monstera Deliciosa.
---
Pruning a Monstera Deliciosa
Pruning can be done to change the shape of your Monstera, to keep it from getting too big, or to propagate cuttings into a new plant. Most Monstera owners will find they need to prune at some point, since these plants are such vigorous growers.
When pruning a Monstera, you'll need to pay attention to the nodes. Nodes are the points on a plant where the cells to create new growth are concentrated. If you cut off a piece of stem that includes a node, you can use that to grow a new plant. On the other hand, if you leave the node behind, you can expect the plant to produce a new stem or leaf from the area you cut.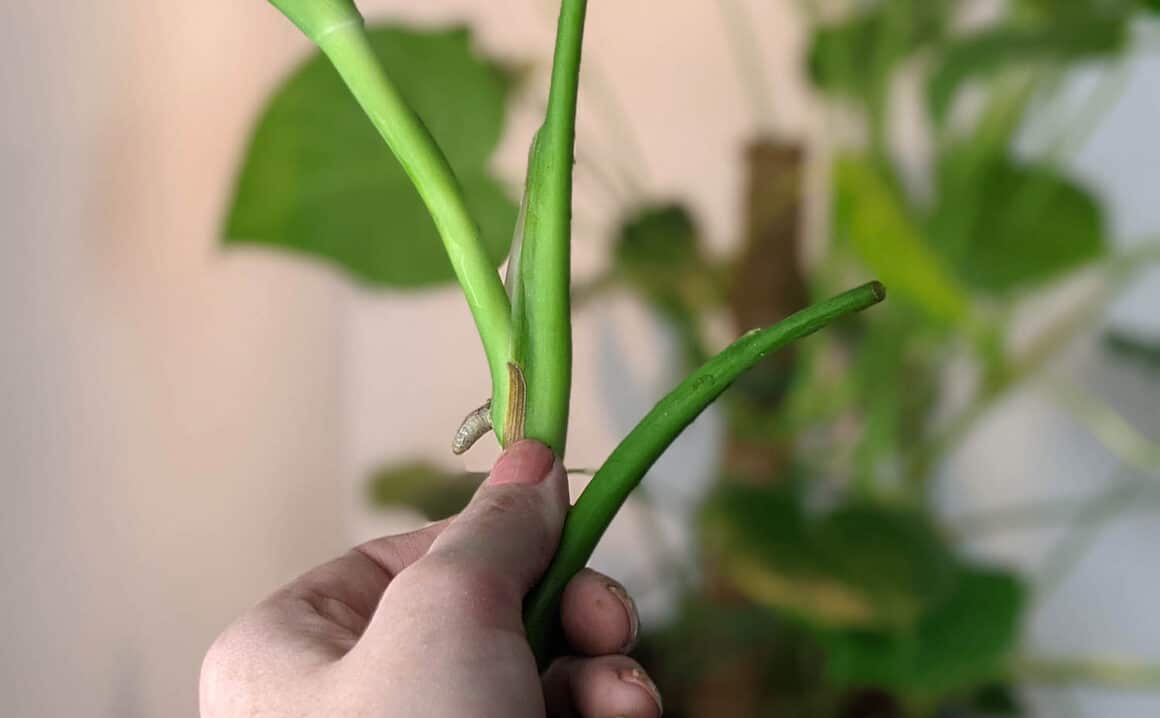 Pruning can be intimidating the first time you try it, so be judicious at first so you don't make cuts you regret. Aside from understanding the location of nodes, the most important point is to use a sharp enough tool (like a garden knife or shears) to make a clean cut, and be sure it's sterilized. As long as they are pruned correctly, Monsteras can recover easily and pruning actually benefits them.
If you need some guidance on nodes, click here. If you want to learn more about pruning, this article is for you.
---
How to Propagate a Monstera Deliciosa
Monstera deliciosa is easy to propagate, and you have several options on which method you prefer to use. Remember that all propagation depends on having a viable node for new roots to emerge from. The most common method is to start the cutting in water, then plant it in soil once a few inches of roots have emerged.
You can also propagate Monsteras by potting your cutting directly into soil. The advantage of this method is that it is a little more simple – you can skip the extra step and the extra container required for water propagation. The disadvantage is that you cannot see the roots developing in soil, so it's more difficult to gauge the cutting's progress.
It is also possible to propagate Monstera deliciosa by some less common methods, such as growing it from seed or from a node cutting. Monsteras are easy to propagate regardless of which method you choose, so this is a good plant to use if you want to practice a new propagation technique.
For more information on propagating Monstera deliciosa, check out this article: Three Ways to Propagate a Monstera Deliciosa.
---
Repotting Monstera Deliciosa
You can tell your Monstera needs repotting when roots start to poke out of the drainage holes, or when your plant dries out way too quickly. A lot of new Monstera owners repot too soon, since this plant can get big and tall, even while it is in a relatively small pot. Sometimes it can look top-heavy, which could mislead you into repotting too soon.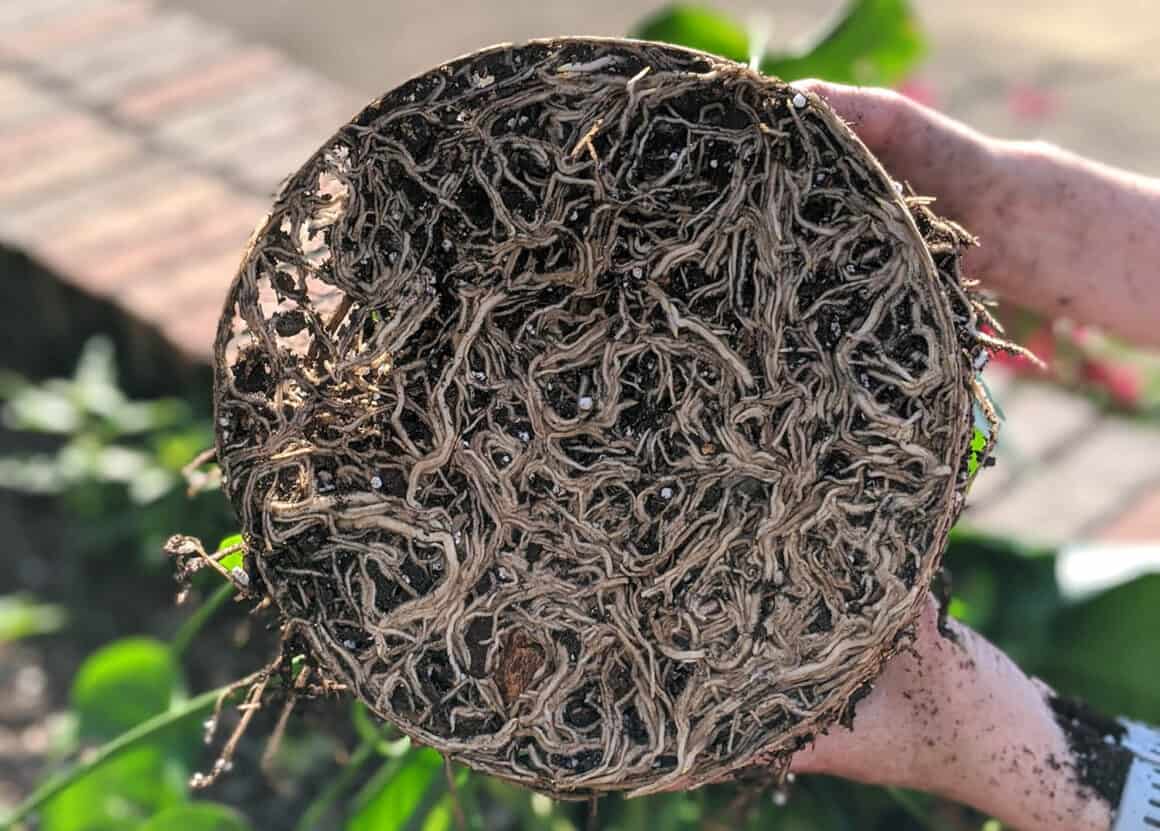 In general, it is better to keep your Monstera in a pot that is too small than one that is too large. An oversized pot has too much potting mix compared to the volume of the roots, which can lead to accidental overwatering as that potting mix retains moisture.
In most instances, people choose to move their plants to a larger container so they have room to expand their root size and grow even bigger/taller. However, if you want to restrict your Monstera's growth, you can trim back the roots and repot it into the same container. Simply remove as much of the old potting mix as you can and replace it with fresh soil.
Monstera deliciosa typically needs a new pot every 2-3 years, but this will depend on how quickly it is growing. The best time to repot is in the spring or early summer, so the plant will have access to plenty of nutrients from the potting soil during the growing season.
---
Training Monsteras to Grow Upright or on a Moss Pole
You may have thought that moss poles were just an aesthetic choice, but there is a really good reason to provide a moss pole for Monstera deliciosa. Since this is a plant that grows on tree trunks in the wild, it depends on having some kind of vertical surface to climb. Without that, it will grow like a vine over the side of the pot, and eventually come to rest on the floor.
A moss pole lets Monstera deliciosa follow its natural climbing growth pattern and allows you to have a plant that's more vertical and takes up less floor space. Moss poles in particular are popular for Monsteras because they fit in well with the tropical look of this plant, but you can also use other forms of support like a trellis or bamboo pole.
It is easiest to add a moss pole when you are repotting your plant. After it is in place, you'll need to train your Monstera to grow onto the support by tying it in place with twine or garden tape. Over time, the aerial roots will naturally attach themselves to the moss pole and you will not need to use anything to keep them there.
Check this article for more information about using moss poles for a Monstera deliciosa: Monsteras and Moss Poles: Where to Find Them & How to Use Them.
If you're not sure whether or not it is time to add a moss pole, read more about it at: Four Signs That It May Be Time to Stake Your Monstera Deliciosa.
---
The Most Common Care Issues With Monsteras
When a Monstera has a problem, you're most likely to see the symptoms reveal themselves in the leaves. They might look yellow or brown, or start to wilt and fall off. Since plants cannot convey their needs to us, it's up to the owner to do a bit of detective work to figure out what the plant needs, based on they symptoms the plant displays
The most common issues with Monstera deliciosa result from not enough light or too much water. Although it is generally easy to care for, your Monstera will definitely show signs of stress if these two conditions aren't right.
Lack of light will make your plant grow slowly and put out leaves without fenestrations (or the splits and slits we all know and love). If you're seeing either of those two things, try moving the plant to a sunnier location or providing a grow lamp.
Overwatering will usually reveal itself in yellowing leaves, or stems turning brown or black in more serious cases. If you suspect your plant may be suffering with too much water, check the potting mix with your finger or a moisture meter. If it feels moist, skip your next watering and give it an extra week or so to dry out. If this is the cause, your plant should start to look better as the roots dry out.
Monsteras are attractive to some of the common houseplant pests, especially scale and mealybugs. It is important to treat insects as soon as possible to avoid them moving to your other plants or causing permanent damage. Horticultural spray and/or neem oil are the best treatments, although simply wiping the leaves regularly can be enough if there aren't too many of them.
If you suspect pests or just want to know what to look for, this article goes in-depth on the most common bugs that show up on Monsteras: Monsteras and Pests: The Most Common Bugs Attracted to Monstera Deliciosa.
---
Monstera Deliciosa: A Low Maintenance Houseplant
Even though there are multiple aspects of Monstera care covered in this article, rest assured that this plant is a survivor and it can tolerate some less-than-ideal care. Even in the worst case scenario, if your plant is suffering, Monsteras are easy to propagate and you can almost always save a healthy stem cutting or two.
One great thing about growing houseplants is that, since they're indoors, we can control almost every aspect of their environment in one way or another. Monsteras are able to adapt to various conditions, meaning that most people are able to find a common ground that allows them to grow these plants successfully in their homes.
If you have been intimidated about trying your hand at growing a Monstera deliciosa, I highly encourage you to give this plant a try! Monsteras are the ideal combination of low-maintenance care and high visual impact.