There are two popular houseplants that are always getting mixed up with each other: Pileas and Peperomias. With a lot of confusion surrounding similar names and foliage, many plant enthusiasts often ask whether or not a Pilea Peperomioides is a type of Peperomia.
Is a Pileas Peperomioides a Peperomia? The answer is no. Pilea Peperomioides is a species of the Pilea genus. It belongs to the Urticaceae, or Nettle, family, and comes from southern China. Peperomias are a genus within the Piperaceae family, with over 1000 diverse species mainly located in South America.
Though the Pilea Peperomioides shares many features with species in the Peperomia genus, they are entirely different. Pilea Peperomioides and Peperomias are both well-loved by houseplant enthusiasts but have many different characteristics that set them apart. Keep reading to learn about both of these types of plants, where they're from, and how to care for them.
---
What is a Pilea Peperomioides?
Commonly referred to as the Chinese Money plant or UFO plant, the Pilea Peperomioides is a member of the Nettle family native to southern China. Pilea Peperomioides were initially brought into Europe during the early 1900s for study.
For many years in Europe, this plant was identified incorrectly. It was not until the late 1970s that the plant was properly recognized as P. Peperomioides, with "Peperomioides" denoting the similarities to the Peperomia family, though categorizing them as distinctly different. In fact, the name "Peperomioides" actually means "Peperomia-like".
Despite being known for their gorgeous appearance and easy care, the Pilea Peperomioides is still relatively rare within plant communities and only recently began to enter the houseplant market.
These round-leafed, long-stemmed plants do best in bright, indirect sunlight. Direct sunlight can result in burnt leaves, so it is best to avoid any location that will end in the plant taking more light than it can handle. Too little light, however, can result in a leggy, stretched out Pilea.
Watering should be done, at most, once a week: the rule of thumb is to let the first inch or so of soil dry between waterings to prevent root or stem rot. When in doubt, I always wait a few more days before watering my Pileas as they do much better to be underwatered than overwatered.
Fortunately for novice plant keepers, the Pilea Peperomioides is very expressive. By watching for simple indications of neglect, such as drooping leaves, you can help keep your plant thriving. 
If you have more questions surrounding your Pilea and want to where they come from and how to care for them, grab a copy of our ebook Caring for Pilea Peperomioides.
---
What is a Peperomia?
Boasting over 1000 species, the Peperomia is an incredibly diverse genus of plants. Native to South America, but found in other tropical and subtropical areas, these plants exhibit more variabilities in features than can possibly be explained in this article.
Some species show variegation while others do not. Leaves can be round, oblong, or pointed. Some Peperomias feature long, thin stems while others are more bush-like. This diversity is part of what makes the Peperomia genus so special to plant owners.
Some of the most sought-after varieties of Peperomias include the Variegated Peperomia, the Watermelon Peperomia, and the Jayde or Coin-Leaf Peperomia. This last variety, scientifically dubbed Peperomia Polybotrya, is often mistaken for its Pilea counterpart because of the similarities in structure.
Peperomias are perfect plants for beginners. They can tolerate low light or take a couple of hours of direct sunlight, which allows for more variability in their location and care. Like the Pilea, too much sun can result in burnt leaves and too little in slow growth and faded colors. They should be allowed to dry out, with the first 1-2″ of the soil becoming dry before watering again.
Peperomias are also expressive plants. They are quick to show signs of discomfort, such as drooping leaves when it has been too long between waterings. Looking for indications of unhappiness is vital to these plants thriving.
---
Why the Confusion Between Pileas & Peperomias
The confusion between the Pilea Peperomioides and the Peperomia genus has been a source of ongoing debate within plant communities. The very first Pilea Peperomioides specimens began to trickle into the scientific community in the early 1900s thanks to George Forrest, who collected many indigenous Chinese plants for study.
It was not until 1912 that Frederick Diels landed on "P. Peperomioides" as the proper classification with his conclusion based on the flowers of the plant. The scarcity of this Pilea, however, resulted in this information being lost until the late 1970s. During this time, botanists began receiving samples of the Pilea that strongly resemble Peperomias, particularly Peperomia Polybotrya.
It was not until 1978 that a flower from a Pilea arrived for study. After much digging, Fredrick Diels' research returned a proper classification.
Before this discovery, the plant had circulated within plant communities via cuttings and had been widely acknowledged as a member of the Peperomia genus.
Because of the incredible diversity of the Peperomia genus, the false classifications of Pilea Peperomioides made plenty of sense. The plant shared many common characteristics and did strongly resemble the Peperomia Polybotrya.
The Pilea Peperomioides has continued to be a rarity for plant collectors. Having only come into popularity recently, it is still rarely seen in nurseries. This has resulted in the Peperomia Polybotrya being frequently mislabeled as a Pilea.
---
Similarities Between Pilea Peperomioides & Peperomias
The confusion between Pilea Peperomioides and Peperomias is understandable. The Peperomia genus is characterized by its large variety of features, and many of its species, namely the Peperomia Polybotrya, share similar characteristics to the Pilea.
Peperomia Polybotrya spouts flat, broad leaves much like those of the Pilea Peperomioides and also lacks variegation. They both share a dark green coloring, which makes for more confusion.
On the more scientific side, both species of plants feature a peltate leaf structure, which is characterized by having the stem attached to the center of the leaf. A lotus leaf is another example of a plant that has this feature.
Get the eBook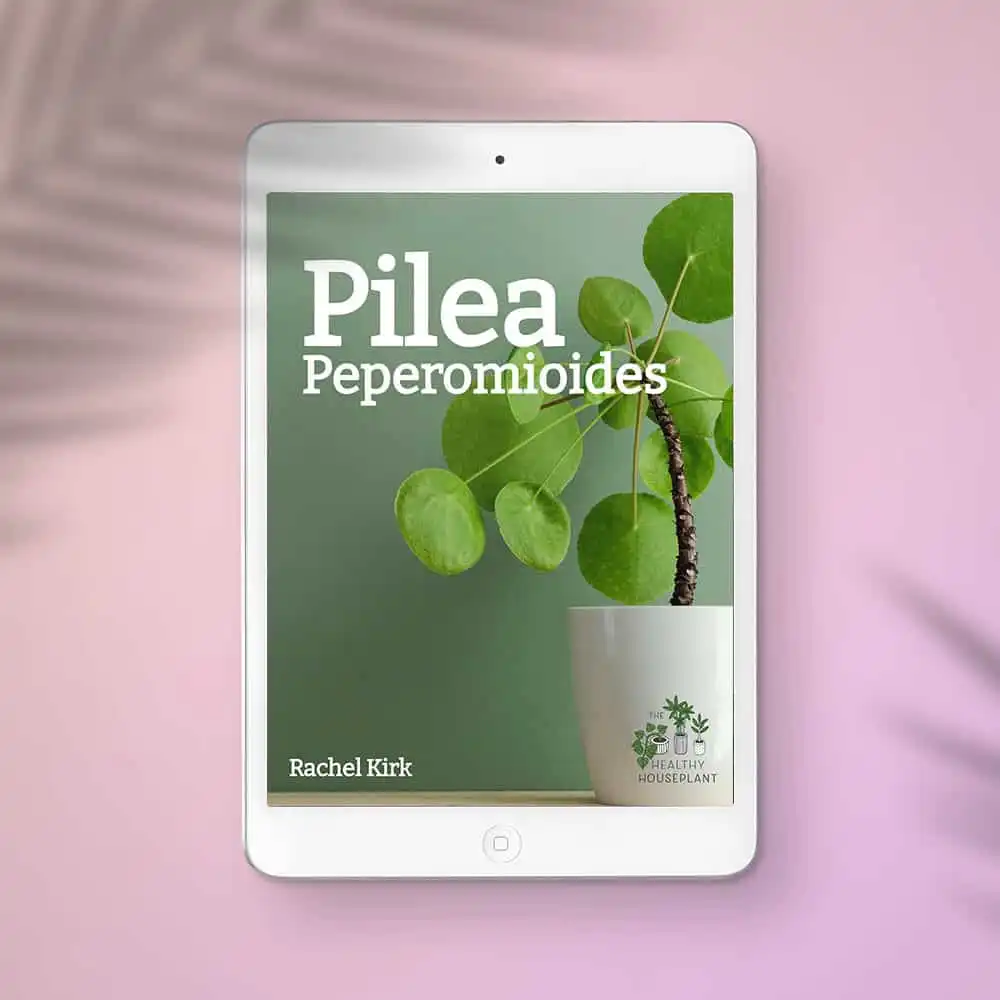 The Ultimate Pilea Care Guide
Don't waste your money by bringing home a Pilea that you're going to kill. Get our 70+ page ebook, and learn all the tips and tricks it takes to make your Pilea happy and healthy for years to come.
GET YOUR COPY NOW
---
Differences Between Pilea Peperomioides & Peperomias
While there are similarities between these plants, there are also a lot of differences. These differences are crucial to distinguish between the two.
One of the key traits that is not shared between Pilea Peperomioides and Peperomias is the length of the Pilea. The stems of the Pilea tend to be quite long and thin. When put next to each other, the Peperomia Polybotrya is much bushier.
Pileas also feature a single large leaf at the end of their petiole, which can cause them to appear to droop in a mature plant. While there are some species of Peperomia that have thin, long stems, they do not share other characteristics with the Pilea Peperomioides.
Most commercially available Pilea Peperomioides plants are also a solid green. They very, very rarely show any variegation, which is a common and desirable trait for plant enthusiasts that collect Peperomias.
Variegation is a genetic variation in the coloring of a plant that results in different parts of the leaf being different colors. The Thai Constellation Monstera is one of the most sought after examples of this.
Going back to the Pilea Peperomioides and the Peperomia Polybotrya, the leaves are slightly different shapes. The Pilea always has round leaves, while the Peperomia Polybotrya has heart-shaped leaves with ends that come to a small point.
---
Final Thoughts
Though the Pilea Peperomioides looks very similar to many Peperomia species, the plant doesn't belong to that genus. It is a member of the Urticaceae family and the Pilea genus. The Peperomia genus is a member of the Piperaceae family.
The confusion over the classification of the Pilea Peperomioides has been an ongoing issue since the 20th century and has often resulted in plants being mislabeled. Be diligent when shopping for your Pilea Peperomioides! There are plenty of reputable websites if you can't find a Pilea Peperomioides in your area. They are still relatively new to the plant scene but are becoming more widely available, especially online. To find a Pilea near you, read this article Where to Buy Your First Pilea.