If you are anything like me, you were pumped to get your Pilea plant! But if you're finding your Pilea looking less cute than when you bought it, you may be wondering what is going on. Often times the problem is that your plant becomes leggy and stretched out.
How do you fix a leggy Pilea? A Pilea becomes leggy because of inefficient exposure to bright, indirect light. This can most often be fixed by moving your plant to a location that receives more light. If your plant is extremely leggy, topping the plant may be your best course of action.
For Pilea Peperomioides, also known as a Chinese Money Plant, becoming leggy is the most common issue for an otherwise healthy Pilea plant. Usually, legginess is due to lack of bright, indirect light but sometimes can be caused by other things. While you'll never be able to shorten the already long stems, you can take steps to encourage new growth, fill out your plant, and regain the orb-like shape that Pileas are known for.
---
What Does "Leggy" Mean?
When people say that their houseplant is "leggy," they mean that the plant has become stretched out and bare. Legginess makes your plant look messy or untidy. The scientific name for this problem is etiolation. Etiolation is what occurs when a plant is grown in inadequate light and it begins to have long weak stems, smaller leaves, and sometimes a pale yellow color.
For Pileas specifically, a leggy plant can be identified as a sparse plant with elongated stems that look droopy, rather than the full, bushy, round shape we've all come to love.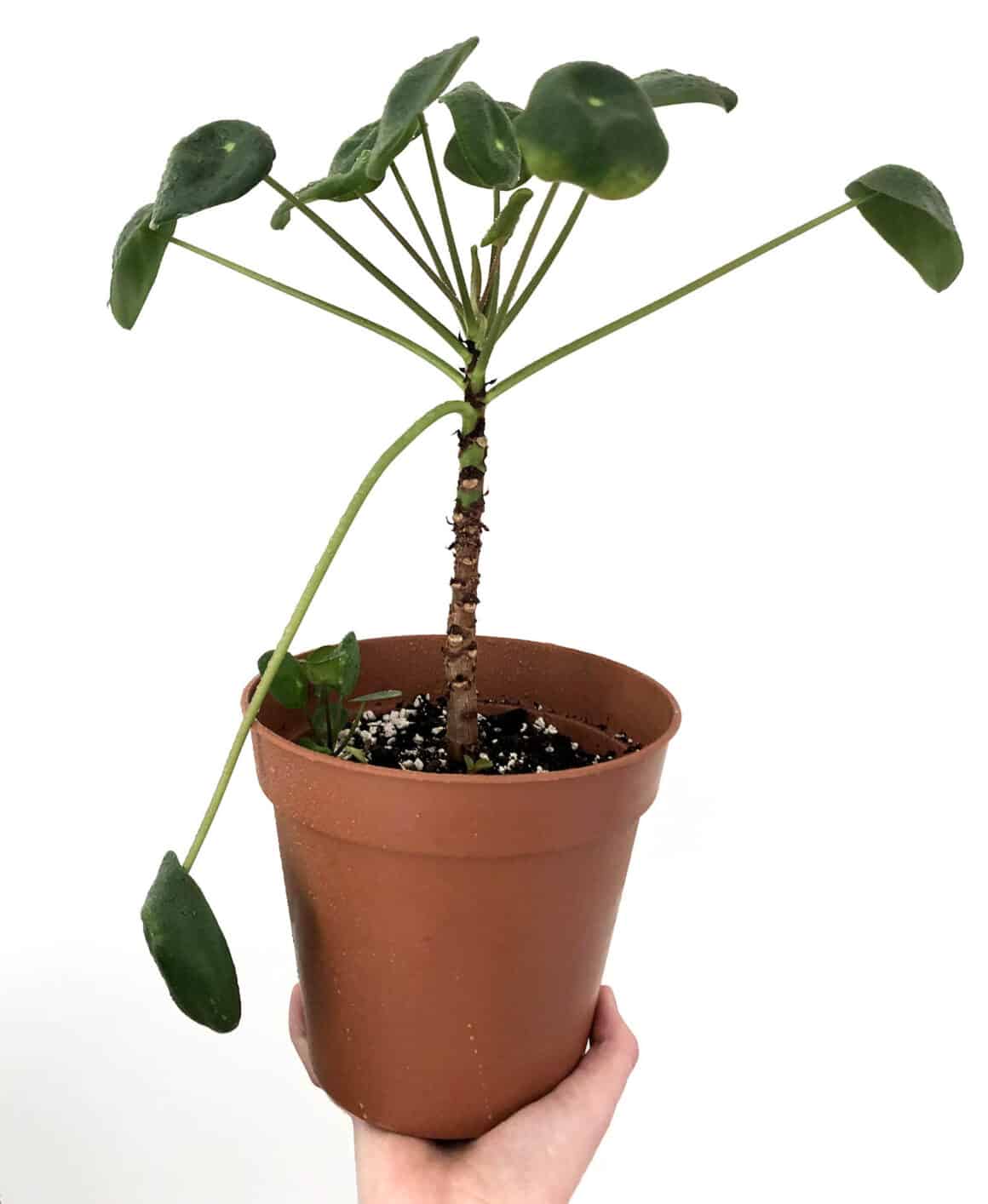 What Causes Pileas to Become Leggy
The simple answer to this question is that Pileas become leggy because they do not have access to enough bright, indirect light.
More specifically, Pileas use the energy they collect from light to turn carbon dioxide into food for themselves and oxygen for us. When a plant does not have enough light, it has to change the way it grows so it can continue photosynthesizing light into nutrients.
Healthy plants are able to put much of their energy into new growth, while plants that do not have enough access to light have to spend some or most of their energy reaching out and stretching to find more light in order to survive.
Inadequate light is often due to the placement of the plant in your home but can also be the result of your plants being too close together. When multiple plants are fighting for the same light, they may have to reach further to compete.
For example, I had a planter that contained four or five small Pilea plants. I noticed that while most of the plants looked healthy and full, I had a few very elongated stems on each plant.
When I traced the stem back to the base of the plant, I found that the long stemmed leaves were coming from the part of the Pilea that was on the interior of the container. In other words, because I had several Pileas so close together, part of the leaves were having to reach out past one another to compete for the same light. Once I split the plants out into separate pots, I was able to pinch off those extremely long stems and regain the shape I wanted.
Get the eBook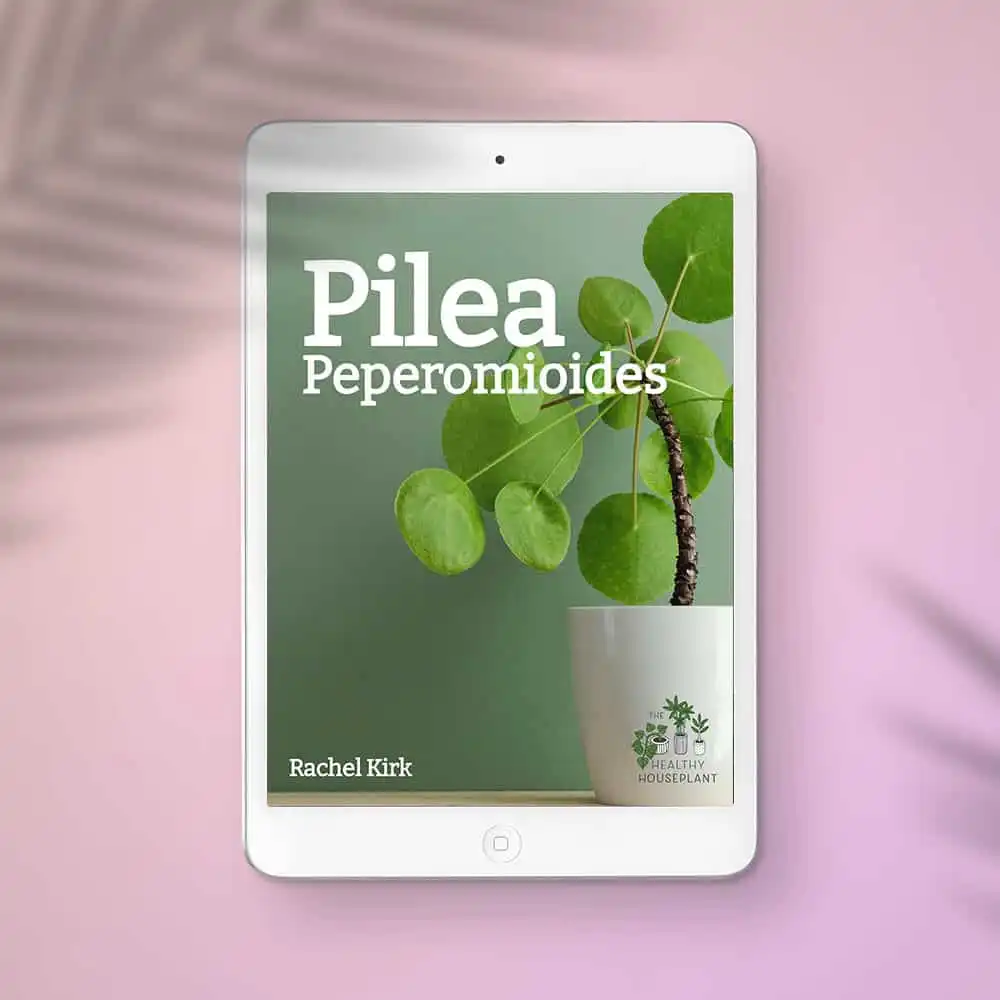 The Ultimate Pilea Care Guide
Don't waste your money by bringing home a Pilea that you're going to kill. Get our 70+ page ebook, and learn all the tips and tricks it takes to make your Pilea happy and healthy for years to come.
GET YOUR COPY NOW
---
What To Do When You First Notice a Plant Becoming Leggy
Unfortunately, once the damage is done it cannot be undone. You will not be able to shorten the already elongated stems. But there is hope! Your plant can recover and usually will with a bit of a change to its environment.
Pileas love bright, indirect light and are happiest near a bright sunny window where the sun will never directly shine on its leaves. If placed in direct light, your Pilea may begin to develop a slight discoloration. To begin with it will turn a lighter shade of green. Eventually, leaves may begin to show small burn spots, a similar equivalent to a human sunburn.
When you first notice your Pilea is becoming leggy, it is important to find a spot that meets the requirements for Pilea light. It is also important to make sure that you move your plant gradually. Most houseplants are sensitive to drastic changes in environment, and Pileas are no exception. If you need to move your Pilea, be sure to ease into the transition by moving it closer to the light every few days.
Once you move your Pilea to its desired location, you will begin to see new growth coming from the top of the plant and potentially some from the bare parts of the stem. Depending on the time of year, this could take a few weeks to a few months.
---
What If My Pilea is Extremely Leggy and Bare?
Sometimes Pileas become so leggy and the leaves so sparse, that encouraging new growth to the top will not be enough to return it to its former glory. If your Pilea has become mostly stem and you think it is beyond the help of a simple move of location, you should consider topping the plant by cutting it in half.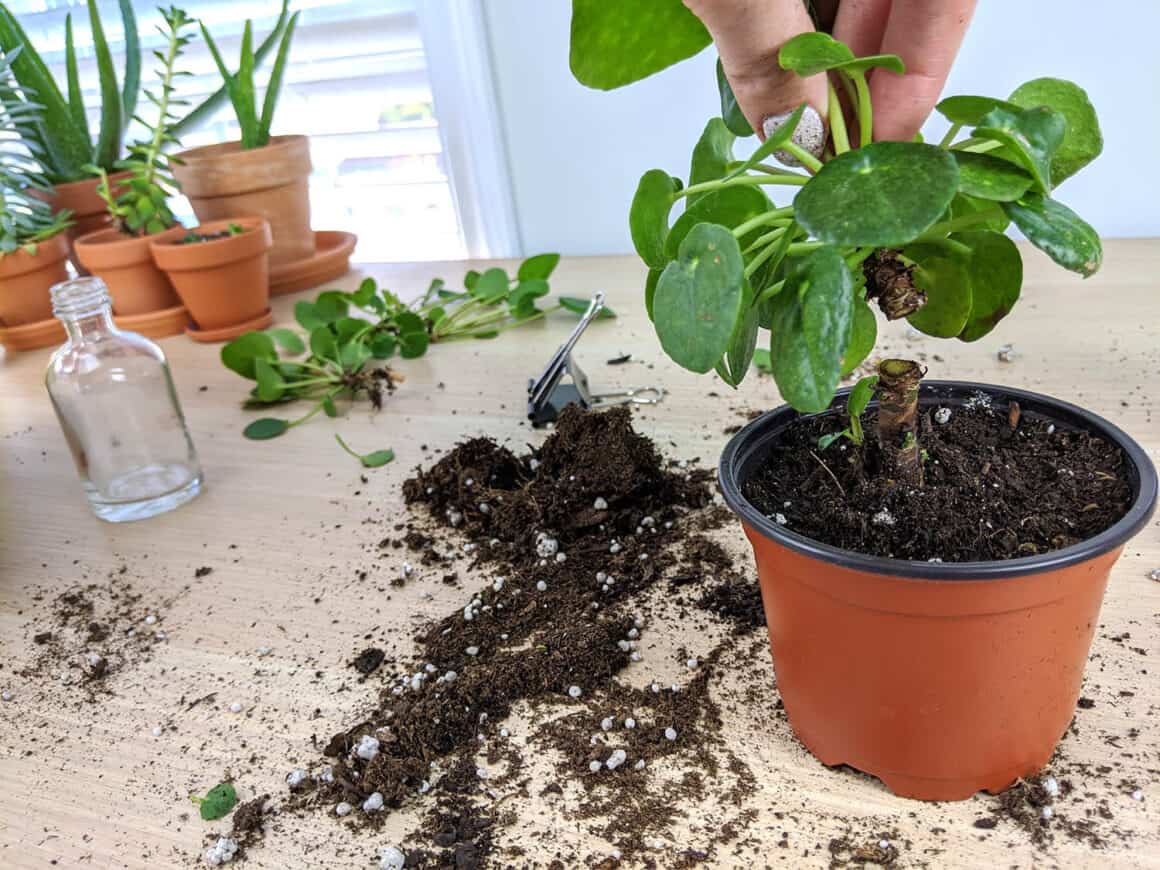 While this seems terrifying to most of us, Pileas actually do really well when they have been topped. Topping your plant frees the Pilea to send energy into filling out the plant instead of making it taller and will encourage your plant to be fuller or bushier. In fact, not only will you begin to see new growth on the stem that is left in your planter, but you can actually root the top portion that you removed and replant it so that you will now have two Pilea plants.
To top your Pilea, make sure you have a sharp knife, as you will want to cut the tissue cleanly. Be sure to clean your knife before using it. Then, find a spot about halfway up the stem and use your knife to cut the stem in two. The bottom half of your Pilea will usually begin to grow new leaves in a matter of weeks.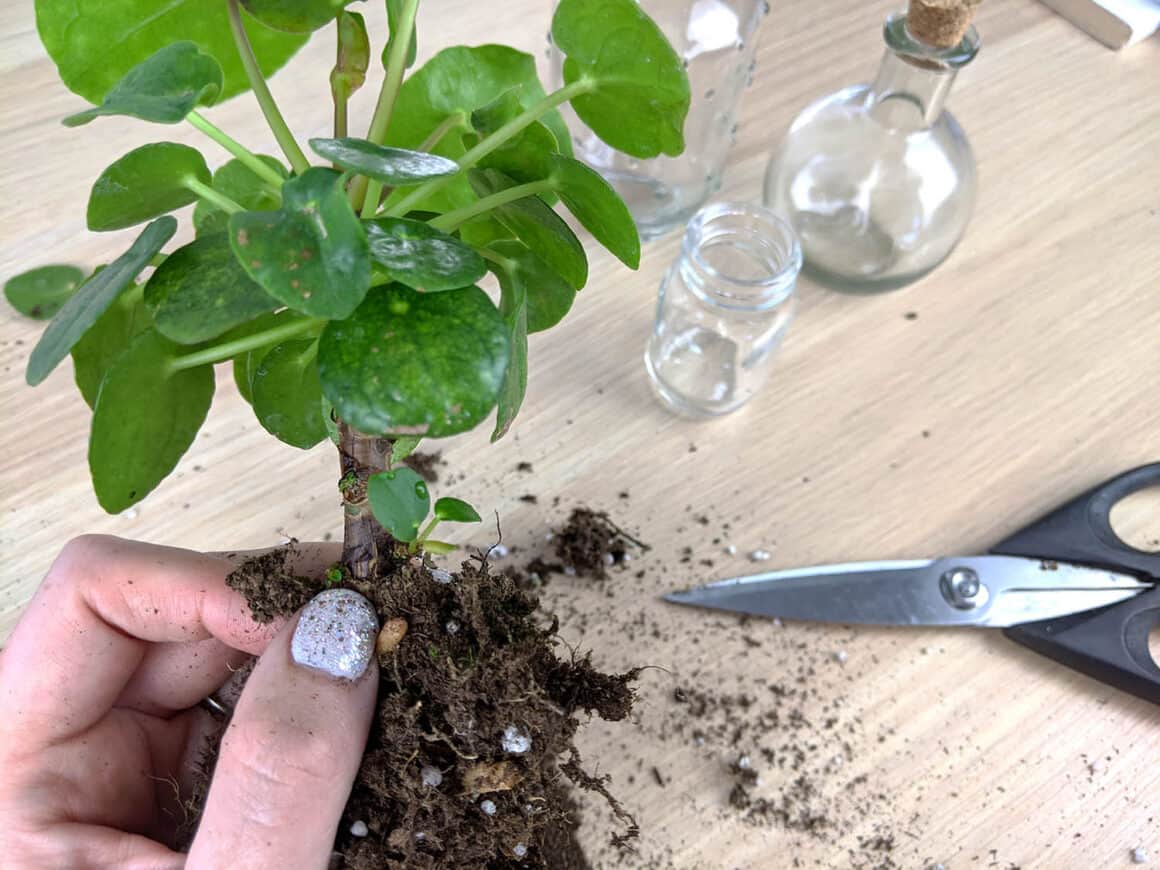 Once you've done this, do not throw the top half of your Pilea away, but rather put the base of the cutting into a small bottle of water and allow it to root. Once you have roots that are an inch or two long, you can replant the top into its own container, and you will have exchanged your one unhealthy plant for two healthy ones!
---
I Know My Plant Gets Enough Light, What Else Causes Legginess?
It is normal for the bottom leaves of a Pilea to droop, this is actually part of what gives it its unique shape, but when no new growth is coming from the top, Pileas can start to look unbalanced and sparse.
Inadequate light is not the only reason Pileas get leggy. If your plant has not been repotted in a long time, it is possible that it has outgrown its pot and the lack of space is stunting its ability to produce new growth.
Another potential issue if your plant has been in the same pot for an extended period of time is that your soil may be old and depleted of nutrients. This can be remedied by either refreshing the soil completely or by adding in a small amount of fertilizer.
To fertilize a Pilea, use a regular houseplant fertilizer, diluted to half strength. Pileas do well to be fertilized once every month during their growing season (from spring to early fall).
---
Legginess Isn't Fixed Overnight
No matter the cause of your leggy Pilea, the problem will not be fixed overnight. As with all things, new growth takes time. Once your plant is able to start growing again, you will begin to see it filling out and regaining the full shape you desire.
It is worth noting that plants recover faster during their growing season. Most Pileas are in growing season from spring through early fall and become dormant in the colder months of the year. If your plant has become leggy during the late fall or winter, it may take more time to grow back than it would in the spring or summer.
---
One Final Tip on Shaping Your Pilea
Pileas are known for their round, orb-like shape, but no Pilea will grow like that without one extra step, rotation! All plants grow towards the sun, and, without rotation, Pileas leaves will all reach toward the same direction in an effort to expose themselves to light. The result is a lopsided Pilea. To remedy this, rotate your Pilea ninety degrees every time you water it.
If you have a Pilea that has seen better days and has become sparse and leggy, the most common solution is moving it to a location in your home that receives brighter, indirect light. Sometimes your Pilea will need to be repotted, fertilized, or topped, but luckily these plants are hardy and bounce back well. Follow the steps above to remedy your situation and soon, your plant will recover and begin to look like the Pilea of your dreams.
Have more questions about your ailing Pilea? Want to know what else you can do to prevent issues in the future? Get our Caring For Pilea Peperomioides eBook and learn all that and more!