The Snow Queen and the Marble Queen are two of the most boldly colorful Pothos varieties. The differences between them can be hard to identify with certainty, though. Some people even claim they're the same plant expressing different levels of pigmentation. How do you know if you have a Marble Queen or Snow Queen Pothos? And does the difference matter?
The Snow Queen Pothos has more variegation than the Marble Queen, sporting mostly white leaves with green speckles. That means a Marble Queen Pothos typically has more chlorophyll per leaf, so it grows faster. Whether you have a Marble Queen or Snow Queen Pothos, your plant needs aerated soil, moderate watering, and bright, indirect light.
That last point is especially important for variegated plants like Snow Queen and Marble Queen Pothos. The most common reason for either one to revert to green is a lack of sunlight. So make sure to give both of these radiant Queens the spotlight they deserve! We'll give you some more care tips below, along with a thorough look at the difference between Marble Queen and Snow Queen Pothos.
---
Are Marble Queen and Snow Queen Pothos the Same Plant?
We can't dig into the meat of this article without addressing the big question about Snow Queen and Marble Queen: are they even different plants?
We know they're the same species – Epipremnum Aureum, the Golden Pothos. So are most of the Pothos varieties we know and love. You can find pretty significant differences in gene expression even within one plant species.
The real question is whether Snow Queen and Marble Queen are distinct and stable cultivars. In other words, are the differences between them reliably passed on when they're propagated? Or does it depend more on how much care you give them?
Many Pothos fans lean toward the second option. The main way to tell the two Queens apart is by comparing their levels of variegation. But even a single plant's coloring can change a lot based on how much light it gets. That's why many people believe that Marble Queen and Snow Queen Pothos are the same variety of plant grown with different amounts of sun.
We disagree. True, it can be hard to tell a Marble Queen Pothos grown in bright light apart from a Snow Queen Pothos in dim light. But when given the same care, the two varieties produce different color palettes.
Bottom line: your Marble Queen Pothos can't become a Snow Queen. It may look a lot like one if you give it lots of bright light. But the change won't be permanent, and it won't be passed on to any cuttings you propagate from your Pothos.
---
Do You Have A Marble Queen or Snow Queen Pothos?
The best way to tell which plant you have is to look at the balance of color on its leaves. Both cultivars feature a mix of green and white. But in a Snow Queen, the white predominates. A healthy Snow Queen Pothos looks like a white plant that's been spattered with flecks of green.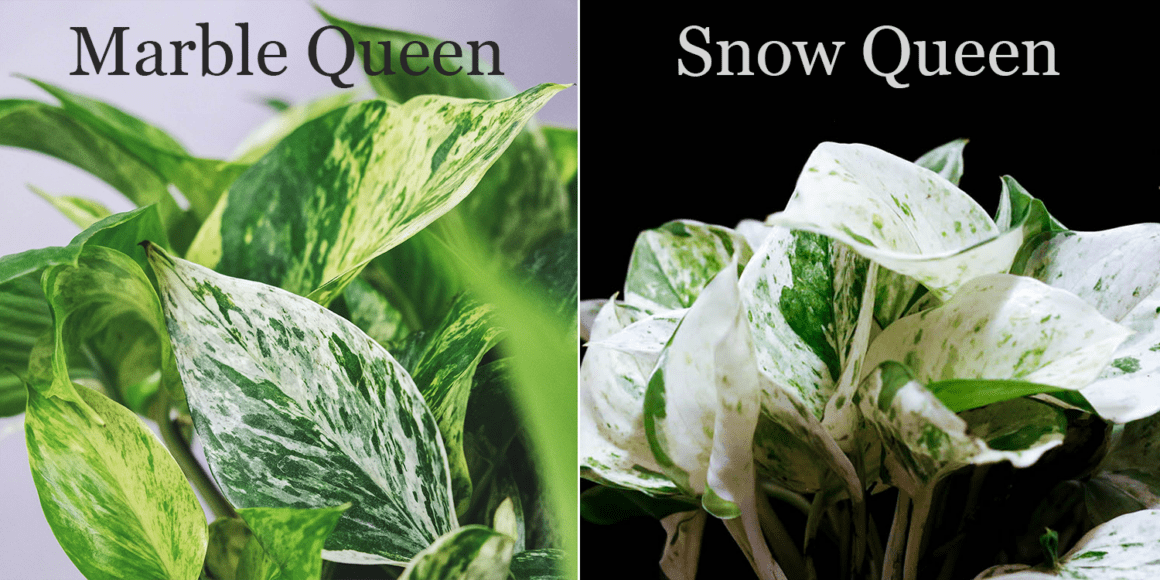 The Marble Queen Pothos is greener. It still has a lot of white mixed in, but the balance of the two colors is generally closer to 50/50. Marble Queens also tend to have more patches of minty and lemon-lime green. This can make the white areas look off-white or cream-colored rather than brilliant white like a Snow Queen.
This distinction is subtle, and it's often hard to make a firm identification unless the two plants are side-by-side. But if you see mostly all green patches in a sea of white, you're probably looking at a Snow Queen.
Because of this difference in coloration, a Marble Queen Pothos will usually grow faster. The leaves have more green because each one contains more chlorophyll. They can absorb more solar energy, which means faster growth, all else being equal.
Snow Queen Pothos leaves also tend to be slightly pointier than those of the Marble Queen. This is even harder to spot than the color difference – the leaves of both varieties come to sharp points. But that point is a tiny bit longer on the Snow Queen.
---
Is a Snow Queen Pothos or a Marble Queen Better?
Do you want a plant with the brightest, most eye-popping coloration possible? Then a Snow Queen Pothos may be right for you. If you prefer a slightly more subtle blend of greens, yellows, and whites, go for a Marble Queen.
The growth rate is a factor too. Marble Queen Pothos is a better bet if you want to grow a big plant with spreading vines. On the other hand, many growers prefer plants that stay fairly compact and don't require frequent repotting. If that sounds good to you, grab a Snow Queen Pothos.
In the end, though, we're pretty confident you'll be delighted with either a Marble Queen or Snow Queen Pothos. Both of them have earned their status as Pothos royalty.
---
Proper Lighting For Marble Queen and Snow Queen Pothos
We've mentioned a few times that lighting is a critical factor for variegated Pothos plants. Here's our guide to giving your Marble Queen or Snow Queen Pothos the energy it needs.
We're assuming that you want to maximize the variegation on your plant. After all, it's the main reason to choose one of these Pothos Queens rather than a Golden or Jade Pothos. If that's your goal, give your plant at least 10-12 hours of bright, indirect sunlight per day.
Indirect light means that the sun shouldn't be right in your plant's face – it should bounce off of walls or pass through curtains before it hits the leaves. A Pothos can usually stand 2-3 hours of direct sunlight per day, but more than that will burn its foliage.
Getting the right light is mostly about location. Our favorite spots for a Marble Queen or Snow Queen Pothos include:
An east-facing window sill. The brightest light here will arrive in the morning, when the cool air helps to protect your Pothos from sun scorch.
A south-facing window with a thin curtain over it. Your plant will get lots of light here, but the fabric will scatter it so it's not as harsh on the leaves.
Sitting on a shelf or table that's 5-6 feet back from a southern window. This distance lets your Pothos avoid most of the direct sun while catching lots of indirect rays.
Below an LED grow light. This is an excellent option if your home doesn't have a lot of natural light or if you want to keep your plant growing all through the winter.
Our post on Pothos lighting has even more detail on getting your plant the photons it craves.
---
Why Is Your Snow Queen or Marble Queen Reverting?
Just about everyone who grows variegated plants worries about reversion. If you haven't heard this term, reversion is when a multicolored plant switches back to plain green leaves.
This happens because the bright coloration in a Marble Queen or Snow Queen Pothos results from an unstable mutation. And this genetic anomaly isn't spread evenly throughout the plant. It's scattered in random patches, which is why you can have a splotch of green tissue in the middle of a bunch of white.
Reversion sometimes happens completely at random, when the plant's growth point happens to fall in an all-green patch of tissue. Multicolored leaves require at least a few mutated cells. When a fully green section of the plant sprouts, it will push out a fully green leaf.
The other cause of reversion is a lack of sunlight. When a Pothos plant senses it's not getting enough light to grow, it raises its chlorophyll production to capture more energy. That means leaves with more green and less white. The best way to keep a Marble Queen or Snow Queen Pothos multicolored is to follow our lighting recommendations or the Marble Queen or Snow Queen reversion tips.
---
Fixing Reversion in Your Pothos
If your plant does start sending out fully green growth, we recommend pruning it back right away. Reversion can spread quickly – greener leaves take in more energy and grow faster. If you don't get rid of them, they may leave the variegated foliage in the dust.
This process is especially quick in Pothos plants because they have very strong apical dominance. That means the stems grow only from the tip rather than branching out. Once a Pothos vine puts out a green leaf, any new growth will spring from the green segment instead of the variegated tissues behind it.
So when you see your Marble Queen or Snow Queen Pothos reverting, grab a sharp pair of scissors and clip the new growth off. Cut back to the variegated part of the vine so that the furthest node down is in a multicolored patch. Make sure to disinfect the blades before you snip. Isopropyl alcohol is a good sanitizer, as is one part bleach in nine parts water.
It's also a good idea to occasionally take cuttings from a stem that's producing variegated growth and propagate them. You can plant them back into the same pot to make your Pothos bushier or use them to make new, smaller plants.
Either way, you'll be giving yourself a bigger "bank" of variegated Pothos tissue. You can use this to make new Snow Queen or Marble Queen clones if the more mature vines begin to revert.
---
Other Care Tips for Snow Queen and Marble Queen Pothos
Good lighting and proactive pruning are the most important ways to preserve the beautiful color of your variegated Pothos. But you also need to ensure that the rest of your care routine is on point. Stress of any kind can mess up your plant's coloration, not to mention harming its overall health and limiting its growth.
Here's what a Marble Queen or Snow Queen Pothos needs to stay healthy:
---
Loose, Chunky Soil
Potted plants are easy to overwater, and sludgy soil is dangerous for any variety of Pothos. Your best defense is a potting mix that drains fast and leaves lots of room for air.
Plant your Snow Queen or Marble Queen in a soilless mix containing lots of chunky inorganic elements like pumice or perlite. Here's our go-to recommendation for Pothos and other aroids:
Note that those percentages are by volume, not weight. If you want something simpler, you can usually get decent results with 50% perlite and 50% African Violet mix.
---
Moderate Watering
Good soil goes hand in hand with good watering habits. Test the potting mix with your finger every 2-3 days and water your Pothos when the top 1-2 inches feel dry. Or use a moisture probe, watering when the soil near the bottom of the pot is very slightly damp.
Always give your Pothos a big drink of water and then let it dry out for a few days. Small sips every day will only frustrate the roots while making the soil too damp.
---
Mild Temperature and Humidity
Your Marble Queen or Snow Queen Pothos wants to be roughly as warm as you do – between 65 and 85 degrees Fahrenheit. Try to keep the temperature steady, too. Sudden drafts or blasts of heat can cause temperature shock.
The relative humidity should be above 50%. And if it's between 60-70%, your Pothos will be really happy. Providing that level of moisture may require a humidifier.
---
Regular, Weak Fertilizer Doses
Like all potting plants, your Pothos needs a bit of supplemental nutrition. If you aren't refreshing the soil with compost or slow-release fertilizer every year, then give it some liquid fertilizer every 4-6 weeks during the growing season.
When fertilizing Pothos, less is often more. That goes double for slow-growing varieties like the Marble Queen or Snow Queen Pothos. We'd recommend starting with a ¼-strength dose, increasing it only if the plant is struggling to grow despite plenty of light and water.
---
Final Thoughts
The main difference between Marble Queen and Snow Queen Pothos is that Snow Queens have more white in their leaves. And even this balance can shift a lot based on the care conditions you provide. Whichever variety you have, give it lots of bright, indirect sun and prune any green leaves that pop up. That should help you preserve your plant's regal beauty for years to come.